Setup Ghost General Settings
Updated on Jul 13, 2018
In this tutorial we will show you how to configure your Ghost General settings, change your Ghost cover and upload your Ghost blog logo.
To access your Ghost General Settings page, please login to your Ghost Dashboard via httsp://example.com/ghost/ - please change "example.com" with your actual domain name or IP address.

From the Ghost Dashboard click on the Settings menu from the top main navigation which will redirect you to the Ghost General Settings page.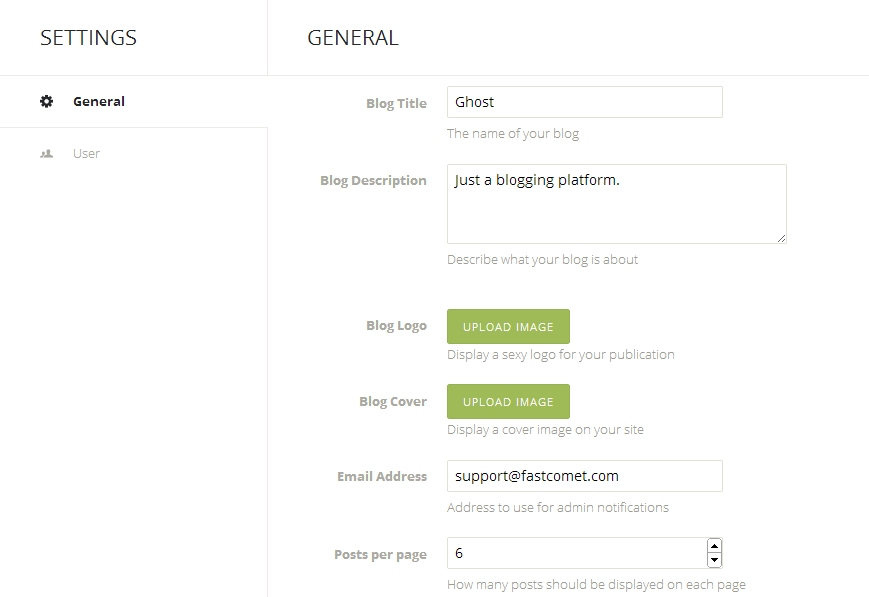 Here you can change Blog Title and your Ghost Blog Description which are the name displayed on your Ghost blog frontend.
Next you can upload your custom cover and logo to change the default Ghost header. To upload your Cover and logo click on the Upload Image button and select the desired image from your local computer.

You may also change the default number of posts displayed on each page of your blog by modifying the Posts per Page value. If you would like to include your posts publishing date into your permalinks tick the tick box option.

To change your Ghost Blog theme, please follow our tutorial on How to change your Ghost Blog theme.