How to upgrade Bolt via FTP
Updated on Dec 10, 2015
Upgrading Bolt is quite easy as the files that are used for configuration are not included in the distribution files. In practice this means that the upgrade process is similar to the installation process, where you just have to install a new copy of the distribution files.
Create a Backup
It is recommended to create Bolt backup, before making major changes on your website. This will allow you to restore it to a fully operational state if something goes wrong.
To updade your Bolt website via FTP you have to:
Download the Latest Bolt Release
The first step is to download the latest release of the application from the official Bolt website. Click on the Latest Bolt as Zip button, which will download the archive on your local computer.

Clear the Bolt Cache
The next step is to clear the cache of your Bolt website. You can do that by logging into the administrative area of your website. Move your mouse pointer to the Configuration button on the left-side menu and then select the Clear the Cache option.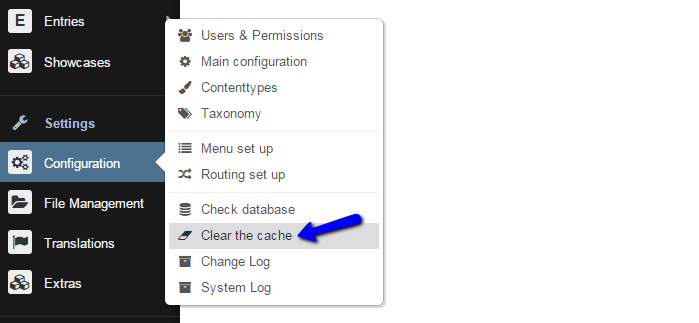 This will automatically clear all cached files of your website and display you with a successful message.

Perform the Bolt Upgrade
The next step of the upgrade is to upload the files of the latest Bolt release. As you have already downloaded the latest Bolt archive on your local computer in step 1, you now need to extract them. This will create a folder that contains all of the files you will need for the upgrade.
To perform the upgrade, you simply need to upload those files to the server. The important thing to consider is the directory, where your Bolt installation is currently located. If you are accessing your website directly via the primary domain on your account, this means that the installation of Bolt is located in the public_html/ directory of your account. If this is the case, you need to upload the Bolt upgrade files in the same directory, overwritting the existing files in it.
Upload Files
You can easily configure your FTP client, following our FTP tutorial. It offers text and video instructions on how to complete this process easily.
When you upload and overwrite the existing files of your Bolt installation, the upgrade is fully completed. You are now using the latest release of the application for your project.