Bolt Tutorial
Bolt is a relatively young open source CMS software with a rapidly growing user base. Entering the CMS stage in 2012, it is utilizing modern open source libraries and has proved so far that it is an excellent tool for creating elegant HTML5 websites.
It is lightweight and highly customable although lacking some of the functionalities that the larger CMS platforms provide. But for that Bolt compensates with an incredibly easy to use interface. Even editors who don't have much previous experience with it can easily create new content. And content management is made even easier, with the latest release of Bolt you can easily edit content from the front end so that you can directly see how it will appear for the visitors.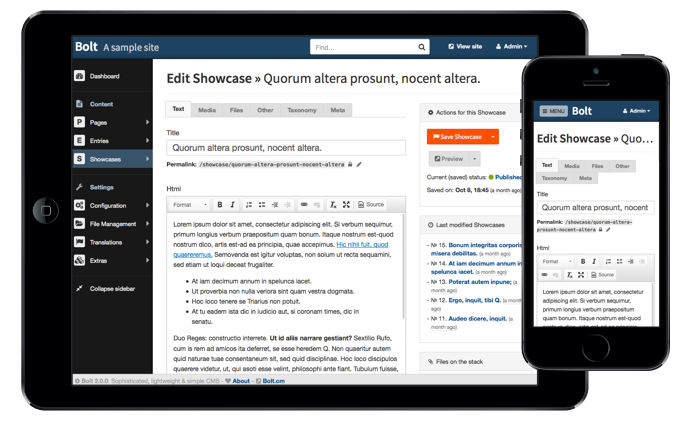 One of the main advantages of Bolt over other similar CMS scripts is that it's highly flexible. Whether you are creating a small website, or you are laying the foundation for something big, Bolt has it all. And along with that the documentation provided by the development team is really well made.
System requirements
Bolt does not have any heavy requirements and our hosting plans are suitable for best performance of your website. The minimum requirements of Bolt are:
PHP 5.3.3 or higher
Access to SQLite (which comes bundled with PHP 5.3), or MySQL or PostgreSQL
Apache with mod_rewrite enabled (.htaccess files) or Nginx (virtual host configuration covered below)
A minimum of 32MB of memory allocated to PHP
PDO extension, to connect to a database
cUrl extension
GD Extension
Requirements
Our Bolt Hosting is fully compatible with the system requirements of Bolt, and we provide all the additional recommendations as well. Furthermore, our shared servers are running entirely on SSD for outstanding Bolt experience.
Useful Resources for Bolt users: