Product Presentation in WP eCommerce
Updated on Mar 13, 2019
For the client it is important not only if your website is functional, but also how it looks. Clients are attracted by well built and good looking websites as they see professionalism and tend to trust such websites more with their money.
To change the presentation of your products, you will need to follow these steps:
Step 1

Accessing the Presentation tab

To change some of the layout of your store which is not dependant on your WordPress theme or settings you will need to access the Presentation tab of your store via Settings>Store>Presentation.

Here you will see a total of 35+ settings you can configure to make your WP eCommerce Store to look better and be easier to navigate through.
Step 2

Setting up Buttons

Here you can configure the Cart buttons on your website.

Button Type - You can choose between Add to Cart and Buy Now(Buy now only works for PayPal standard, on more information on how to enable PayPal Standard check our Payment Gateways tutorial
Hide "Add to cart" button - Enable this if you wish to hide the Add to Cart button
Step 3

Configuring Products

You can setup more than 10 different options regarding the product's details.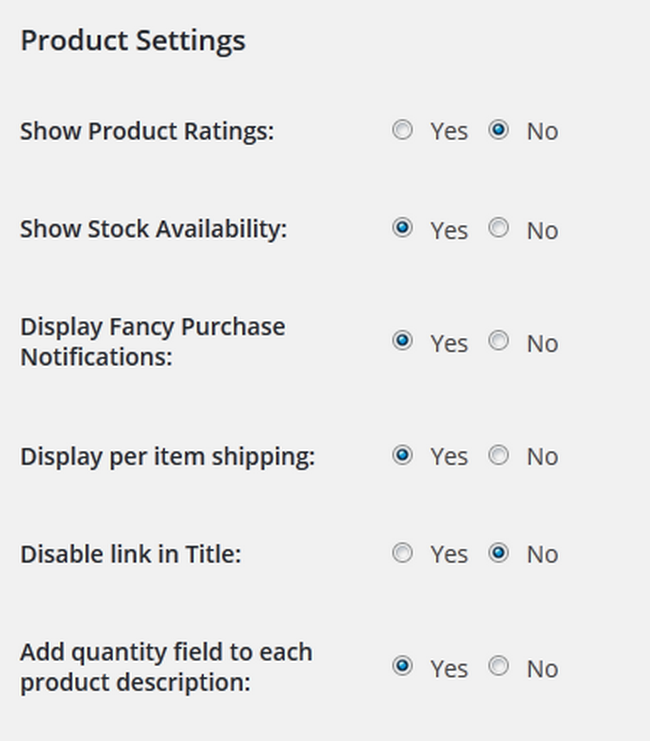 Show Product Ratings - Shows the user ratings of products to all other users
Show Stock Availability - Provides information about the stock availability of a product
Display Fancy Purchase Notifications - Enabling this will make notifications pop when a client buys a product (may not work if you have an outdated theme or u have made an update that removed this feature from showing)
Display per item shipping - Shows shipping details for each product (good for weight rate shipping)
Disable link in Title - Disables the link on a product title
Add quantity field to each product description - General setting for enabling the quantity amount of a product to be viewed by a user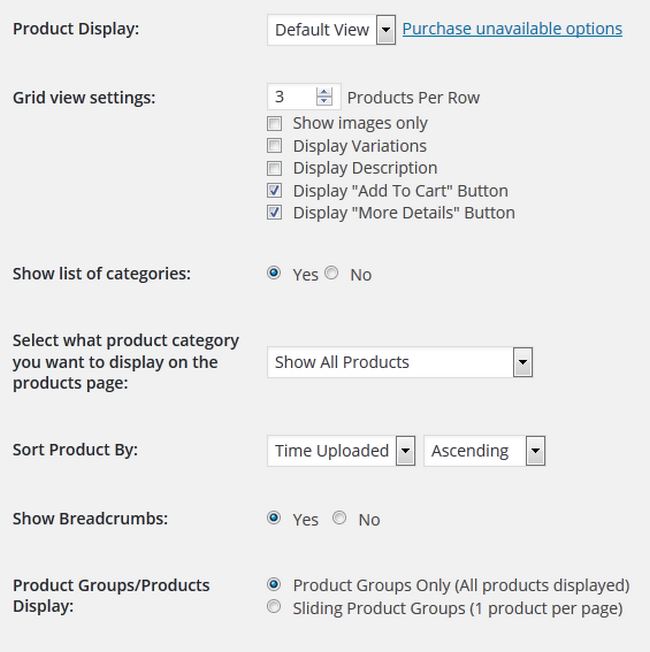 Product Display - You can choose between default, list and grid view as the second and third one are only available after you purchase the Gold Cart plugin
Grid view settings - If you have enabled the grid view from product display you will be able to use these settings
Show list of categories - Shows a list with all of your product categories
Sort Product By- You can choose how to sort your product
Show Breadcrumbs - Shows your clients the path they took to the product
You will also have the option to edit the thumbnail size for your product's images and decide whether you want to show the thumbnails or not.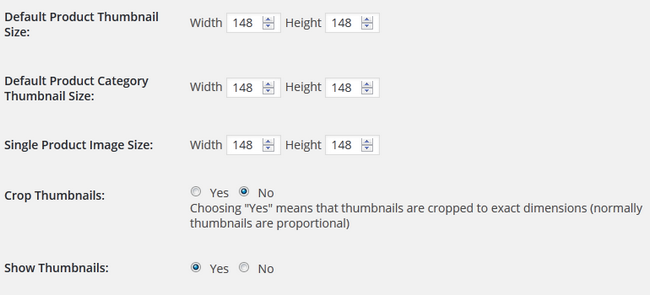 With this configuration form filled out you are now ready to start adding products and open your store.