General settings in WP eCommerce
Updated on Mar 13, 2019
In this tutorial we will show you the General configuration options for your WP eCommerce store.
In order to get to your store settings you will need to login to your WordPress admin dashaboard and navigate to Settings>Store.

Now select the first tab in the Store Settings which is General. Here you will see the general settings for your store: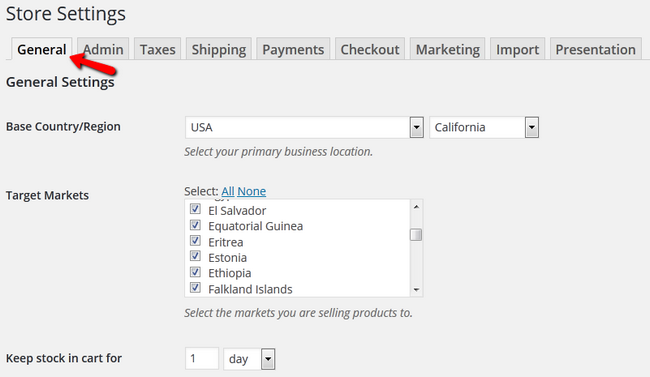 Base Country/Region: The location of your store
Target Markets: The countries to which you want to sell your products (You can disable certain countries if they have big Shipping costs or many additional VAT fees that will diminish your profit)
Keep stock in cart for: The amount of time a product added to a cart by a user will be kept there (the minimum is 1 hour)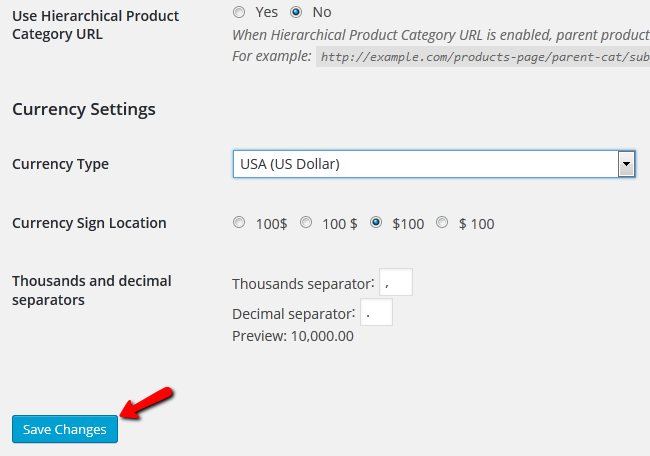 Use Hierarchical Product Category URL: This means that your product's URLs will include the category and subcategory of set products.
Currency Type: The type of currency you want to use (US Dollar being the most common one)
Currency Sign Location: Where the currency symbol is regarding the amount.
Thousands and decimal separators: These will help the client to identify the amount easier.

Once you are ready editing these settings click on the Save Changes button located at the bottom of the page.