Admin Settings in WP eCommerce
Updated on Mar 13, 2019
The Admin tab is an important part of the Store Settings as it has some important security options as well as your admin email settings. In the next few lines of this tutorial we will discuss the available options on that page so you can be more familiar with the interface of the plugin.
To access the Admin settings of your store you will need to login to your WordPress dashboard and go to Settings>Store.

Now select the "Admin" tab and you will see the following options ready to be configured:
Max downloads per file: You can select the amount of times a client can download a product he bought (only for digital products)
Lock downloads to IP address: If you enable this option, once a client has downloaded a product he will not be able to download it again by using another IP address (only for digital products)
Check MIME types on file uploads: Checks the MIME types to ensure no malicious files will be uploaded to the website. (do not disable unless you have other protection method)
Store Admin Email: The email on which notifications from the website will be sent
Terms and Conditions: Your website's Terms and Conditions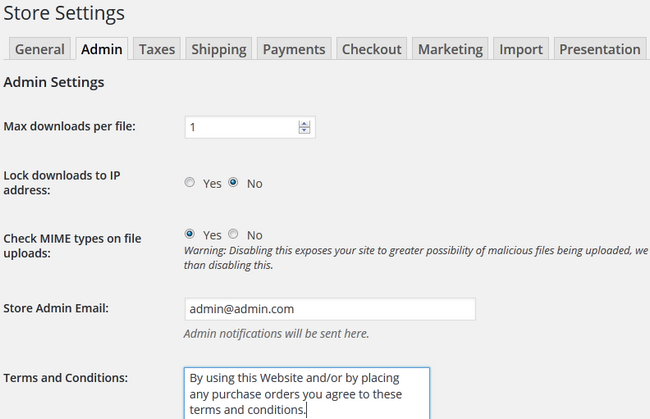 Customer Purchase Receipt is the email your clients will receive after the buy a product.
From Address: The email address the client will see from which the email was sent to him
Sender Name: The name of the sender of the receipt (your website's name)
Message Body: The content of the receipt (you can use the tag: %purchase_id%, %shop_name%, %product_list%, %total_price%, %total_shipping%, %find_us%, %total_tax% in here)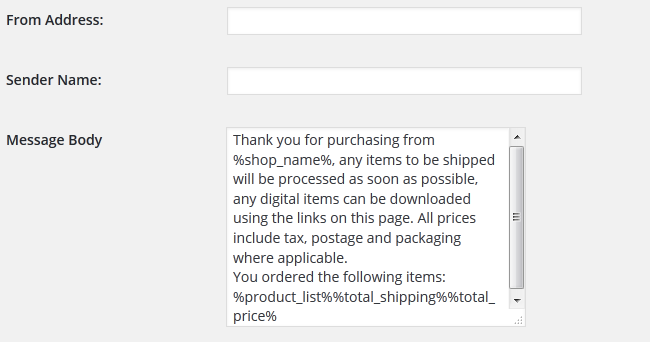 Track and Trace is used when you want the client to be able to check the status of his purchase and where is his package now (packaged and ready for shipping, currently being transported, etc).

Tracking Email Subject: The subject of the tracking mail
Tracking Email Message: The content of the tracking mail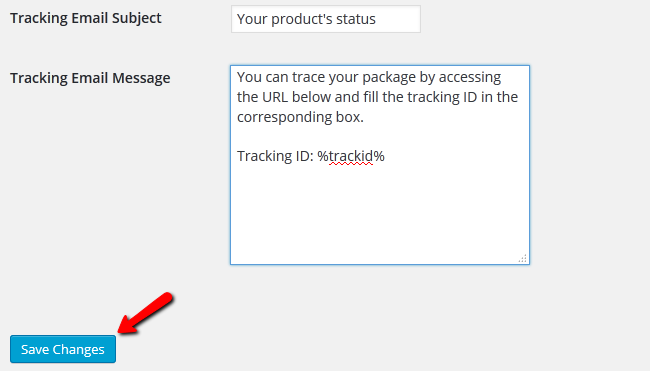 Click on the Save Changes button to save the changes you made. You now have a more secure WP eCommerce store and your clients will be better informed about their purchases. Also you are well familiar with the contents and the options presented in the "Admin" tab of the WP eCommerce plugin!