Assign roles to specific groups in SilverStripe
Updated on Dec 10, 2015
We will review the steps for adding a specific rules to a group on a SilverStripe website. This is an easy process that can be completed with a few clicks and you will get a better understand on how it actually works.
The user management of a website is an important task. You may have hundreds or even thousands of users and you may need to apply different set of permissions for them. However, you can group users on your website together and apply the same set of permissions for all of them. This will allow you to easier manage those users and you will not have to apply the changes for each one of them separately. The task will save you a lot of time and make the management of users on your website much easier.
To assign a certain role to a group on your website, you need to log into the administrative area of your website and then naviage to the Security option on the left-side menu.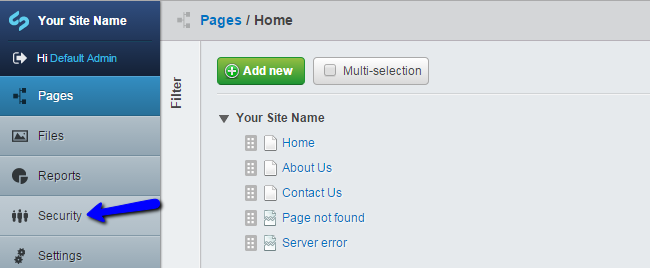 Click on the Groups button on the top-right corner of the screen.

Select the group that you wish to assign a role to.

Select the Roles option from the top-right corner of the screen and search for the role that you wish to apply.

Click on the Save button below to keep the changes. The system will automatically update the configuration of your website.