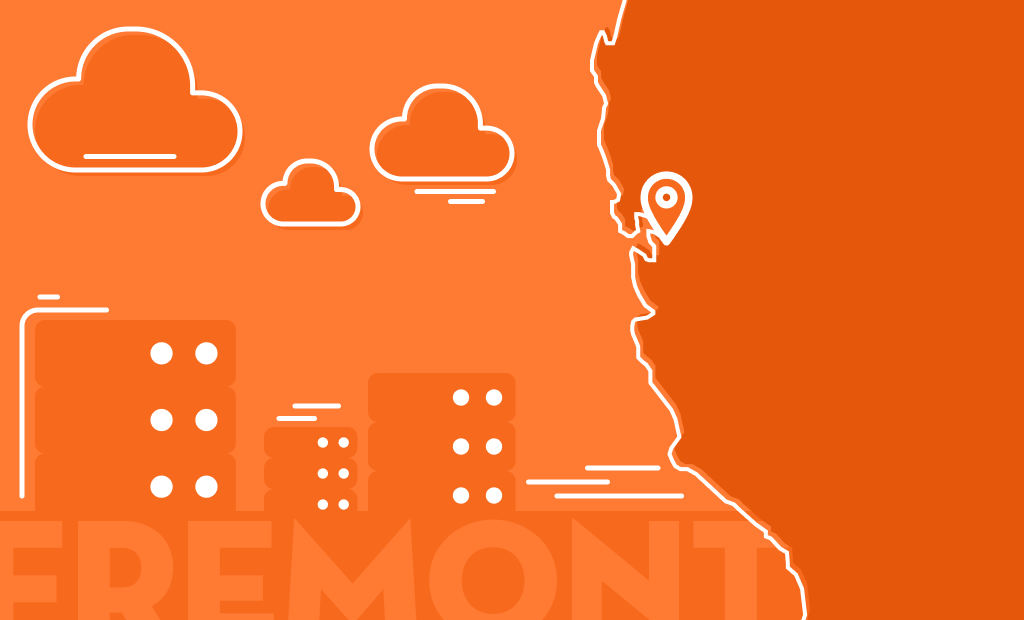 Hello Fremont! Farewell, Dear Chicago!
Every New Year presents a new opportunity to evolve and optimize your IT operations. This means evaluating the current tech stack and optimizing it, identifying opportunities to discontinue investments in outdated legacy software and hardware, and identifying gaps to fill with modern software and hardware solution purchases.
As part of our continuous commitment to satisfy our customers by offering the best technology and latest innovations in the hosting industry, we have gone forward and integrated the San Francisco region for all clients. Today, we are excited to announce that the datacenter in Fremont, California, is now available for hosting your websites.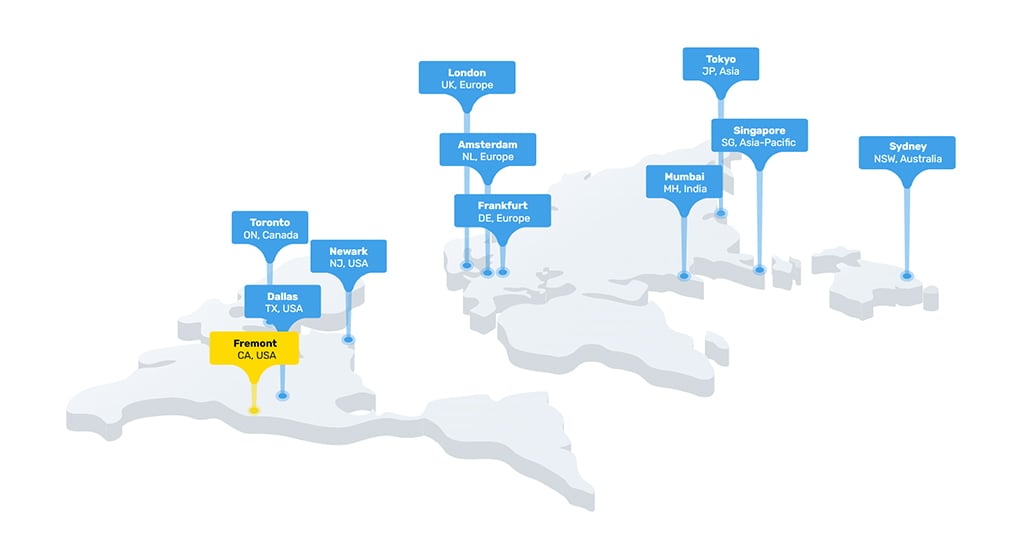 Introducing Our New Datacenter in Fremont, California, USA
The new state-of-the-art infrastructure on the West Coast plays an essential role in our fleet of servers and datacenter coverage worldwide as it enhances the speed with which your visitors access your websites.
The physical location of your server is an essential factor in determining your website loading speed. The servers close to your target customers typically transfer data over shorter distances. Due to this, your users will witness fast response times.
The Fremont datacenter provides excellent connectivity for West Coast-based companies, especially for businesses located in the western parts of North America – from Vancouver to Tijuana. The new region will significantly improve latency for end-users in Southern California and by up to 80% across Northern California and the Southwest.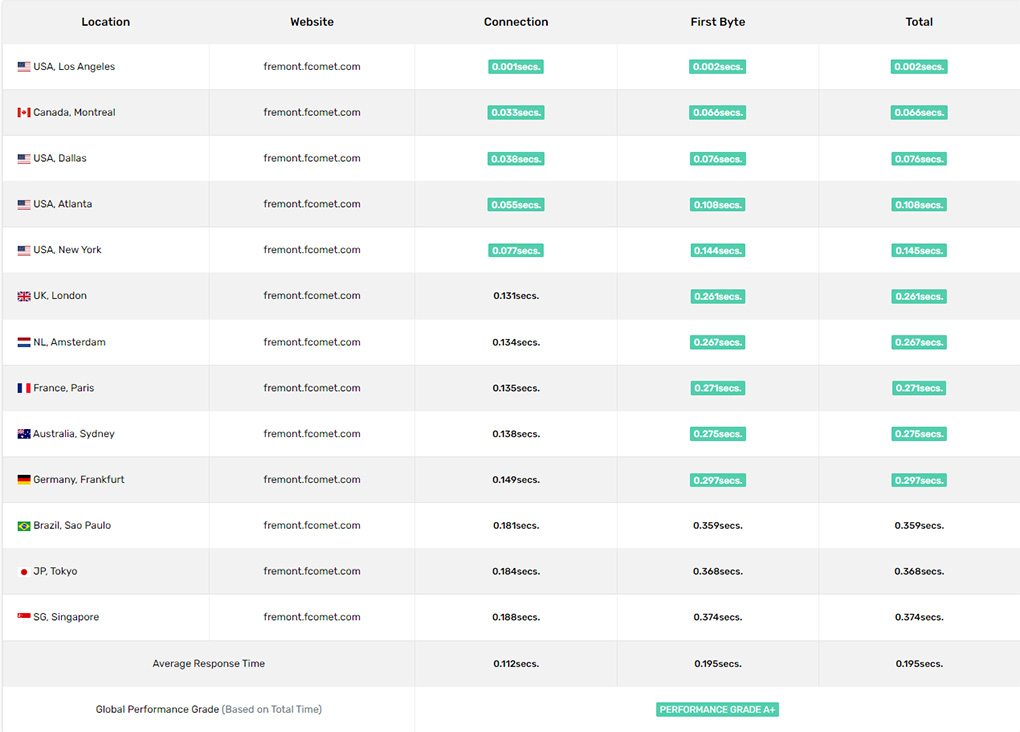 The new datacenter has state-of-the-art infrastructure that is equipped with a fault-tolerant, next-generation Optical Transport Network. This provides infinite scalability and uninterrupted connectivity, which enables your website(s) to operate continuously even when some components fail. Because of being able to handle more concurrent requests from visitors, your website(s) can scale seamlessly, and thus visitors and users can see the sites running smoothly, without unwanted interruptions, downtime, and outages.
The new datacenter is a multi-homed datacenter facility fed by multiple continental and global upstream carriers to fully cover all continental US, with superior transit, low latency, and high throughput.
Discontinuing Chicago
It feels like yesterday when I wrote about our new datacenter location in Toronto, Canada. At that time, Toronto complimented the already existing Chicago, Dallas, and Newark server locations, as the 4th spot in North America, helping customers serve their users and customers better around the globe.
A lot of time has passed since then. In that period, our Canadian facility became home to thousands of customers' websites, hosted projects, businesses, and enterprises alike, eager to keep their data in the Great White North. A rapidly growing number of organizations located or operating in Canada are choosing FastCloud to help them build applications better and faster, store data, and deliver awesome experiences to their clients/users.
Previously, the closest available datacenter was in Chicago. With the introduction of Toronto, the new facility quickly became the desired choice of customers to place their website in a geographical location that is closest to the site's visitors, guaranteeing better data privacy, lower latency, as well as blazing fast load times. Our Newark facility, on the other hand, located just outside of New York City, featured excellent latency and connectivity to/from Mid-Atlantic as well as East-Atlantic states.
Over time, Chicago somehow became an obsolete choice for new customers. This led to our decision to discontinue the Chicago datacenter location offering and move our customers' US operations to our state-of-the-art facility in Newark. For those organizations access to cloud infrastructure locally, doors are open to our Canadian datacenter.
Of course, for such a serious decision we needed to ensure that the service would be as impressive as it has been until now. To get an idea of the scale of the move, we should note that no more than 5 percent of FastComet's customers will be affected by this decision.
Why Move to Newark or Toronto
Discontinuing our Chicago datacenter location presents several options for our customers. Based on the destination of your target audience, you should consider the physical location of the datacenter where your website will be hosted.
There are many reasons why you would need to host your website in a particular region. Perhaps you are bound by legal or compliance clauses to have your customer data physically located in a specific country. However, it might be the case that your major concern, as it is for most website owners, is the loading speed of your website.
Due to the close proximity and same underlying infrastructure, there will be no connectivity speed difference for customers that are moved to Newark. The same applies to those that decide to go with Toronto as their preferred choice. However, if you have a lot of visitors coming from the West Coast, moving to the new Fremont location will actually lower your website's TTFB and total response time for those individuals.
But don't take our word for it; you can use Speed Test to see for yourself how fast the Newark region is from your location.
Because of its strategic location near New York City, our Newark datacenter server location features excellent latency and connectivity to/from the Mid-Atlantic and East-Atlantic regions. Whether you want to serve the East Coast, Manhattan, or broader US market, we have a proven track record of offering reliable services.
What this Means for You
Chicago Datacenter Customers
Relocating the servers to Newark will impact all accounts hosted at FastComet's Chicago datacenter. Still, these moves will be performed in waves and outside of regular business hours so as to minimize downtime.
Planning for the migration started several months ago with careful measures to ensure the server move will be as quick as possible. Advanced notice will be given to all affected FastComet customers via this detailed blog post. All Chicago customers are given a choice to select the desired server location. All migrations will be performed by our Senior Support members free of charge.
Customers will be notified of their designated move date via email. We will also be sending out multiple reminders in the days leading up to their move date. Any customers hosted on multiple servers will receive an email notification for each wave they are involved in.
Every Chicago datacenter customer will be informed several days before the planned migration giving details of the process, details of the time that the migration was due to take place, as well as the expected downtime via email. Approximately a week before the migration, you will get an email with information regarding the affected server, starting time of migration, and how long it will continue, as well as additional information about the process when needed.
Our Tech team of experts will be available at all times, managing and supervising the situation, ready to deal with anything that may come up during the migration process. Your website will be inaccessible at the time, and changes to the storage units will not be made in any way. This ensures that none of the content on your hosting account will be affected, and your data will stay intact throughout the process.
New Customers
If you are a new FastComet client, once you post an order for our web hosting services, you will be suggested the location that is closest to you. Naturally, you will be prompted to select your preferred region.
If you are an existing FastComet client and want to deploy a website to the new region, simply request a migration from our experienced 24/7 Technical Support team.
If you need help or more information, please contact our industry-leading support team by submitting a ticket, and we will take care of the rest.
Finally, please note that the new datacenter is available on all plans.
San Francisco Region Modern & Secure Facility
To sum things up, our brand new North America West Coast regional datacenter is on a direct highly-available interconnection hub for the entire continental US & North American traffic. Additionally, it's an excellent transit point towards both Asia — Oceania and Europe.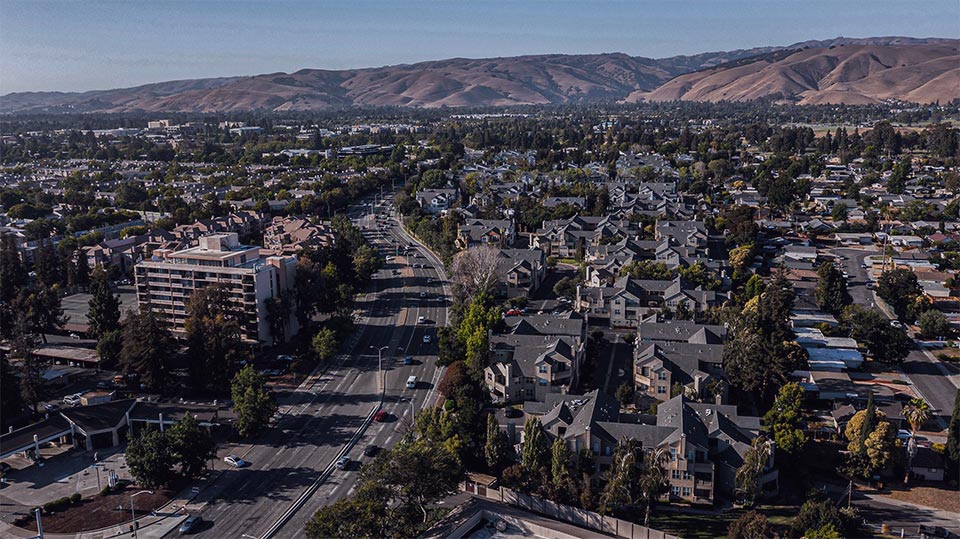 Regardless of your business' size, industry, or market, it is crucial to continually look for ways to maximize performance, connectivity options, and high availability. With 11 datacenters worldwide, FastComet delivers the modern infrastructure and performance you need to innovate at scale.
The latest tips and news from the industry straight to your inbox!
Join 30,000+ subscribers for exclusive access to our monthly newsletter with insider cloud, hosting and WordPress tips!