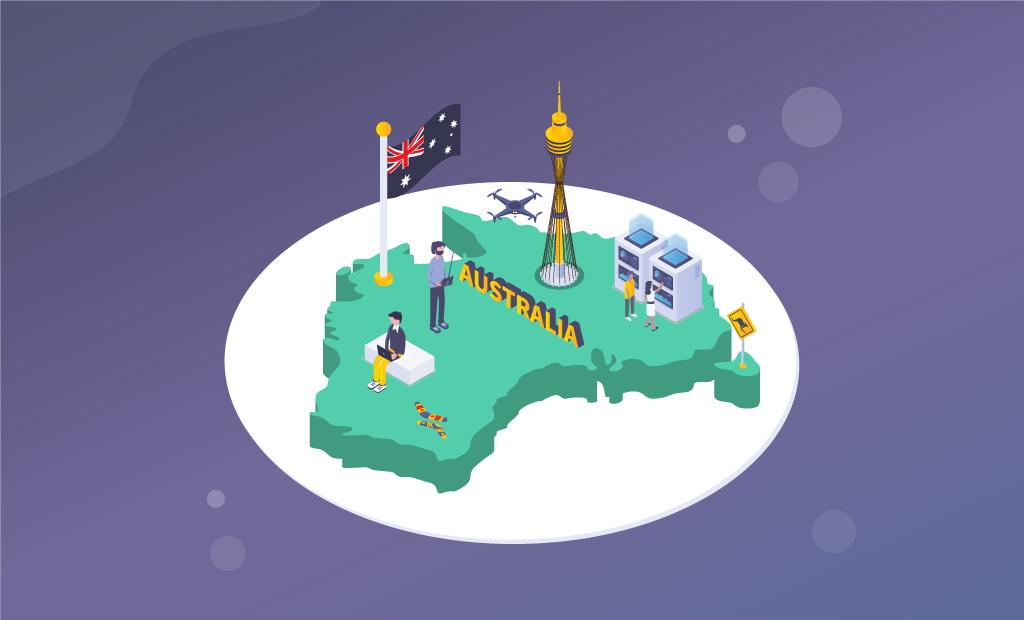 FastComet is Proud to Call Sydney Home to One of Our Datacenters
So here we are, standing firm at the beginning of a new decade. 2019 has been an incredibly exciting and rewarding year for the entire FastComet team. First and foremost, we thank all of you, our customers, for supporting us thus far and trusting us with hosting your blogs, businesses, and eCommerce sites. We would not be here without you, and your feedback has been invaluable to the overall progress of our team.
2020 will be a year of new features and service enhancements for FastComet clients. While we cannot yet unveil everything that's behind the corner, we can tell you that most of what's coming originates directly from user feedback.
Infrastructure Additions
Some of the changes and new features in this past 2019 year we're especially proud of entail adding two new datacenter locations, which is always a big priority to us. New datacenter locations are essential both for better performance and because of specific data privacy laws.
In an effort to keep expanding our service offerings and to maintain the commitment we have to provide geographically diverse infrastructure services, it is no wonder that the second addition we are able to push out over this year, following PHP 7.4, is yet another choice to our selection of locations. This will be our 11th datacenter worldwide and comes on the heels of our recent global expansion to Toronto and Mumbai.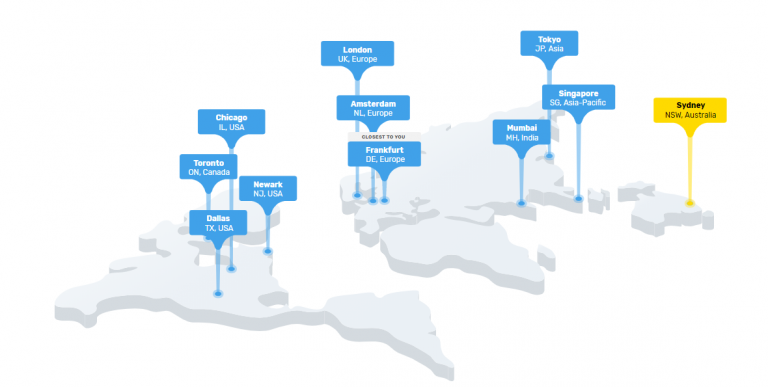 To mark the occasion of the upcoming official national day of Australia, Australia Day, celebrated on 26 January, today we welcome the expansion of FastComet datacenters to Sydney, Australia. All our clients can use the new datacenter location to host their sites (Shared, Cloud VPS, and Dedicated CPU Servers).
The Bushfires Across Victoria and South Australia
Although this announcement may come in bad taste in the current circumstances for some, it is essential to note that this a strategic decision planned carefully in Q4 2019, not driven by commercial interest associated with the current Australian crisis.
The continent of Australia is symbolic – and in some sense literally – on fire. As one of the worst fire seasons in Australia's history continues to engulf parts of the country, it is with heavy hearts that we are witnessing probably one of the hardest times for our beloved Aussie community. With the most profound concern and empathy for everyone affected by the Australian bushfire crisis, we wish to express our appreciation for the strength, compassion, and preparedness of our social good customers, partners, and organizations who are providing aid. If you are in a situation to help, there are lots of ways to donate to those who need help.
Australia – Destination Innovation
Australia is one of the most innovative locations in the world. It's home to some of the largest technology-related companies in the world. Atlassian, Envato, and Canva are three main examples of companies that actively work for the greatness of the community. The country is consistently ranked as a leading Information and communication technologies (ICT) economy in the Asia-Pacific region. Sydney, as the most populated city in Australia and Oceania, is a major business hub in the region. The city has a particular focus on the financial and telecommunications industries. Sydney is also home to nearly half of all Australian startups. Public cloud adoption in Australia is growing at an exponential rate, higher than anywhere else in the world.
The digital landscape in Australia is experiencing a huge growth year-on-year. With the increased demand for larger companies that have greater data requirements, there's a boom in datacenters moving to regional Australia. This boom is creating new digital business opportunities.
Why Choose Datacenter in Australia For Your Website
Optimal Page Speeds
From the early days of FastComet, the greater Australian region has consistently represented one of our largest customer communities. These customers have traditionally selected our datacenters in Singapore or Japan. With the launch of our Sydney datacenter location, regional customers will benefit from low latency and performance gains by running their modern applications closer to home.
Greater Data Sovereignty
FastComet takes data privacy very seriously, and we allow you and all your clients to comply with privacy regulations that require data to reside in a specific country or region. For those developers and organizations that couldn't use FastComet before being subject to Australian Data Protection laws, they'll now have another choice in cloud providers that allows them to be compliant with data sovereignty laws. Rest assured, when you choose the Sydney datacenter, no data will ever be hosted outside of Australia.
Infrastructure and Performance
Such an innovative culture requires a state-of-the-art architecture that can keep up with modern demands. With our new datacenter location in Sydney, Australia, we are able to surpass all expectations.
This is a whole new class of cloud, designed from the ground up to both host mission-critical workloads and drive innovation to satisfy the redundancy, flexibility, and proximity needs of our customers. Our Sydney Datacenter is a world-class facility running on high-speed, redundant Internet connections and is well equipped to handle any data requirement.
Testing shows 20% to 85% reductions in round-trip time (RTT) latency when serving customers from New Zealand and Australian cities such as Sydney, Melbourne, Auckland, Wellington, Brisbane, Perth, and Adelaide, compared to using regions in Singapore or Tokyo.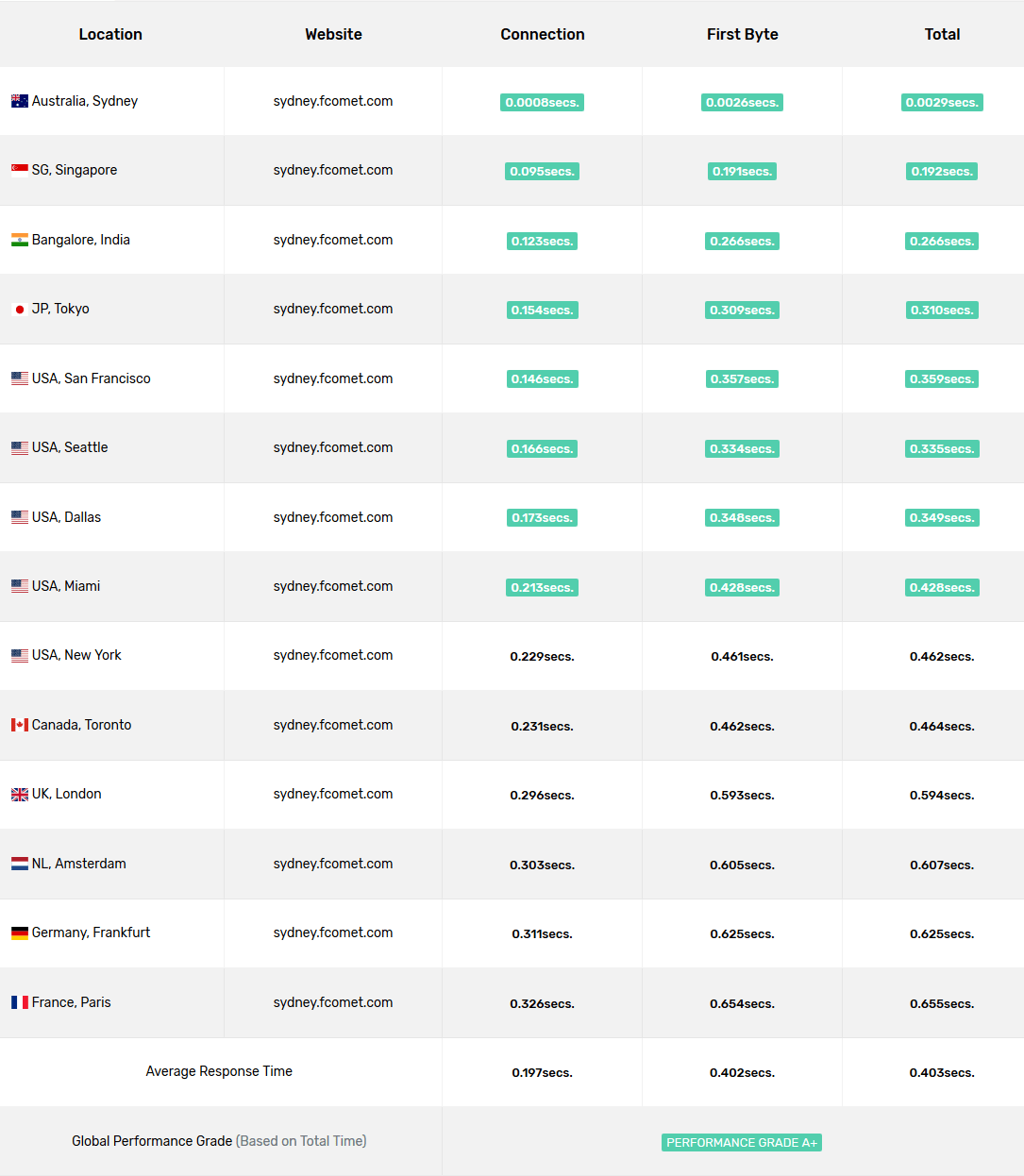 Managed High-Performance Cloud Hosting in Australia
New to FastComet? If the majority of website visitors are largely from Australia or South-East Asia/South West Pacific, we recommend you to choose our Datacenter in Sydney, Australia. The new location is available and can be selected as your preferred region during the order process. So if you need a domestic footprint in the Emerald City, take a look at our web hosting plans today.
Existing customers can also take advantage of the new locations by requesting migration from our experienced 24/7 Technical Support team. Switching locations requires an IP address change and additional steps from our team. The migration process is handled quickly, with care, and we will make sure that you do not have to lift your finger to transfer your websites to Sydney. As always, the migration of your account would be completely free!
The latest tips and news from the industry straight to your inbox!
Join 30,000+ subscribers for exclusive access to our monthly newsletter with insider cloud, hosting and WordPress tips!