Introduction to Open Atrium
Updated on Dec 10, 2015
In the last couple of months of 2013 Phase2 Technology released version 2 of the incredibly flexible and easy to use open source platform Open Atrium. For the users not familiar with that name it stands for open source collaboration software that helps organizations around the globe to easily and more importantly securely connect their own teams, project and knowledge into a single piece of software.
Open Atrium framework provides your organization with the power to integrate your already existing software with the platform while preserving flexibility as your organization grows in numbers. Using Open Atrium you will be able to build solutions such as intranet, web portal, social collaboration platform or even LMS (Learning Management System) to help in the management of the different tasks, divisions and teams of your company.
Open Atrium is build using the Drupal platform and can be easily installed using one of the installation packages from the official Drupal page.
How does exactly Open Atrium works?
Open Atrium introduce a hierarchy from different elements. The top element of the hierarchy is called a space and you can look at the space as a rack. The next element in the hierarchy is the sub-space which can be easily presented as a drawer in the rack. In every space or sub-space you can create as many as section you would like to. To easily understand imaging that the sections are files in the drawer. Finally the element at the bottom of the hierarchy are the Content pages you will be adding.

The hierarchy is pretty easy and straight to understand and build. The following picture will present it visually using the ACME HR department.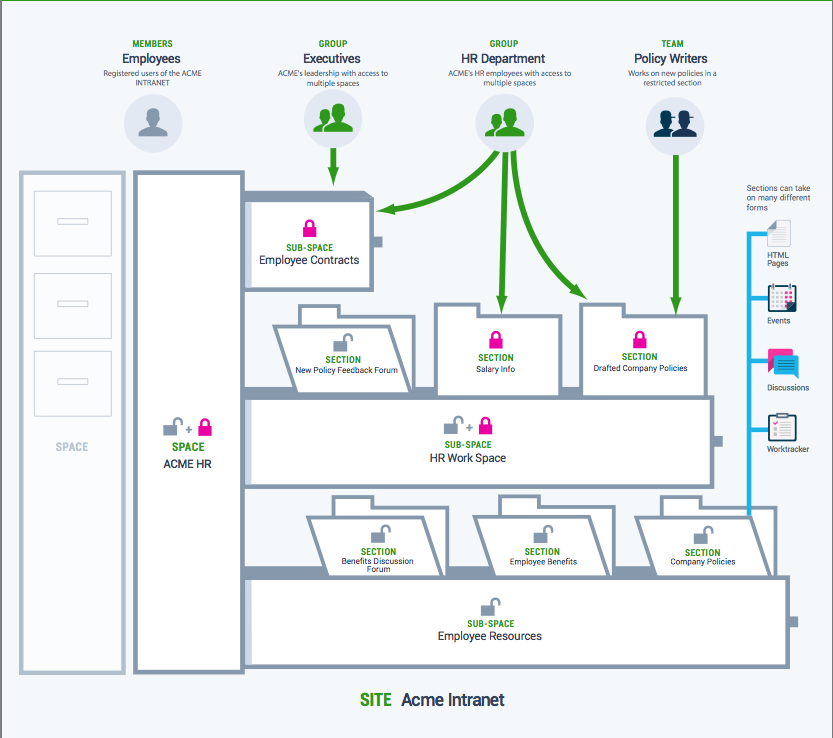 What features Open Atrium supports?
Every Open Atrium installation comes with the following set of features:
Documents - Create, attach, store, share, and collaborate
Events - Manage upcoming events with integrated calendars
Discussions - Communicate, collaborate, and exchange ideas securely
Multimedia - Embed, store, and access files, images, & videos. Store once. Use Sitewide.
Mobile Optimized - Create, publish, and access anywhere. No app required
Worktracker - Monitor projects, milestones, & deliverables
Of course you are free to expand the provided feature with almost every module the Drupal application can support.