While exporting/importing your emails you may come to the realization that you have some duplicated emails in your mail account. You can use Thunderbird in combination with an add-on called Remove Duplicate Messages (Alternate) in order to keep your accounts clean off duplicates and low in size.
While they might be similar extensions for other clients, in this tutorial we will focus on thunderbird as it is one of the most used mail clients. If you have no previous experience with Thunderbird, you can check our other tutorials on its configuration.
After you have the client up and running, you will have to download the extension from its official page.

After you save the remove_duplicate_messages_alternate-0.3.14-tb.xpi file on your local machine, you need to navigate to the menu button and click Add-ons.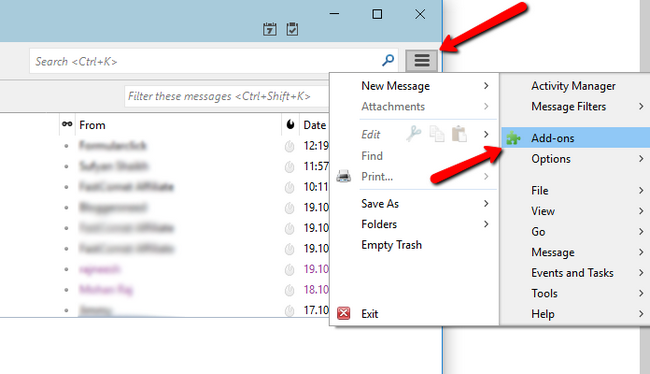 Click the gear icon at the top-right corner to the left of the search box and then select Install Add-on From File...

Browse to the location of the add-on installation file, select it, and click Open. After that you will have to restart Thunderbird in order to complete the installation.
Now click on the Options menu for the add-on and check the General Settings. If you want to be able to also check all of the special folder you have like Sent, Draft, Junk etc make sure to disable the first option. More importantly, be sure to have Review search results before deletion enabled as this will give you valuable information instead of just send all of the duplicates to the trash or delete them permanently.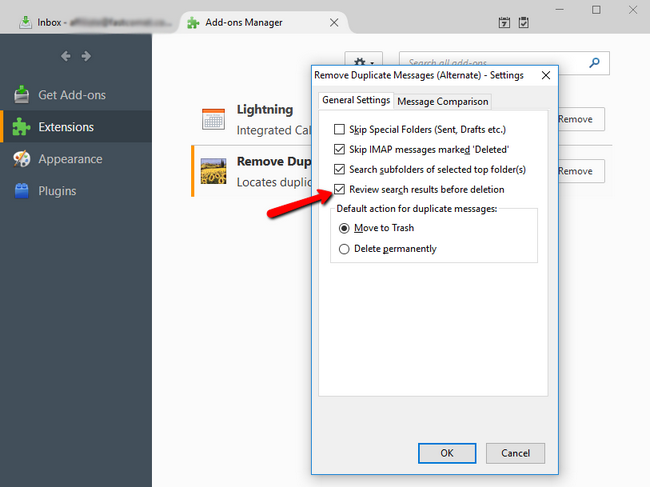 On the Message Comparison settings tab, you will be able to select by what data the messages are being compared to one another. Usually the default options here will suffice. However, if you have very similar emails with minor differences, you might want to enable more of the options. Due note that the Body option will considerably slow the comparison especially in more than 10 000 emails.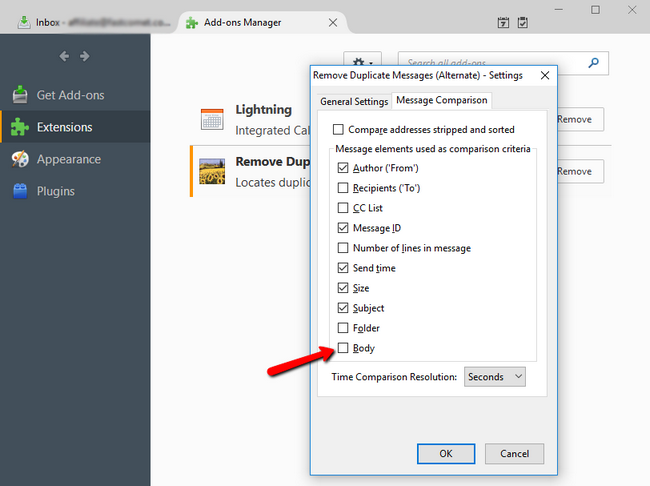 Now go to your main thunderbird tab (the one with all of your accounts) and select the folder then right click and select the Remove Duplicates...option.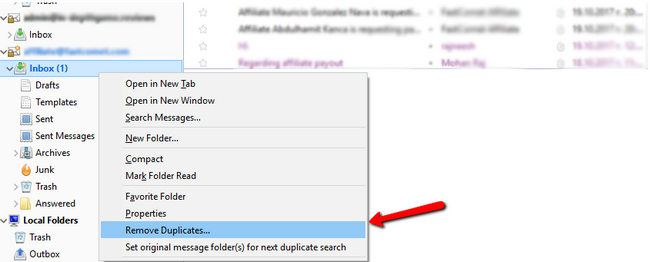 If you have no duplicates in that folder you will be notified via a pop-up. However, if you do have some duplicates, you will receive information about them as well as some useful action buttons.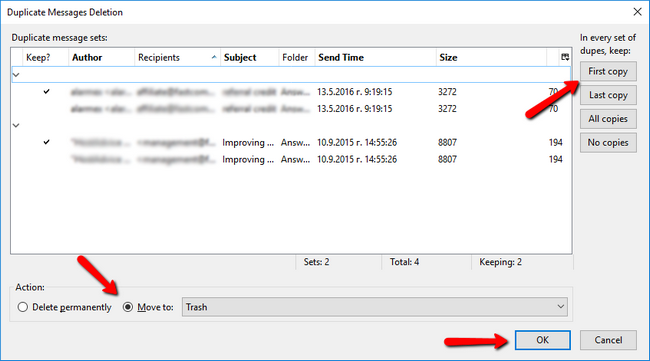 In the right you can select if you want to keep some, all or none of the copies of the duplicated emails. At the bottom you have the option to send the rest of the emails to the trash, delete them permanently or sent them to another folder. Click OK when you are done and now you have a cleaner mailbox with no duplicates.