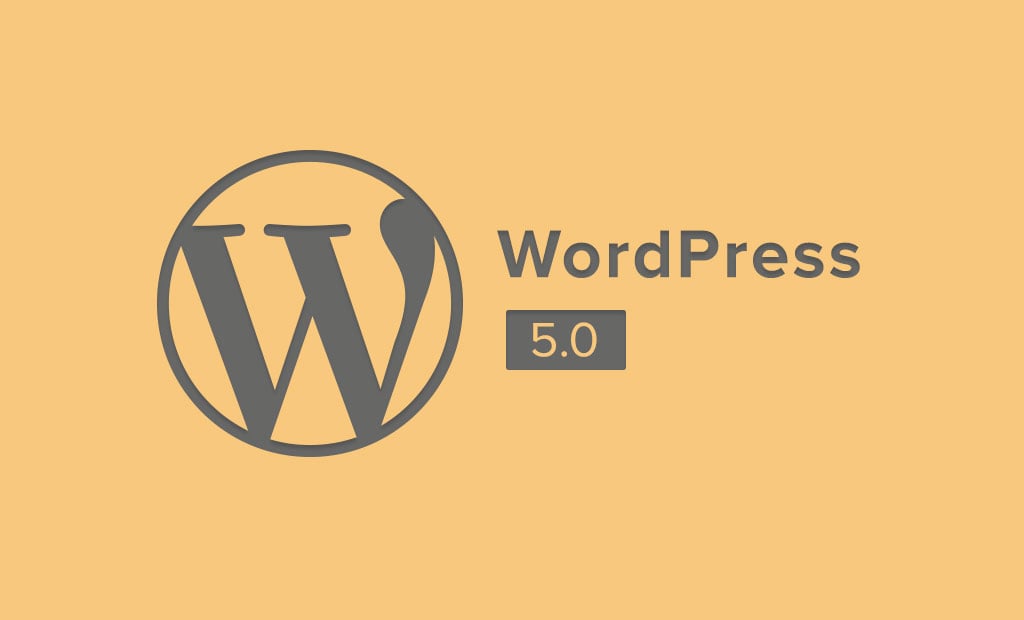 WordPress 5.0 & Gutenberg: The Day After Tomorrow
If by some chance you have missed it out – the officially scheduled release date for WordPress 5.0 was matched today, December 6th, on the eve of WordCamp US. The release is named after the pioneering Cuban jazz musician Bebo Valdés.

In the world of WordPress, there has never been a more anticipated version release in its 15-year history. But this is also the longest amount of time we've gone between major releases in WordPress's history. With 423+ contributors, this release marks the most amount of new contributors to a major version.
Nevertheless, the release date has been put off a number of times; from mid-November to late-November to what was now considered the final launch date, this came as a slight surprise to many, though, as the final scheduled release date had only been communicated to the community officially a couple of days ago.
WordPress 5.0 Timeline
At the 2016 WordCamp US in Philadelphia, PA, Matt Mullenweg, founder of WordPress, announced that a new post and page editor would be coming to our beloved content management system.
But the actual craze started sometime around May 2017, and now we've reached the culmination of the grand event of the year. WordPress 5.0 was conditionally scheduled for release on November 19, though there was some room for change built into that date. Eventually, the core team behind the script pushed back the release date to November 27, in line with the "8 days of room" from the schedule. However, November 27 passed with no release, although the core team did push out the WordPress 5.0 RC 1 on November 23. The second test version of WordPress 5 aka RC2 (Release Candidate 2), was released on Friday, November 30, 2018.
During last week's core dev chat session, Matt Mullenweg urged developers to consider WordPress 5.0 as "coming as soon as possible."
The news for the new target day was announced Tuesday by Mullenweg, who wrote in a post about the Gutenberg release that he is firmly behind the idea of releasing the update as early as the 6th of December.
"Based on the stability, testing, and reports on the release candidates for WordPress 5.0 so far, we are now targeting Thursday, December 6th for public release…"
Of course, there was a chance that 5.0 will require some additional time in order to be released, so this date can yet slip again. The core WordPress Dev team left some room and indicated that in case they do find reports/information this can change:
"As before, if new information arises that indicates the software is not stable, we will adjust or remove the target date."
Today around 1:30 pm ET, WordPress 5.0 was officially released.
Community Response
We do all understand that whenever there is a new major release from WordPress or any other knocking on the door, almost every time there are some who would love the changes and others whom would be against them. Having mixed reactions especially with application updates isn't a new headline.
The response regarding the 5.0 update from the WordPress community was mixed ranging from unbridled optimism to in some cases extreme outrage. The new release date announcement had well over 100 by far not particularly enthusiastic remarks from frustrated contributors expressing valid concerns.
The leading complaints and #wpdrama about WordPress 5 are:
Improper Timing
The current outcry from the community would have been most likely dialed down a notch if the release date wasn't the day before WordCamp US begins. Official feedback and social media channels exploded with considerable negative feedback on the decision because this is a travel day for many attending the conference.
Even, if this wasn't the case – we are already well aware that there are at least a few planned follow-up releases that now are expected to align exactly when many have already scheduled some time off with their friends and family during the holiday season. But that is also a partially valid concern, though. There have been 9 major WordPress releases in previous Decembers. December releases comprise around 34% of our major releases in the past decade.
Accessibility Issues
The events culminated with the recent resignation of Rian Rietveld the long-term Accessibility team lead, who recently stated on her blog some quite alarming things. One of the more notable remarks she made were in regards to the overall lack of effective communication between the accessibility team and the Gutenberg dev team. She listed several problems that the WordPress a11y team ran into when they were evaluating Gutenberg, submitting tickets and suggesting solutions.
Accessibility has always been core to WordPress from the very beginning. However, along with the Gutenberg project it fell with project management. Many reported that there was a team of volunteers that felt like they were in a way feeling as excluded from the agile development that was happening with Gutenberg. While more than several accessibility issues have been addressed, many remain unresolved, and they will stay as such by the time of the official planned 5.0 release date.
It is quite important that those who are legally required to be Section 508 compliant to keep themselves informed of the latest developments and continue to be proactively testing and planning their course of action.
Outstanding Bugs
According to the most current documentation, there were 288 outstanding bugs to be fixed.
In the short term, the new change may cause some synchronization problems, but in the long run, it will make it easier for WordPress users to deliver a lot of benefits. For some, this is a little controversial, but in the long run, these long-term benefits take precedence.
End-user Experience
Of course, many including us understand that updating your project to 5.0 is an option. However, one of the main concerns here is that many would hit the update button as soon as the release is made public without even testing if everything on their project is compatible with the new release. Sites, when upgraded to WordPress 5.0, might break.
To go even one step further, millions of startup business will suddenly have to face not only extra costs but also try and explain/teach the new "editor" to their users.
While there are indeed valid concerns surrounding Gutenberg, there is also so much to be excited about. After all, the excitement was that truly dominated. So far there have been more than 2 million downloads and counting:
With that in mind, let us dive into what we all can expect from the WordPress 5.0 release.
WordPress 5.0 Changes Everything (What's New)
We are all excited to see where WordPress is headed and the upcoming complete revamping on how users and developers use the CMS would be a turning point on how things would shape for the future of the community project. Ready or not, WordPress 5.0 is here! Here's what you need to know.
New WordPress Editor
Hands down, we could agree all that Gutenberg is the headline in this release and it brings with it some of the most significant changes to WordPress in years.
Why does the editor change? The ultimate goal, according to Matt Mullenweg, is to simplify the first user experience with the application – for all of us who write, publish, edit and design web pages on a daily basis. The whole idea behind the new editing experience aims to give users a more comprehensive visual representation of how their post or page will look when they are published.
The Classic Editor has undoubtedly been our best and most frequently used friend when it comes actually to interacting with our projects and building the content itself. And what Gutenberg does is to empower you to manage your content in a much easier fashion compared to the loved default TinyMCE post content editor. Basically, by oversimplifying things with WordPress 5.0, you are provided with a drag and drop interface built with React with useful elements or to be more precise "blocks."
Previously with the TinyMCE Editor, you were getting just a Single Rich Text where you can add your images, text, links, HTML code. Using a block system for editing it is possible to embed a wide range of content in the publication itself. This gives extraordinary flexibility to each author, making it easy to achieve the visual effect.
The TinyMCE also does not provide a ton of customization options when compared to the new Gutenberg employed technology, which is a called Block Structure. The Block system is indeed quite familiar when compared to almost all the famous WordPress Page Builders.
Other small touches here and there like the text styling and formatting options, where the users can define the size, text color and background color of the text are quite pleasant to use.
Matías Ventura, team lead for Gutenberg, wrote a marvelous post about the vision for Gutenberg, describing it as:
"It's an attempt to improve how users interact with their content in a fundamentally visual way, while at the same time giving developers the tools to create more fulfilling experiences for the people they are helping."
End-user experience aside, something quite invigorating or just the opposite for most developers can be the rework of the application itself. Gutenberg comes with changes that can be considered as earth-shattering ones, as now it is built on React which is one of the most popular JavaScript Frameworks, which can praise itself with extensive support from companies like Facebook, Airbnb, Instagram and many more. The new Gutenberg update further takes advantage of a lot of other modern technologies ranging from the funny JSX tag syntax for React.js to the new welcomed REST API, WebPack and a few others.
Usually, when such changes are introduced, developers would need to learn new languages and such things can be quite inconvenient and time-consuming which usually translates directly into less support especially of the initial stages and maintained releases of new updates for the given platform. Gladly there are quite a lot of open source projects that can make "block development" a bit more inviting without the need to dedicate quite a lot of resources to get you started and there is where open source projects like create-guten-block shine.
Components that are usually built with HTML and CSS can be easily translated to a completely editable block of content by for example converting them into a JSX driven component which on its hand would empower content developers with complete control over the style driver system to work with.
Something that can be easily get overlooked is that actually with Gutenberg there is a major effort to bring new ideas to the table, such an example can be considered the Documentation in Code. The possibility to use and demo the code right inside the documentation itself is more than useful. The self-made documentation tool has a striking resemblance to the React Storybook; however, it was customized in such a fashion to meet the WordPress Documentation Styling.
New Default Theme
We are also getting a Twenty Nineteen theme which is going to be the new default for fresh installations. Twenty Nineteen was built with Gutenberg in mind, of course, and it's fully compatible with it. As for the features, the new theme contains both back-end and front-end styles and is based on Underscores and Gutenberg starter themes.
What Could Possibly Go Wrong?
Many sites are created with old modules and WordPress themes, which are virtually never updated. There are many plugins installed that are not supported, and no one has tested whether these abandoned plugins will work with Gutenberg.
The same applies to themes, in some cases the theme is unique, custom-made and then nobody has supported it. These unsupported topics have not been tested with the new editor, and the likelihood of not being synced is substantial. In these cases, it is perfectly reasonable to experience difficulties after the Update. At best, a feature will not work properly, and at worst it will cause your website to crash.
Some of the sites using WordPress are likely to be unable to edit old posts. This will mostly be due to additional plugins that use the old editor and its functionality. Also, specialized topics that re-use the editor or part of it may also cause difficulties.
Some users may experience a server error of 500 or a white screen. This is again caused by the incompatibility of an environment, a plugin or a theme with the new version.
Of course, there is also the reverse, ideal option – seamless synchronization with current themes and plugins.
How to Make a Smooth Transition to WordPress 5.0?
Prior to clicking on the Update button from your dashboard, there are several questions you should ask yourself: Have you tried the new Gutenberg experience? Are you comfortable with it?
Once you have been informed of the possible issues that are most likely to occur to you, we would also provide you with some solutions or methods to avoid these cases.
As with any new version of WordPress, we always recommend testing before performing an upgrade and especially when such major releases. This might sound like a routine message to some, but because this release impacts everything from the editor, to third-party plugins, and themes, testing is a must!
Therefore, if you don't test your current project compatibility with the new update, things could easily break. This is one of those releases where you don't want to skip all of the best practices before implementing updates for your websites.
Update WordPress Core with a Staging Website
It's always the best idea to make significant changes and perform tests to your site in a staging or development environment rather than on your live site. Otherwise, you risk potentially breaking your front and back-end. Be sure to check your error log for any errors.
Does everything seem to be ok? All of the used plugins are you are using are compatible? Copy your staging site to your live environment, and you are all set.
Keep Calm and Create a Backup Prior to the Upgrade
We would urge everybody to generate a backup manually before pulling the trigger and upgrading their live websites. You can read our step by step guide on how to do it from your cPanel with us. For those who would forget to do that – we would like to remind you that we do generate backups each and every day for you!
Check the Compatibility of the Used Plugins and Themes
If you have paid plugins or templates, you can contact their support for more information on whether you can perform Update. If you only run Yoast SEO, you're perfectly fine. Yoast team has been ready for this release for a few weeks.
It is imperative that you update to the latest version of WooCommerce 3.5.1+ prior to upgrading to 5.0
WordPress 5.0 "Bebo" is Now Available via Softaculous
The Softaculous Team has added a new branch for WordPress 4.9.x so if you are not yet comfortable with installation 5.0 you can go for 4.9.8
Do You Have to Switch to Gutenberg as WordPress 5.0 is Released?
Not at all. There's no reason to avoid the 5.0 update if Gutenberg is the only thing holding you back. If you prefer the older version – you can easily install the Classic Editor plugin, which will turn off Gutenberg and restore the classic editor like you are used to now.
The Classic editor is going to be supported for years to come until 2022, so you have plenty of time to keep using it while you figure out a plan for adopting Gutenberg.
If you are still hesitant, whether or not to give WordPress 5.0 a try, we are recommending that you wait at least a month before making this change. For this period, most developers will make changes to plugins and templates to be compatible with WordPress version 5. Also, the usual initial bugs would be removed when a large version is released.
Conclusion
These are exciting times for the whole community with significant changes coming to the WordPress experience. We could reasonably argue that these changes are likely to demand some investment by the current WordPress developers, to help them learn new "tricks" but as many had said before:
"What brings us here, won't get us there."
Most of these changes help modernize WordPress Development, they align with the broader Web development community, and all in all are likely to bring new contributors to WordPress and lower the barrier to entry.
The latest tips and news from the industry straight to your inbox!
Join 30,000+ subscribers for exclusive access to our monthly newsletter with insider cloud, hosting and WordPress tips!