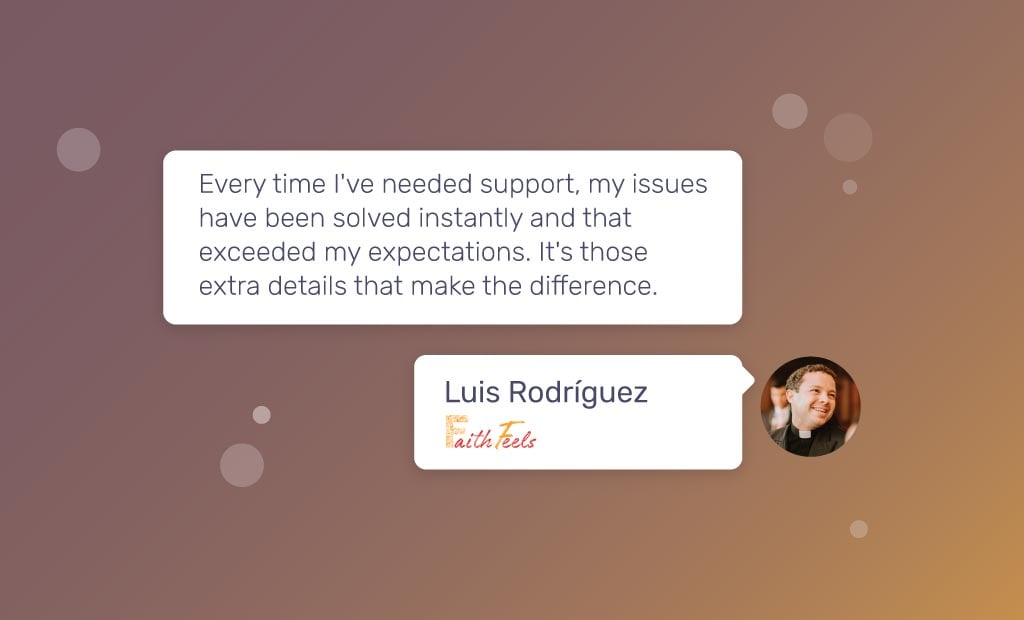 Spotlight: Luis Rodríguez on Faith, Religion, and Life Lessons
Another week – another spotlight! Again, we have a Grand Prize Winner with us – part of our Customer Spotlight Contest series. We are glad that Luis Rodríguez found the time in his busy schedule to participate in the contest last year and give more publicity to his story. He is a student, a teacher, and is working hard to affirm his concept of faith into a digitized environment. He also just passed the two-year mark of being a customer and shows no signs of stopping now.
The Interview with Luis Rodríguez
FastComet: Hello Luis, and thank you for joining us. Can you introduce yourself to the audience?
Luis Rodríguez: Hi! I am a religious in the Legion of Christ, a religious congregation in the Catholic Church. I am studying to become a priest, and I have been actively publishing material on the Internet for a couple of years. Last year I also decided to start my very own website and YouTube channel.
FastComet: Tell us more about your website and what made you create it.
Luis Rodríguez: I have been publishing gospel reflections/meditations and other articles on several websites for some time. I knew that in September 2019, I would be going to Rome to study Theology. That seemed like the perfect moment to start my own website and YouTube channel. This way, I could share my experience in the priesthood and my life in Rome as religious information. I called another religious brother, now living in Mexico, that would be going to Rome with me. He was thrilled to be part of this new adventure. So we thought: "Why wait? We could start now!" All of that happened in September 2018.
After a lot of research, we found the best web hosting provider – FastComet! We signed up, designed the website, and launched it to the world! We've been uploading content weekly and growing our community every day since. We're so happy to be able to share our experience with anybody anywhere on earth! And this is just the beginning. This September we start broadcasting from Rome!
FastComet: What challenges did you face in building the website?
Luis Rodríguez: We had some initial problems when trying to design the website. First, we had to come up with a name. We think "Faith Feels" transmits our idea: to share with everybody how living your faith to the fullest makes us feel, cause faith isn't something you think about, it is something you have to feel and live out! After that, we faced the problem of the actual design. Having the possibility to use WordPress and all its plugins gave us an easy and fast way to start our website from scratch and have it up and running in no time.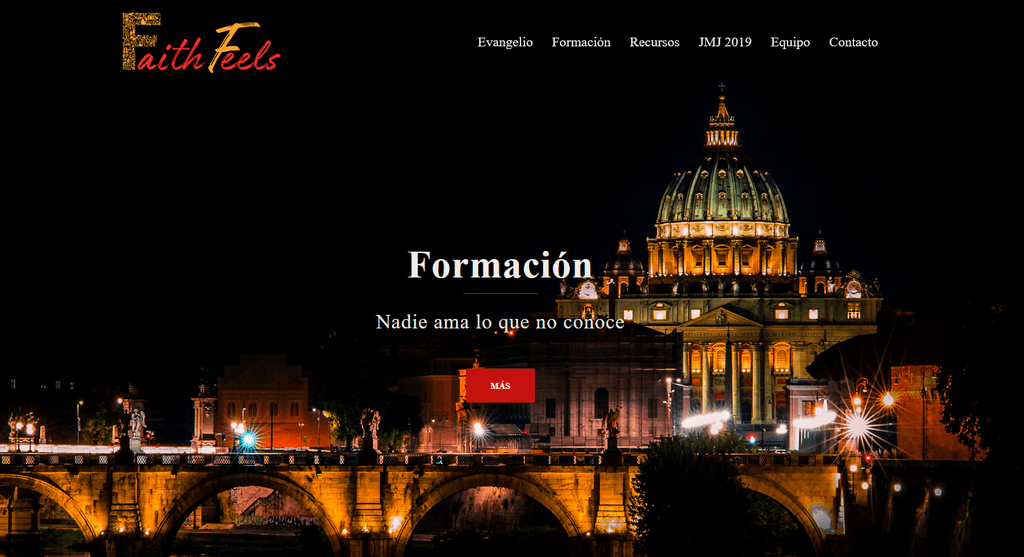 FastComet: What does a typical day in your life look like? How do you keep yourself productive?
Luis Rodríguez: A typical day in my life is… nonexistent.
FastComet: That is a very interesting way of looking at it.
Luis Rodríguez: That's the beauty of it! Each day is different, and I'm not saying it as a cliché moment because my life is actually like that. Today I'm in El Salvador, teaching English and coaching students on their public speaking skills. Two days later, I'm in Guatemala, going on a retreat. Next week, I'm in Costa Rica, giving talks about the Holy Shroud of Turin.
Being productive and creative isn't the problem. My problem is always making the time to write down a new article or record a new video for YouTube. But a dose of organizational skills, the right attitude, and grain of faith is all you need to make it work!
FastComet: Who is your primary audience, and how do you reach them?
Luis Rodríguez: My audience consists of young people who want to know more about their faith and grow in their spiritual life. I usually reach them through social media, like YouTube, Instagram, and Facebook.
FastComet: Why would you want to take your faith to the Internet and social media?
Luis Rodríguez: We live in a digital age. Everybody carries a phone, and we all spend hours of our day on the apps mentioned above. We really think our message is important and will help thousands of people to live happier and more fulfilling lives. So we are just doing what every entrepreneur has done since the beginning of time: we are taking our "product" to where people are. People are living a big part of their lives on the web, so that's where we must be.
FastComet: What's been the most exciting part of the journey so far?
Luis Rodríguez: That has always been connecting with people around the world. People send you messages, comment on the posts, reach out for help, send you materials. Every single person we reach and help makes this whole journey and all the work associated worth it!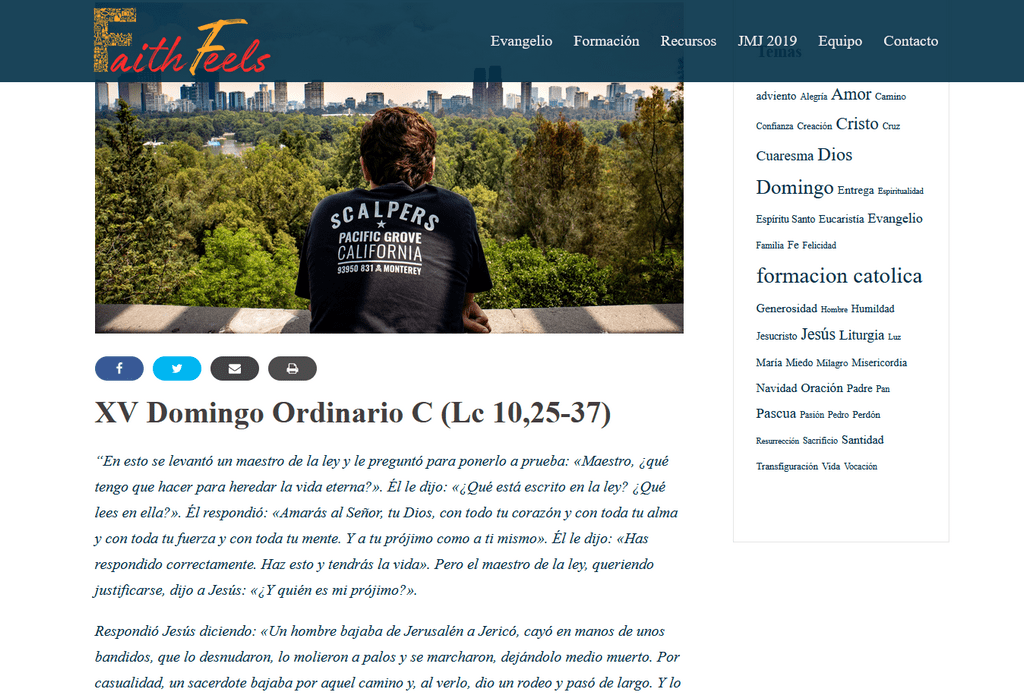 FastComet: How were you introduced to FastComet? How has this decision transformed your business?
Luis Rodríguez: I found you while researching hosting platforms. A site called "HostAdvice" has FastComet as their #1 hosting platform. The data supported the claim, so we went for it. Has this decision transformed our "business" (if you can call it that)? Well, it hasn't only transformed our idea: it brought it to life!
FastComet: Generally, what do you look for in a web host?
Luis Rodríguez: I look for good service, fast speed, ease of use, and affordable pricing. I found all of this and more with FastComet. But what sealed the deal was definitely FastComet's customer service. I had a couple of questions and contacted the team. I had an agent chatting with me in seconds. Not minutes – SECONDS! You would probably think this is just a strategy to bait in new customers, but this is not the case. Whenever I've needed support, my issues have been solved instantly, which exceeded my expectations. It's those extra details that make the difference. They make your service go from good to excellent! Even if I were to find a platform that offered me more for less money, I wouldn't change FastComet's customer service for anything! It's one of the best services I've encountered in my life!
FastComet: Glad to hear this! A question we rarely ask – why do you think we choose to spotlight your site?
Luis Rodríguez: I think our site was an excellent option for your blog because it's in a very narrow and specific niche that isn't so common on the web. It is a perfect example to people out there that anybody can start a website. Your topic or genre doesn't matter. Your expertise level doesn't matter. All that matters is that you want to share your experiences with others, and you have the patience and commitment to do it!
FastComet: Lastly, If you had one piece of advice for someone just starting out, what would it be?
Luis Rodríguez: If you're thinking about starting a new project, be it a website, a YouTube channel, or anything else – stop thinking about it and just start! Sometimes, that first step is the hardest, and every step that follows gets easier. Don't be afraid to fail! Failure isn't the end; it's just one stop on your road to greatness!
Share Your Story with FastComet
Thank you again for your participation in the Customer Spotlight Contest Luis. Your unique way of looking at life added a lot of flavor to the interview, and variety is ever more important.
Do you also want to show the world your passion and how FastComet helped you take it from a concept to something the entire world can see? Please let us know.
The latest tips and news from the industry straight to your inbox!
Join 30,000+ subscribers for exclusive access to our monthly newsletter with insider cloud, hosting and WordPress tips!