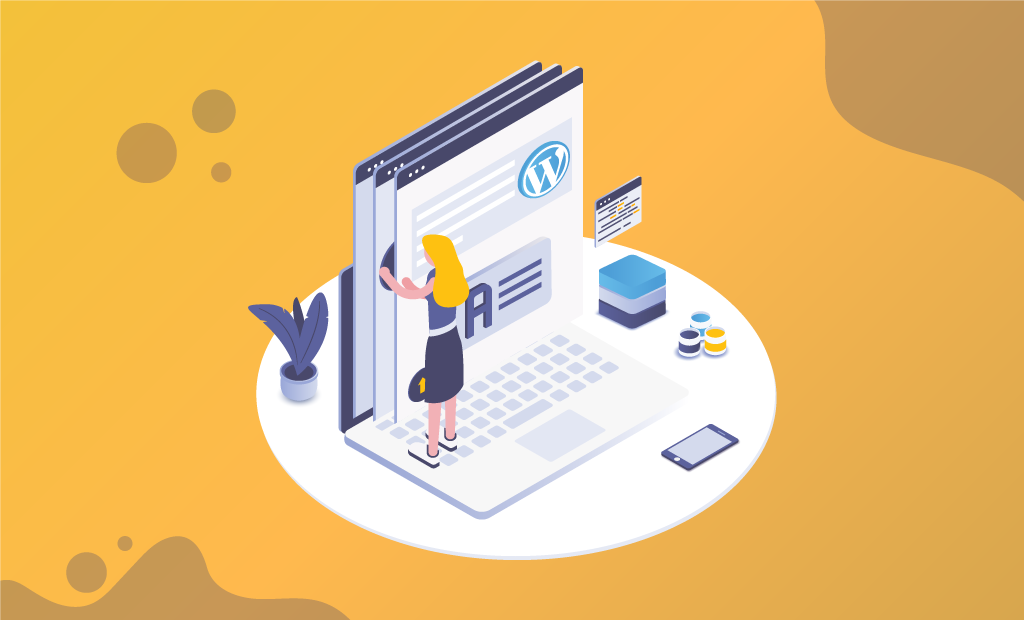 How to Effectively Manage and Scale WordPress Multisite
Monitoring and managing multiple WordPress sites can be a time-consuming challenge. Yes, the platform has an easy-to-use interface, but even when running a single WordPress site, there are many things to be done. You have to update plugins and themes regularly, keep up with the content creation, moderate comments, and do regular maintenance. If you multiply those "chores," you will find yourself with no free time. When you want to scale your business, you will most likely have to create multiple websites and manage them. You are in luck because you don't have to do that all by yourself — you can use some help from a solution called WordPress Multisite.
However, when you aim to scale your online business, using WordPress multisite could go either way. It's a WP installment that can definitely save you and your team a lot of time but could also be the cause of some unique problems. That's why you need to make an informed decision about whether to use WordPress multisite or not. In this article, you will find out what are the benefits and the disadvantages of multisite, which should ultimately help with your choice.
What is WordPress Multisite?
Everything started with WordPress MU – a feature that was used to allow users to create their blog network on a WordPress site. Since 2010, that feature has been integrated into WordPress and expanded with version 3.0 of the CMS. WordPress multisite has the sole purpose of enabling users to be able to create a network of websites within a single WordPress installation.
The most appealing thing about WordPress multisite may be that once you enable the solution, it becomes a part of the WordPress interface. So, if you have worked with WordPress before, the learning curve for multisite should be minimal to you, because it functions the same as the rest of WordPress. However, there are various things that are different when comparing WordPress multisite and Regular WordPress.
Keep in mind that if you are going to activate the WordPress Multisite feature, you should be comfortable updating files with the likes of wp-config.php and .htaccess.
Basic Differences Between WordPress Multisite and a Regular WordPress
Overall, multisite does not disrupt your WordPress installation too much. You have the same interface with normally working functionalities. However, there are differences when it comes to your database files. After all, you have a network of websites that run from the same installation now, rather than just a single one.
One of the examples is the wp-uploads folder. With WordPress multisite, the folder has a subfolder for every website in the network. Additionally, WordPress also has to hold more database tables for you. Usually, a WordPress website has 11 database tables containing information regarding your website. When you have WordPress multisite, there will be 9 database tables per website.
Those database files and tables are rarely used, so it should not be too concerning. It's just a quick example of why WordPress multisite is not the best solution in absolutely all cases.
WordPress Multisite Key Features
Here is a list of the WordPress Multisite unique features:
There is an additional role – Super Admin. This role is for the administrator of the entire multisite network.
You have the ability to create a network of blogs and website out of a single WordPress installation;
You can have a network of subdomains (http://user1.example.com) or directories (http://www.example.com/user1). If you want, you can also have separate domains for each site on the multisite network.
As a Super Admin, you can open the network for other users to create accounts and blogs.
Plugins and themes are stored once, no matter the number of websites. That means you need less server space when compared to separate WordPress installations for each website.
As a Super Admin, you can install themes and plugins for website admins on the network to activate them when needed. By default, regular admins don't have permission to install themes or plugins.
As Super Admin, you can also make changes to the themes for all websites. Website administrators cannot change anything concerning the theme.
You can create websites and shops for different languages, regions, currencies, etc. A good multilingual plugin to use is MultilingualPress.
Who Should Use WordPress Multisite?
WordPress multisite may offer several very attractive features, but it's not the right choice for every circumstance. You should always keep in mind that all websites in the network are sharing the same database. With multisite, you cannot back up only one of the websites on the network. That's the reason all websites have to belong to the same principal domain.
A quick example. For a bank, a university, or a store with multiple outlets, WordPress multisite is the right choice. That's because there are no websites in the network that are too separated when it comes to their function. All of the sites in a university network have the goal of serving their principal domain.
On the other hand, if you are a developer working with client websites, which have completely different domains and different purposes, multisite would not be the best choice. If one of your clients decides they want to move their website elsewhere, you will have an issue on your hands, because all websites on the network share the same database. Yes, it's not the end of the world, but it's much more difficult to back up a single website when working with WordPress multisite.
Pros And Cons Of WordPress Multisite
Now that you have an idea who should and should not use WordPress multisite, it's time to look at the technical pros and cons of the WP feature. In this case, most of the cons are things that you can avoid if you manage the network properly, which is more than great.
PROS
You can manage multiple websites. That saves a lot of time and effort. It's especially useful if you are running several websites that are managed by different teams.
You can assign a different admin to each website on your network.
With just one download, you can install and activate plugins and themes for your network's websites.
You can manage updates with a single master installation for all websites on the multisite network.
CONS
All websites go down if the network goes down;
A traffic spike to one website affects all others on the network;
If a single website gets hacked, the entire network is at risk;
Not all WordPress plugins support WordPress multisite;
Requirements For WordPress Multisite
If you decide to use WordPress multisite, you should know that you have to meet certain technical requirements.
The first thing you need is a web host that can provide you with a hosting plan where you can host multiple domains without a problem. If you are not already a FastComet client, you can check our hosting plans pricing. Keep in mind that if you have websites with regular high traffic, you will probably want to take a look at our Cloud VPS and Dedicated CPU Servers. In all cases, you can be sure that FastComet has your back.
Moving on, you will need to know how to install WordPress. It would be great if you already have worked with the platform, but even if you did not, you can check our WordPress tutorial. WordPress can be complex, but it's not too hard to work with.
If you have a current WordPress installation, you will have to back it up. Additionally, you also need to deactivate all plugins.
Make sure you have FTP access. You will need to know the basics of editing files using FTP as well. Again, we have a helpful FTP tutorial for you to check out.
You need to activate permalinks. They will make your URLs look neat, like http://example.com/my-page, rather than http://example.com/?p=135647.
Those are the requirements. Luckily, they are not difficult to meet.
Multisite Domain Mapping
By default, you will be able to create additional websites on your multisite network in the form of subdomains or subfolders of the main website. However, you may not always want this because you will need to create a unique domain name for every website. That's where domain mapping comes into play. You can use that feature within the network to map additional websites to show as your primary domain (example.com).
Before WordPress 4.5, you would have needed a domain mapping plugin to map the additional websites. However, in versions 4.5+, domain mapping is a native feature.
Multisite Hosting and SSL
As you may already know, Secure Sockets Layer (SSL) is the standard security technology that encrypts data and communications in the transmission to ensure that all sent information is secured. The data remains undecipherable to malicious users, bots, and hackers.
With that in mind, if one of the websites on your network does not have an active SSL certificate, it will compromise the security of all the other websites. FastComet (and WordPress) highly recommends that all websites on your WordPress multisite network have SSL certificates. Luckily, Domain Mapping makes it a breeze to secure your entire Multisite Network with HTTPS.
How to Create a WordPress Multisite Network
Now it's time for the part where you create a WordPress multisite. Let's go over the steps and specifics.
Install WordPress
When building a multisite network from scratch, you start by installing WordPress. With FastComet, you can do that quickly via the 1-click installer in your cPanel.
Keep in mind that if you are creating a new WordPress installation for your multisite, you have a choice between using subdomains and subdirectories.
Generally speaking, subdirectories are easier to work with because they create completely new directories within the site. That way, you do not need to adjust your domains or DNS records with the hosting account, which we will cover later. With that said, if your website is more than a month old, you will have to use subdomains.
Back up Your Existing WordPress Site
If you already have a WordPress site, make sure to create a backup of it before proceeding. To do this, you can use a backup and restore plugin.
Deactivate all Active Plugins
WordPress advises all active plugins currently running on your site to be deactivated before you activate multisite. Once the feature is working, you can reactivate your plugins.
For the next step, you should log out from your WordPress account.
Update WP-config.php
To activate the WordPress multisite feature, you need to update your website files.
Log into your cPanel;
Choose between using the cPanel File Manager or an FTP client such as FileZilla.
Go to the root of your WordPress site (public_html);
Find and open the wp-config.php file for edit;
Add the following code to your wp-config.php file just before the /*:


/* Multisite */
define( 'WP_ALLOW_MULTISITE', true );

Save the changes to your file.
Install Multisite in WordPress
The next step is to log back into WordPress. Continue with:
Under Tools, there is an option Network Setup — click on that option.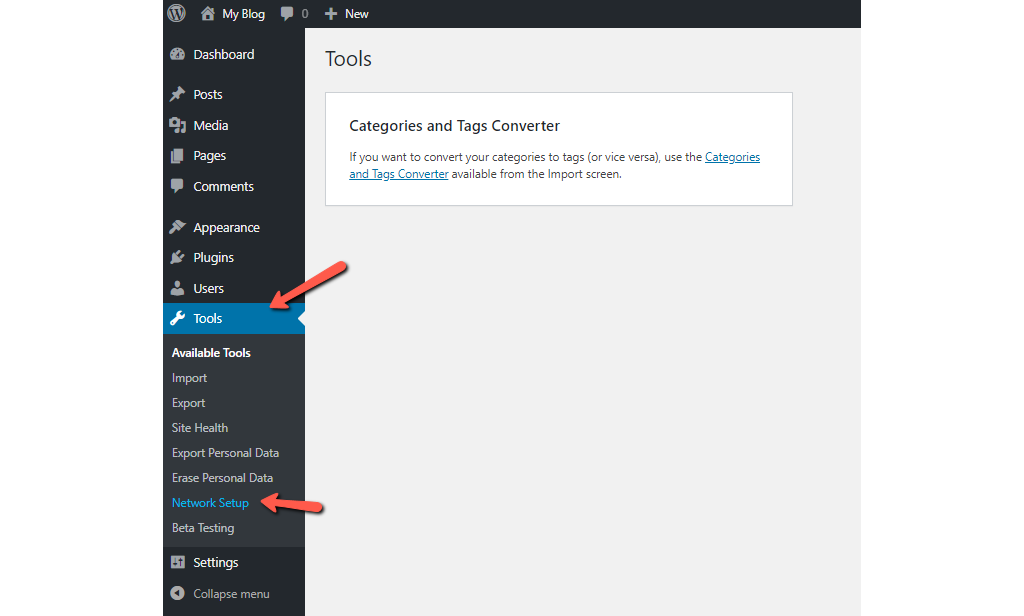 Create a name for your network and assign the super-admin rights to yourself (if not someone else). Make sure to use their proper email address.
If your site is new, you will have a choice to use either subdomains or subdirectories. Otherwise, there will be a note that says you can use only subdomains.
When ready — click Install.

Enable the Network
After you click on Install, you will see a screen with two snippets of code and some instructions from WordPress: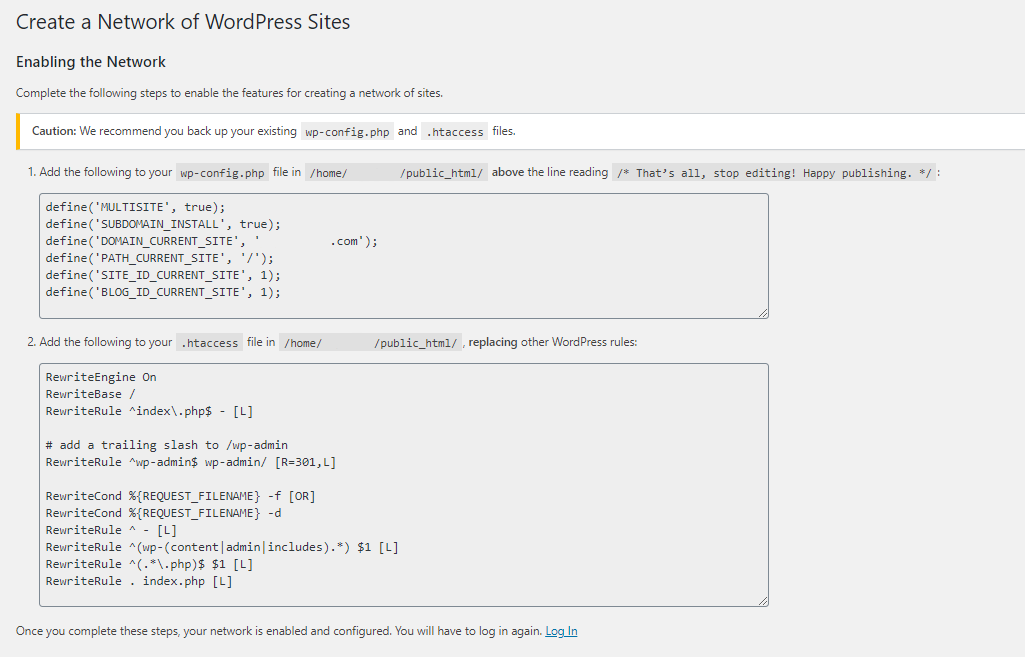 Go back to cPanel and the File Manager. Make sure to turn on the option to reveal hidden files:

Open the wp-config.php file again for editing. Paste the snippet following the WordPress instructions:
Save changes and close;
Do the same with the .htaccess file, which is hidden by default. Find the line that says # BEGIN WordPress and replace the RewriteEngine On statement with the snippet that WordPress provides for you.
Save the changes to the file and relog to the server.
How to Manage a WordPress Multisite
If you did all of the above, you might have noticed that WordPress now looks a bit different. Let's go over your new options as a Super Admin.
Settings
The first thing you have to do here is configuring your network settings. You have already created a Network Title and Network Admin email, so you can scroll down and deal with the other settings.
Registration settings control whether people can sign up and create their own website on your multisite network. Additionally, you can grant admins the capability to assign new users to their websites.
New Site settings are where you have the option to create custom messages that new admins will receive when they start producing content in your network.
Upload settings keep admins and other users in check when it comes to the types of content files they have permission to upload to their websites, as well as the size of those files.
Language settings gives you the option to change the default language for your WordPress multisite network.
Menu settings – when turned on, menu settings make it so that site admins have the capability to choose the plugins that can be activated on their websites. If you keep the settings off, only you, as a Super Admin, will determine the plugins for all sites in the network.
Sites
The interface may be mostly as it was before, but now you have a module named Sites. You can use it to create new websites on your network.
All you have to do is create the web address and title of the blog or website, and then assign an admin to manage it. That new website will show up when the admin logs in with their email address. They can find the website they are managing by using the My Sites tab in the top menu bar.
You can also assign different users and change their roles to give them access to specific themes. Just go to Sites → All Sites.
Users
This is where you see a list of all users. As with regular WordPress, you can also add or delete users on your multisite network.
Themes
When it comes to assigning WordPress themes to a multisite network, you have several options. You can go to individual sites and activate individual themes, making them available. Additionally, going to the Themes tab on the sidebar lets you enable whole themes for use across the network if you want everyone to build their sites with a consistent design.
Plugins
When it comes to WordPress multisite, plugins are different from themes. They can only be activated for the entire network.
Updates
WordPress multisite is like a regular old WordPress. To remain secure, you need to consistently keep up with WordPress core updates, as well as updates for plugins and themes. When there is a notification about updates on the multisite dashboard, keep in mind that the update will apply for the whole network. That's because there is one version of WordPress, one version of each plugin, and one version of each theme on the server itself. Only the master version that's in your dashboard has to be updated, which saves you precious time.
The difference with WordPress multisite is that now when updating, you will have to go through two steps, instead of one. First, you install the updates after you receive the notification. Second, you need to push the update to all sites.
Scale Your Business with WordPress Multisite
At first, you will probably start with up to 4 websites. However, with time, your network could grow exponentially and thus need more people to manage it because of its large scale.
What is a Large Scale Multisite?
A large scale multisite network includes many subsites with more than 10 types of business operations that have to be included in a single WordPress installation. Those operations may be corresponding to different departments or brands. They may also serve different large target audiences and corporate activities.
Additionally, a large scale multisite comes with high network load, which is why shared hosting is not fitting here. High network load means more than a million website sessions monthly, as well as an exponential amount of simultaneous user actions.
Also, when running a large scale multisite, you will need a working team that fits the description. It will be hard to run multisite on a large scale with less than 50 users, all with their hierarchical administration capabilities. After all, you need all websites on the network to be properly managed – getting new content regularly with the old one being updated when needed.
Technical and Maintenance Requirements
There are some requirements that need to be covered when it comes to large scale multisite.
Performance and Speed. When scaling, the multisite network should perform consistently, both in terms of speed and performance. That's mainly for the best possible user experience – all end-users (both frontend and in the administration) need to feel comfortable while performing actions on any website that is part of the network.
Stability and Flexibility. Typically, there will be a large number of clients or internal users that will use the network. That will lead to some critical loads, and thus the network should have a stable and flexible system with minimum downtime, errors, and data loss.
Security. The larger an online network is, the larger exposure it receives, and thus the need for perfect protection from malicious attacks.
Content Management. Without a doubt, content management needs to be as easy and quick as possible, especially in a large network. A big team can make the content management process complex. That's why it's best to decide the number of users in advance.
From the requirements above, you can tell that you need to find a proper hosting provider, such as FastComet. Additionally, it's best if you work with a good WordPress development agency to help you manage a large scale multisite network. Of course, they should be reliable and have the needed experience with WordPress multisite. Combining a reliable hosting provider with an experienced WordPress developer(s) will definitely give you a speed boost when it comes to scaling your network further.
Google Analytics On WordPress Multisite
With the help of WordPress multisite, you will be able to save a lot of precious time, but the solution also causes some unique problems, such as installing Google Analytics.
With multisite, the process is different because most Google Analytics plugins lack support for the WordPress feature. Therefore, you will have to go through all sites on your network and add your Google Analytics code for each of them one by one.
You can have various analytics codes for each website on the network. The Super Admin can manage all of them if needed.
Useful Plugins For WordPress Multisite
You can use a variety of plugins to ensure the smooth operation of your multisite network.
Other WordPress Management Tools
There are lots of other tools that can help you manage multiple websites from a single dashboard, but here are some of the best:
Jetpack Manage;
WP Remote;
CMS Commander;
InfiniteWP;
MainWP.
Conclusion
Managing multiple WordPress websites may not be too complicated, but it surely is time-consuming and requires effort. If you find that taking care of your multiple WordPress sites is taking a large portion of your day, don't hesitate to install WordPress Multisite. It can clean up some space in your schedule and make your day even more productive than before.
Managing multiple WordPress sites from one central location is not a dream. Make use of that awesome WordPress feature, and feel free to share your experience in the comment section.
The latest tips and news from the industry straight to your inbox!
Join 30,000+ subscribers for exclusive access to our monthly newsletter with insider cloud, hosting and WordPress tips!