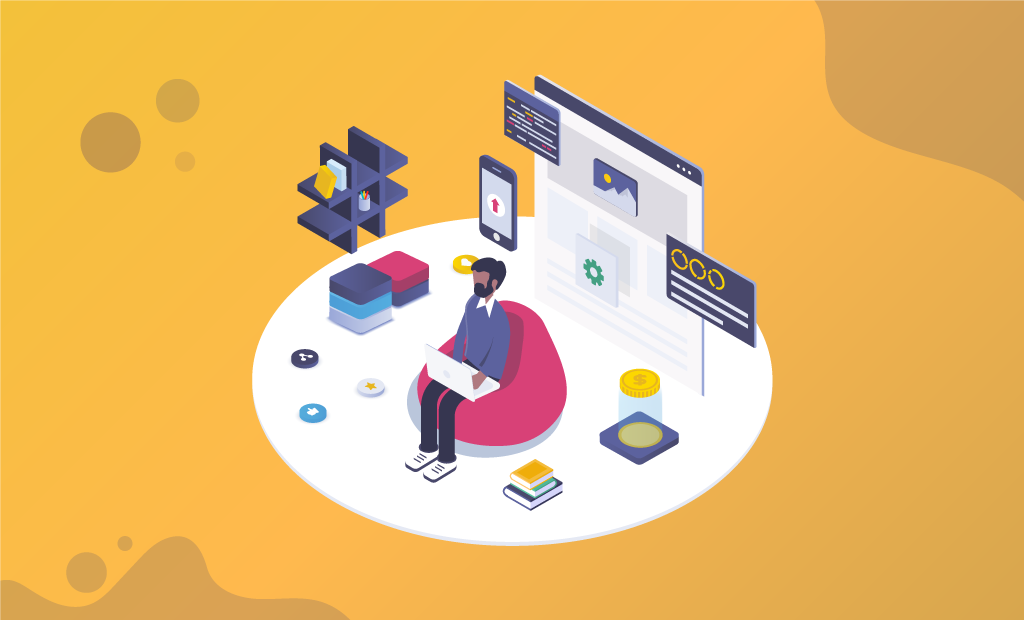 Unleash the Power of Your Business Digital Transformation
We all know that consumers want valuable solutions to their problems (or needs) fast. With the help of technology, every business owner can transform their business correctly, providing improved customer experience and delivering according to customer needs. It makes sense for you, as a business owner, to expand your horizon and increase revenue in the process. However, the digital transformation of your business can sometimes be a tough job.
Businesses cannot simply sit still as the world digitizes around them. Now is the time to effectively capture opportunities in the new digital economy and get closer to your customers. A key element for business success today is the need for digital-first, customer-centric experiences. Consumers are spoilt for choice and are discerning. Brands need to up the ante and offer more personalized and connected services to stay in the game.
Embracing the digital transformation of your business is the way to go, and we are here to help you with some guidance.
Table of Contents:
What is Digital Transformation?
Digital transformation is the integration of digital technology into all areas of a business. That results in fundamental changes in how a company operates and the value delivered to all customers.
To put it simply, digital transformation is about changing the way a business interacts with customers and how they provide customers a consistent experience wherever and whenever they need it.
Nevertheless, you should not confuse this accelerated wave of digital initiatives with the fundamental business transformation needed for success in the digital age. The former is primarily about enabling business as usual and "staying in the game," while the latter is about building a real long-term competitive advantage leading to success.
How to Shift Online Without Affecting Your Clients
When you take your business online, you need to start with your buyer persona's needs. Your goal is to provide the right solution to those needs.
Don't introduce new changes that make sense only to you but not to your clients. Monitor your customers carefully and put yourself in their shoes.
For instance, what would you do if you owned a gym, but your clients couldn't come and work out? You'd offer them online workout videos. You could even provide free videos or paid subscriptions. This way, you give options to your clients to choose the best solution and stay safe while practicing at home.
They will not only appreciate that you care about them, but they will keep interacting with your brand online. This way, you won't lose communication and connection with your customers.
Where to Start when Transforming Your Business Online
After you sort out internal processes and gather insights from your customers and their behavior, you can establish your business online.
Choose the Right CMS or Team to Build Your Website
Creating a website is always the first step. Another option is optimizing an old one for your current needs. When you move your entire business online, your website must provide an exceptional user experience. The first step is always to create a website or optimize your old one. Since your business will be entirely online, a website providing an outstanding user experience is crucial. That's why you should choose the best possible CMS platform.
WordPress is the most popular CMS, by far. The platform provides countless solutions and possibilities for custom development. WooCommerce is a WordPress eCommerce plugin that is more than an excellent solution for online stores.
Build a Website for Your Customers
During the development process, you need to think about your customers and create a website designed for them and their needs. Don't create a website that you like but won't be helpful for your customers.
Keep in mind that 40% of users will go to a competitor after a bad experience with the mobile version of your website. Customers are using mobile devices more and more. That's why you should ensure that your website is working perfectly on mobile.
Among the most important aspects of eCommerce is the check-out process. Currently, this is even more important because customers are buying less, and you can't afford to lose them.
To optimize your payment check-out process:
Make it user-friendly;
Make it quick;
Offer auto-complete data validation;
Require only the needed details;
Make the error validation visible and clear;
Provide various payment options.
When configuring delivery methods, think about the following directions:
Fast delivery;
Discounts on shipping;
Free shipping (when possible)
Curbside delivery;
Clear shipping information on your website.
Create a Marketing and SEO Strategy
You should have a proper digital marketing and SEO strategy if you want the world to know about your brand and offers. You need an inbound marketing strategy, including blogs, newsletter campaigns, SEO, and social media. All of those elements will help you reach out to your customers and adequately communicate with them.
Another powerful tool for promoting your business is paid ads. In that case, Facebook is perhaps the best tool, especially when you want to target the right audience.
How Businesses are Embracing Digital Transformation
Innovation is happening at unprecedented rates. While restaurants partner with tech companies to increase their mobile ordering capabilities, gyms and fitness companies make use of the media to reach out to their customers with their physical locations closed.
The companies that do a proper digital transformation are the ones creating highly engaged customers.
Such customers are:
Six times more likely to try new products or services from their preferred brand;
Four times more likely to refer your brand to their friends, family, and connections;
Two times more likely to purchase from their preferred brand, even when competitors have better products or prices;
What's more, highly engaged customers buy 90% more frequently, spend 60% more per purchase, and have three times the annual value (compared to the average customer).
Let's take a look at some of these examples:
Papa John's offers Facebook Instant Ordering to allow customers to place orders easily;
Walgreens has partnered with Postmates to deliver grocery items and personal care products;
Orange Theory, Planet Fitness, and 24 Hour Fitness live-stream exercise classes and release home workout plans;
Under Armour has hosted a 30-day Healthy at Home fitness challenge to encourage customers to stay active.
How can you embrace digital transformation successfully? Consider these concepts:
Go from Being Product-focused to Being Customer-focused
When it comes to embracing digital transformation, customer experience is significant. Instead of focusing on the features of your products, put more emphasis on catering to the wants and needs of your target customers.
If you clearly understand your customers' problems and offer them a customized experience that can solve their problems, they will become your loyal customers. Take the restaurant examples. Instead of promoting their food and menus harder, they change to offer delivery service to customers who have to always stay at home by partnering with tech companies.
Scale-up Creating Innovative Digital Experiences
Consumers now expect shops and businesses to produce a lot more digital content that is personalized, fast, and cheap (or even free). Therefore, entrepreneurs need to adapt to this trend and scale-up digital design, collaboration, and content production rapidly to keep their customers engaged.
For example, the global furniture dealer Insidesource launched a digital magazine and started an online competition called Quarantine Studios to engage its audience amid COVID-19. The campaign invites participants to create furniture made of unconventional materials found at home. The winner will have their furniture professionally reproduced by Corral.
Craft the Customer Journey Without Depending on Technical Teams
You might be wondering, is it really possible to craft (map) a customized customer journey without having a technical team?
The answer is yes. Customer journey mapping is the process of visualizing how a customer interacts with a business by mapping out the actions they take to achieve a goal. Customer journey mapping outlines key events, customer motivations, and areas of friction within their experience. This information is combined into a comprehensive vision that describes a customer's typical experience with your business.
By understanding this relationship, you can structure your touchpoints to create your customers' most effective and efficient process. A customer journey map visualizes the current process customers take, from the first to final touchpoint, to see if they're currently reaching their goals and, if not, how they can.
The customer journey can rarely be represented in a linear journey from point A to point B because buyers often take a back and forth, cyclical, multi-channel journey. This makes customer journey mapping difficult to visualize accurately.
Savvy business leaders use various methods to represent the journey, from post-it notes on a boardroom wall to Excel Spreadsheets to infographics. The most important thing is that the map makes sense to those who'll be using it.
However, before you can dive into creating your customer journey map, you need to collect data from your customers and prospects. The process of creating an effective customer journey map can be extensive, but it's always valuable.
Adopt Agility as a Workplace Culture
In trying to transform your business operations digitally, innovation and change are a must. The only way to get the changes and innovation at hand is by embracing agility as a culture in your business.
A practical example of this is Singapore's DBS Bank which shifted from being the lowest customer-rated bank to being the best bank globally. When asked how they achieved this, the executives gave agility as the open secret. The bank worked wonders by creating startups that were suitable enough to facilitate digital transformation. Instead of further innovation, the innovation team focused on teaching the entire organization how to innovate.
The team further identified obstacles to change, tested ways to get rid of them, and created workable means to face them out. Visit the bank and see what digital transformation can achieve.
Engage Experienced Consultants
As already pointed out, taking on digital transformation is not an easy task owing to the demanding activities involved. The process may be so stressful that you may think of quitting. However, quit not. Just trust the process for the fruit is worth the effort.
One way to keep on track is the engagement of an experienced consultant. After working for years with different organizations, both small and large, with varied issues, the consultants have the expertise to transform your business digitally.
These experts are found in a digital transformation agency that is available in every country. Work hand-in-hand with them and put to practice all the suggestions offered and see your business transform digitally.
Take Advantage of Digital Automation
All businesses involve some form of repetitive actions, such as the generation of invoices and printing of tickets. One way of digitally transforming these operations is the use of billing software.
Printing the invoices from spreadsheets and manually mailing them to clients is a waste of time, and that's not what you want to do. The Internet of Things technology can also be handy here, where you can use it to generate invoices once delivery is due. Such processes are repetitive and digital automation will increase accuracy, quicken operations, save resources from wastage, and increase the company's goodwill which keeps the customers stuck to you.
Machine learning is also a critical technology that responds to customer feedback in real-time, thus making the experience friendly and ensuring convenience.
Appreciate the Marketing Tools for Online Business
If you are going to excel in your business, you have to embrace the digital marketing tools that already exist. Recent studies established that about 60% of the entire world's population is now connected to the Internet. Take advantage of this advancement and take your business online. The traditional mail-in flyer is not what will help you reach these people, but the Internet.
Social media has a unique power of stimulating emotional response to services, news, and products, a phenomenon that is critical for you in digitally transforming your business unit. When you market your brand online, you must find people who will like it and share it with friends, which makes your brand popularize quickly. This means that you will be able to reach a wider audience faster than you would do with the traditional means.
Embrace Remote Working for Online Business
If there is anything that the Covid-19 pandemic has taught us, working from home is here to stay. With countries in total lock-down, going to offices was restricted in many countries, allowing people to understand and embrace remote working. Now, more than ever, companies are considering remote working permanently and not just as an emergency. Besides, some tools work well with remote working and improve it gradually.
For instance, by creating a website for your brand or upgrading an already existing one, you improve your online presence and better reflect your brand and values. To optimize your results in Google search, use SEO and run ads for your brand. In so doing, you call on leads' attention to your brand, engage them and build trust and loyalty. Try video marketing to heighten an understanding of your brand and venture into marketing your product on social media platforms like Facebook, Instagram, Twitter, and YouTube.
Examples of Businesses that are Going Through Digitalization
Many businesses went and are still going online due to the outbreak. We will outline a few examples and take a look at what changes they have introduced.
Event Industries Stream Online
Quite a few events are still happening, but online. Business events, meetups, and conferences can be streamed online.
Nevertheless, concerts are still a bit difficult because this is quite a new situation for most artists and musicians. However, they can use their social media channels to stream online and continue their communications and interactions with fans.
Museums Offer Exhibitions Online
Museums found a way to stream online and to ensure that they entertain their target audience. Some museums even offer free and paid guided tours so they can still have some profit.
Restaurants Offer Delivery
One of the businesses that have been hit the most is the restaurant business. Most restaurants have started delivery and are using their websites or social media channels to receive orders.
Apart from optimizing their websites, some restaurants have partnered with food ordering and delivery platforms like TakeAway, Grubhub, Uber Eats, etc.
Delivery Services Use New Technologies
Because of social distancing, delivery services are overloaded right now. People started buying their groceries online even more, so companies that offer this service were bound to implement booking time slots in advance.
The industry continues to improve by adding new technologies such as transportation with drones or implementing contactless mechanisms to ensure people stay safe. The process of signing up forms has also been limited or digitalized.
Banks Include More Online Options
For the past years, banks have been working to provide a better online service to do the necessary transactions. However, some transactions or papers still need signing, where customers are obligated to visit a bank.
Similar to the delivery industry, there are improvements and optimization in the banking industry. Banks are trying to make it easier to sign forms online and are doing their best to find more ways for customers to complete online transactions.
Conclusion
COVID-19 is a wake-up call for entrepreneurs to embrace digital transformation. It may not be easy to change how you've been running your business for so long, but know that the beginning is always the hardest. With all the tools and examples listed in this article, hopefully, you can adapt to the transformation successfully and keep your business striving!
Even companies that have some operations digitalized are taking advantage of the newer means now available. Even so, digital transformation can be overwhelming. This article shared some ways you can apply to transform your business digitally. The shift from being product-focused to being customer-focused and keep your loyal customers is essential. Be agile with changes and innovate ways of coping up. Take advantage of digital automation and marketing tools and embrace remote working to reach a wider audience.
The latest tips and news from the industry straight to your inbox!
Join 30,000+ subscribers for exclusive access to our monthly newsletter with insider cloud, hosting and WordPress tips!