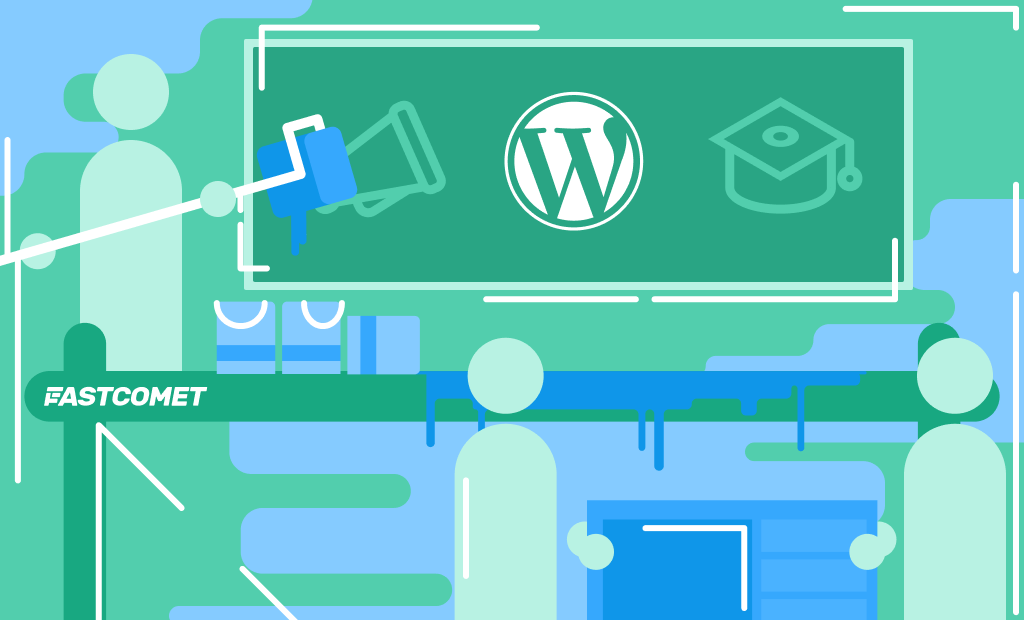 Top WordPress LMS Themes
With the constant progress of the learning platforms sector, Learning Management Systems (LMS) and our perception of what makes one good have also changed a lot. Remember that it's not just about quality and SEO-friendly content. With the constant evolution of technology, you must push on with eLearning platform improvements and do it as soon as possible. Your students deserve a secure and modern platform, which you will provide them with.
One of the most crucial aspects of an LMS is the user interface – and on WordPress, that's the theme's job. A theme not only influences the visual aspect of your student's journey but also impacts the learning experience.
In this article, we have compiled a list of the best LMS Themes covering various possible website configurations and administrator knowledge levels. Let's dive in!
The Growing Popularity of Learning Management Systems (LMS)
Learning Management Systems (LMS) are not a new phenomenon, but the massive lifestyle changes introduced by COVID-19 have made using LMS platforms more common.
Learning Management Systems are currently being used by corporations, non-profit organizations, higher education institutions, K12 institutions, and eLearning businesses across the globe to make education more accessible to the masses.
What to focus on in LMS Themes
Learning Management Systems (LMS) are software applications for delivering, managing, and tracking online educational courses and training programs. The most defining features of an LMS include the following:
Course Creation and Management: LMS enables users to develop and manage online courses, including uploading course materials, generating quizzes and homework assignments, and monitoring student performance.
User Management: User account management tools, including registration, authentication, and access control, are provided by LMS. Creating user roles, granting rights, and managing user data are all included in this.
Content Management: Content management: LMS offers resources for organizing, archiving, and delivering class materials. Support for numerous file types, multimedia content, and interactive elements like simulations and games are all included in this.
Assessment and Grading: Quizzes, examinations, and assignments are just a few of the tools that LMS provides for grading and measuring student learning.
Moreover, LMS can grade and provide feedback on specific tasks while monitoring student progress.
Communication and Collaboration: Such options are available in LMS for students and teachers, including chat rooms, discussion boards, and video conferencing.
Analytics and Reporting: LMS gather information on the development and performance of students and give teachers, and administrators access to analytics and reporting capabilities. This involves monitoring measures, including student engagement, course completion rates, and test results.
Integration and Customization: LMS can be adjusted to meet the particular requirements of a school or business. They also integrate with other software programs, including e-commerce platforms, classroom tools, and student information systems.
Responsive Design: Responsive design is crucial for Learning Management Systems because they are used by learners and instructors across a variety of devices, including desktops, laptops, tablets, and smartphones. Using responsive design, LMS Themes can provide a consistent user experience and interface, regardless of the device used.
Support and Updates: Continuous support and constant updates, whether in the form of new features or security hardening, are a must when choosing a platform to build your website. A few good themes did not make the cut because they were not updated in the last 1-2 or even 3 years. As threats constantly evolve, having a theme updated at least every few months is something we considered very carefully when creating this list.

Additionally, responsive design can help improve the usability and accessibility of LMSs, which is essential for learners with disabilities or those using assistive technologies. Overall, responsive design is crucial for creating a seamless and practical learning experience through an LMS.

All themes on this list support responsive design, even if not stated explicitly.
Top WordPress LMS Themes
Considering you have already got the concept of your website down, here are our picks of the most useful WordPress LMS themes (in no particular order) to help you realize it.
Astra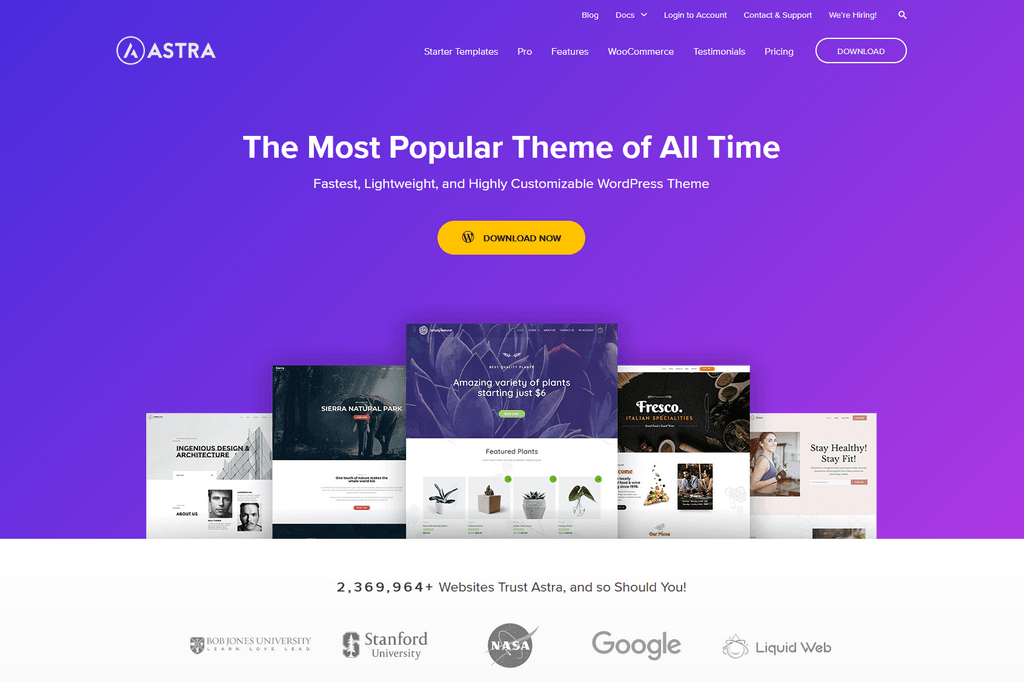 Astra is a lightweight WordPress theme designed for various website types, including e-commerce, business, and personal websites. Some of the key features of Astra include:
Performance and speed optimizations, ensuring fast loading times and minimal bloat.
Range of customization options, including pre-built templates and layouts, color and typography options, and support for page builders like Elementor and Beaver Builder.
LearnDash system integration, making it a great candidate for building learning course platforms.
SEO optimizations, with built-in schema markup and clean code.
Designed to be accessible, with support for screen readers and other assistive technologies.
WooCommerce integration allows users to easily create an eCommerce website or use some eCommerce features on their own.
Fully responsive, ensuring a consistent user experience across all devices and screen sizes;
Overall, Astra offers a range of great features and customization options. This makes it a versatile and flexible option for most WordPress users. The features and ability to start on the free version and upgrade later, really eased our choice.
You can get Astra Pro for $59 a year.
eLumine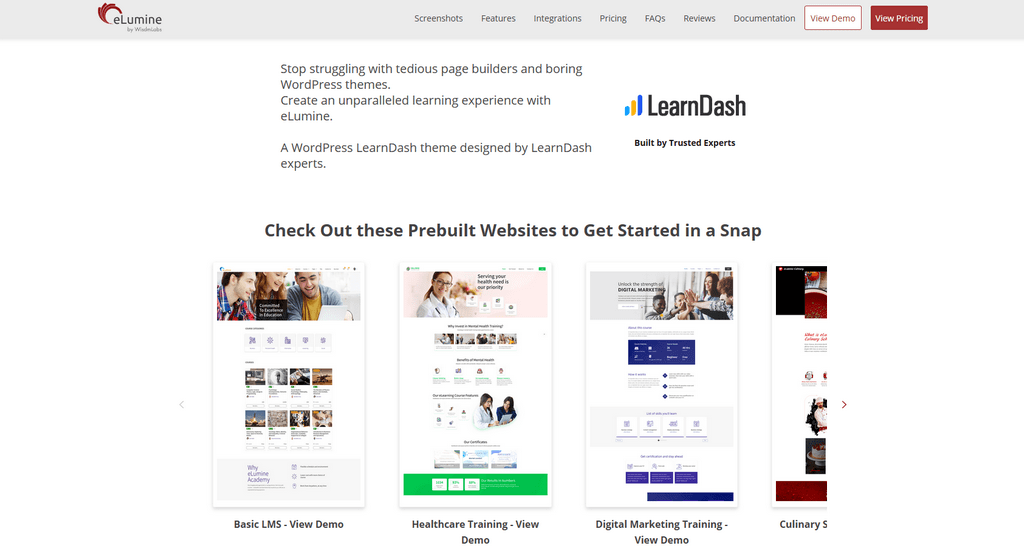 Created by WisdmLabs, eLumine is built on the Unyson Framework, so you can easily create content via the Unyson Page Builder. There is also BuddyPress social, WooCommerce, Sensei integration, and BadgeOS support.
The theme offers a clean, modern, and responsive design with a range of features for creating and managing online courses and educational content. It includes support for various multimedia content types, assessment and grading tools, and social learning features. Additionally, eLumine offers customization options and a range of pre-built templates and layouts for creating a unique and engaging learning experience.
The look and feel of the fully customizable theme are elegant yet powerful, with courses, lessons, and quizzes neatly displayed. eLumine is a fully responsive theme and works perfectly on all devices.
You can start using eLumine today for the price of $100 for a single site 1-year license.
Eduma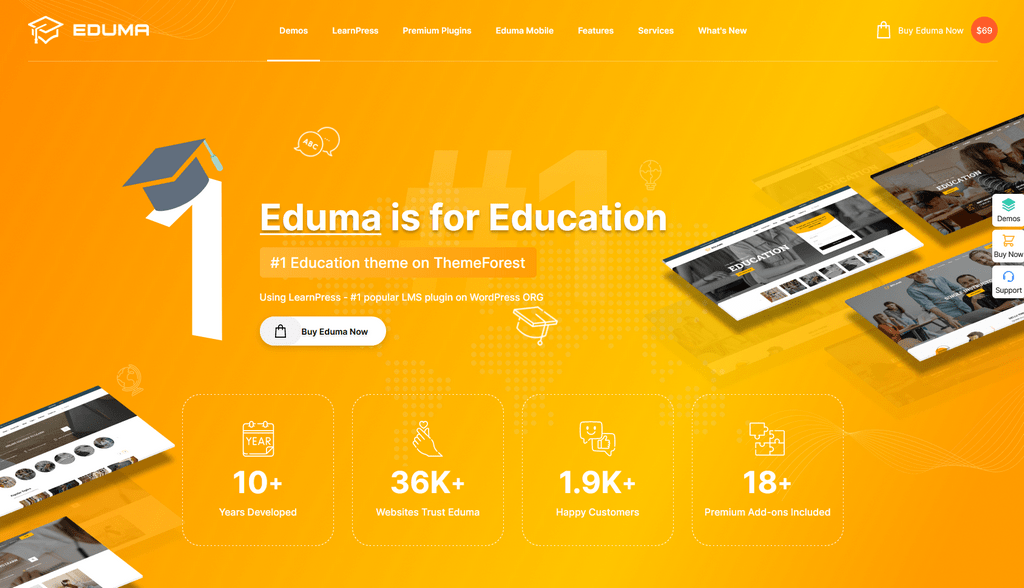 Eduma is one of the most well-known education themes and a top seller in ThemeForest's WordPress Education subcategory. The team at ThimPress has used their previous work – the wildly successful LMS plugin LearnPress as a base for building Eduma, which also natively gives the Theme access to all other LearnPress capabilities.
The theme offers:
100+ Content Blocks
30+ premium demos for different categories like University, Academy, School, Multi-Language, etc.
Mobile apps for both Apple and Google Play stores build with React Native.
Support for LearnPress based addons and complex layout. Customization options via Thim Elementor Kit and SiteOrigin Page Builder.
WooCommerce, BuddyPress, and bbPress support;
Eduma can be purchased for $69 for a single site license.divi
Educavo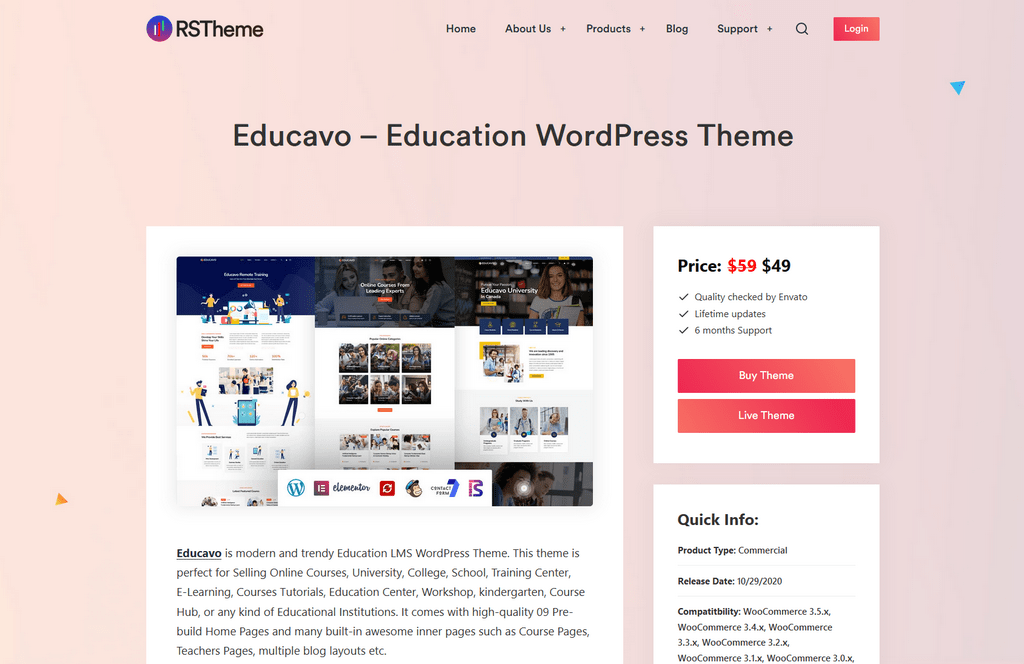 Educavo is another LearnDash related Theme that offers a range of features and customization options, including integration with popular LMS plugins like LearnPress and Tutor LMS. Furthermore, this LMS theme comes out of the box with an extensive range of pre-built templates and layouts (80+ pages), pre-bundled Elementor, and support for various multimedia content types. 
Educavo has a Zoom integration for instant live video-based courses with your students. The theme is also fully responsive and optimized for building a Learning platform.
RSThemes has priced Educavo at $49, and you can make the purchase via ThemeForest. "Buy once and get free updates forever" applies here.
Divi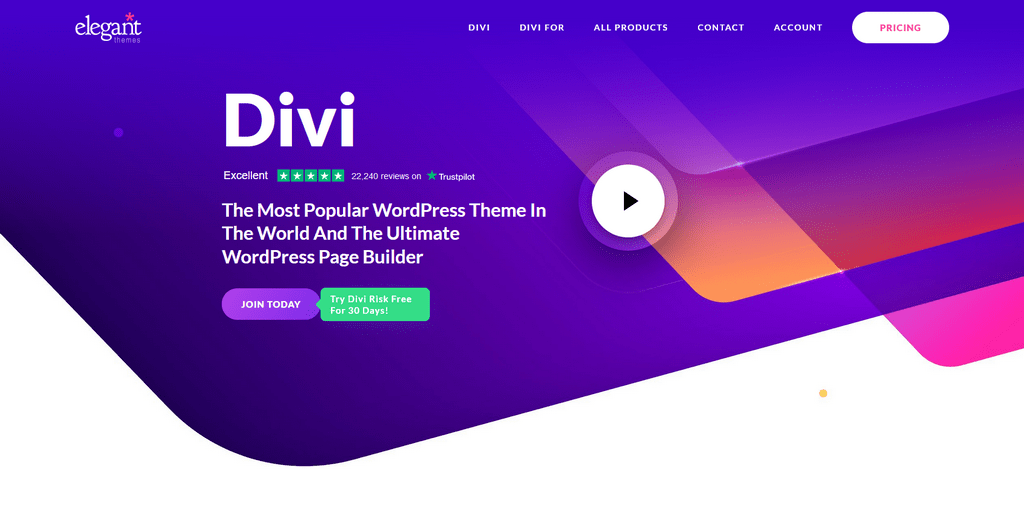 As one of the most used WordPress themes, Divi naturally comes with a whole package of features. Those will help you make your desired website just as you envisioned. Seriously, we can write an entirely separate article about this theme.
Here are some of the key features of Divi:
Strong WYSIWYG core: Divi's visual page builder enables users to design and construct their own layouts. This means you can build without knowing any code. To design the structure you want, just drag and drop the elements.
Pre-made layouts: Divi comes with over 2000 premade layouts and 200+ premade complete website packs. You can use those as a starting point for your website. It is effortless to pick a design that meets your demands because the layouts span many different sectors and market segments.
Customization options: Broad variety of customization choices, including font styles, colors, and spacing. You can also add custom CSS and see changes in real time.
Fully responsive: Your site will look great on all devices, from Desktops to iPads. This also includes responsive editing.
Marketing integration: Divi integrates with a variety of marketing tools, including email marketing services and social media platforms.
Security features: Regular updates, secure code, and a login protection to help keep your site safe without additional plugin installations;
Like Astra, Divi is a tremendous overall WordPress Theme which helps it a lot in being a suitable LMS Theme. With close to a million customers already, a development team of over 100 people, and hundreds of editing, integration, and support options, Divi is a cornerstone in the current WordPress website-building landscape.
You can access the complete "Divi Package" for $70 a year or $199 as a one-time purchase.
Guru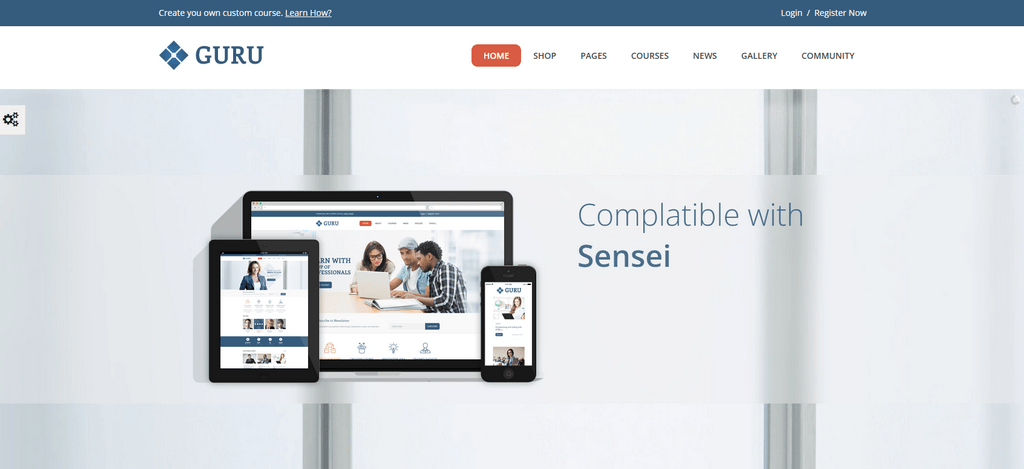 At the core of Guru lies the premium LMS plugin Sensei. With it, you can create lessons, quizzes, and assignments and organize them into modules and courses. Once you do that, Guru LMS will offer a variety of management tools. These will help you with enrollments, track progress, and communicating with students.
You also get an integrated grading system, course analytics monitoring tool, and Mega Menu option. As for charging your customers, you can utilize WooCommerce via Sensei for quick and straightforward billing. You can also sell other educational materials, prepare an Event Calendar and utilize WPML.
Guru is made by designthemes and can be bought on ThemeForest for $69.
Skillate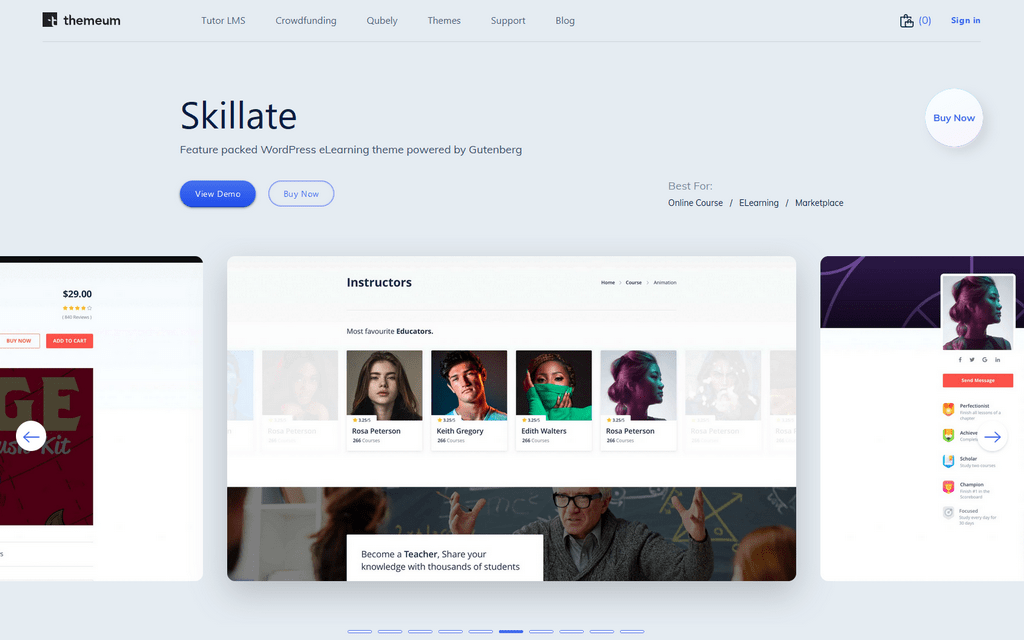 Skillate is a Gutebnberg-based eLearning WordPress theme. It uses Tutor LMS as a backbone in providing multi-instructor support for your course marketplace, complete coverage of topics, and easy to manage backend.
Skillate offers a drag-and-drop course builder that also allows the creation of quizzes and assignments. The LMS theme can help you customize your courses and website to match specific branding needs. This includes various payment options and membership plans on the monetization side of things, as well as multi-lingual support.
On top of Tutor LMS, Skillate is also compatible with LearnDash and Lifter LMS (gamification capabilities).
If Skillate does not cover your needs, Docent Pro is another Themeum product in the same category that might be your cup of tea.
Skillate's cost is $79 /yr for a single-website license with additional options for five and unlimited website support.
WPLMS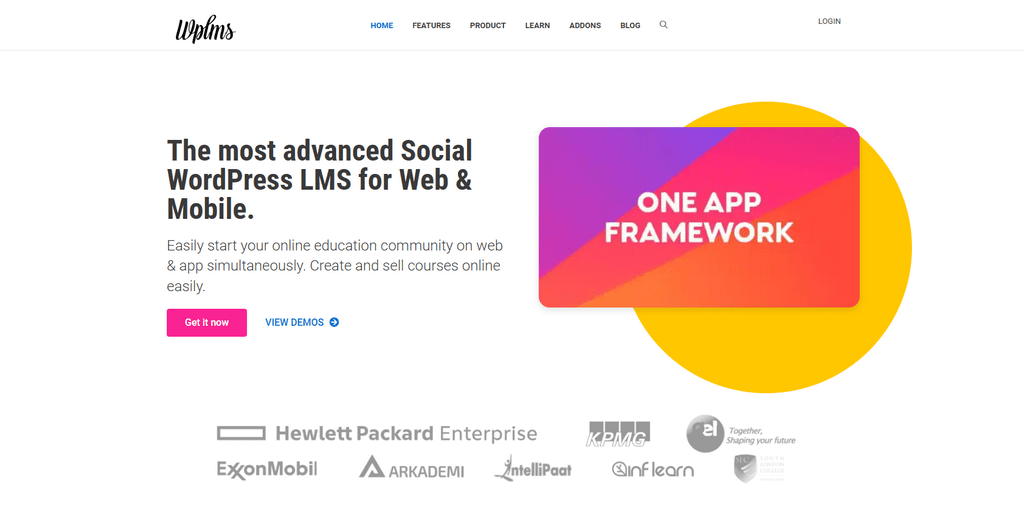 WPLMS claims on its website that it is "The most advanced Social WordPress LMS for Web & Mobile." According to us, it is not further from the truth.
The unique feature which WPLMS brings to the table is its front-end content-saving feature. This allows students to use the platform even without internet access all the time. This is something quite unique that most other LMS Themes have yet to delve into.
The platform is also remarkably optimized in terms of performance, SEO, and accessibility. It supports unlimited members and courses and scores very high on different website health and speed tools. Google Lighthouse (91/100) and GTMetrix (94/100) for an average-sized website.
Websites built with WPLMS are easy to navigate, as is the actual backend of the platform. Real Time Notifications, Live Chat, and Social Logins integrations are also available. The theme performs excellently on Mobile and is updated every month.
WPLMS is developed by VibeThemes and can be bought on ThemeForest for $75 for a 1-year single site license.
CorpTrain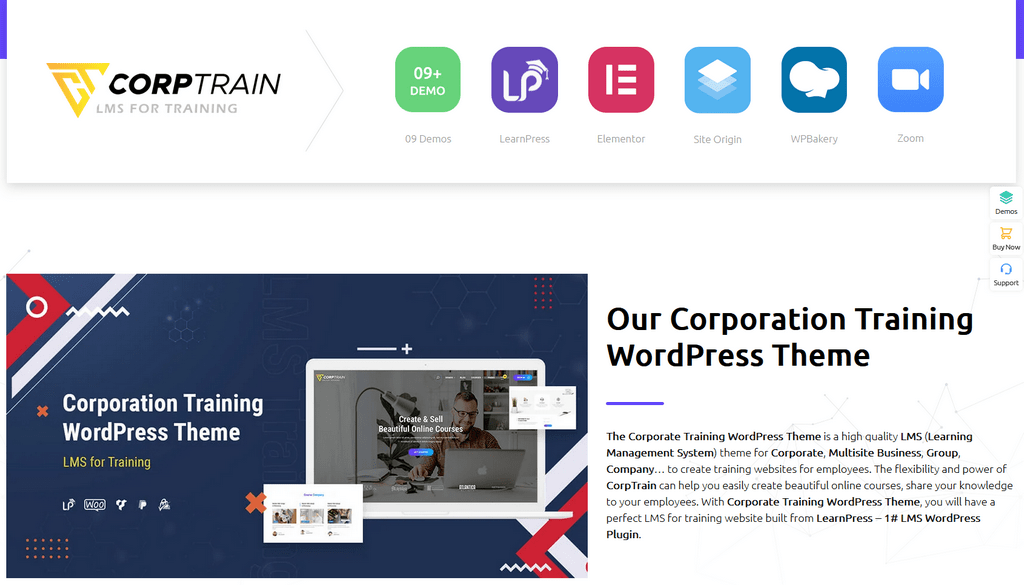 CorpTrain is another product of ThimPress, which is closely related to LearnPress, similar to Eduma.
We feature this theme as well because it covers a particular part of the Learning Management Systems portal building options – Corporate Training.
While you can make any learning course website if you have the imagination for it, CorpTrain is very good at making a place where you can share company knowledge and inspire employees:
Create attractive online courses to improve your workers' abilities.
Make and manage online webinars, quizzes, tests with various question kinds, certificates, comment systems, and video and text lesson content – all available to help you train your staff.
Build user-friendly, quick-to-set up, and time-efficient online corporate training portals;
With nine premium demos and thousands of entities already using this theme, you can bet Corporate Training will not feel like a chore.
You can get CorpTrain from ThemeForest for $49.
Invent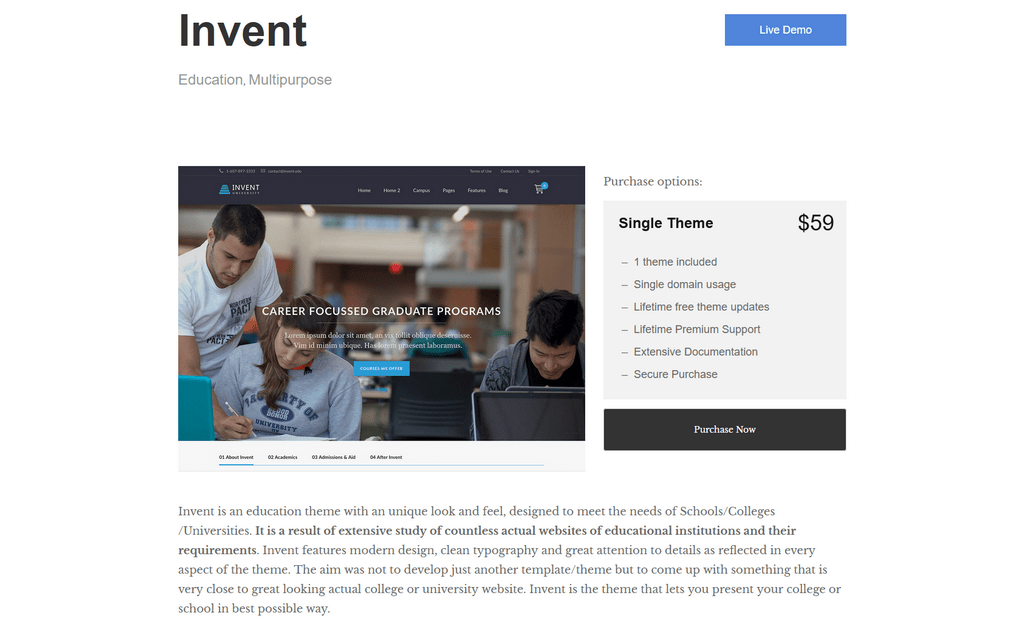 Invent is a theme specifically tailored to the requirements of educational institutions such as high schools, colleges, and universities. The LiveMesh team has done extensive research into LMS and the needs of the education sector by observing the work of hundreds of existing learning-based websites.
The theme supports 16 premium plugins, including LearnDash and SiteOrigin Page Builder, allowing seamless drag-and-drop functionality.
Invent is configured to work with shortcodes naturally and has over 60 shortcodes for rapid customization. The theme also allows you to configure your own custom shortcodes.
With 200+ theme options, 500+ Google fonts, 8+ custom post types, and custom CSS, Invent covers all standard customization options.
Invent's price is $59 for a single-site license.
Summary
Whether you're an educator, trainer, or entrepreneur, choosing the right LMS theme can significantly impact the success of your e-learning venture. With the growing demand for online learning, keeping up with the latest LMS trends and technologies is essential to provide your learners with an optimal e-learning experience.
We hope this article has helped you discover some of the best LMS themes available in the market and we wish you the best of luck in your e-learning journey!
The latest tips and news from the industry straight to your inbox!
Join 30,000+ subscribers for exclusive access to our monthly newsletter with insider cloud, hosting and WordPress tips!