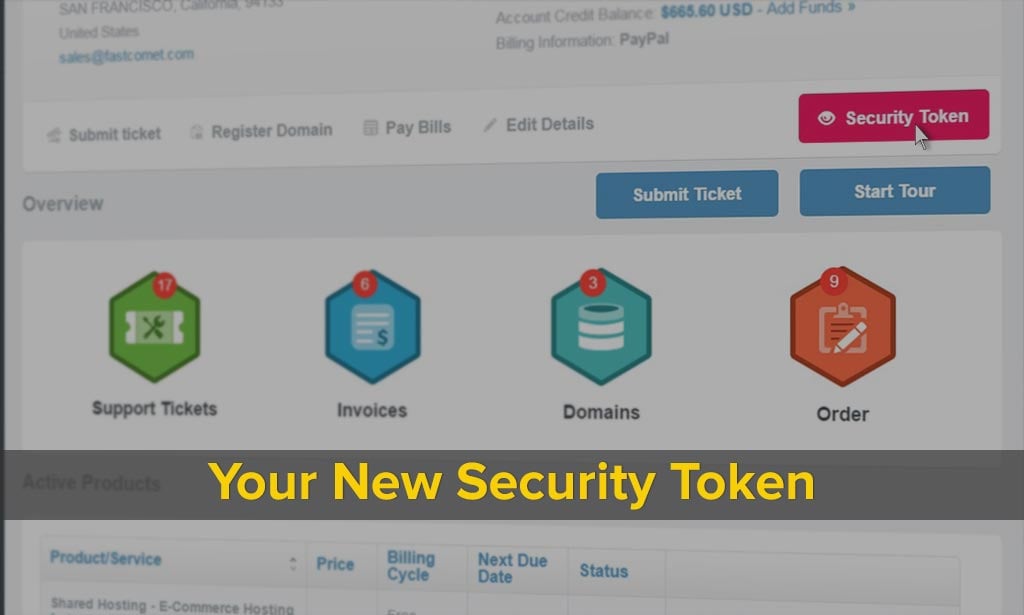 Verify Account Ownership With Your New Security Token
As the face of the company, the FastComet Client Support Team is an integral part of ensuring the success of our customers. We believe that when customers ask us for help, our skilled team of support experts should deliver a personal, one-on-one experience right when needed – regardless of the time of day, the day of the week, or region of the world where our customers are.
Trust is extremely important at FastComet, especially when we talk about security. We want your Technical support experience to be fast, painless, and secure. To ensure that we maintain a high level of security when serving your account we have implemented some new security steps. With that in mind, we are introducing a new simple way to verify account ownership when you interact with us via phone or LiveChat: a Security Token.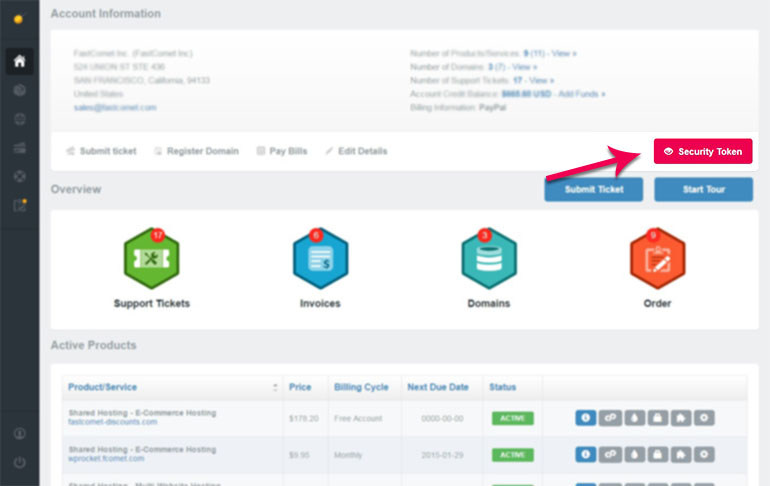 It is a fundamental improvement that will hopefully make your online ventures noticeably easier.
What is the Security Token all About?
The Security Token is a simple and secure way to authenticate yourself to our support team and customer service agents and reinforces our commitment to being a secure and reliable hosting service for our customers. It helps you and our Support Team by ensuring that only authorized people can share and obtain important information about your site. Whenever our team needs to verify your identity and account access, they will request your Security Token.
This token is unique to you and your Web Hosting account only. It is a case-sensitive five-digit alphanumeric code that can be generated directly from your Customer Area. Once obtained, you will see a new 5-digit number that you can provide to any FastComet Customer support representative. For security reasons, once generated, the security token is valid for a maximum of 15 minutes. A brand new one will be created every time you request a new token. There is no limitation on the number of Security tokens you may create. You also have a Clear option that you may use to remove the Security Token upon your personal wish.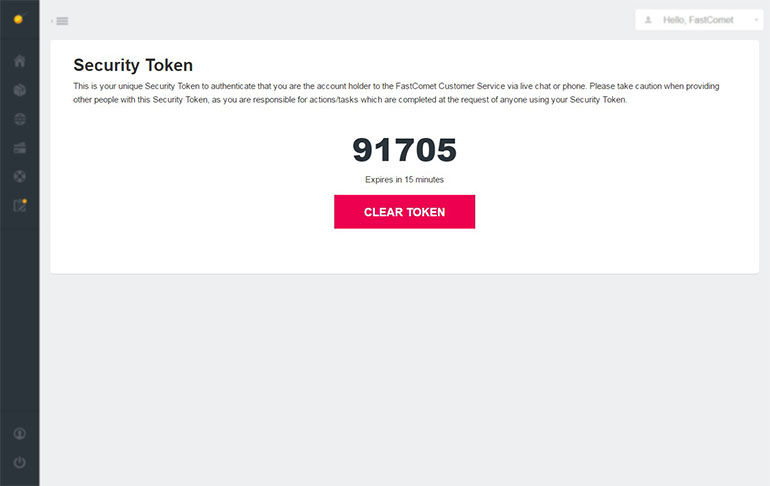 Your security token is similar to the PIN on your ATM/debit card. Anyone who knows your token has access to your account. For that reason, you should protect your Token and avoid disclosing it to anyone you do not wish to provide access to your sensitive data. Note that only the account owner will be able to create, clear and view Security Tokens. All of the sub-accounts you create via your Customer Area will still have limited account functionality and thus will not have the option to obtain access over the account Security Token. The new Token change will not affect the way anyone logs in or authenticates with our Customer Area.
Why Are We Doing This?
At FastComet, security is of utmost importance to us. That is why all our security and support staff are well trained and well versed in various types of tactics to prevent and control any account intrusion situations from happening. We also have a number of strict control, policies, and checklists that they must abide by. The new Security Token change was made to improve the safety levels our customers experience when contacting our Support team as prior verifications methods were clunky and not intuitive. It adds an extra layer of protection against unauthorized account access and helps protect your personal data allowing our team of experts to take immediate care of your needs.
We hope you find these improvements as exciting as our team does. And of course, the hard work doesn't stop here. The new Security Token is just one of many ways FastComet offers you a world-class support experience. We continue to evolve and enhance our hosting products and will report back later with more news. If you have any additional questions, please contact us for more information. We know we've earned it, but we'll say it again: we appreciate the trust you've put in our business.
The latest tips and news from the industry straight to your inbox!
Join 30,000+ subscribers for exclusive access to our monthly newsletter with insider cloud, hosting and WordPress tips!