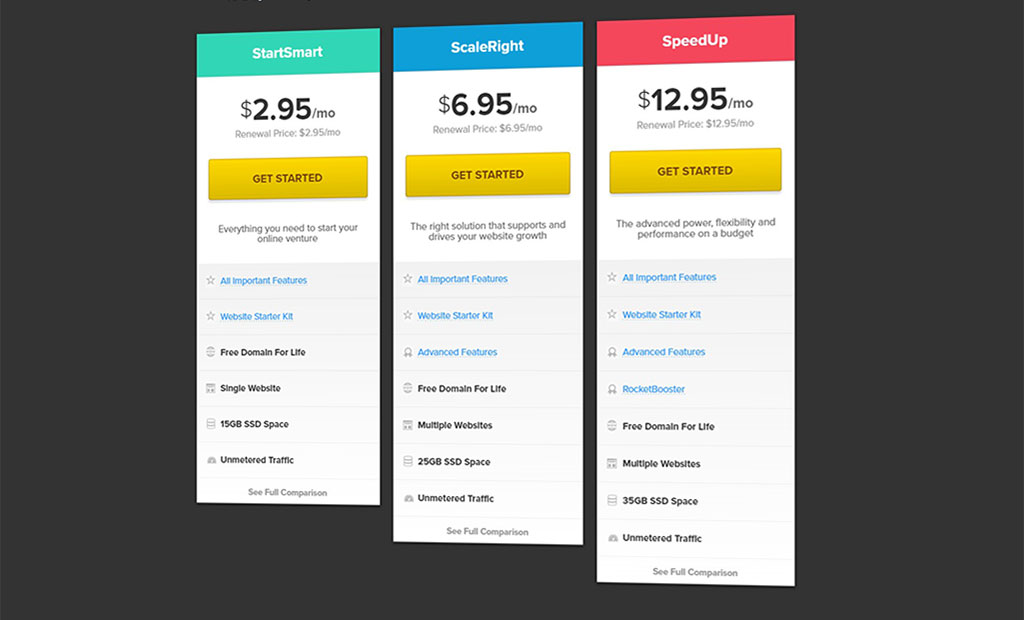 Why You Would Love our New Shared Hosting Packages
It's been an exciting journey so far… For the last four years, we, at FastComet have constantly used customer feedback to iterate on and improve our solutions. But today's blog post isn't about nostalgia. Today's post is to cover exciting improvements that we're making to what we think is the fastest hosting service around even better.
Our customer-first philosophy has enabled us to continue delivering on our commitment to bringing you – our customers' peace of mind, allowing you to spend less time optimizing your websites and focus on developing your businesses. Furthering our commitment to providing our customers with premium solutions that simplify their lives, we are excited to announce that we have recently refreshed our Shared Hosting Platform. We're redefining our business model to move from "hosting provider" to "strategic partner" as you grow your website.
What Does This Mean to You, as a FastComet Customer?
But before we get into the details, we would like to reassure you that all existing shared plans and subscriptions before the actual plan update are automatically grandfathered to their current pricing and infrastructure. If you are already AHOYsting a site on the island of quality shared hosting, we will make sure to get the optimal production rate and an exclusive package of extras for your site – still backed, day and night, by our premium customer support.
What is New?
FastComet is happy to present the new range of web hosting packages and plans to suit everyone – from first-time website owners, right through to those running mission-critical applications and services that need their own high performance dedicated server for a fraction of the price. The new shared hosting plans come with more feature optimized parameters, SSD in RAID 10 for all plans, extremely high-end server hardware, redundant infrastructure, increased RAM, CPU, and speed while enhancing security and much more! Meet the new hosting plans here!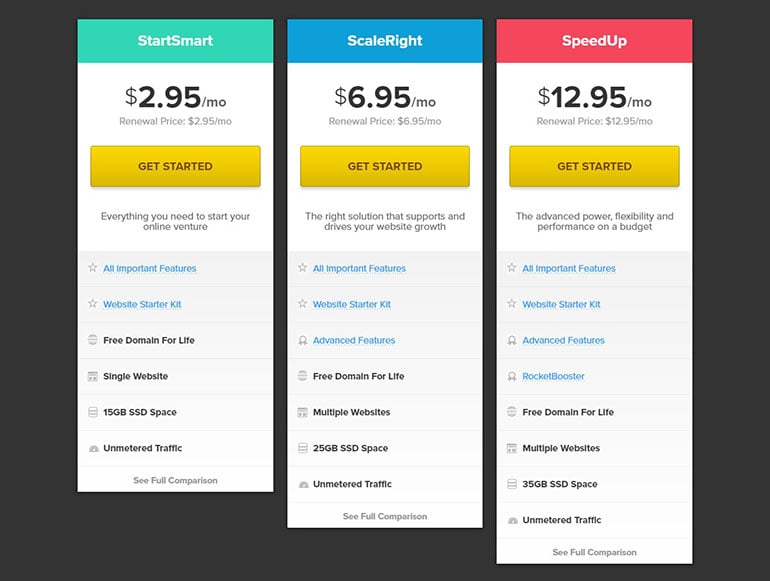 Among the improvements, you'll find:
No more "unlimited SSD storage" – customers get dedicated resources and peace of mind. The memory and CPU are guaranteed and disk space is dedicated to you, so they'll always be available for your use. The specified disk allotment will be listed on the shared hosting page for each web hosting plan offered.
No storage limitation per type of files you can upload – There are those web host companies that will limit the size or type of files you can upload. For instance, a company might only allow you to upload GIF/JPG files, rather than .PDF files. To further elaborate on that, while others limit you store up to 5 GB of media files, even though you have 30GB of storage space allowed, for example, we pride ourselves on being able to not limit you and give you the liberty to upload your various website-related data as long as it fits your dedicated disk space quota limit.
High-Speed Hosting Rich With Features
Тhe base plan, StartSmart, (previously known as Single Website Package) starts $2.95 per month and provides the headache-proof, yet highly reliable and secure, shared hosting that absolute beginners want – adorned with out-of-the-box add-ons like the Premium Website Builder, free domain name for life, CDN (Content Delivery Network), productivity tools, a plethora of new security features, and 7 days of backups.
The next plan, ScaleRight, (former eCommerce Package) builds on the StartSmart features but caters to smaller creative agencies and already established businesses by offering them additional resources. All the necessary tools required for eCommerce are included (1-year Free GlobalSign Private SSL, Grasshopper Credits, etc.) which makes it ideal hosting for an online store.
In a bid to enhance our offering even further, we are now all set to introduce our newest product offering SpeedUp RocketBooster. SpeedUp combines the power of ScaleRight with white-glove setup, security and performance optimization. It is the perfect solution for those of you that don't need the expense of a dedicated server, a managed VPS or a managed Cloud Server but more processing power than a normal shared hosting package for a fraction of the cost. So there, our SpeedUp is all set to take the web hosting market by storm as your website is instantly migrated to our exclusive pro servers, which not only feature supercharged hardware but also support fewer users. This empowers your account to automatically access and utilizes 3 times more CPU, IO, and memory, accelerating website speed to the fastest it can possibly go.
The StartSmart, ScaleRight and SpeedUp plans are now called FastCloud, FastCloud Plus and FastCloud Extra, and have kept the same resources as their predecessors. You can read more on the overall change in our FastCloud plans Introduction post.
Get More for Free!
All three new plans – StartSmart, ScaleRight, and SpeedUp – come with the existing features you already know and love (from unmatched uptime and speed to bullet-proof security and daily backups) as well as some powerful new additions, including:
Up to 3 X RAM & CPU Boost – Supercharged Speed – FastComet's shared hosting plans run with up to 3 times more server resources that will guarantee the performance of your website when you get peaks in traffic after running marketing campaigns and give you plenty of room for growth. New hosting plans are available with allocations of 2 GB, 4 GB, and 6 GB of RAM to each account.
Easy-to-use Free Website Builder – Want to build personal or business website on your own, but feel like don't have enough web Development knowledge? You didn't need to worry. With our brand new Website Builder integrated module, you can just drag and drop graphical elements and edit texts and pages with a few clicks. FastComet SiteBuilder is premium, easy-to-use, simple drag & drop website builder with 240+ Themes and 40+ Widgets like Image/Video Slider, Image Galleries, Rich Texts, Video, Audio, Service Box, Google Maps, Contact Form, Social Media Buttons and much more!
SpamExperts – Simply Spam Free – We've added the advanced SpamExpert email filter that scans and filters your outgoing email for spam, viruses, phishing, and other email-related attacks by botnets and spammers with 99.98% accuracy. It's specifically designed to avoid false positives, and it's continually learning and evolving to protect you from new spamming techniques and threats. The best part is that there isn't anything you need to set up. SpamExperts works at the domain level to protect all email accounts created with that domain.
SSL: The New Standard – Encrypted connections have become essential for search rankings and are already required for key features in WordPress. We've addressed this new standard by adding SSLs across two of our shared plans. SpeedUp provides one year free GlobalSign SSL, and SpeedUp comes with free forever GlobalSign SSL.
Free SSL/TLS certificates with Let's Encrypt – We believe your private data should remain private! All FastComet web hosting accounts have the ability to utilize FREE Let's Encrypt SSL certificates with just a few clicks in your cPanel. Our state of the art interface handles having your SSL certificate issued as well as renewing it at the required intervals.
Patchman – Kill Malware and Fix Vulnerable Websites – Patchman continuously scans applications installed in customer accounts, such as WordPress, Drupal & Joomla, to ensure that they are secure from known vulnerabilities. If a vulnerability is found in your application code, you are alerted by email. Patchman will also automatically fix any vulnerabilities using a unique methodology that ensures that your site continues to function properly. If any malware is found in an account, Patchman will automatically quarantine it to ensure your site and visitors are protected.
Creative professionals and businesses, freelancers, business owners, freelancers, entrepreneurs, and developers worldwide can take advantage of high-performance web hosting that is also uniquely optimized for WordPress, and provides the security and speed you need to deploy your websites and web applications. It is available for free on SpeedUp Package.
Ready to experience one of the industry's most robust shared hosting offerings? Find the Cloud Shared Hosting plan that's right for you here. If you have any questions, our team is standing by to answer them – and you should always feel free to contact us, we are 24/7 available!
The latest tips and news from the industry straight to your inbox!
Join 30,000+ subscribers for exclusive access to our monthly newsletter with insider cloud, hosting and WordPress tips!