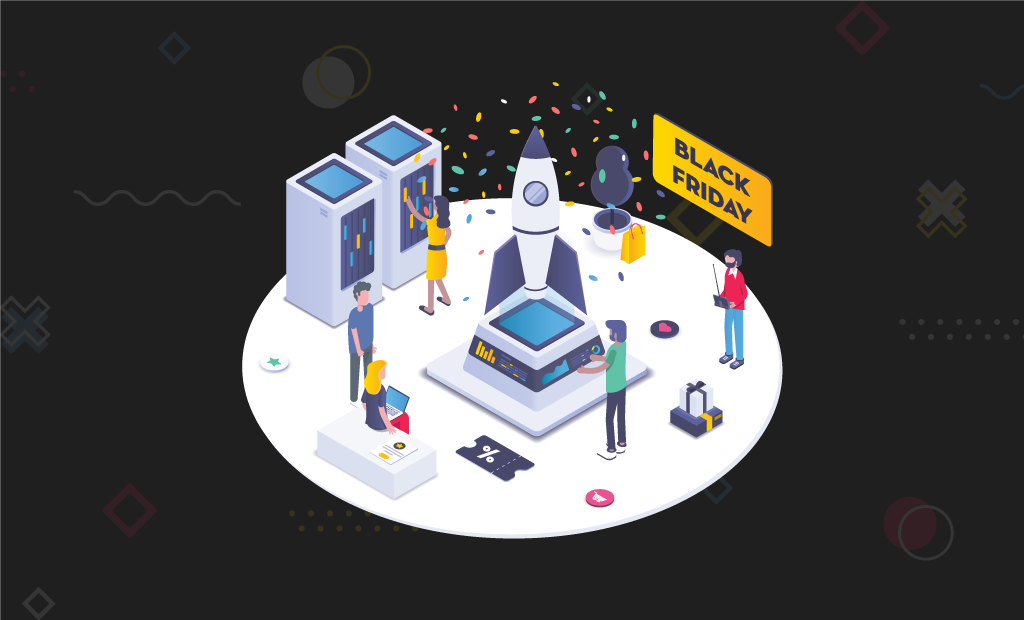 Exclusive Black Friday Sale! Liftoff!
HYPE! Yes, it is again that time of the year. The biggest shopping days – Black Friday and Cyber Monday, are among the most deals-packed weekends of them all. During that period you can find the best prices on all sorts of products. This year's Black Friday Cyber Monday (BFCM) is going to be like nothing we have ever seen before – and that's a good thing.
This article is in reference to the 2020 Black Friday/Cyber Monday Promotion. Looking for a new promotion or deal? Get help choosing or finding your offer on our LiveChat!
Lockdown Prompts New Business Opportunities
Historically, the Thanksgiving holiday weekend has always been a record-shattering buying event that you'll want to get your business on board with. Last year, Black Friday brought in more than 90 million buyers shopping online, and unsurprisingly, data shows that most people will be shopping online instead of in-store this Black Friday. Projections from experts are looking at online shopping sales to hit a new all-time high from last year's $7.4 billion.
However, the reality might also be slightly different. Many people are out of work, small businesses are struggling, and consumers likely have less money to spend. With COVID-19 being rampant for almost a year now, we can't help but think about how much things have changed during that time. The whole world has turned 180 degrees, with the pandemic affecting everyone. Businesses had to shut down, and people have been self-isolating for their safety and the safety of their family and friends. But we all know that challenges always present an opportunity for innovation, and we've seen plenty of it in every corner of the world.
The pandemic opened the doors to new online business ideas, and many existing businesses had to adjust quickly during the new conditions and embraced an online environment. This inspired us to help non-governmental organizations (NGOs), small and big businesses alike to get online during the pandemic fast.

We continue our efforts, and one of the reasons why we are launching our biggest promotion so far:
BFCM 2020 Otherworldly Deals For Everyone
Whether you need an eCommerce solution or just a managed WordPress hosting to get started – our Black Friday & Cyber Monday 2020 offers will cover your requirements. We have the perfect set of products and features for bloggers, entrepreneurs, small businesses, and even space nomads alike.

And for those of you that already have your website hosted elsewhere? You'll also have the chance to transfer your existing domain and hosting over to us and to benefit from huge savings going forward. We have a plan that's right for you, and to top it off.
Crowds in front of stores are a thing of the past – crowds will be queuing online this time, and that behavior will likely trend into 2021. This is why it is a good thing to be prepared for the Holidays. And what a better way to be than starting your project now.
Imagine that today you can join us on an exclusive voyage. ? No Face Mask is Required. ?‍?Only a Spacesuit is Recommended.
Black Friday & Cyber Monday Mission Timeline
Time is of the essence, so don't wait and hurry up! For the eager among you that are already wondering where the launchpad is and when does FastComet's Black Friday & Cyber Monday sale begin? Here is our promotional timetable:
Time left until next event
Timer expired
Friday, 20, November – System Check – Before the Madness Sale;
Thursday, 26, November -Lift-off – Thanksgiving Day Sale;
Friday, 27, November – Max Q – Black Friday;
Weekend, 28 – 29 November – Main engine cutoff (MECO) – Cyber Weekend;
Monday, 30, November – 2nd stage engine starts – Cyber Monday.
And to make things even better – No Parking. No Hassles. No Promo codes are needed because everything is already pre-applied for you. These offers are just a click away. Guaranteed. From the comfort of your home, we can venture together on a new great adventure. Offers are open to anyone – new and existing customers that want to launch a new project.
Get Some "Stellar" Savings
While we chill the engines and pressurize the propellant tank let's transition quickly to our Before the Madness sale, which offers discounts up to 70% off of our new FastCloud shared hosting plans and up to 20% off for our Cloud SSD VPS and Dedicated Servers. After that, the Before the Madness sale will be followed by a Thanksgiving Day Sale, right before Black Friday. As always, Black Friday is followed by Cyber Weekend, and then the final event – Cyber Monday. Additionally, during that whole period, there will be Up To 80% Off Selected Domains!

Who wants to spend an eternity in the vast darkness of space?
Nobody! What else don't people like? Exactly – a slow website. You can enjoy x2 times faster load times for your websites due to our low-density servers, enterprise grade-servers, and worldwide server locations for the best possible latency. How did we achieve that?
In early 2020, we introduced our latest Dedicated server line, reinvented with the AMD EPYC processors, including exceptionally easy scalability and rapid deployment provisioning, available to all our clients. We didn't stop there, as we also decided to upgrade our entire Shared Hosting infrastructure setup based on Dedicated AMD EPYC 7501 CPU Servers, free of charge. The immediate benefits for our clients are:

Rock-solid Stability;
Significant Performance Gains from 30% all the way up to 200%!
Dedicated Security Hardware.
And we haven't stopped there, we've packed all services with features:
Free Website Migrations – no hassle or costs, we will do all the heavy lifting for you in a period much more considerate of your time compared to other companies that can take up to 7 days;
Amazingly Helpful Support standing by 24×7 ready to assist you;
Better Website Performance with Advanced speed-boosting technologies;
Your Essential Stuff is Daily Backed up & easily Restored;
HTTP/2, PHP 7, Free CDN Service;
Free Let's Encrypt SSL certificates;
Мodern Technology Stack: Node.js, Python, PHP, Laravel, and more.
With FastCloud, you can build sites the way you want, easily manage them, and have the confidence they'll run flawlessly when people start checking you out. In short, you get premium hosting capabilities for a fraction of the typical cost.
But what if you are already having your website hosted elsewhere?
We all understand that moving to a new hosting provider can be quite a hassle. But with our support moving things for you – we are ensuring your project's seamless transition to another realm of performance. We are rock-solidly certain that you will like it here. So much so that we offer 45 days money-back guarantee ensuring testing things out hassle-free. Yes, we are confident you will love it.
Lights out
Space: the final frontier. Where no man has gone before … oh, wait, wrong movie quote. Still reading this?
Alright, alright, we get it. It won't be a Black Friday Cyber Monday (BFCM) deal if we just stop there now. This is why our Space Command approved for all of our existing users who simply want to benefit from our deals for their existing projects – that you can certainly do so.
Save on Renewals
All of you are eligible to come and renew your existing shared hosting service that is up for renewal. We'll take up to 30% OFF the renewal invoice. All you have to do – just let our outstanding Customer Success team know you want to benefit from the promotion, and they will set everything for you in no time.
Site Traffic Boosts Toward Black Friday Levels
Though Black Friday is the biggest selling day of the year for many websites, it's a disaster for plenty of others. Our current promotion is the absolute best time to take that lunch pad elevator and upgrade your hosting package so that you know you will make the most out of this year's online shopping festivities! Use coupon code: BOOST30 and take 30% off your hosting upgrade order.
So hurry up because no one likes to miss out on a good deal and our launch schedule is quite tight. Let us show you how your website should really perform! Ready to start? Feel free to reach us over our "Live Chat," and our team of experts will help you with the onboarding process.
The whole team here at FastComet wishes you to stay safe, stay home, and most importantly – Happy Thanksgiving!

***end transmission***
The latest tips and news from the industry straight to your inbox!
Join 30,000+ subscribers for exclusive access to our monthly newsletter with insider cloud, hosting and WordPress tips!