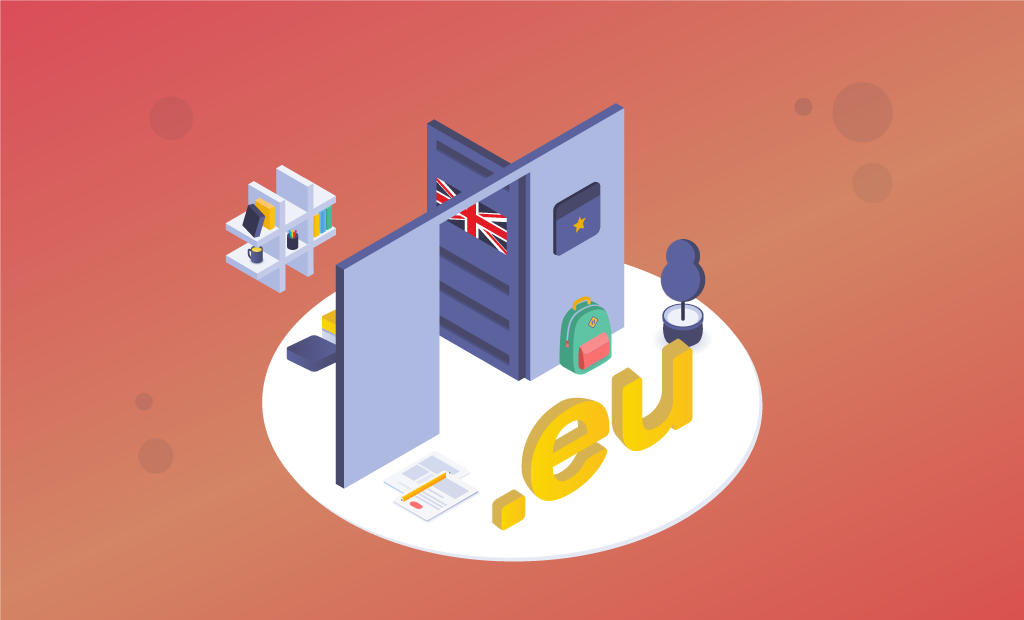 Beware! The Brexit Effect on .EU Domain Names is Coming
If you happen to be one of the 142,000 UK based registrants of .EU domain names, you are probably with a potentially big problem on your hands. The .EU is the official Country Code Top Level Domain (ccTLD) of the European Union and registrations are reserved for people/organizations based in this area. Due to the United Kingdom's withdrawal from the European Union, the European Commission has made the decision to revoke UK inhabitants' rights on the .EU TLD.
Some of the main consequences of Brexit for .EU holders based in the UK might be the loss of their websites, their emails, and their whole online presence. Indeed, the time spent on ranking their .EU domain names might be lost with their websites, and they will need to restart their efforts with a new domain in order to rebuild their SEO strategy. In today's internet-driven world, this would be catastrophic.
In this article, we will provide information on what you need to do in order to keep your .EU domain, as well as the steps you have to take in case you are no longer eligible for that type of domain name.
Table of Contents:
The UK Transition: Time is Running Out
First, a bit of primer. The UK formally left the EU, on 31 January 2020 ("Exit Day") and it is now in transition. The Brexit transition period ends on 31 December 2020.
During the transition period, UK business will continue to be able to hold .EU domain names, but after the expiry of this period, those wishing to retain .EU domain names can only do so if they can meet certain requirements: that they are an EU citizen or resident, an undertaking established in the EU, or an organization that is established in the EU.
From January 1, 2021, assuming the transition period has not been extended, UK registrants will not be able to register new .EU domain names.
Why Will the .EU Domain Names be Influenced by Brexit?
One consequence of Brexit is that from January 1, 2021, organizations established solely in the UK will no longer be entitled to hold a .EU domain. Many UK businesses use a .EU domain name for their main or only website. However, after B-Day (Brexit Day), many will no longer be able to do so. This is because under the EU Regulation on the implementation of the .EU Top Level Domain (No 733/2002), only companies who have their registered office, central administration, principal place of business, or who are established in the EU (by, for example, having a branch office in an EU member state), can be the registrant of .EU domain names.
.EU Domain Name Eligibility Criteria
From the very start of 2021, you won't be able to register or renew .EU domains, if:
Your organization, business, or undertaking is established in the UK but not in the EU/European Economic Area (EEA);
You live outside of the EU/EEA and are not an EU/EEA citizen
You can only register or hold .EU domain names if you are:
An EU/EEA citizen, independently of your place of residence;
A person who is not an EU/EEA citizen but is a resident of an EU Member State;
An undertaking established in the EU/EEA;
An organization established in the EU/EEA, without prejudice to the application of national law.
What do UK Tech Businesses Need to Know
New .EU Domain Registrations
From January 1, 2021, after the transition period ends, EURid will no longer accept registrations of .EU domains by undertakings and organizations established in the UK but not in the EU, as well as third-country nationals (non-EU citizens) that reside in the UK.
FastComet will also stop selling .EU domain names to customers with a UK registrant contact on their domain name.
Existing .EU Domain Registrations
If you have a valid address in the European Union that is not in the UK — you can update your domain registrant contact information to keep the domain valid. In order to do so, please post a ticket request to our Billing Department. Note that you must use a valid registrant contact address according to valid ICANN guidelines – a registered office, principal place of business, or central administration within the EU/EEA, which are also established within the EU/EEA, or are a natural person that resides in the EU/EEA. You must make these updates prior to December 31, 2020, to preserve your domain registration.
If you do not have a valid address — Per the EURid Brexit notice, any currently registered .EU domain name with an existing United Kingdom registrant contact address will be deactivated on January 1, 2021. A domain that has been withdrawn will no longer function because the domain name gets removed from the zone file and cannot support active services (websites or email) any further.
The notice by EURid states that all withdrawn domains are not available to any other entity for a period of twelve months. After that period (on January 1, 2022), all domain names that were withdrawn will be revoked and once again available for registration by eligible entities.
Renewal of Existing .EU Domain Name After the End of the Transition Period
Organizations and third-country nationals will not be eligible for renewal of .EU domain names that are registered before the transition period ends. As a result of that provision, EURid is entitled to revoke such domain names on its own initiative and without the obligation to submit the dispute to any extrajudicial settlement of conflicts.
Transfer of Existing .EU Domain Name
In addition to not allowing registration of .EU domain names, as of January 1, 2021, EURid will not allow the transfer, nor the transfer through an update of such domains to UK registrants.
Steps to Take When You Don't Meet the Eligibility Criteria
Once you know that you do not meet the eligibility criteria, you should contact your domain registrar and discuss whether you should transfer your internet presence to a different top-level domain (TLD). In your case, the most popular TLDs would be .com, .co.uk, .net, and .org. Your registrar will offer advice on how you should inform your customers that you will be moving or have already moved to a different domain. If you are a FastComet client, feel free to come by live chat and ask for guidance.
Also, you should consider seeking information from your domain registrar to find out if the terms of your contractual agreement offer any recourse if there is a withdrawal or revocation of a .EU registration.
It's a good idea to develop a migration plan for all the services and functions that your .EU domain, website, or email address are linked to. Those may include:
.EU websites or email accounts which hold data that needs to be transferred before the loss of access;
.EU email addresses that have access to critical business processes, such as online payment providers, banking services, government services, or payment verification services.
.EU email addresses with access to services using an email and password for registration, such as social media, membership clubs, and two-factor authentication services.
.EU email addresses that you use to communicate with your clients, customers, internal communications, etc.
Trademark or intellectual property rights that are impacted by the loss of your .EU domain name.
Virtual Private Networks (VPN) or other services that use your .EU domain.
Keep in mind that this list is not exhaustive, it's to give you an idea of what you need to address if you are no longer eligible for your .EU domain name and you have to transfer.
Conclusion
In order to ensure the continuity of your .EU domain name after January 1, 2021, being in compliance is essential. If you are a holder of .EU domain names in the UK, we recommend that you update your registration data before December 31, 2020. As we mentioned, you can do that by indication of a legally established entity in an EU Member State, or by an update of your residence to an EU Member State. The other option is proof of EU Member State citizenship.
This update should take no longer than 5 minutes, so don't miss the due date!
The latest tips and news from the industry straight to your inbox!
Join 30,000+ subscribers for exclusive access to our monthly newsletter with insider cloud, hosting and WordPress tips!