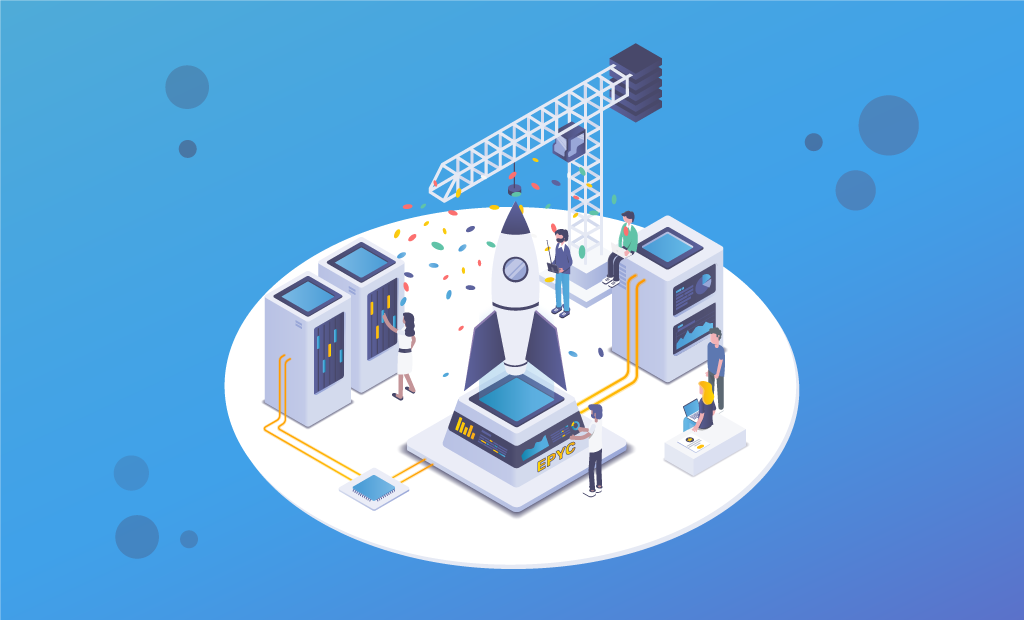 FastComet and AMD EPYC – When You Need EPYC Performance
The blazing fast speed and highest performance of your websites have always been at the top of our team's priority list. Every millisecond matters in today's race to speed up website loading time. Customers today are asking for secure, workload-optimized servers that can increase customer connection, satisfaction, and profitability, drive new experiences and value for their customers. We're always striving to push the boundaries on performance and efficiency in ways that will accelerate our customers' intelligent transformation, and our mission is to bring you top-of-the-line managed cloud hosting without compromises.
In fact, over the past couple of months, we have also started offering awesome new features such as three new server locations, MySQL 5.7, and PHP 7.4. These are some of the main reasons for clients to choose us over our competitors, and we have proven our name stands for more than its component parts.
But there's a caveat. While on-site optimization is important for improved speed, it's not the only aspect we should look at. The hardware and network infrastructure supporting our website and connecting it to our visitors' matter. Thus, we aim to ensure that all our clients' sites run on the latest and fastest hardware on the market, and when we spot a valuable new piece of hardware, we immediately start testing.
Patching the Patch for the Patch
Over the past two years, attacks like Spectre, Meltdown, and variants on those techniques—all capable of tricking a broad range of processors into coughing up sensitive data—have shown how hard it can be to secure a processor.
Security researchers have dug up one technique after another that lets a hacker trick Intel's microprocessors into spilling a computer's deepest secrets. As those flaws have been exposed, chipmakers have scrambled to patch them. Since becoming aware of these vulnerabilities, FastComet has been working diligently to plan and implement the best resolution for our customers. We immediately started a patching process to prevent our customers from being affected by any of them. However, these patch drives cause reduced CPU capabilities.
But for one serious form of those attacks, it turns out that Intel still hasn't successfully patched the underlying problem despite 18 months of warnings—and not one but two failed attempts to do so. For the third time in less than a year, Intel has disclosed a new set of vulnerabilities related to the speculative functionality of its processors:
Microarchitectural Data Sampling (MDS), also referred to as "ZombieLoad"
From that point on, we started thinking about how to improve the service so that we don't compromise performance at the expense of security.
For many years Intel was the dominant and thus preferred choice in the CPU market. However, AMD's strides in recent years show the intent of team red to change that and provide consumers with high grade and core count chips. Under the leadership of Lisa Su, AMD created the Zen microarchitecture debuting with the desktop-grade Ryzen and later launching its series of high-performance data center processors – EPYC, codename Naples.
We have been offering AMD's line of server processors, EPYC, for the last few months, and the results our customers have seen are impressive, to say the least. At the same time, we heard from users that they wanted the same performance and stability of dedicated CPU resources as their ground foundation of the SSD cloud infrastructure. So aligning ourselves with Dedicated AMD EPYC 7501 environment was a no-brainer.
EPYC Keys to Success
As we enter a new era of computing, the exascale era, we see new workloads, new infrastructure, a new way of thinking – and this requires capabilities and performance as we get from the AMD's award-winning hardware.
We started planning the infrastructure overhaul back in 2019. In Q3, we introduced our latest Dedicated server line, reinvented with the AMD EPYC processors, including exceptionally easy scalability, load balancing, and rapid deployment provisioning, available to all our clients.
FastComet's high availability Dedicated CPU Servers are optimized for workloads where consistent performance is required or where full-duty work (100% CPU all day, every day) needs doing. We're emphasizing the "dedicated"-ness – that you can spin to 100% CPU all the time without worry. The underlying CPU resources for these servers are dedicated and shared with no one else. Dedicated vCPU threads are assigned exclusively to cores on the hypervisor, so there is no sharing or competing for these resources between servers.
Why We are Switching To AMD EPYC CPU
The team at FastComet tested and studied the impact of website speed on sales, conversions, user experience, and user engagement. After several months of testing and benchmarking by our DevOps teams, following the success of the Dedicated CPU servers, we were convinced not only by their power but also by their extraordinary stability. Today, we are announcing a completely new infrastructure setup based on Dedicated AMD EPYC 7501 CPU Servers. We've combined it with our custom environment setup of multi-layered caching, lightning-fast PHP 7, and developer goodies like SSH and WP-CLI.
We have decided to upgrade our entire Shared Hosting infrastructure to it, free of charge. So, moving forward, this will be the backbone of our infrastructure, meaning we aren't just moving a select few to the new hardware or limiting their use to our higher-tier plans. We're making the new Dedicated CPU machines available for everyone at FastComet. Perhaps you are a casual blogger or Fortune 500 company – it doesn't matter. You're about to reap all the benefits this upgrade has to offer.
Looking To The Future
Our team's goal is to always come up with new ways of increasing the performance of your websites and applications. Over the years, we've released awesome new features and service improvements. With that in mind, we can say that our move to AMD EPYC is undoubtedly the most exciting and impactful change we've had to our platform, especially in regards to speed and performance. Last but not least, the security and stability of the service we provide will be further enhanced.
The immediate benefits for our clients are:
The EPYC processors convinced us not only by their power but also by their extraordinary reliability and stability. With the AMD EPYC processor, coupled with our extensive testing and performance tweaking to continually decrease latency, the impact of noisy neighbors is reduced to almost zero. Dedicated vCPU threads are assigned exclusively to cores on the hypervisor, so there is no sharing or competing for these resources between servers.
Significant Performance Gains
Utilizing AMD's EPYC line of processors provides breakthrough processing power balanced with the industry-leading memory and I/O capacity needed to eliminate performance bottleneck substantially. Having such highly consistent I/O performance, including exceptional read speed, write speed, and I/O latency – AMD EPYC SoC's architecture provides massive I/O with directly attached solid-state drives (SSDs). Those drives enable truly exceptional I/O bandwidth with very low latency. This aspect of performance is crucial for our users and us especially noticeable when utilizing LAMP/LEMP stacks, and general MySQL involvement is involved.
These advancements don't stop there. Team red unlocked our ability to achieve significant performance gains when running memory-intensive applications such as video encoding, machine learning, and data analytics processing. That makes the AMD EPYC 7501 Kernel config, ~35% faster than our prior champ Intel Xeon E5-2680v3.
Dedicated Security Hardware
Security is about more than external attacks – there are also the dangers from within. The AMD EPYC server processor helps safeguard application privacy and integrity by enabling the encryption of each virtual machine and hypervisor. The AMD Secure Root-of-Trust technology ensures that only cryptographically signed software is booted. AMD Secure Run Technology encrypts all software and data in memory, working to guard against unauthorized snooping and cold boot attacks while supporting secure VM isolation. This is achieved by using one of 509 available and unique encryption keys managed by a dedicated security processor. FastGuard out-of-the-box security measures are combined with the inherent security and encryption capabilities of AMD EPYC processors. It delivers foundational security at the hardware and firmware level, allowing us to avoid certain situations where to harden security, users suffered from some losses in performance.
Performance Results We are Seeing on Clients' Sites
After testing our new infrastructure with the help of some of our existing clients, we received extremely positive feedback resulting in a great experience overall. Some of the sites reported that they had been blown away by their enhanced performance, speed increases, and significantly reduced resource usage across the board. All varies according to the type of site. However, we see performance improvements from 30% all the way up to 200%!
While you will be able to see much greater improvements on uncached content, as it will capitalize on the new environment, you should witness faster speeds overall even if a page is serving from cache.
This change does not only impact your site's frontend. Not only will you see faster load times, but you will most likely also notice a difference in the responsiveness of your application admin dashboards. For those of you working on your sites on a regular or daily basis, this should make your workflow a bit more enjoyable.
Heavier websites are going to experience greater performance increases than sites that are already optimized. But as we mentioned above, even if your site is well-optimized, it will still notice a difference.
Summary
FastComet has always been relentless in our mission that we keep delivering on our promise to provide high-performance SSD cloud hosting. We fully understand that for many of you, this is one of the primary reasons you choose us over the competition. That's why we're excited to roll out the AMD's EPYC award-winning hardware to everyone; regardless of the plan, you're on.
Whether you have a low-traffic blog or a high-demanding eCommerce site, you'll be able to grow with FastComet and achieve speeds faster than what you thought was possible.
The latest tips and news from the industry straight to your inbox!
Join 30,000+ subscribers for exclusive access to our monthly newsletter with insider cloud, hosting and WordPress tips!