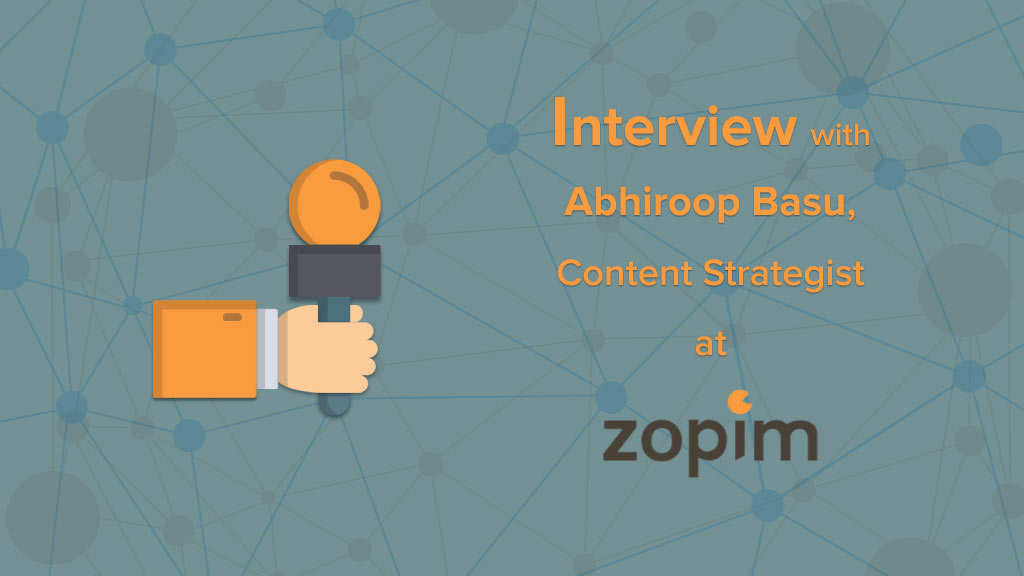 Interview: Abhiroop Basu, Content Strategist at Zopim
Last week we had the pleasure to arrange an interview with Abhi Basu, Content Strategist at Zopim and he was kind enough to outline some of the key features of their excellent live chat product. FastComet has already joined the Zopim program as an Official Zopim Reseller. Here is what Abhi had to say.
The Interview with Abhiroop Basu
FastComet: Thank you for giving us the opportunity to talk to you today. Please introduce yourself to our readers.
Abhi Basu: I'm Abhi, the Content Strategist and Marketing Manager for Zopim. I've worked at Zopim the past 1.5 years, managing its content, social channels, and other marketing initiatives.
FastComet: Could we start by telling us a little bit more about Zopim's early days? Is there an interesting story behind the name "Zopim"? Does it stand for something special?
Abhi Basu: Zopim started out in 2008 with a simple idea, "what if any website owner could chat with every single visitor on their website?"
Unaware that an entire industry had been trying to solve the "live chat" problem for over a decade, founders Royston Tay, Yang Bin Kwok and Wenxiang Wu started designing Zopim from scratch. In the next few months, they unwittingly disrupted the entire industry with a unique offering that leveraged the latest web technologies, while introducing a radically new user interface that was simple, intuitive, and elegant. In 2010, Zopim launched its freemium pricing model, and with it, an entire population of small and medium business users was introduced to a product that helped them improve sales and customer engagement.
There really isn't anything terribly exciting about the name. In 2007, YB and Wenxiang were trying to think of a name. They wanted something that included "IM" (because they were building a product that was similar to instant messaging) and also something that meant "fast". Initially, they considered ZapIM, but the domain was taken. So, they stuck with Zopim. They've wanted to change it over the years, but after a while, the brand became famous enough that it wasn't worth it.
FastComet: In your opinion, what types of internet companies can benefit from offering live chat with clients on their websites?
Abhi Basu: Our belief is that any website that offers products or services to customers can benefit from live chat. Of course, not all websites are big enough or have enough customers to need dedicated live chat support.
Our belief is that any website that offers products or services to customers can benefit from live chat.
In our experience, the sites that benefit the most from live chat usually have products or services that customers have many questions about. For example, many real estate agents use Zopim because it helps clarify doubts and generate leads. This is because agents can proactively chat with visitors who might simply be window shopping. For example, the "Triggers" feature can be used to automatically offer a special rate to visitors who are idling on a particular listing. If the visitor is interested, the agent can take over the conversation.
This is especially beneficial for real estate agents as each conversation with a customer can translate into a sale. Unlike other industries, each chat could be the critical difference between closing a significant deal or a customer leaving. Hence, the return of investment for live chat is much higher for real estate companies and a big reason why they choose to use it.
Zopim also incorporates automatic translation, which means that agents can talk to customers in a number of different languages – basically any language supported by Google Translate! With people from all over the world shopping online, this feature is huge for our multi-lingual approach.
FastComet: Please point out Zopim's advantages compared to self-hosted chat service providers?
Abhi Basu: First off, Zopim is not self-hosted. You need to sign up for on Zopim.com. To use the service, you must log into our online Dashboard. Nothing needs to be installed or downloaded.
Zopim's biggest selling points are its customizable Triggers, automatic translation, and competitive pricing. However, those are just features. What truly sets Zopim apart from its competitors is how simple it is to set up and easy it is to use. In fact, you can be up and running within a few minutes, without any technical expertise.
Additionally, Zopim offers live chat support 24 hours a day, 5 days a week – something that very few other companies have.
FastComet: Tell us a little bit more about the integration options. Zopim can be integrated virtually with any website, is this correct?
Abhi Basu: That's correct. You can either embed the Zopim chat widget code into your website directly or you can use one of our many platform integrations.
FastComet: I guess one of the main concerns with hosted solutions is security. How secure is our data with Zopim?
Abhi Basu: Zopim provides you and your visitors with a secure, reliable and trusted platform by using the best industry standards for network and service security. This includes using a multi-tiered, multi-layered security approach commonly adopted by leading online businesses.
By default, Zopim secures chat sessions with SSL/TLS which makes it very difficult for unauthorized individuals to view information traveling between agents and visitors.
The Zopim Dashboard can be accessed via an SSL (https) page as well to ensure all active conversations are secured.
All communication takes place via common browsers. Both visitors and agents do not need to install any software on their PCs, eliminating the risk of viruses or adware/malware/spyware.
All chat sessions and user data are maintained and archived on secure servers. Access to stored user data is password protected and passwords are account specific. Therefore, no customer can view data for another customer. Similarly, unauthorized Zopim employees cannot access sensitive user data. We also use appropriate firewall technology within our facility to prevent unauthorized access. As another level of protection, all data is backed up daily, and archives are stored off-site in a secure location.
FastComet: As a company working with clients around the globe, your live translation feature is very valuable to us. Please tell our readers a little bit more about the Zopim translation feature.
Abhi Basu: Automatic translation is one of our key features. We've integrated with Google Translate (which currently supports 81 languages), so you can chat with anyone from around the world. Our integration is completely seamless. Once a customer starts talking to you in a language other than the one you have set, our Dashboard will automatically detect the language and start translating it. Then when you reply, your reply will be translated and sent to the customer. All of this happens in real-time and is completely seamless.
FastComet: You are one of the few companies to have a real mobile app for live chat. What is the adoption rate of this communication tool? Could you tell us more information about your mobile app?
Abhi Basu: Many of our customers use our iPhone and Android app. It's a lightweight version of our Dashboard and lets you talk to your customers while on the go.
FastComet: Tell us more about the latest Zopim features – Analytics.
Abhi Basu: Analytics is a concentrated effort to provide greater clarity about chat and agent activity to our customers. Right now, our customers can chat to anyone on their visitor list and even engage them proactively using Triggers. However, there's no easy way to step back and analyze the data. How many chats did you have in the past week? How many of them were missed? How long did they take? These are all questions our customers want answers to.
In it's simplest form, Analytics gives you a bird's eye view of your chat and agent activity. You can use it to track the chats you have with customers and increase the efficiency of your team.
Analytics gives you a detailed overview of all your chat stats and agent data. With it, you can:
Track your chat volume to get a better idea of which days are the busiest.
Examine why chats are being missed and why wait times are increasing during certain periods.
Use the metrics to anticipate customer needs and increase satisfaction.
FastComet: Well, thank you for your time Abhi. We are very happy to be able to blend your wonderful product with our hosting services as a result of joining your reseller program.
Abhi Basu: Great to have you on board!
Update: Since Zopim's acquisition in 2015, Zopim has been an essential part of the Zendesk multiproduct suite. Zopim is now called Zendesk Chat. We no longer have a partner relationship with Zopim and the stated special terms do not apply anymore. The 20% off discount on Zopim services to all customers for FastComet customers has expired.
The latest tips and news from the industry straight to your inbox!
Join 30,000+ subscribers for exclusive access to our monthly newsletter with insider cloud, hosting and WordPress tips!