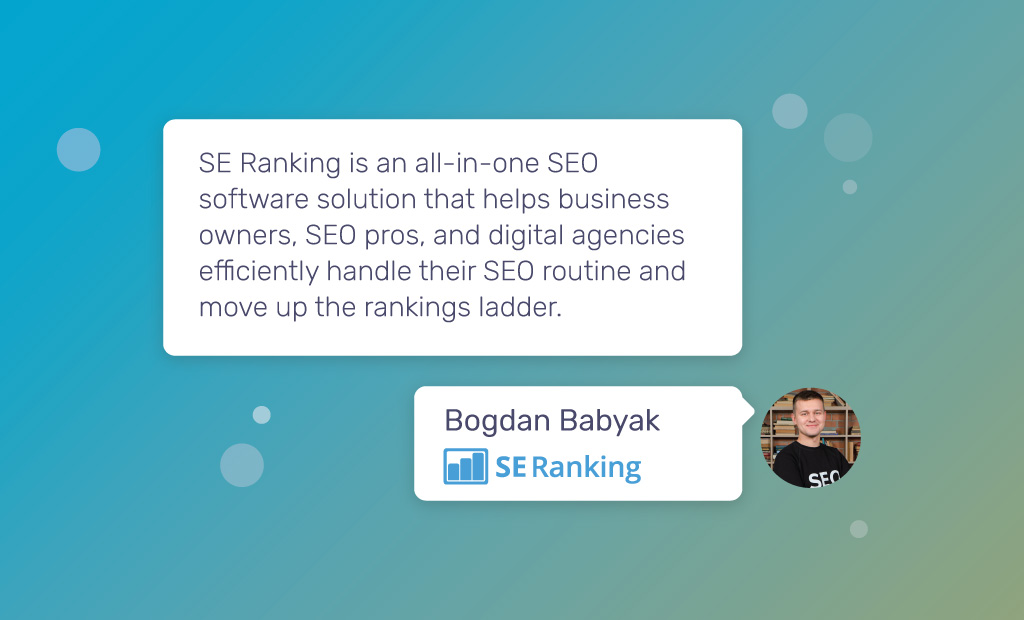 Interview: Bogdan Babyak, Marketing Team Lead at SE Ranking
Earlier this month, we introduced you to SE Ranking, who has become our new SEO partner. In the short platform overview, we've gone through its main tools that can help you streamline your SEO routine.
Now that we had a chance to chat with SE Ranking's Marketing Team Lead, Bogdan Babyak, we are ready to share more insight with you. Learn what makes SE Ranking stand out, what SEO challenges businesses face today, and what to expect from digital marketing in the future.
The interview with Bogdan Babyak
FastComet: Please say a few words about your SEO platform—how many years have you been on the market? How many users do you have as of 2020?
Bogdan Babyak: SE Ranking was created back in 2014 as an in-house SEO solution. It performed so well that we decided to scale it up to outside projects, and in 2016 the first version of the product was released. A lot has changed since then as we grew three times in the last three years, developed tons of new features, and extended our databases.
Today, SE Ranking is an all-in-one SEO software that can help you with every aspect of organic promotion from rank tracking and competitor analysis to technical SEO and everything related to backlinks. We try to make things simple so that everyone could make the most out of our tools, be you a business owner, an SEO pro, or a digital agency. We have almost 400,000 users, and we really appreciate that all these people have chosen to do their SEO with SE Ranking.
FastComet: What makes your service different from the vast pool of SEO tools available on the market?
Bogdan Babyak: We at SE Ranking believe that everyone—from a small startup or a long-established business—deserves to rank high on Google. That is why we offer an all-in-one SEO solution that everybody can afford. Even with the most basic plan, you get a comprehensive set of tools that will help you jumpstart your SEO strategy. Then, as you grow, you can easily scale expanding your limits and adding some unique features to your toolkit. For example, with SE Ranking, you can track all changes made on important pages of your website or your competitor's site—no other SEO platform offers this kind of feature. We also expand our keyword database on-demand—customers can send us a request, and we will add specific keywords from their niche to SE Ranking's database.
We're constantly introducing new features and improving our existing tools to make sure our platform covers all our customers' needs. Actually, our whole roadmap is based on the request our clients make at the end of each year.
FastComet: In your opinion, what types of businesses can benefit from developing an SEO strategy for their websites? How can it help them stay afloat during the COVID-19 pandemic?
Bogdan Babyak: Every business can benefit from SEO. If you have a website to promote, you need SEO to promote it sustainably. If you don't have a website yet—now is the right time to launch one and start using SEO to promote it. The lockdown has shown that every business needs to establish some sort of online presence to be more flexible and resistant to changes. The great thing about SEO is that while you first need to invest time and effort to make it work – over time, it starts working for you. You won't have to pay for advertising to get some leads as with your ranking high, they will come to your website organically. So, SEO is a long-term investment you need to make during the lockdown or any time after because it gives you the results that last regardless of the external factors.
FastComet: A lot of smaller companies try to handle all of the SEO work themselves, or outsource the work to an inexpensive online agency. Is it possible to successfully do SEO on your own? Do you help your new customers onboard?
Bogdan Babyak: You can totally do SEO on your own if you are ready to spend some time learning all the ins and outs. We do help our new customers get the hang of SEO—our platform comes with a handy step-by-step Marketing plan that provides guidance for inexperienced users. Then, we try to constantly educate our customers with tutorials, webinars, and interviews with experts that we conduct regularly and then upload to our YouTube channel. Besides, you can find insights and practical tips on our blog, where we cover both the basics and more advanced issues. Finally, our platform itself is very intuitive, with plenty of tooltips that won't let you get lost. And if you do have some questions, our customer success team is always ready to lend a helping hand.
FastComet: Support is our top priority here at FastComet. How are your customer service and technical support organized?
Bogdan Babyak: Our support team is now called "Customer Success Team", as our goal is to help our customers reach their goals with the help of our product. We are available via live chat and phone, and we also have a ticketing system to help our customers with technical issues or any other questions they may have. The team also runs live demos and manages the pre-sale process. So, every member of the team can jump on a call or demo, if needed, consult on pricing and API.
FastComet: As an SEO platform working with thousands of customers worldwide, is your platform available in languages other than English?
Bogdan Babyak: Yes, our platform has been translated into nine languages: English, German, French, Italian, Portuguese, Spanish, Japanese, Dutch, and Russian. We believe that performing locally and approaching the audience in their native language gives us many advantages and improves our customer relations. Recently, we've gone a step further, and after running a lockdown marketing marathon in English, we decided to conduct more marathons in Russian, Spanish, Dutch, French, and German. It helped us better connect with our customers speaking these languages.
FastComet: What are the three key aspects of digital marketing that SMEs should focus on right now? How does your service help achieve this?
Bogdan Babyak: That would be SEO, social media, and PPC. Actually, social media should even come first on the list as today, you need to keep in touch with your audience and maintain user engagement. It's especially crucial for business niches that suffered the most from the lockdown—they just can't afford to lose loyal customers right now. Instead of reposting some up-to-date news that flood user feeds, try to stand out by offering something of value. Online talks and training, giveaways, and quests—everything that can spark users' interest will do. For social media, SE Ranking has a handy Social Media Management tool.
Then, you surely need to keep going with your SEO efforts. If you have more time on your hands, use it to tend to everything you couldn't fit into your schedule earlier. That can include fixing all the technical errors across the website, adding value to old content that doesn't work, or improving your internal linking. For such tasks, SE Ranking has Website Audit and On-Page SEO Checker tools.
Finally, if you've got the budget, keep up with paid advertising. From our experience, retargeting on social media can be especially effective right now. And if you don't yet rank high organically and get paid ads from Google, use our SEO/PPC Competitor Research tool to learn from your competitors' best practices.
FastComet: That was a very comprehensive answer. Now, as a person knowledgeable in SEO, can you explain in plain words how web hosting affects SEO?
Bogdan Babyak: Your technical SEO largely depends on the quality of your hosting service. If you are hosting your website on a slow server, the site speed will be less than decent, which will result in a negative impact on your rankings. Then, with some non-reliable hostings, you can suffer from poor uptime, which can be disastrous for your SEO. If Google's crawlers try to scan your website but fail because the website is down, Google will see this as a red flag. If such situations persist, you may drop out of the top or even get deindexed altogether as the search engine will think you are not reliable. So, everyone definitely needs a trustworthy hosting provider with speedy servers like FastComet.
FastComet: And the very last question is, does it make sense to start doing SEO from scratch right now? Or is it too late to try to catch up and outrank stronger competitors?
Bogdan Babyak: As I already said, SEO is a long-term investment, you can make any time. It's never too late to integrate SEO into your marketing strategy. Admittedly, it will take some time for you to keep up with your competitors who started earlier. But if your website is correctly set up from the technical perspective, you create content that truly brings value to users, and you have some established partnerships within the industry which you can use to get backlinks, you are destined for success.
Get Your SE Ranking Discount with FastComet
Under our partnership with SE Ranking, all FastComet customers can take advantage of an exclusive two-week free trial of SE Ranking. Afterward snatch a 30% discount on any pricing plan when making a purchase.
We hope this partnership will boost our customers' SEO efforts and provide them with all the tools they need to conquer the digital market.
The latest tips and news from the industry straight to your inbox!
Join 30,000+ subscribers for exclusive access to our monthly newsletter with insider cloud, hosting and WordPress tips!