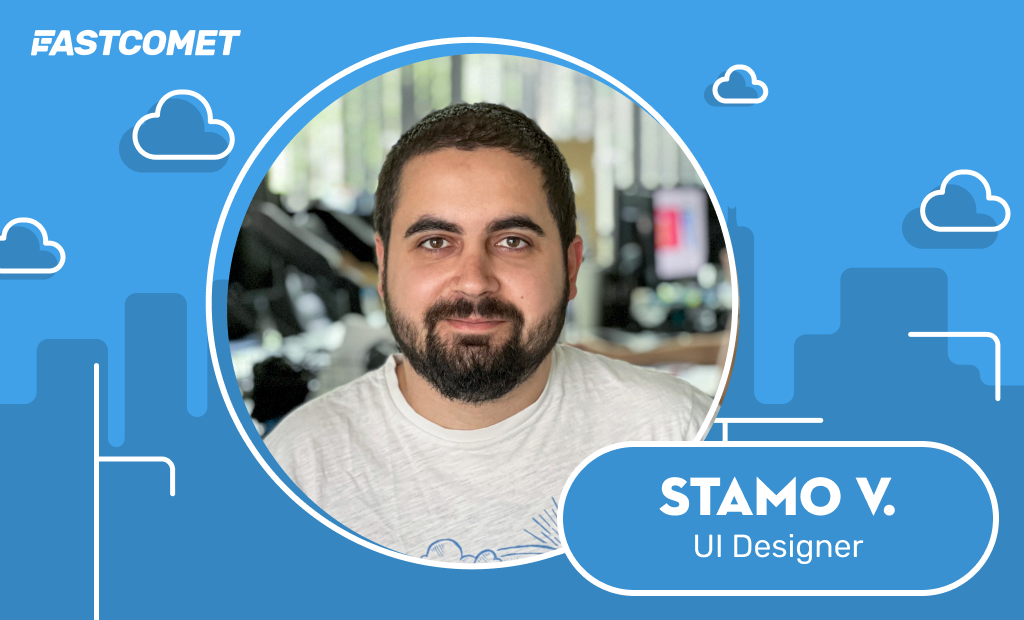 Employee Spotlight: Stamo—Here Comes a New Challenger
We all feel as though summer has suddenly arrived and we must immediately get on with all the things we've been planning to do during the long, chilly winter months. Now, let's slow down a little bit — take some time to think about what you really want to do. Get inspired by the beautiful June and what it brings. Talking about inspiration, we want to introduce you to someone who lives and breathes it every day—our UI Designer Stamo.
In this position, design is more important than implementation. Really proficient with design software, perhaps with only rudimentary HTML and CSS knowledge. Visual Designer could be used as a synonym. Feel free to relax for a bit and find out about Stamo's goals and hobbies. After all, he's the one creating all the awesome designs you can see on the FastComet website lately.
Can you introduce yourself and share how you decided to join the team?
My name is Stamo, I'm 23, and I joined the FastComet team last year. I work as an UI Designer and basically create most of the pictures and designs for FastComet people see these days.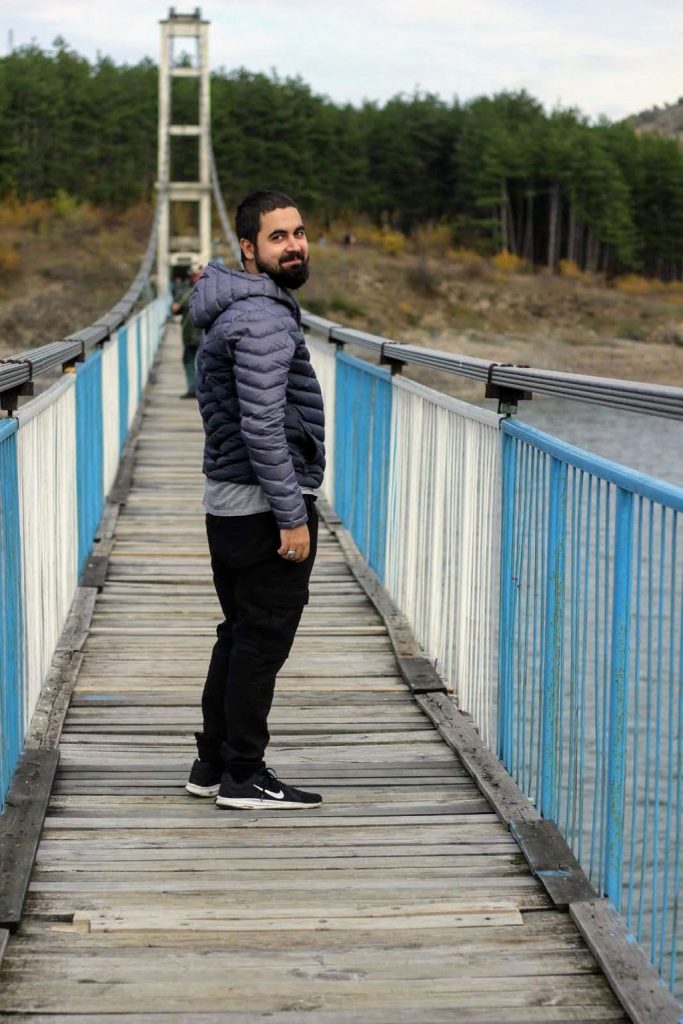 I chose to join the company because I wanted to be part of a growing team of young professionals striving to improve at what they do with each passing day. We can't be perfect, but it doesn't hurt to do our best and try to get as close to perfection as possible.
What encourages you to enjoy going to work each day?
My encouragement comes from the fact that I get to do one of my favorite things in life. I love creating stuff for FastComet — from featured pictures for the blog posts to designs for the promotions — everything is fun to do. I love designing so much that I even do it in my free time as well. When you love your job, it's not really a "job," it's getting paid to do what you're passionate about. Living the dream, I guess.
What is your job's toughest task, and how do you handle it?
The toughest task would probably be creating designs for promotions and the corresponding creative materials for them. That's because of all the materials we need to create and also to keep the design fresh and unique every time. However, that's the part I enjoy the most — I love being challenged. As for how I handle it — I make sure that I keep myself relaxed and well-rested. I often do extensive research to see what other creative professionals are doing and get inspiration from the best designs I see. The power of the Internet is something we should never hesitate to use.
That said, sometimes, when I hear a specific task, the design immediately pops into my head, and I get on with it right away.
What would you say a typical day in your life is like?
Wake up, come to the office, then it really depends on what we are doing the current day. However, I'll always be creating something, and most of the time, it's different and new. That's what I like about working at FastComet — we always do something new. Then after we finish work, I go home and either play video games, watch a movie, or go out with friends for a beer.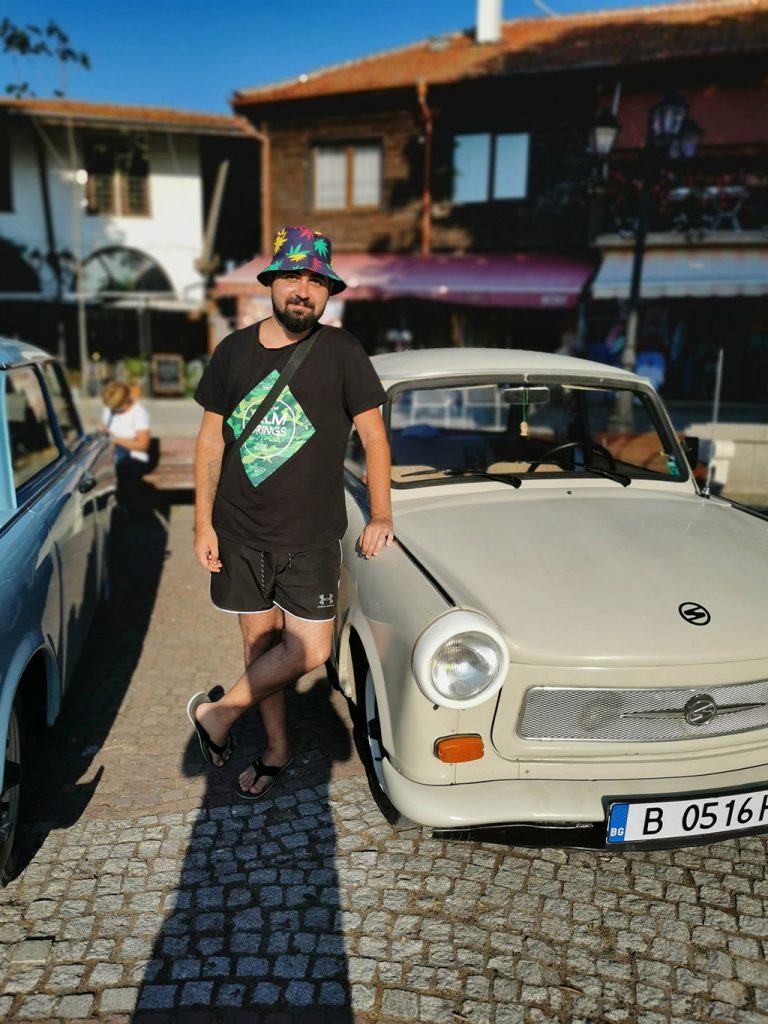 Having fun after work has to be the best rest you can get before going to bed for a good night's sleep.
You mentioned you're a gamer. What's your favorite video game of all time?
The answer here has to be WarCraft 3. There is something about Real-Time Strategies that makes them as appealing as they are challenging. When you become good at something that's generally perceived as difficult, the satisfaction level rises even further. It's similar to solving a Rubic's cube with record time.

Not to mention the fact that the massive Warcraft universe that we are familiar with, a vast story starring characters like Arthas, Jaina, Sylvanas, and countless others, is set in motion by Warcraft 3. The campaign is a massive project that includes a variety of classic Real-Time Strategy tasks, base-building activities, mini-RPG-style adventures, and horde-mode holdouts. Warcraft 3 is simply close to perfection.
Do you have any hobbies except gaming? Share some details, please!
Well, I have a lot of hobbies. Honestly a bit too much. I go fishing probably every other weekend, and it's not so much to catch fish but to go offline and around nature for a bit. Having some quiet time is also a good bonus to the activity.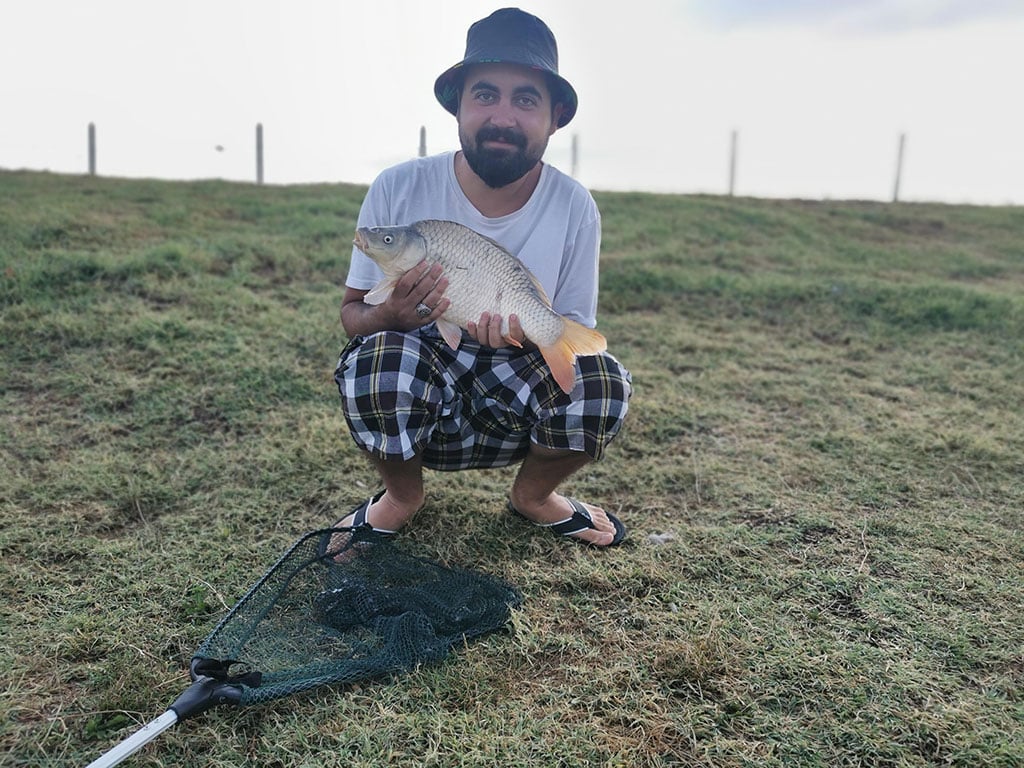 I also play the ukulele, but I can also play the guitar and the accordion.
Additionally, I like to paint, but sadly I don't have enough time for that currently.

About video games, I don't just like to play them, I also like to make video games, and I just started working on one, so currently, most of my free time goes into that.
What about you could surprise folks to learn?
The most surprising thing for people to learn about me is usually the fact that I have a gold medal in Orienteering. It's kind of a weird sport where you have a map and a compass, and you have to follow a trail in the woods, usually somewhere very remote. Again with the challenges, I guess.
What one piece of advice would you provide our users? What is a useful lesson you've learned over your career?
My advice is for everyone to always enjoy what they do and don't forget to slow down from time to time. If you burn yourself out, it's easy to start hating something that you're actually passionate about.
Final Thoughts
Stamo deserves praise for having the same level of tenacity that he has in his occasionally difficult role at our company. Stamo is just one of the many talented coworkers we regularly interview. Please feel free to learn more about any of the wonderful FastComet staff members!
We sincerely hope you enjoyed reading our interview with Stamo as much as we did conducting it! If you're still reading, use the button below to subscribe to our newsletter so you won't miss any of the news and deals we have to offer.
The latest tips and news from the industry straight to your inbox!
Join 30,000+ subscribers for exclusive access to our monthly newsletter with insider cloud, hosting and WordPress tips!