Backup the Files
The first step of the process is to create a backup of the CS-Cart files. If your website is accessible directly via the primary domain of your account, this indicates that it's files are located in the public_html/ directory of your account. Keep in mind that this configuration may differ if your website is located in a subfolder or a subdomain. Make sure that you locate the correct directory of your CS-Cart installation and download it on your local computer.
Download Files
There are two ways of downloading your files to the server - using an FTP client, following our FTP tutorial, or downloading directly through your cPanel account → File Manager, following our cPanel tutorial.
Backup the CS-Cart Databas
The second step of the process is to generate a backup of the database, set on your CS-Cart website. For this purpose, you will first need to review the CS-Cart main configuration file. It keeps valuable information that you can use in such cases, such as the database you are using.
Once you locate the name of your database, you need to log into your cPanel account. Locate the Database section and click on the phpMyAdmin icon.

The system will display a list of all available databases on your account. They will be located on the left side of the screen for easy access. Click on the one set on your CS-Cart website.

The tables of your database will be displayed for a review. From here, you will be able to manipulate the data on your website, but be careful, as any changes made on your database may result in it's complete corruption. To proceed with the backup generation, click on the Export button.

Select the Quick export option and click on the Go button to download a backup dump file of your database to your local computer.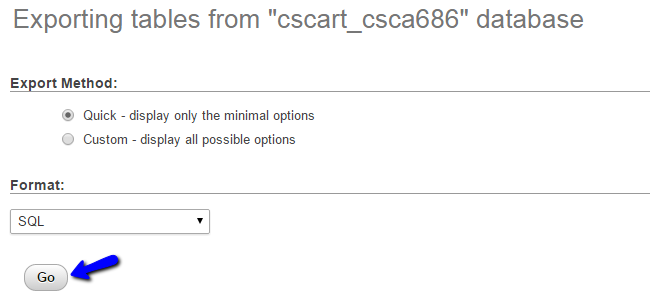 With this, you now have all of the required items of restoring your CS-Cart based website if needed.