How to Configure Payment Methods in CS-Cart
Updated on Mar 13, 2019
This tutorial will review the process of adding, or configuring existing payment methods on your CS-Cart website. As an online store, receiving payments is one of the most important features that you need to set up properly. This will ensure you are getting paid for the products you are selling through your website.
To manage the payment methods in CS-Cart, you have to log in as administrator first. Click on the Administration button at the main menu and then Payment Methods.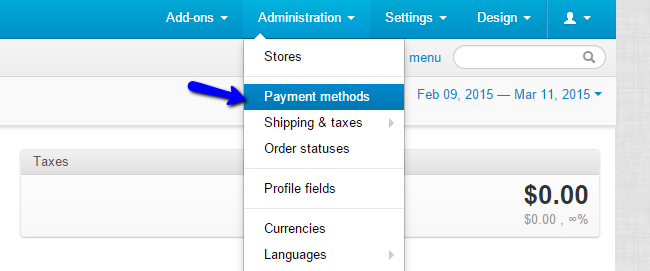 The Payment Methods Management includes the following:
Create Payment Methods
To create a new payment method, you simply need to click on the + sign at the top-right corner of the screen.

Edit the following details for the new payment method on your website:
Name - Enter the name of the new payment method;
Processor - Choose the online payment system that will handle the payments on your website;
Template - Choose the template with input fields that you wish to display;
Payment Category - Group different payment methods together by choosing a category;
Description - Enter a short description for the payment method. It will be displayed at checkout;
Surcharge - Enter a surcharge to be added to the total amount of the order;
Surcharge Title - Enter a title for the surcharge to be displayed at checkout;
Configure tab - The configure tab is available for online payment methods. You will be able to set the details for the specific payment method.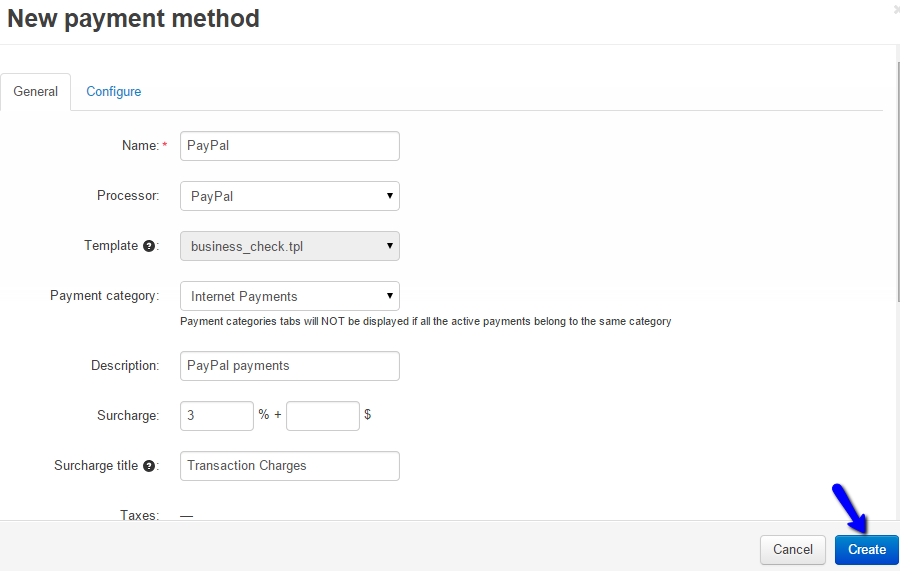 Edit Payment Methods
To edit an existing payment method on your website, you need to access the Payment Methods manager again. From the list of available payment methods, simply move the mouse cursor to the one you wish to edit. You will notice a Settings icon that you need to select and then click on Edit.

Enter the details that you wish to change and click on the Save button to keep the changes.
Remove Payment Methods
To remove an existing payment method, you need to move your mouse cursor to one of the available methods in the list. Click on the Settings icon and then Delete.