How to Transfer your Domain Name to Another Registrar
Updated on Jun 27, 2022
When registering a domain name, you are considered as the official domain name owner. At any time you can decide whether to switch registrar that suits your requirements better. You'll initiate the transfer itself with the gaining registrar, but there are a few things you can do to ensure the process goes smoothly.
Important:
To avoid any delays, please complete the following requirements before initiating the transfer.
The domain name should be unlocked for transfer, which is shown as Active or OK on the domain status when you do Whois checks;
You, as an owner of the domain, should have access to the domain's administrative email address;
You, as an owner of the domain, should be able to get your domain's EPP/Authorization code. With FastComet, you do that from your Client Area (my.fastcomet.com). Your destination is Domains → My Domains → View Details → Tools → Get EPP Code:

Keep in mind that some domains do not have EPP key, but rather have a service tag (such as .UK domains);
Domain names need to have been registered for more than 60 days in order for them to be eligible for transfer. This 60-day registrar lock is to prevent fraud and theft of domains.
Usually, the domain name should have more than 15 days before its expiration date;
Up until April 2021, removing the Domain ID Protection (aka Domain Privacy) was a requirement for each domain transfer. This requirement was because when transferring a domain name from another registrar to FastComet, we are required by ICANN to send a transfer verification email to the current registrant email address. If you initiate a domain transfer while having ID Protection enabled at your current domain registrar, there is a high probability that the transfer verification email will not be delivered. That is no longer the case. As of April 2021, Domain ID Protection no longer needs to be paused or disabled when transferring a domain name. The transfer can proceed even if a domain's privacy is enabled.
Once you cover all the requirements, to transfer your domain to another registrar please follow these steps:
Step 1: At your current registrar, unlock your domain name. When you are a FastComet client you do this by going to your Client Area (my.fastcomet.com). Once there, you go to Domains → My Domains: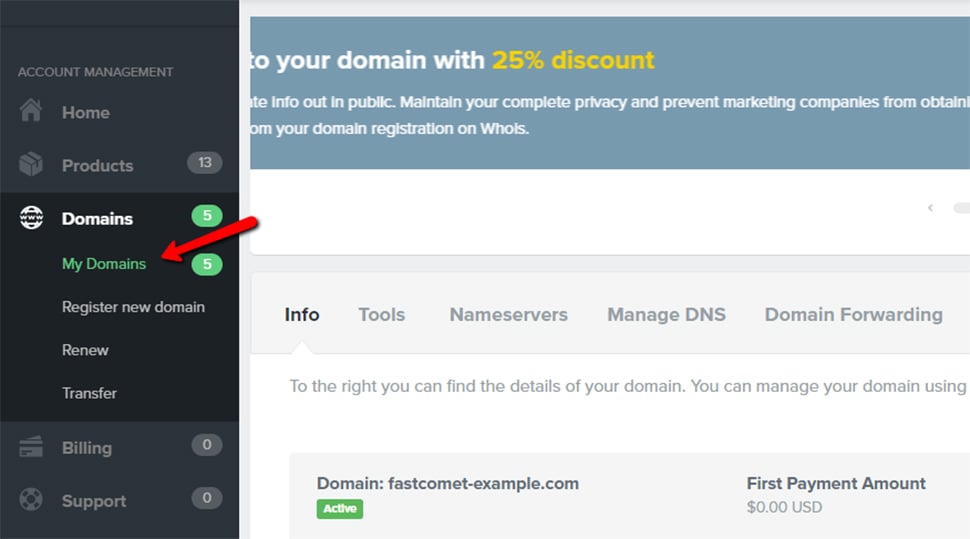 On the chosen domain name, you click Manage Domain:

Then you choose Tools → Registrar Lock:

Then you click on Disable Registrar Lock:

Step 2: Purchase (if required) a transfer with the registrar where you would like to move your domain name (also referred to as Gaining Registrar).
Step 3: Next, you will receive an email from your new registrar with an authorization code. Follow the instructions to confirm the transfer. In many cases, you can use the authorization code in Step 2 when you initially request the transfer.
Step 4: The new registrar will notify the current registrar (also referred to as Losing Registrar) to transfer the domain name. When you receive a request for authorization from your current registrar to release the domain name, confirm the release.
The gaining registrar will notify you once the domain name has been successfully transferred. The whole process typically takes 1 to 10 days, depending on the registrar, and on the time you take to click on the transfer confirmation email. For further information, you can reference the ICANN Policy on Transfer of Registrations between Registrars.
We hope you find this article useful. Discover more about FastCloud - the top-rated Hosting Solutions for personal and small business websites in four consecutive years by the HostAdvice Community!