How to Stop the Renewal of Your Domain
Updated on Oct 13, 2021
Domain names renewal fees are no longer included for free in the hosting renewal fees. However, there are some cases in which you may not be charged renewal fee for a primary domain, as it was acquired as a part of a special hosting promotion.
All FastComet services including domain names are set on automatic renewal billing. This means that we will attempt to bill you automatically when your renewal is due.
When Using a Credit Card
If you do not want to renew your domain name with FastComet, you would need to stop its recurring payments.
To do so:
You log in to your Client Area at my.fastcomet.com and navigate through Products → Domains → My Domains: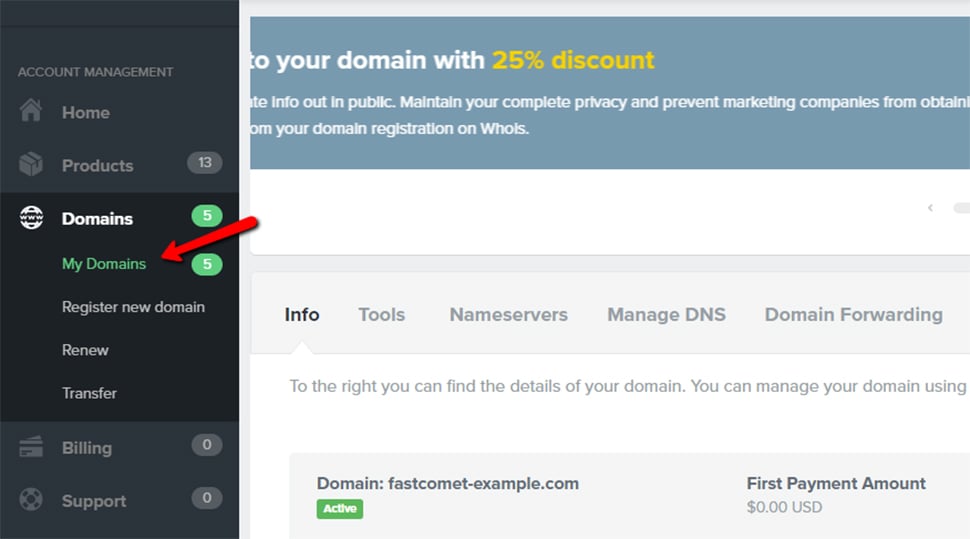 On your chosen domain, click Manage Domain

Manage Domain → Tools → Auto-Renew:

You will see the option to either Disable or Enable the Auto-Renewal of your domain name, depending on its state at the moment:

Keep note that once the auto-renewal of your domain is disabled, it will not generate a Renewal Invoice and will simply expire. Should you change your mind about it, you can switch the auto-renewal back on at any time before the domain name expiration date.
Discontinuing your PayPal Subscription
If you are using PayPal as a payment method for your domain name, note that we are unable to cancel any PayPal subscriptions for you. You will need to unsubscribe from your existing PayPal Subscription using the steps below:
Log in to your PayPal account at www.paypal.com;
Click the Settings icon next to Log out;
Select Preapproved Payments under Payment Settings;
Select the merchant whose agreement you want to cancel;
Click the Cancel Subscription button;
Confirm your request in order to finalize the cancellation.
Remember that in case you let the domain name expire, the hosting account will not be affected by the cancellation as it is listed as a separate renewal in our system.
We hope you find this article useful. Discover more about FastCloud - the top-rated Hosting Solutions for personal and small business websites in four consecutive years by the HostAdvice Community!