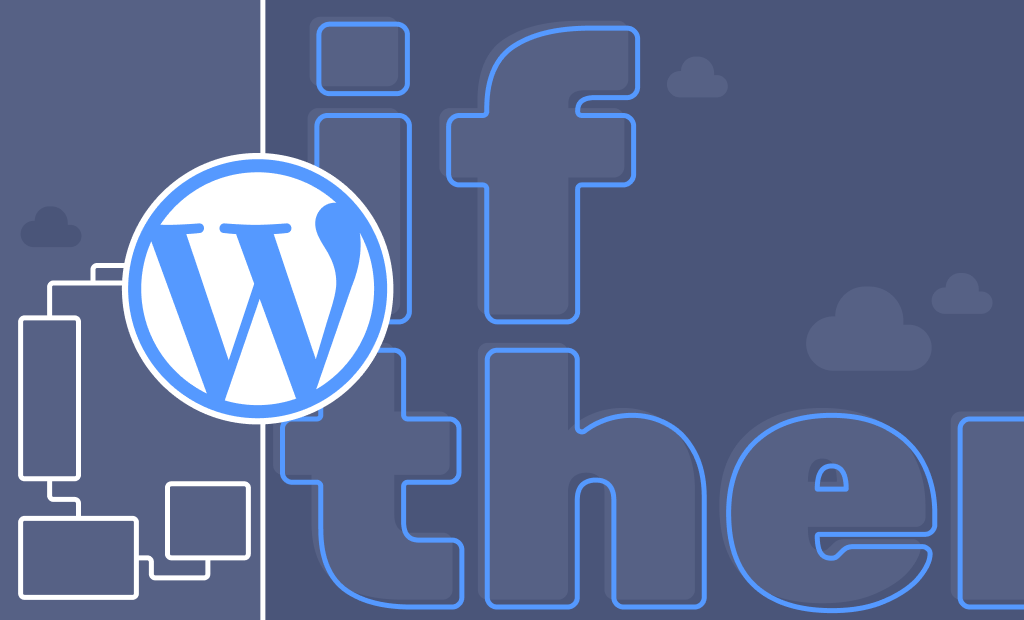 Amazing WordPress IFTTT Recipes You Should Try Today
You may be wondering, "How can I update Facebook from my WordPress blog?" or "How can I automatically tweet every time I publish a new blog post?" There are many plugins for that, but we will share a method that doesn't require any plugins. IFTTT is a robust service that lets you create simple "if this then that" actions. If you can think of an action (trigger), then you can have IFTTT do something else (re-actions) as a result.
While it is impossible to automate WordPress and social media entirely, IFTTT really puts the Internet to work for you. In this article, we will show you how to automate WordPress and social media with IFTTT.
Table of Contents:
What is IFTTT?
IFTTT is free, cloud-based automation software. It allows you to create simple "applets" (also called recipes) with a pair of online services and tools. There is absolutely no coding involved in the applet creation process. You simply have to use one service for the applet's trigger and another as the action service.
How to Create an IFTTT Applet
Let's say you want to save a copy of your Instagram posts on Google Drive.
From your IFTTT dashboard, go to the your Header Menu section and click "Create":

Next, click "this" on the "New Applet" page and enter "Instagram" into the search bar. IFTTT should provide you with a list of services that match your keyword.
For the keyword "Instagram," there should only be one service on the list: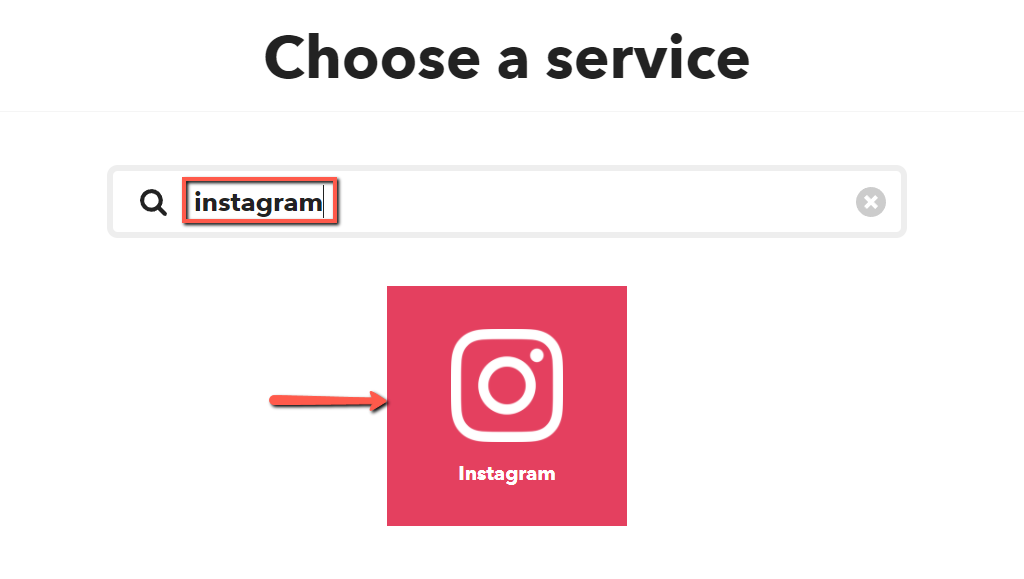 For most services, you'll have to connect your account and grant IFTTT the necessary permissions to proceed. After which, the platform should pull up a list of the potential triggers that use your chosen service.
For Instagram, the triggers you can use are as follows: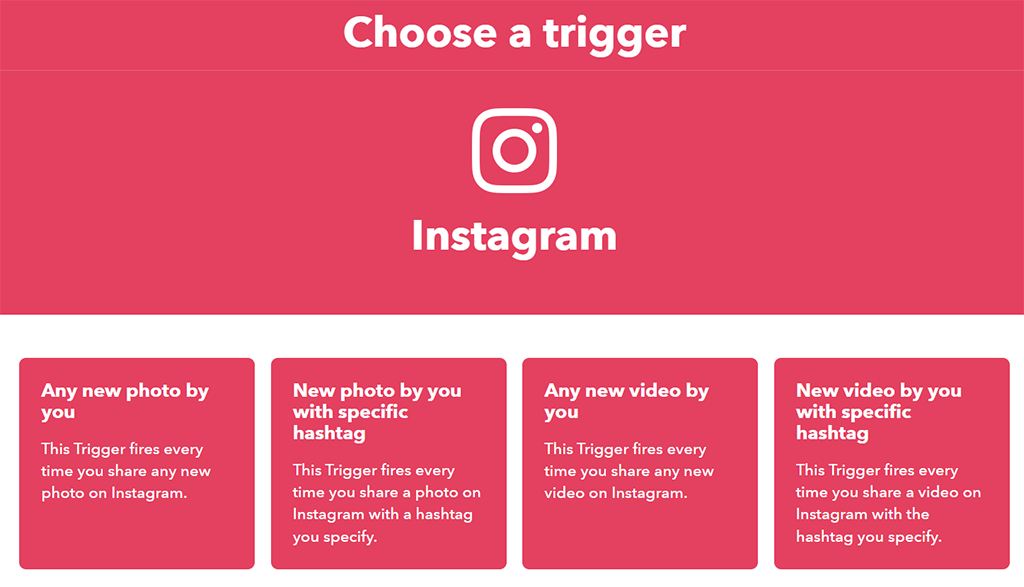 Suppose you want to save all of your Instagram posts on Google Drive. The trigger you should use is "Any new photo by you," which fires an applet whenever you share Instagram photos.
Selecting a trigger will take you to a page where you connect the Instagram service: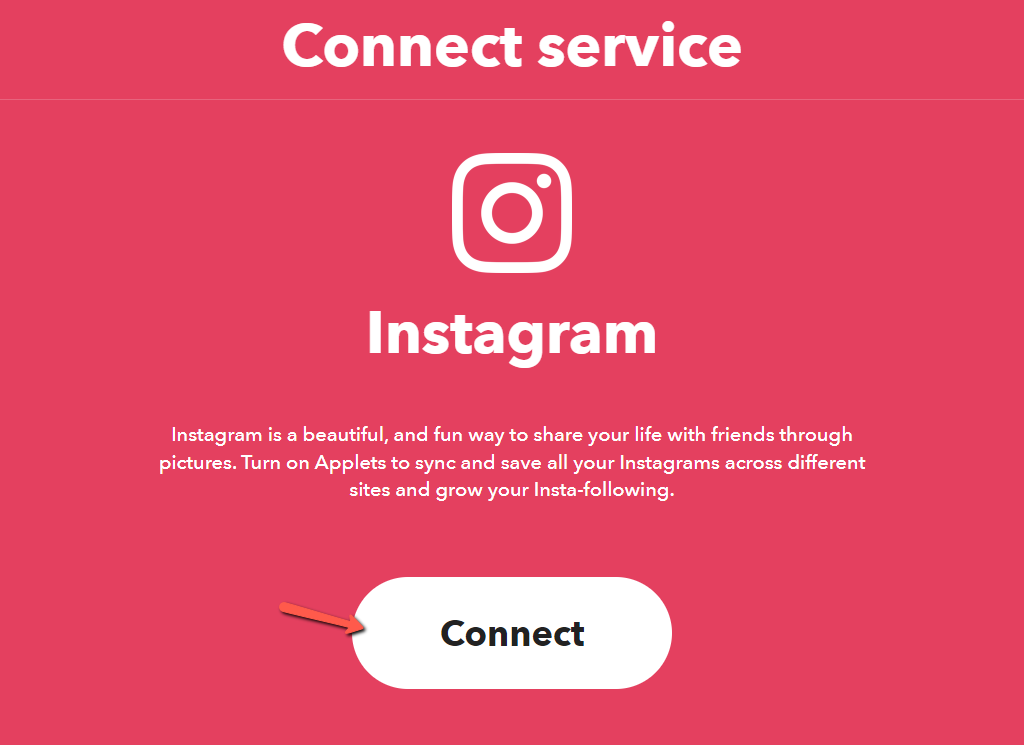 After connecting the your Instagram account, you have to click "add," located in the "then that" section to choose the action service for your recipe.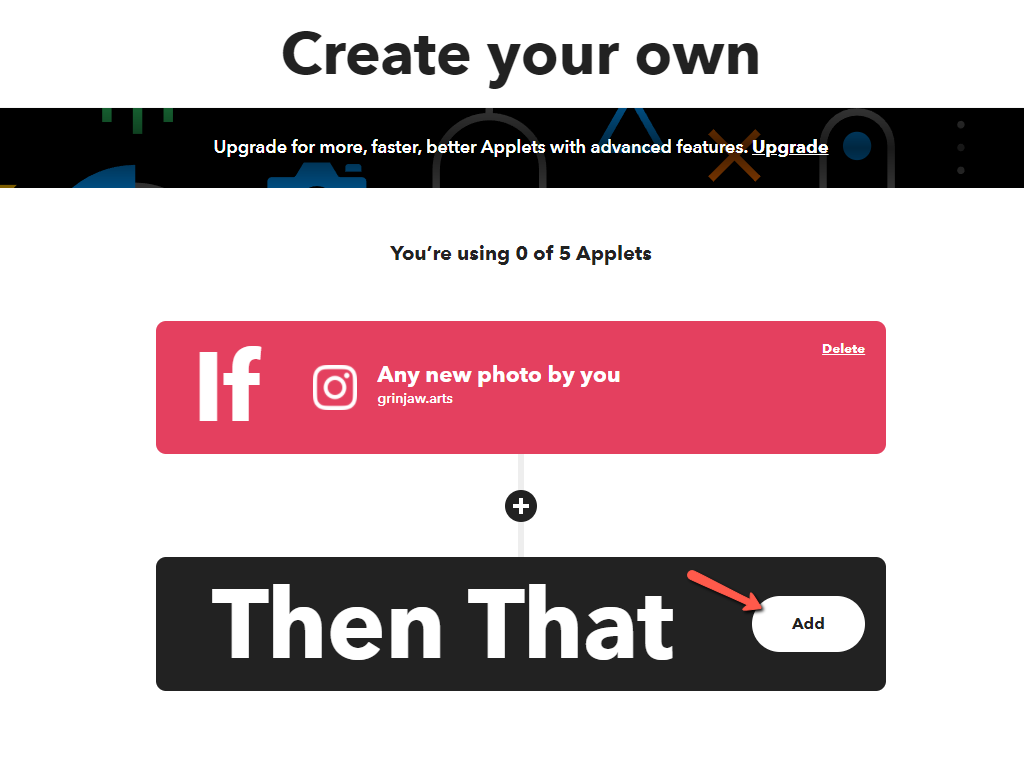 How to Configure Your Applet
To complete the recipe we want, type in "drive" and select "Google Drive" from the list of services.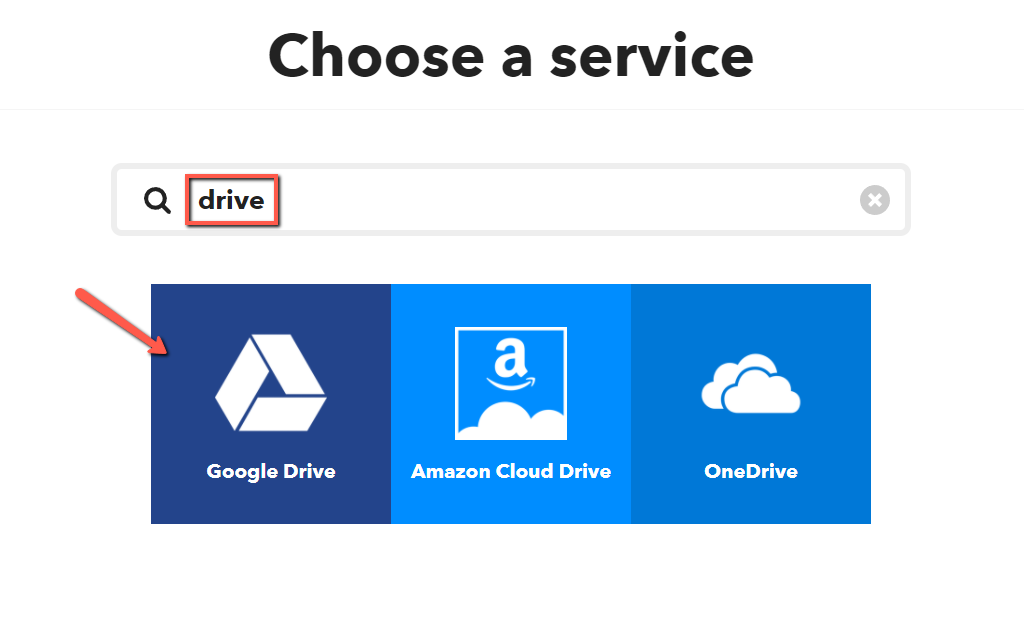 Again, you'll have to connect your account with IFTTT to use the service in your applet.
With Google Drive, the only action you can use is "upload file from URL." This saves any file from a source URL provided automatically by the trigger service.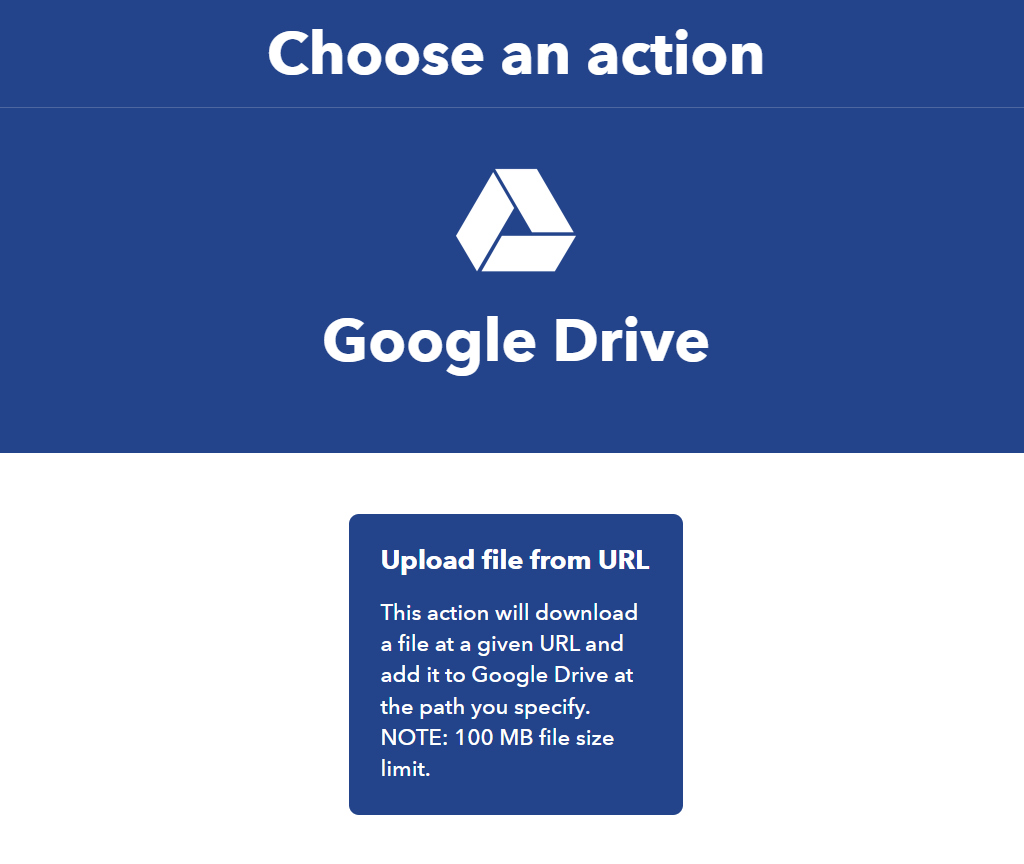 The last step is to configure the action you want the applet to execute.
For this particular example, no further changes are required. Perhaps the only elements you should tweak are the default file name and folder path on Google Drive.
To finish the applet creation, click "Create action," and your recipe should be good to go.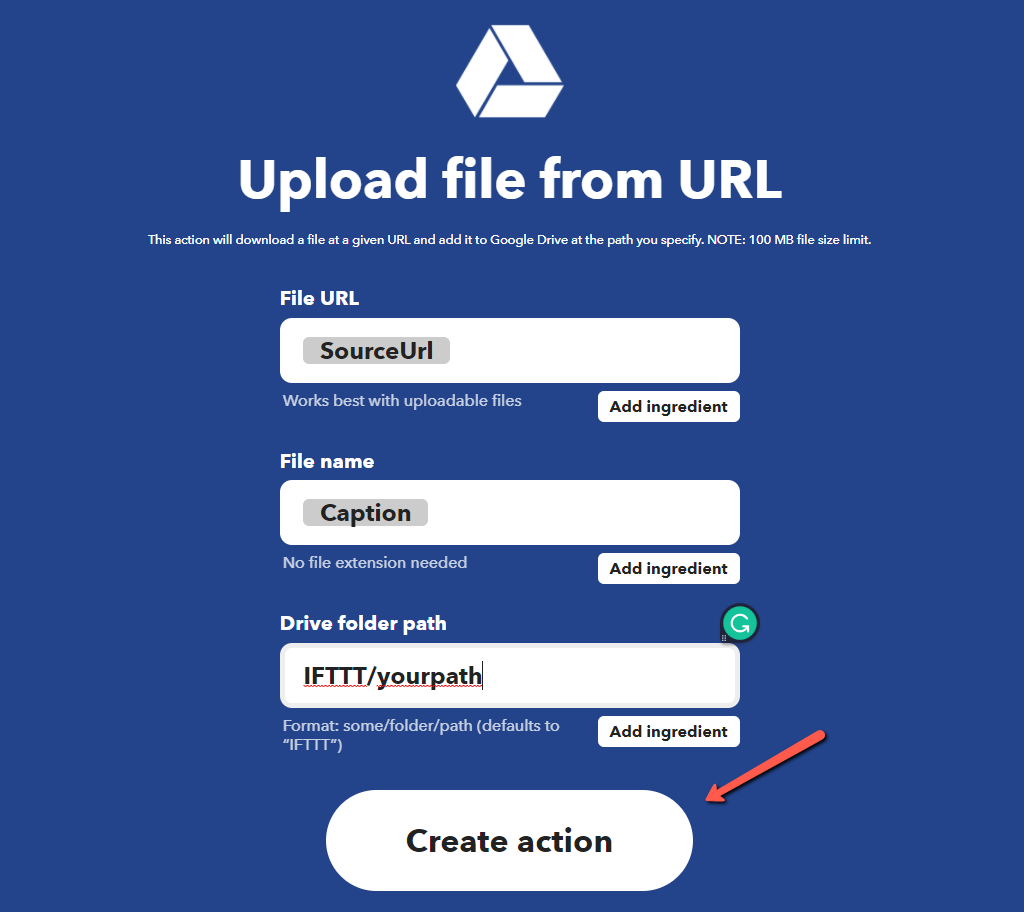 IFTTT will give you one last chance to review the applet before you can use it. Once you click "Finish," your applet should be activated right off the bat.
That's it — you have successfully automated your first task on IFTTT!
Now that you know how the platform works let's move on to the best IFTTT recipes for blog promotion tasks.
Top IFTTT Recipes for Blog Promotion
The good news is, you don't have to go through the trouble of creating a recipe every single time. There are millions of ready-made applets you can choose from. All you have to do is launch IFTTT and look for the applet you need using the search bar.
Below are some of the best IFTTT recipes for time-saving automation workflows:
WordPress to Twitter
To demonstrate how IFTTT is used for blog promotions, let's start with something basic. The WordPress to Twitter applet automatically tweets in the form of an image whenever you create new WordPress posts.
This is as simple as you can get with an IFTTT automation workflow. As soon as you publish a post on your WordPress blog, your Twitter followers will be informed.
Both self-hosted WordPress and WordPress.com blogs can be used in IFTTT applets. You simply need to provide your WordPress blog URL and admin account credentials.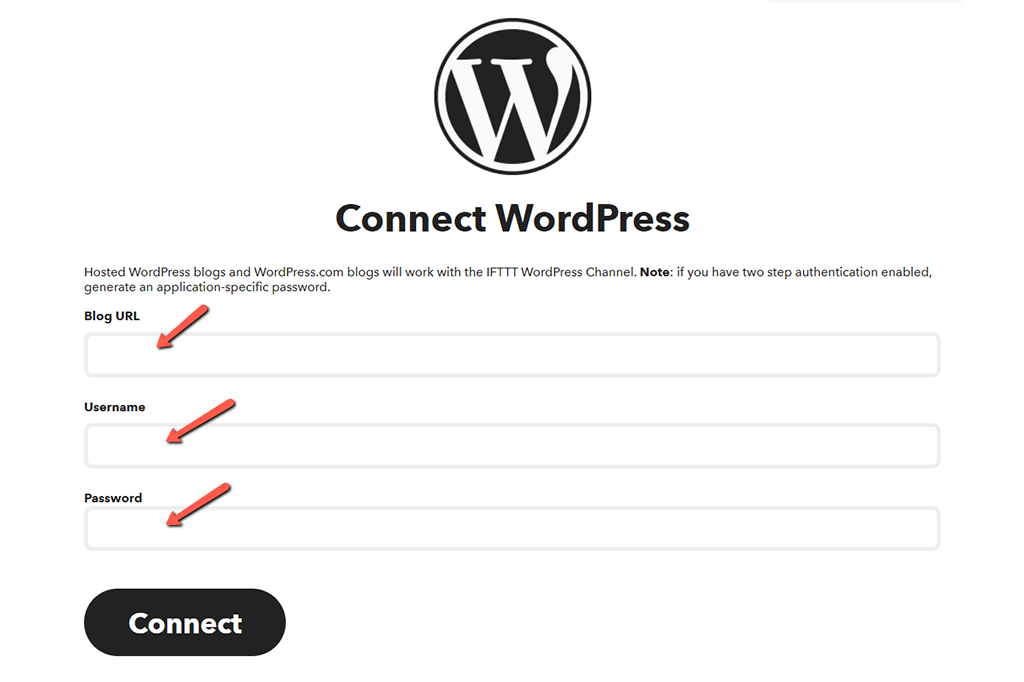 Why Use WordPress to Twitter
In the last couple of years, Twitter has solidified its position among the largest social networks on the planet. The applet above ensures your brand remains active on the "Twittersphere" as you generate more traffic to your site.
WordPress to Facebook
The name of this following IFTTT applet should be rather self-explanatory.
As the name implies, the "Share new WordPress blog posts to your Facebook Page" applet automates blog promotions on Facebook.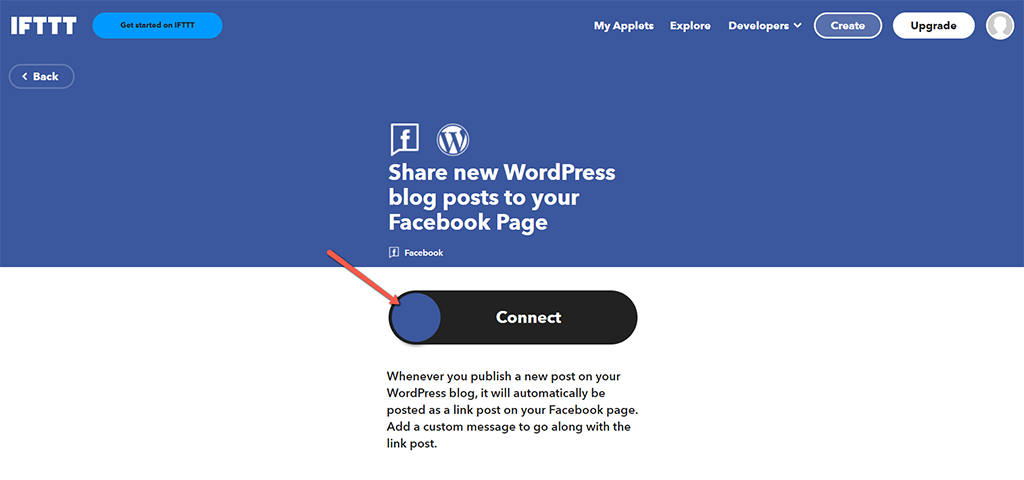 This applet will definitely bring you up to speed on your social media promotions.
When configuring the applet, you'll notice that there are way fewer options to play around with.
That's because verified publishers built some IFTTT applets. To make sure the app works and is used for the intended purpose, the customizations are limited by design.
You do, however, have the ability to add a default message to be included in the automated Facebook post.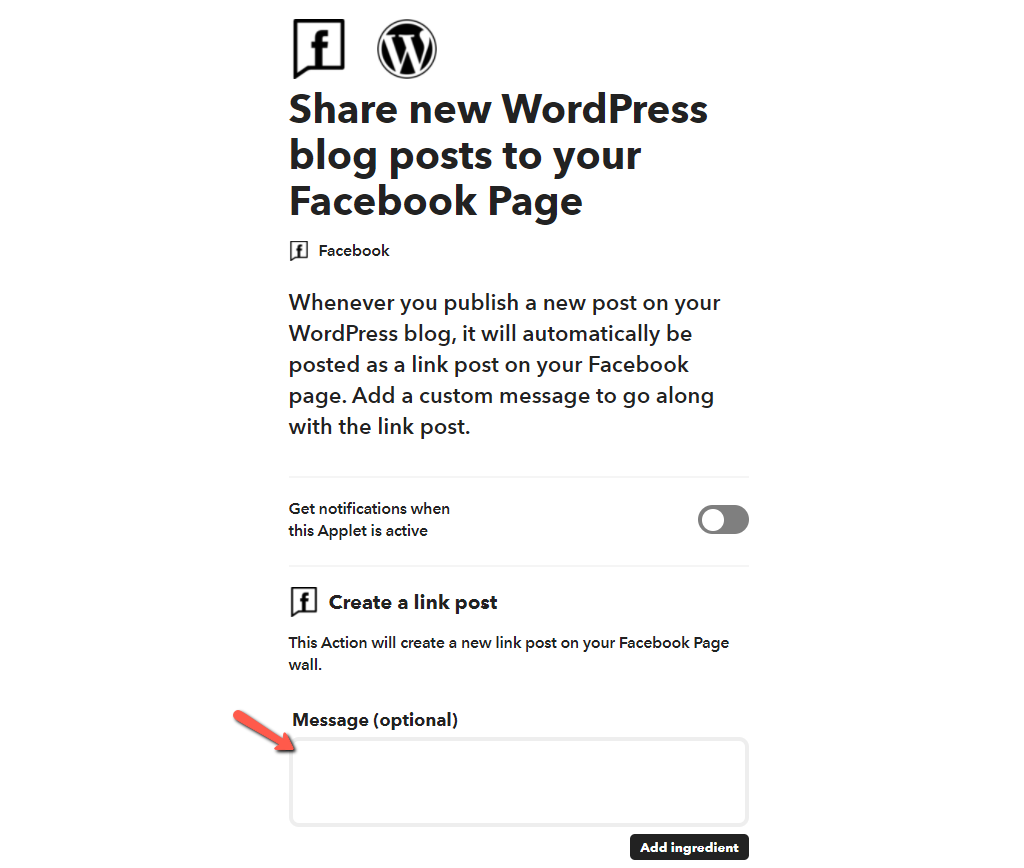 Why Use WordPress to Facebook
For the last 10+ years, people have gotten quite used to using Facebook. That's why it's one of the places you should always share activities, even if it's not as hyped as it used to be.
WordPress to Pinterest
Pinterest is a platform for spreading your blog posts using the power of visuals.
Pinterest is a full-on social media network centered around sharing "interests" through images. It also allows businesses and marketers to introduce their brands, products, and services to an engaged crowd. You can create Pinterest "boards" where you can freely push out more content to your followers and other users. A board may contain a unique description and category for searchability.
WordPress to Pinterest adds a picture and link to your post on a specified board whenever you publish on WordPress. That's one less thing to worry about while you keep your blog post creation at full speed.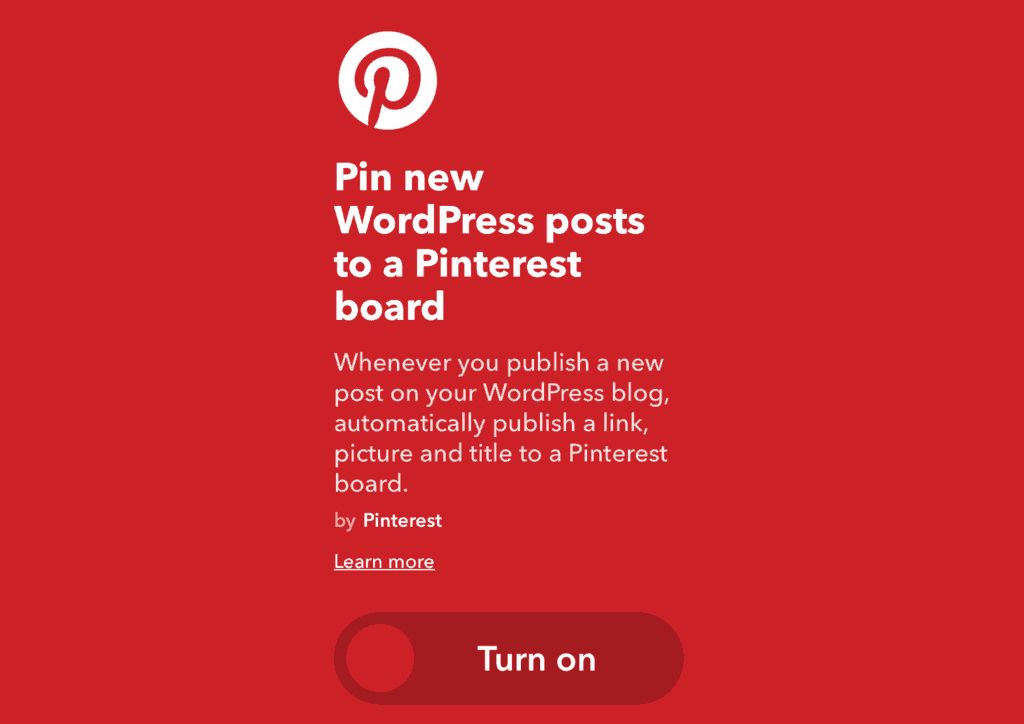 Like most other IFTTT applets, connecting your accounts would be the first step to setting up. You also have to specify the name of the board you want to use for this automation.
Why Use WordPress to Pinterest
Using Pinterest to bring traffic to your website isn't exactly a new technique. Countless visual-driven blogs are already getting tremendous results with Pinterest for traffic generation.
WordPress to Reddit
A successful blog not only has a consistent stream of traffic that steadily rakes in profits. It also has an active community where the brand is brought into discussions from time to time.
In simple terms, Reddit is a place where the online population can share and discuss pretty much anything. With the right approach, it can provide you with valuable feedback, content ideas, and potential leads.
The "Automatically Submit New WordPress Posts to Reddit" applet does precisely what it says. After you connect your accounts and specify a "subreddit," it will automatically send newly-published posts to Reddit.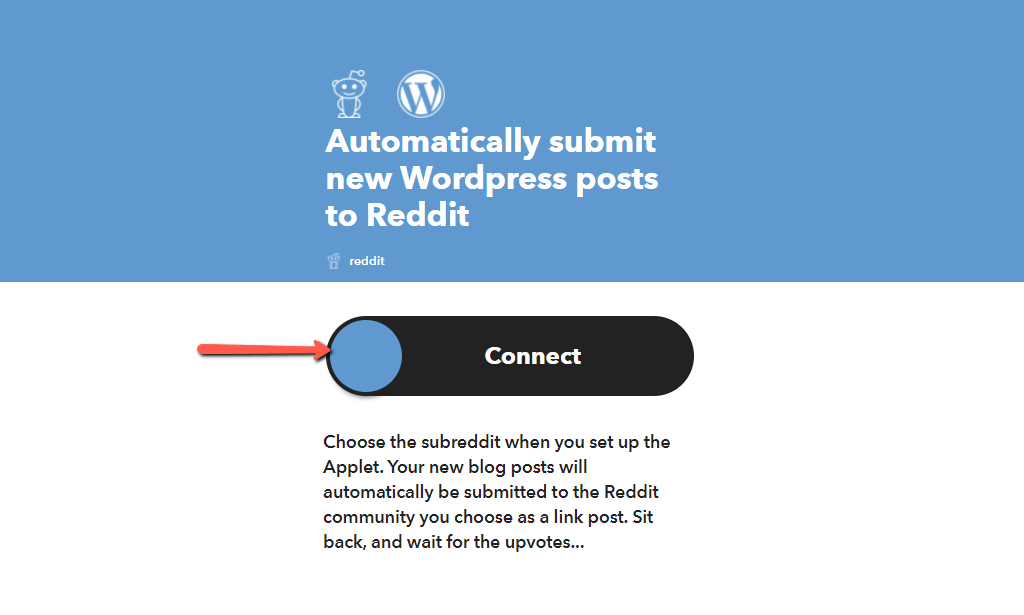 You can then focus on developing and polishing your blog content as the applet works in the background.
Just be sure to enter the right subreddit name when configuring the applet — IFTTT does not detect misspellings or typos.
Why Use WordPress to Reddit
Although Reddit doesn't identify itself as a social media network, it does have features that make it comparable to one.
In addition to serving as a content distribution channel, you can also leverage the platform to build a following. You can also rack up "karma" points through upvotes.
Regularly submitting valuable, click-worthy content is imperative for these goals. And with this IFTTT applet, you already have that base covered.
Use IFTTT to Improve your Online Presence
IFTTT allows you, as a WordPress user, to reduce the number of installed plugins, increase the number of connections with third-party web services, improve automation and efficiency in your blogging activities. Do you use IFTTT to support your work?
Feel free to share your experience with us in the comments.
The latest tips and news from the industry straight to your inbox!
Join 30,000+ subscribers for exclusive access to our monthly newsletter with insider cloud, hosting and WordPress tips!