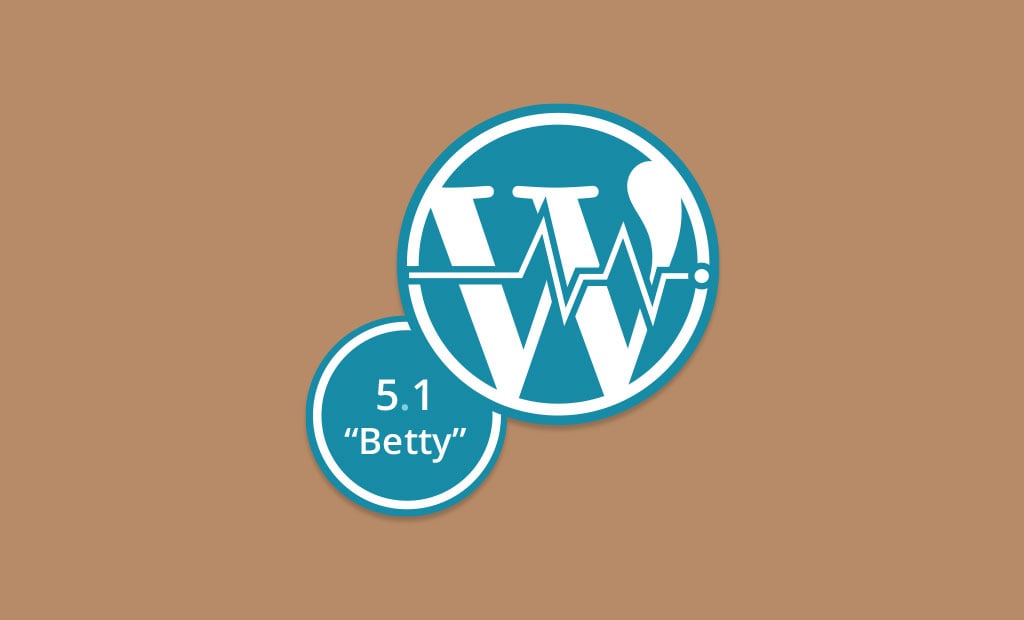 WordPress 5.1 – It Gets Better and Better
We can all jump in joy! WordPress 5.1 has now been released. Its name is "Betty," honoring legendary jazz singer Betty Carter. It's now available in everyone's dashboard; however, does that mean you should upgrade right away? So to better choose for yourselves, we have decided to summarize every byte of information which is out there. We are here to answer the question – What does WordPress 5.1 bring to the table?
WordPress has more than 35 million downloads prior to this new release. The CMS laid solid foundations to deliver improve upon the recent changes that were made with the Gutenberg update. Which brings us to one of the key areas of improvement that we all can agree are more than welcome:
Boosted Performance for the Block Editor
When we first got our hands on the new block editor, we all agreed that it might require some further optimizations. Now, we are more than delighted to let our users know about Gutenberg. From the moment you start working on creating your new content for your website – you will notice that everything is much more responsive, and writing your posts would be a joyful experience. This doesn't stop there. Everything feels much snappier especially at the startup, and this translates to the overall behavior of the Block Editor itself.
Most of us would have been happier from these improvements alone. However, we were more than pleasantly surprised to see a long-needed feature to make its way to our beloved CMS:
WordPress 5.1 Site Health
Some of you may know, others might wonder about why this feature is so important and long-awaited by many. Frankly speaking, Site Health is a package of features that are focused mainly on boosting website performance. It prioritizes showing warnings and recommendations to users and prompts them with notices to take necessary actions. Those actions can be crucial not only for their website speed but also for security.
The primary goal is to encourage users to take proper care of their websites. So, don't expect to be flooded with annoying system messages or anything like that.
Helping users without experience in regards to things that might sound like common sense to some of you is never a bad thing. We as a service provider constantly strive to educate and assist our users; however, this doesn't mean that we can push all of our users to utilize the latest features we already provide them with, and we continuously strive to improve upon them. With Site Health, we believe that we all are one step closer to achieving a more secure and better-performing experience.
Website administrators would start receiving notifications for websites that are running outdated PHP versions, which can lead not only to potential but actual security risks. Without diving into this topic, in previous posts, we did our best to explain why using legacy PHP versions can make your website vulnerable. But things don't stop here – this new tool would also perform checks on your website plugins, and will ensure their compatibility with the currently utilized PHP version of your site, and on top of that with the new update, WordPress will prevent the installation of incompatible such.
Our Opinion About Site Health
We at FastComet are all behind this new initiative, and we are welcoming it with open hearths, as we not that long ago decided to push things in the right direction. We made a significant change not only by removing older already reached EOL (End of Life) PHP versions from our PHP selector, however, also changed the default one utilized by our users to PHP 7.2 which was more than welcomed by all of them.
This definitely is a great step in the right direction. We hope even more features come along with the growth of Site Health. Having that said it will never be a proper update if not only webmasters can rejoice as:
WordPress Developers, You too Get Some Good Stuff
WordPress 5.1 has a great package of small improvements for all developers out there, which include:
A new and improved database table which would store the metadata about multisite networks;
Cron API, updated with all-new functions for assistance with all returning data, in addition to new filters for cron storage modifying;
The new build process for the JavaScript;
Updates to some values for WP_DEBUG_LOG;
Enhanced taxonomy metabox sanitization.
The 5.1 version also includes a new JavaScript build option, following to the large code reorganization which started in the previous 5.0 "Bebo" release.
And don't forget the golden rule make a backup before you upgrade!
To Sum it all Up
For some WordPress 5.1 might be only an incremental update – for us, it is of the utmost importance to ensure our users project security and performance without any compromises. This is why we are backing up the new initiative, and things are headed in the right direction. So what are you waiting? In case you haven't already upgraded, why not go ahead and give it a try?
The latest tips and news from the industry straight to your inbox!
Join 30,000+ subscribers for exclusive access to our monthly newsletter with insider cloud, hosting and WordPress tips!