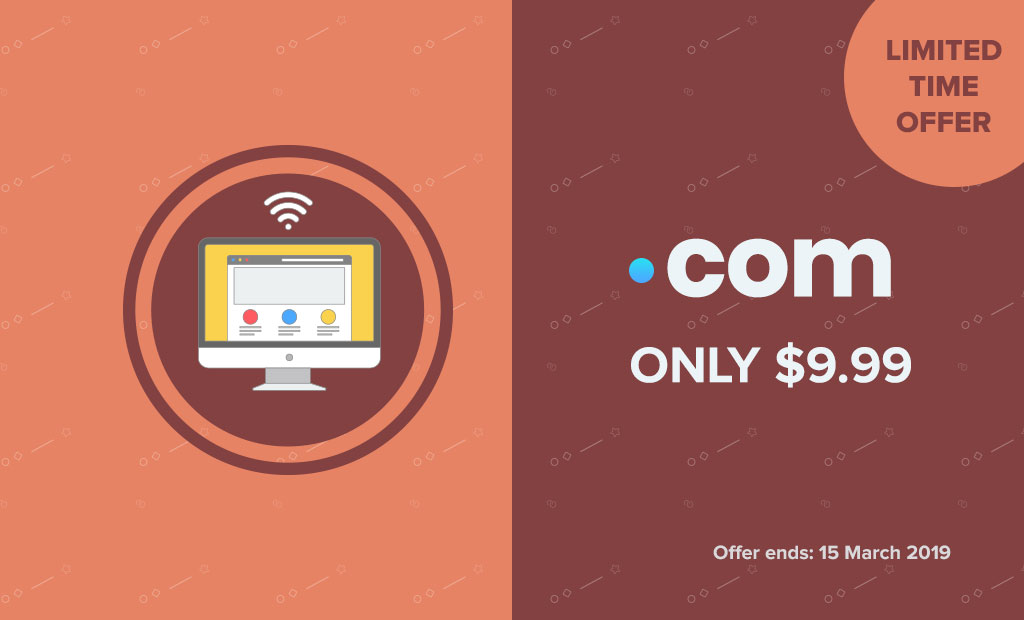 Spring Break Sale on .COM Domains
For a short period only, take advantage of our savings on .com domains – just $9.99 instead of the regular $13.95/year price. The promotion is valid until the 15th of March, and you would be able to renew the domain name at the standard renewal rates, once expired.
What a Great .COM Domain Deal!
Planning to start a new project for the spring break that's around the corner? Well now would be the best time to get that up and running! Do something spectacular for $9.99. Grab your .com domains now. You can get as many as you wish and enjoy the credibility and recognition that .com domains provide for your website.
Don't Miss Our Great Transfer Sale
We're slashing the cost of the .COM domain transfers as well. You'll be able to transfer each existing .com domains that you have to FastComet for only $9.99 each. We'll add 1 year time period of renewal time on the domain moved.
Transferring your domain to FastComet means, you'll benefit from our award-winning Customer Support, same renewal prices when it comes to web hosting services, low prices overall, and extremely affordable Domain Name ID protect.
Are you moving over with a boatload of existing domains? Transfer the whole bundle with a near 30% discount on the regular price! Don't let this offer pass you by! Come and get your .com now before the deal is no longer available!
Why Register .COM Domains?
By far, ".com" is the most popular and registered extension (TLD) available. With more than half of today's Internet using it as the doorway to their website, it's the easiest to remember and the first that comes to mind when people hear the word "website."
It is always a good idea to get a .com to protect your brand or even if you don't actually need a new domain at this exact moment, that's a great chance to mark your territory online.
Are you thinking about starting up a blog? Just come up with a catchy domain name, register the .com version of it, and get started right away!
Because it's the online identity of your business project, you'd want to be sure that you have made the right choice. We have a helpful blog post with the top tips on how to choose the best domain name for your site.
Domain Happy Hour
Don't wait up, come and get your .com domain for the outstanding promo price deal! Be sure to take advantage of the most discounted TLDs we offer: .shop, .world, .host – up to 90% cheaper! Head over to FastComet Domain portal, search for your domain and get your idea online. Prices start at just $3.59/year. These deals won't be around forever.
The latest tips and news from the industry straight to your inbox!
Join 30,000+ subscribers for exclusive access to our monthly newsletter with insider cloud, hosting and WordPress tips!