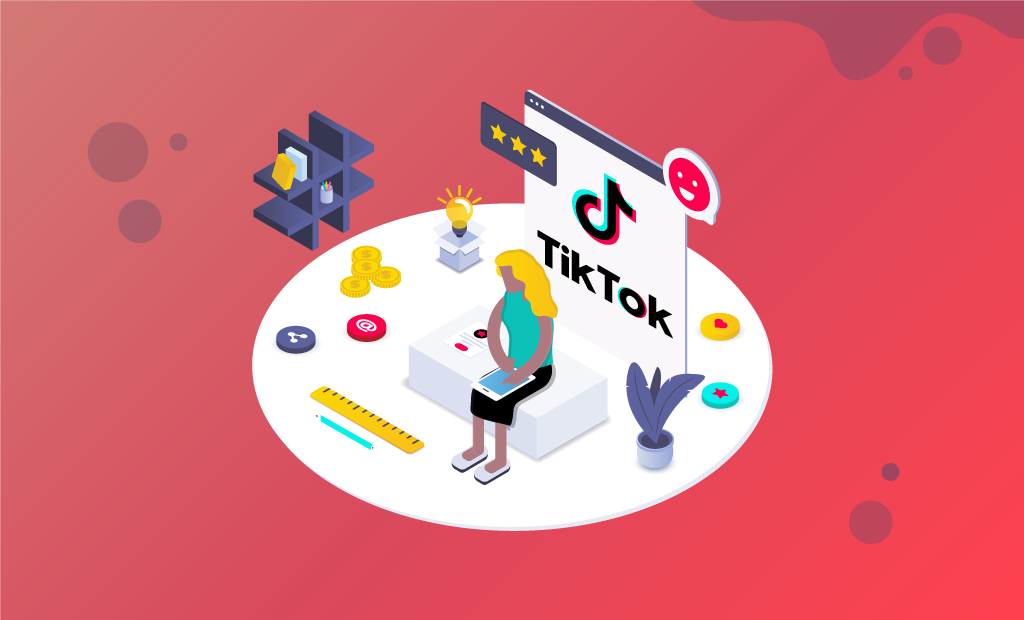 Top Your Affiliate Marketing Game with TikTok Content
Video advertising is on the rise. But not just any video content. We're talking "fun," "thinking out of the box" kind of content. The point is that people like short trendy videos and companies are ready to pay big bucks for their ads to appear next to those, even for a few seconds. This is where TikTok comes in – a superb alternative that allows you to promote affiliate offers and connect with ultra-engaged users.
Table of Contents:

Introducing TikTok
Before going on with the essentials, we should evaluate TikTok and understand why it's such a popular platform. Digital consumers nowadays spend most of their free time on their mobile devices, along with a meager attention span. Videos are a great medium to keep your audience engaged and increase conversions. Customers today prefer watching a two-minute video instead of reading a two-page long article. Social media has reduced the attention span of human beings. Pinterest has lots of "buying" traffic that's always shopping and researching products—the perfect place for affiliate marketing. Facebook, Instagram, and YouTube cater to mainstream audiences, while TikTok has already proven to be the choice for users that seek micro-entertainment.
TikTok allows users to send short videos that are 15 to 60 seconds in length. In most cases, users share news about their day, fun content, and other video content types designed to entertain their followers. It's the perfect platform for content publishers that want to generate a profit from their viewers, if you think about it. But, developing a strategy for affiliate marketing on TikTok isn't easy, so you need to learn as much as you can about your audience and the techniques at your disposal.
Why TikTok?
The first thing we have to deal with is the misperception that TikTok is a social media app "just for kids."
TikTok has around 800 million active users, spread across 155 countries and 75 languages.
There are currently an estimated 80 million active TikTok app users in the United States.
So this isn't just a blip.
Roughly 40% of the overall TikTok audience is between 16 and 24 years of age.
This means the average affiliate marketer has a potential target audience of 300-ish million people to work with.
All of whom spend at least 50 minutes online per day watching videos on the app.
And that's when they're not uploading their own 15 – 60 second videos for friends and other users.
Just remember that your affiliate offers/niches need to appeal to this younger demographic.
As in, you're probably not going to have much luck pitching retirement plans or home loans, for example.
Fashion, lifestyle, gadgets, and consumer products are what TikTok app users spend their disposable income on. And, of course, web hosting.
Now let's take a look at how you can use TikTok for affiliate marketing.
What Is TikTok Affiliate Marketing?
TikTok affiliate marketing is when you upload videos to TikTok but with the end goal of monetizing your audience via affiliate links in your videos or on an external blog or social platform.
That all sounds pretty similar to affiliate marketing on any other social network, right?
But what makes TikTok stand out from the crowd is how new it is – the app launched in 2016.
Facebook has been around for almost 17 years now, and Twitter for 14 years. Even Snapchat is almost a decade old. Youngsters might usually use TikTok, but its popularity gathered a lot of adults too.
TikTok Vs. YouTube Vs. Snapchat
One of the most common and – to be fair – reasonable concerns about TikTok is that it is still behind other video-centered apps, like YouTube and Snapchat. But does it mean that it should be neglected?
Let's throw in some more numbers. As of 2018, more than 54% of users preferred video content over other marketing materials. Here, with its nearly 2 billion monthly active users (MAUs), YouTube is the king.
Another statistic suggests that almost 65% of users only watch up to 90 seconds of video content thrown at them. The clear dominance of mobile traffic makes apps dedicated to short video content the best.
That's where Snapchat (301 million MAUs) comes in. In fact, TikTok should feel much more threatened by Snapchat than Youtube when it comes to direct competition. And yet, TikTok somehow manages to keep its little head high and proudly rise through the ratings.
Analyzing TikTok Usage Statistics
Can you make money on TikTok? The simple answer to that question is yes, but knowing the audience is crucial for success. TikTok has roughly 800 million monthly active users, making it one of the top 10 most popular social networks globally in terms of usage.
By November 2019, the video-based social media network had amassed 1.5 billion downloads, and most of the platform's uses were aged 24 and under. The majority of the platform's user base is in Asia, but it's also growing in popularity in the US, Europe, and South America.
As far as country tiers go, About 22% of TikTok users are located in tier-3 countries, while tier-a and tier-2 make up about 44% of the platform's user base.
What You Need to Know About TikTok Ads
Before going over the steps on how to monetize TikTok traffic, it's important to understand the different nuances that influence your campaign's performance. Some of the elements you need to keep in mind include:
TikTok vs. Other Video-Centric Social Media Channels
Although it's clearly a popular platform that some consumers absolutely adore, TikTok has shortcomings compared to YouTube and other social media channels.
For instance, you can't upload videos longer than 60 seconds, which means that this network isn't ideal for promoting complex products that need to be covered more thoroughly. That said, TikTok also caters to consumers' preference for mobile, interactive content.
TikTok User Demographics
Most TikTok users are younger than 25, so it's safe to assume that these consumers have limited acquisitional power. For this reason, you should evaluate the verticals you're promoting, ensure that they have a high chance of engaging younger users, and make sure that these products are within budget.
Types of TikTok Ads
There are many different ways to promote offers on TikTok, but paid ads offer an easy and effective alternative to reach relevant users. TikTok ads are still relatively affordable, and you can choose from 5 different formats, including:
Branded lenses
In-feed video ads
Brand takeover ads
TopView ads
Hashtag challenge
Effect ads
Advertising Campaign Cost
As for advertising costs, it's worth noting that TikTok isn't as competitive as other platforms. Before June 2020, the platform had strict regulations that only allowed a handful of companies to promote their services. Since then, the social network has opened up its marketing features and allowed marketers to launch their campaigns.
Because it's still relatively exclusive, TikTok advertising costs are a bit higher than similar platforms. That said, the platform allows you to engage with hundreds of millions of users who haven't been bombarded with ads, increasing your chances of building a successful campaign.
Tracking and Optimization
It's worth noting that TikTok offers basic click and conversion tracking, but any respectable affiliate will need to implement a third-party tracker to monitor their ads' performance.
The good news is that TikTok connects with a huge variety of third-party tracking tools, including Appsfluer, Tune, AppMetrica, Kochava, Adjust, myTracker, and many others. Plus, if you're working with a provider that's not on their list of supported partners, contact the TikTok support team to learn more about your options.
How to Use TikTok For Affiliate Marketing
Now that we've discussed the platform's crucial features, it's time to go over the steps on how to make money on TikTok.
The exact steps required for success are different for every affiliate, but the TikTok traffic monetization process requires a few additional steps compared to conventional affiliate ads. This is because TikTok doesn't allow the placement of direct affiliate links on your ads. You can still promote offers by sending users to a landing page containing your affiliate links.
In essence, the TikTok monetization process takes place over three different stages:
Build Your Audience
For starters, you need to implement a plan to rack up more followers consistently. To attract more users to your account, remember to:
Post Regularly
As with search engines, social networks are ruled by algorithms, and TikTok is no different. Posting frequency is one of the variables that the platform takes when determining how many people see your content.
Generally speaking, the more content you post, the better for your following. The good news is that it doesn't take much time to develop new TikTok content, thanks to the app's intuitive video designer.
Interact with Content Relevant to Your Niche
TikTok doesn't allow you to share images or text posts, but you can leave comments and interact with content that's relevant to the niche you're working with. As a matter of fact, interacting with relevant content is another great way to increase your own materials' reach, so don't be afraid to spend some time watching and leaving comments of your own.
Connect Other Social Media Profiles to TikTok
If you already have other social profiles you use for affiliate marketing, connect these to your TikTok to amplify your content's impact.
Select an Affiliate Program for TikTok
Once you have a decent number of followers, it's time to start tracking down the right offer.
Choose a Niche You're Passionate About
In case you don't have a specialty already, this is the best time to pick a niche. Just make sure to choose a vertical you're passionate about, whether it's sports accessories, makeup, or spiritual content. If you're actually passionate about the industry, researching and developing content will not be as tedious as working with verticals you're not interested in.
Stick to Your Expertise Level
Running ads on TikTok is expensive, so it's common to see tempting offers with high payouts. But, working with these can be a huge mistake unless you've got the experience and resources to develop large-scale campaigns. In other words, make sure to stick to your expertise levels and work with programs that align with your current knowledge.
Work with Reliable Offer Sources
When choosing an offer, you have the option of working directly with an advertiser or joining a network. The main difference is that a network gives you access to multiple offers from various advertisers, giving you more control and flexibility in almost every sense.
Capture Contact Information with Lead Magnets
Remember, TikTok doesn't allow you to place affiliate offer links on your ads nor your content, so you need to capture contact information using a form on a landing page to generate leads. Depending on the type of offer, leads are nurtured until they complete the steps to become conversions or sent to advertisers for certification.
To collect information from as many users as possible, you have to:
Develop Quality Content
The quality of your content will directly impact your campaign's effectiveness, so make sure to invest resources into developing superb materials before posting. This will help increase engagement and ensure that your ads were developed with your final objectives in mind.
Provide Instant Gratification
Consumers, especially those from younger demographics, love instant gratification. And, in these cases, simply providing a checklist or tips won't cut. Instead, you need to offer a discount code or a similar reward for users to provide their information in exchange.
Test Out Different Variables
There are dozens of variables within a single ad that can influence the performance of your content. Finding the best combination from the very beginning is next to impossible. You can always conduct extensive testing to find the ideal mix of creative and written elements based on results.
Should You Start Doing Affiliate Marketing On TikTok?
So, can TikTok be used for affiliate marketing? Partially, yes, but it should be one of many channels you leverage for your affiliate marketing business. Not just TikTok.
There's no way to add affiliate links directly to your videos, leaving you to rely on a bridge/landing page. That makes affiliate marketing there more difficult than it should be.
And affiliate marketing doesn't need to be awkward or tough.
TikTok is literally giving traffic away for free. You can redirect that traffic to any number of external platforms, like Instagram or your blog. TikTok is more of a traffic source than anything else. One that you can make use of right now while accepting that it won't be around forever.
It's an interesting platform that's currently enjoying its moment in the sun, and you should take advantage of that as an affiliate marketer.
Conclusion
So, now you can add one more method for your affiliate strategy – TikTok. It's definitely worth the work, especially if you have a website ready and waiting to get the traffic coming from your videos. If you are not yet a FastComet affiliate, go ahead and check our affiliate program.
If you have a minute, share your thought in the comment section. We are always happy to answer any questions or to see additions from our readers.
The latest tips and news from the industry straight to your inbox!
Join 30,000+ subscribers for exclusive access to our monthly newsletter with insider cloud, hosting and WordPress tips!