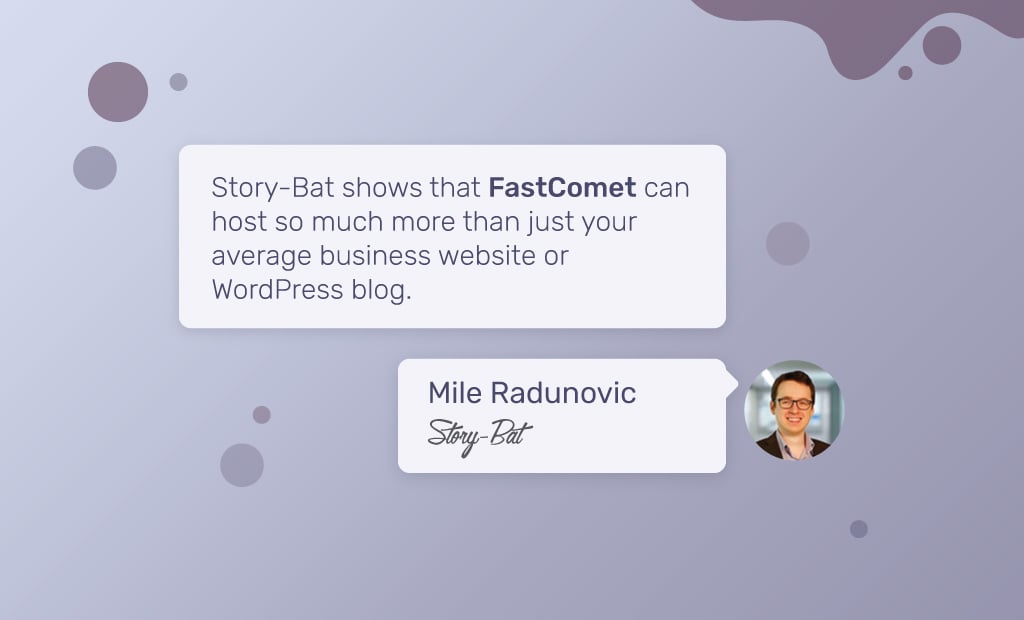 Spotlight: Mile Radunovic and his Fantasy World of Words
This week, we will present to you one of the Honorable Mention Winners from our Showcase Contest. He has been with us for more than two years, and the contest managed to provide us with a well-deserved more in-depth look at his project and aspirations.
From our conversation with Mile, it became obvious that he is passionate about writing and keeping the realm of fantasy and fiction thriving. The stories in his website contrast with the somehow mundane everyday life constrained by so many rules and laws most of us are used to.
Our Talk with Mile Radunovic
FastComet: Can you start with a quick introduction of yourself and your primary work?
Mile Radunovic: Hello, my name is Mile Radunovic, and I am the founder of storybat.com. I have studied business informatics and worked in the fields of Software Requirements and IT Project Management. While I call Switzerland my home, Story-Bat is an international project for every wordsmith and reader.
FastComet: What is your website all about? How did you start it? Is there an interesting story here?
Mile Radunovic: I enjoy everything about the fantasy genre, be it as books, digital broadcasts, movies, or games. There's nothing like the rush of venturing outside of the regular world to drench myself in the preliminaries of a band of swashbucklers as they journey through a lavishly envisioned world. What's more, I adore writing; alone or together with other individuals. Creating totally different domains from nothing is deeply captivating. With the beginning of the web (and specifically online forums), collaborative writing turned into a major part of this hobby. I still appreciate taking part in BRPGs (Board-Roleplaying-Games) on classic discussions places like WBB3, yet as the years passed, I found the provided tools there lacking. The idea for Story-Bat surfaced during that time.
I cultivated this brainchild for right around two years, bringing about an intricate engineering detail; a meaning of what Story-Bat should, nay needs to be. Story-Bat is a place where you can compose stories all alone or together with other people. The site underpins classic linear narrating like most known literature out there. Besides that, you can also craft "Choose-your-own-adventure"- type stories where the reader has the ability to check diverging story paths. On top of browsing our stories and creating new ones, you can dive into useful features like setting bookmarks or messaging friends and co-authors on the site.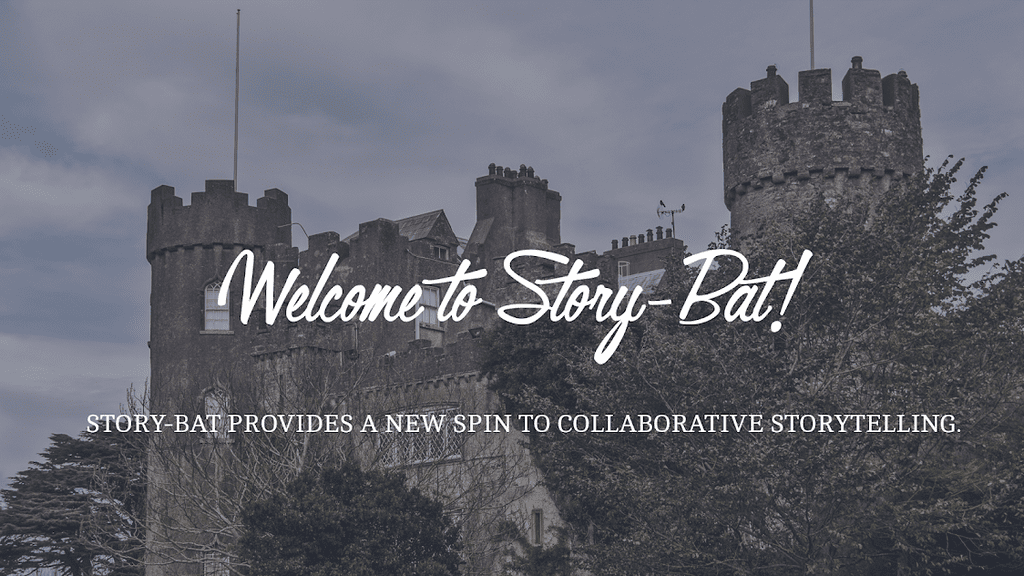 FastComet: What challenges did you face in building the website?
Mile Radunovic: Story-Bat was built from the grounds up. In 2016, I designed the concept and then worked together with a Drupal Development team to develop Story-Bat to what it is today. While Drupal 8 supported many functionalities, the unique set-up and features that I wanted Story-Bat to have weren't there, yet. Social-Media-like functions and the logic behind "Story-Pages" and "Story-Blocks" had to be coded additionally. Beyond that, the design for Story-Bat was also created from scratch. So I had many uncertainties (and liberties) in creating the website.
FastComet: What does it cost to use Story-Bat?
Mile Radunovic: The website is free to use for everyone. We have some minor ads and a Patron system for anyone interested in directly supporting the site.
FastComet: What does a typical day in your life look like? How do you keep yourself productive?
Mile Radunovic: During the majority of Story-Bats' existence, I worked full-time as a Project Manager, usually from 7:30 to 17:00. That meant that I had to do the work for Story-Bat in the evenings, weekends, and during vacations. Sometimes, it was hard to find the energy for the project. But Story-Bat was a dream of mine for a long time, and nothing worth having in life comes easy. You just need to take breaks to not burn yourself out with constant work from your main job and side project.
FastComet: Who is your primary audience, and how do you target/reach them?
Mile Radunovic: Story-Bat serves a broad spectrum of people. From folks who just like to read interesting stories to authors who want to publish their work online. Besides the main website, I currently host a Discord Server and have a page on Facebook and Twitter. I also used advertising on Reddit for a more focused call to action.
FastComet: How were you introduced to FastComet? What made you choose us as a hosting partner? How has this decision transformed your business?
Mile Radunovic: I made a requirements catalog and scanned the web for hosting partners. FastComet stood out because of the clear descriptions of your different hosting packages. The scalability was a big plus. Since Story-Bat was a completely new project, it was great to start small and still have the ability to scale up as soon as needs arise.
FastComet: What's been the most exciting part of the journey so far?
Mile Radunovic: Finalizing Version 1.0 of Story-Bat. Seeing everything that was just fantasies in my head, coming to life.
FastComet: Generally, what do you look for in a web host? What were your hosting challenges before moving to FastComet?
Mile Radunovic: Like mentioned before, scalability was essential. I didn't know how fast Story-Bat would take off, and if it would be a slow grower. FastComet gave me the security to only pay for what I needed at the moment. You also seemed (and turned out to be) reliable and great advice providing customer service with a fast reply on every created ticket.
FastComet: Have we lived up to your expectations? What do you think of the quality of the services we offer?
Mile Radunovic: I am content with my choice and would do it again. FastComet turned out to be a reliable hosting provider with a good interface for website management. The customer service was always quick with an answer, and the new cockpit gives a great overview of the site performance.
FastComet: What was the thought process behind your participation in the contest?
Mile Radunovic: Story-Bat shows that FastComet can host so much more than just your average business website or WordPress blog. In my opinion, Story-Bat has a great design and good performance the latter of which showing how great your service is.
FastComet: What has Story-Bat to offer for people who just like to read?
Mile Radunovic: As a reader, Story-Bat gives you a multitude of options to interact with a story. You can simply like it or comment on it. But you can also create a list of your favorites and set bookmarks, so you never lose track of your reading progress. Aside from that, you can follow entire story arcs or other users, so you will always be notified about new content.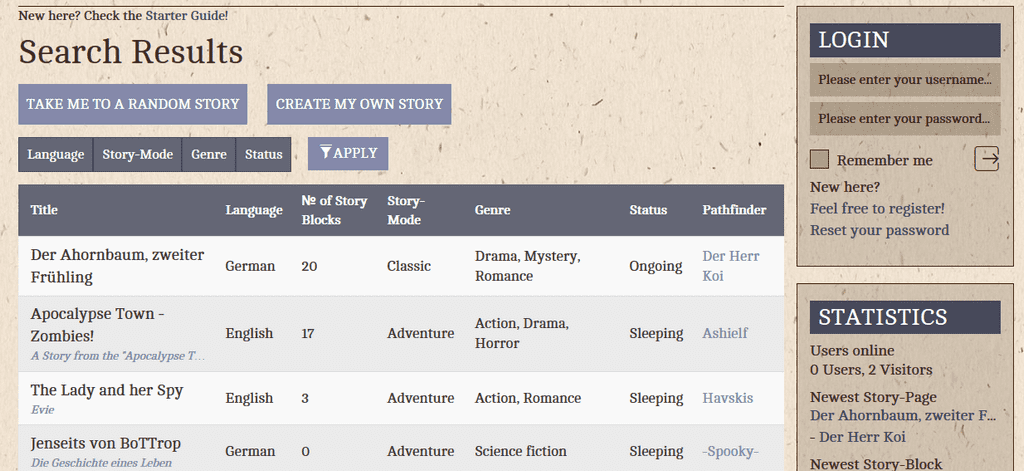 FastComet: And what about writers, what do they get out of Story-Bat?
Mile Radunovic: On our site, you will not only be able to publish your stories but also have a presentation of you as an author. In your profile, you can show off your work, be it whole stories or participation in group-projects. You also get the option to set multiple sequels for each new chapter you write to create a "Choose-your-own-adventure"-type story. You get direct feedback from your readers via comments and also indirect feedback by getting notified about likes, favorites, and bookmarks.
FastComet: Lastly, If you had one piece of advice for someone just starting out, what would it be?
Mile Radunovic: Have a clear vision of what you want to achieve and create separate phases. What should be part of phase one? What can we postpone to later phases? Don't try to build Rome in a day.
Share Your Success with FastComet
We would like to commend Mile, for his participation in our contest and providing us with details about his project. If you also want to show the world your website and how FastComet helped you in making it a reality, please let us know.
The latest tips and news from the industry straight to your inbox!
Join 30,000+ subscribers for exclusive access to our monthly newsletter with insider cloud, hosting and WordPress tips!