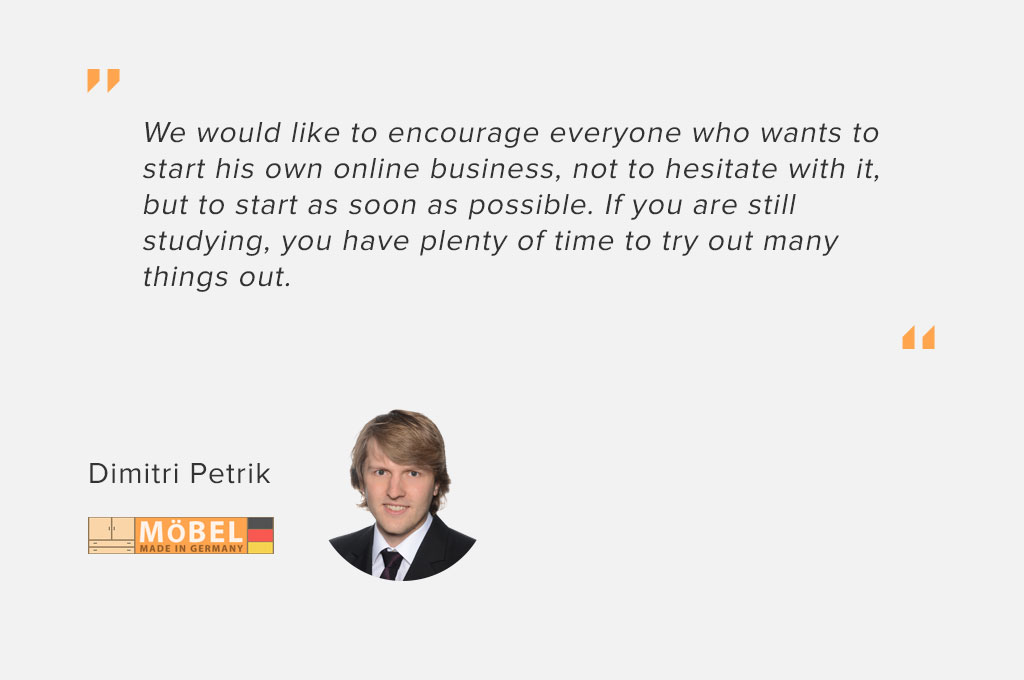 Spotlight: Dimitri Petrik on Running a Successful Affiliate Marketing Business
All successful businesses have one thing in common. They all provide much-needed products or services better than the competition or in locations where other similar businesses are not yet present. There are also those who will refer customers to manufacturers and receive a commission based on the sale. Our guest today will provide more information about this business model which has gained a lot of traction in the last few years. Yes, we will talk about Affiliate Marketing!
The Interview with Dimitri Petrik
FastComet: Introduce yourself to our viewers.
Dimitri Petrik: My name is Dimitri Petrik. I studied technical oriented business administration in Stuttgart, Germany and one of our workshops at the university inspired me to start my own internet business. We have already made an attempt to launch a start-up in the book lending branch but unfortunately, our team split up and some of our guys moved for an internship to California while others to took advantage of an exchange semester in Poland. However, after the split up, I did not give up the idea to create something on my own and after my graduation, I registered a company together with a friend of mine – Maxim Podlewskich. We launched it in January 2015 and called it Rentdim UG. After a short period of time, we made Affiliate Marketing our main goal and launched four big affiliate platforms.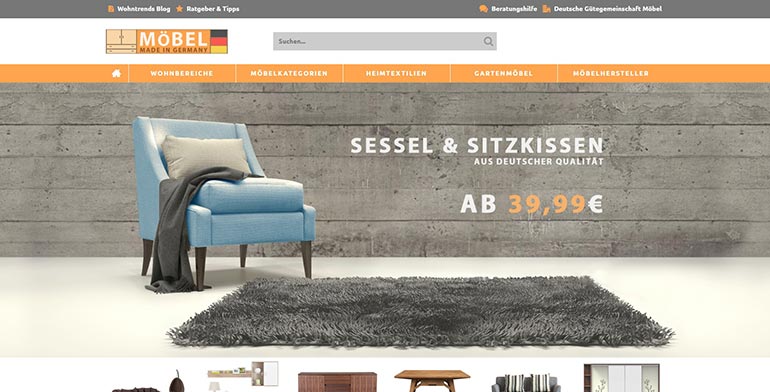 FastComet: Can you provide more information about the production facilities of the furniture you sell?
Dimitri Petrik: We do not have any production facilities or our own, as we only sell the furniture and initiate the deal between the manufacturer and the end customer. Our website only provides a classical affiliate marketing function – to support the B2C-Sales of the manufacturers over the internet.
As for our unique selling point for the customers – we did extensive market research and made an audit including many brands and companies to choose the only furniture, which is manufactured in Germany.
As the most popular furniture factories in Europe are based in Italy (Design), Eastern Europe (Czech Republic, Poland, Russia, Ukraine) or eastern Asia (garden furniture), we wanted to promote the quality mark "made in Germany". Our market research revealed that the demand to buy furniture over the internet is growing across German-speaking countries. Thanks to big furniture retailers like Amazon, eBay, OTTO, Roller or XXXL we had the technical possibilities to realize such a platform. Therefore, we do not own any production space, as we concentrate on what we can do best – selling online and blogging about furniture, style trends while the manufacturer can concentrate on his job.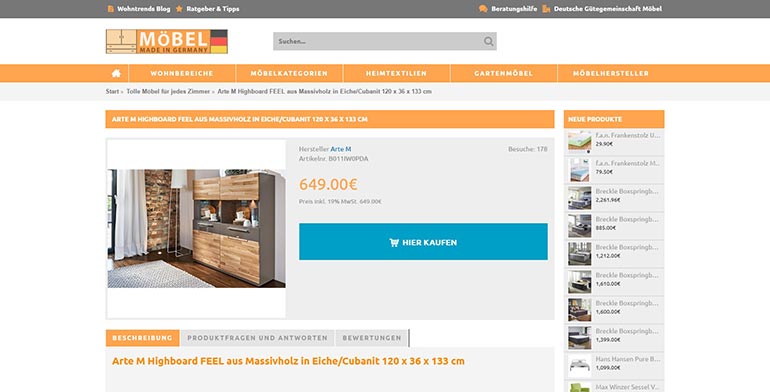 FastComet: What quality control measures have been taken to ensure a well-made product?
Dimitri Petrik: First of all, we have to admit that even the quality mark "made in Germany" is divided into two categories of furniture manufacturers. There is German luxury furniture, which is additionally marked with a quality mark "golden M", and is usually more expensive. Besides that, there are many German low-cost furniture brands existing. When we blog about a certain product, we communicate with the manufacturers beforehand and acquire testing samples. Besides that, we evaluate the feedback for a product out on the internet in an effort to know more about the customer experience. Even as a fairly new company we still try to expand our B2B relationships towards the manufacturers and to visit their production facilities, because many of them are within the 200 km radius from our company.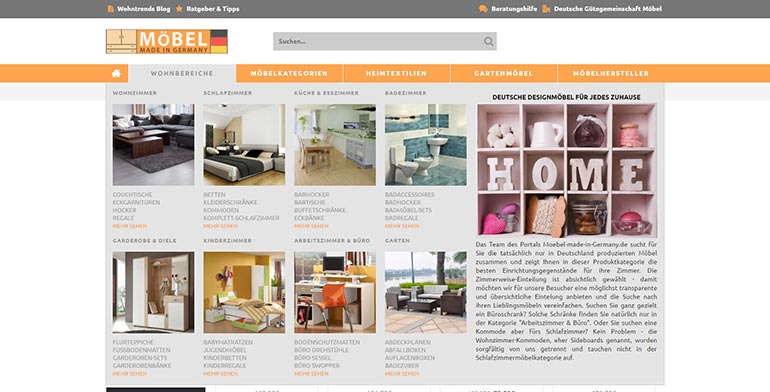 FastComet: Have you thought about expanding your area of operation to neighboring countries?
Dimitri Petrik: Yes, we are thinking about it. First, we want to cover other German-speaking countries like Austria and Switzerland. Citizens of these countries have high average salaries and can afford themselves to buy high-quality furniture. Besides that, all German retailers like Amazon.de or OTTO ship the furniture without any issues to them. I think this will be one of our next steps to expand geographically and to enter more markets.
FastComet: Do you have a delivery tax and of what amount if yes?
Dimitri Petrik: As we are not sending the products and the contract is between the retailer and the end customer we do not have a delivery tax.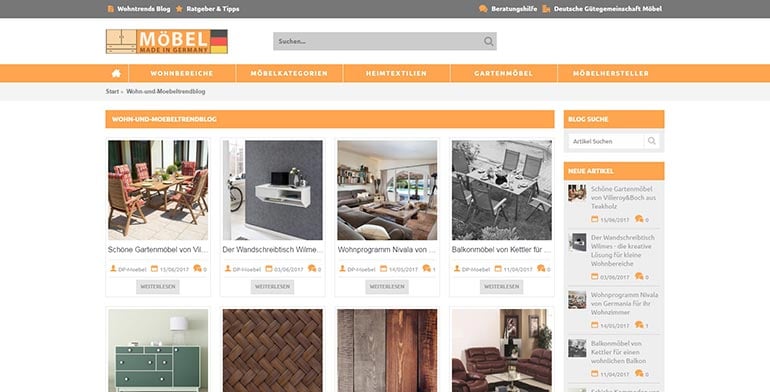 FastComet: What made you choose FastComet over the local German hosting providers?
Therefore, after a short testing, we moved all of our projects to FastComet and we never regretted this decision.
Dimitri Petrik: Well we were looking forward to developing ourselves. As I said, our company is young. Within the first year of existence, we created 4 affiliate marketing platforms. More platforms caused more maintenance, we needed better support times and hardware than we could get from our previous host. Besides that, FastComet delivered free SSL Certificates and that actually matters when you do SEO – Google wants it. Additionally, the e-Commerce packages provided by FastComet are not limited to a strict amount of 1 or 2 or 3 databases. That means that with FastComet as a hosting partner we are more flexible and save money due to the better packages and free SSL. After the migration, we really experienced how well the support is – even when the questions considered our systems and not regarding the hosting itself. For example, our old host needed a month to discover, that our Gzip compression was broken. Additionally, the connection speed all over Europe is great for the FastComet datacenter in Frankfurt. Therefore, after short testing, we moved all of our projects to FastComet and we never regretted this decision.
FastComet: What is the platform you use for your website and what made you choose it?
Dimitri Petrik: For our platforms, we usually use WordPress, OpenCart or Magento. The website was realized on OpenCart 2 and we are satisfied with this fast, thin, and easily customizable e-Commerce system. We compared many CMS and the balance of unique "look and feel" and customizable functionality (filters, CMS – News, affiliate APIs, PDF manuals and internationalization) led us towards the decision of choosing OpenCart. The performance, the possibility to customize the system without manipulating the core files and the variety of available themes, plugins and developing teams validated our decision of choosing OpenCart.
FastComet: Do you have anything else to share with our audience?
Sure, we would like to encourage everyone who wants to start his own online business, not to hesitate with it, but to start as soon as possible.
Dimitri Petrik: Sure, we would like to encourage everyone who wants to start his own online business, not to hesitate with it, but to start as soon as possible. If you are still studying, you have plenty of time to try out many things out. When you try to run an online business after coming home from work every evening, it is much harder than during university times. Another suggestion is not to be afraid to contact other companies or bloggers – the worst they can do is to refuse any partnership and just write you a "no". And maybe the last thing – if you like our site and have any suggestions or want to learn how to create such a website or want to extend your online sales, please do not hesitate to contact us. We would be glad to assist you in your online business attempts.
Share Your Story with FastComet
We would like to express our gratitude to Dimitri, for his contribution to this spotlight. If you would like to tell the story behind your project and how FastComet helped you in making it a reality, please let us know. Your success is what matters most to us.
The latest tips and news from the industry straight to your inbox!
Join 30,000+ subscribers for exclusive access to our monthly newsletter with insider cloud, hosting and WordPress tips!