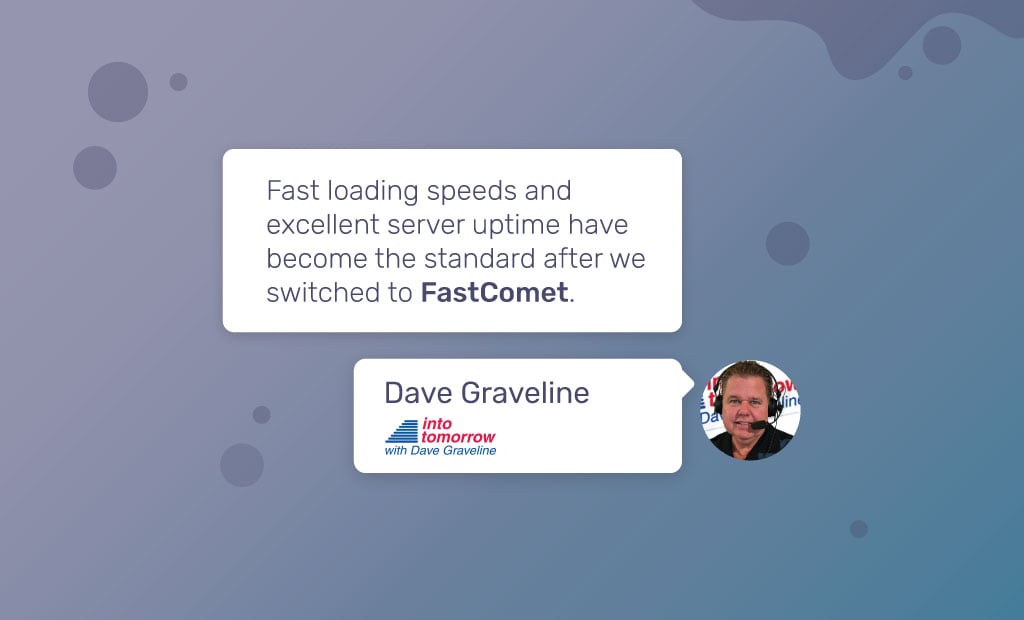 Spotlight: Dave Graveline's take on Broadcasting, Tech, and Tomorrow
We are well into 2020, and it is time to renew the Customer Spotlight series with another Runner Up Winner from the Showcase Contest. This time we have a special guest, which usually is the one asking the questions, but today he will have to answer them. He is the host of the International broadcasts covering Consumer Technology for 25 years and counting "Into Tomorrow with Dave Graveline".
The interview with Dave Graveline
FastComet: Hello Dave, great to have you under the spotlight! Can you tell our viewers more about your website and broadcast?
Dave: Hello Antoniy, and FastComet readers – glad to be here. The 3-hour format broadcast "Into Tomorrow with Dave Graveline" has been on-air for 25 years now. In it, we cover the latest in consumer electronics & technology available for everyone today and … into tomorrow.
Coincidentally, Dave just started his 25th month as a FastComet customer. Considering that is obviously a special number for him, we hope that he will stay with us and on-air for many more x25 month periods.
We broadcast to more than 200 AM & FM radio stations around the US and Canada. Other sources include iTunes, iHeartRadio, Player FM, TuneIn, Mobile Broadcast Network, Stitcher, Podzilla, SubscribeByEmail, to name a few.
"Into Tomorrow" is also transmitted every weekend on the American Forces Networks, which can be heard all around the world. In addition, we stream all audio and video materials via our website, iOS and Android Apps, and provide free Podcasts of our show's archives.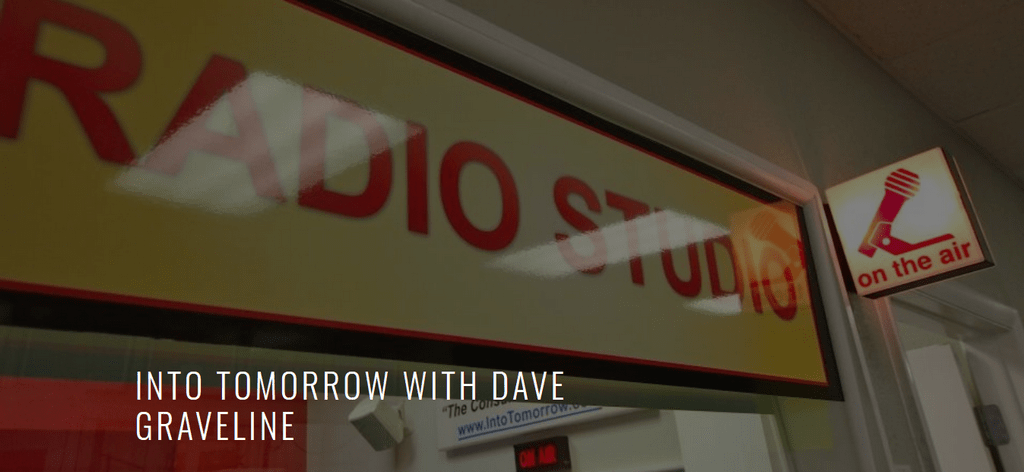 The ONLY international show covering Consumer Tech exclusively for 25 years now, Into Tomorrow & ITTV, highlights the way technology is changing our lives! From Gadgets & Gizmos to Smartphones & Tablets, IoT, Home Theater, Digital Photography, Car Audio, Security & Navigation, High Tech Recreation, 4K UHD TV, Technology On-The-Go, GPS and everything else that people are talking about. We also frequently broadcast from many trade shows and CE events around the world – including:
CES Las Vegas;
IFA Berlin;
Game Developers Conference;
DMEA/conhIT Connected Health;
Mobile World Congress in Barcelona;
CE China in Shenzhen;
CE Week in NYC;
CeBIT Hannover;
CEATEC Japan.;
Photokina in Cologne;
Electronic House Expo;
CTIA Wireless;
Computex Taipei in Taiwan;
CES Asia in Shanghai, China and many others!
We are not charging for being a guest on our show. So, please stop by our web site for more information on that if you are interested.
FastComet: We also saw you were a Police officer and Detective for several years in the past. Can you share more on that part of your life?
Dave: Yes, being a Police officer was challenging but a great learning experience. Unfortunately, I also lost close friends in the line of duty, but despite that, I cherish my police experience. Furthermore, my family and friends feel safer considering my expertise and skills which I have acquired while being on the force.
FastComet: To get back to your website – what challenges did you and your team face while building it?
Dave: Adding our archives was the most challenging thing because we have done so many shows over our 25 years on-air.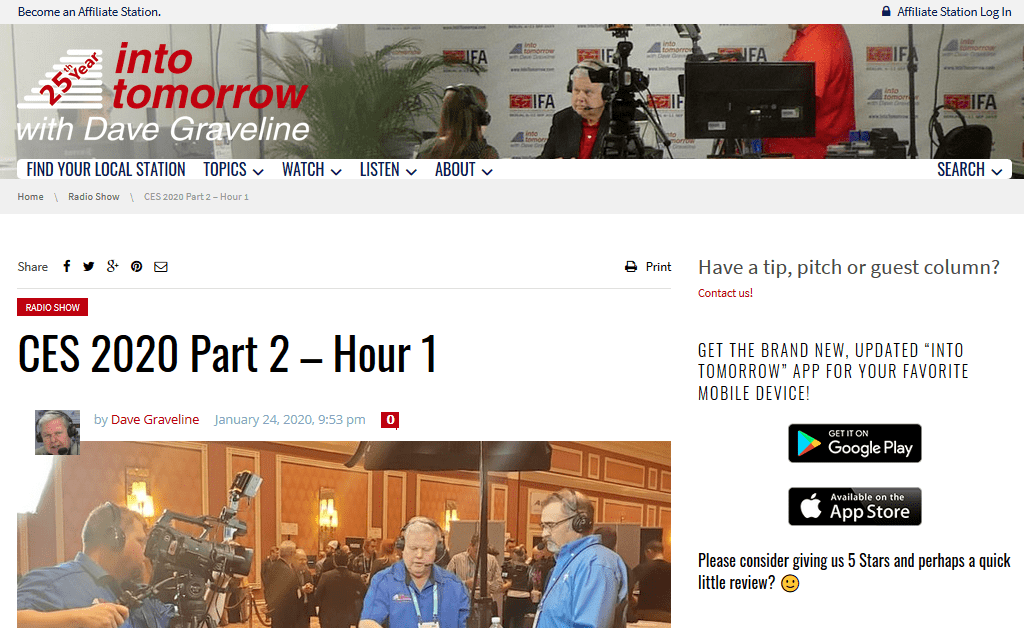 FastComet: What activities do you participate in during the day?
Dave: I am mainly on-air and doing interviews while also answering a lot of audience questions. That is generally how my day goes.
FastComet: Who are your listeners, and how do you target them?
Dave: Our audience consists mainly of consumers, and we reach them via our Network of Stations.
FastComet: How did you find about FastComet, and was the turning point in choosing us?
Dave: One of my staff members had introduced me to your company and provided enough good reasons why we should consider FastComet for hosting our website.
FastComet: What's been the most exciting part of your journey so far?
Dave: The audience's response to our broadcasts is always very exciting.
FastComet: What changed after you chose us?
Dave: Fast loading speeds and excellent server uptime have become the standard after we switched to FastComet.
FastComet: What has been your experience with the FastComet support team?
Dave: We had a few issues over the years, which the team resolved fast and also provided additional information about the causes. Excellent overall experience!
FastComet: What motivates you?
Dave: Technology makes me tick and keeps me going!
FastComet: What are your plans for the future?
Dave: My plans for the future include continuing to host and produce our international broadcasts covering consumer tech because it's always exciting, and we get a great response from our audience. It warms the cockles of my heart to know that we actually help many people with various tech issues while maintaining a sense of humor. Many people have told us that they were "dial-hopping" and heard some people "having fun" so they decided to listen … and they were hooked!
FastComet: Is there something which you want to change as a host, as time moves on?
Dave: Obtain more advertisers wanting to reach our very targeted audience and getting more calls so that we can assist more people with their tech.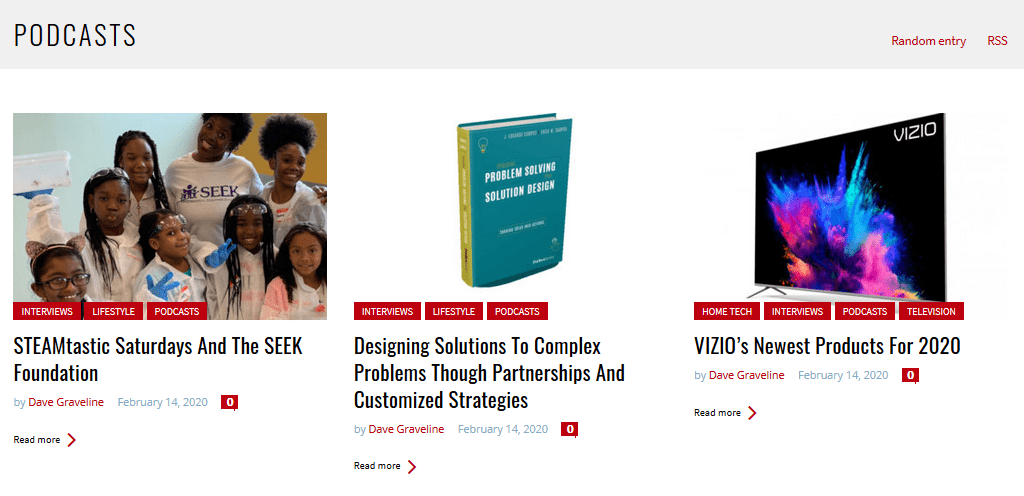 FastComet: Interesting story which happened during a broadcast?
Dave: In our 25 years on the air, we had many interesting moments, including a few power outages during which we struggled to keep the show running however we could. After all, we have almost 200 AM & FM stations listening and the last think they want is dead air.
FastComet: Most interesting guest?
Dave: I'd have to say that we've had many very interesting guests, but certainly one of the most well-known would have been Bill Gates and others similar. Still, I genuinely enjoy helping those young entrepreneurs that create startups, and I'm thrilled when we can tell the world about their new technologies and products!
FastComet: Predictions for the future?
Dave: I learned long ago not to try and predict the future. Still, I look forward – "Into Tomorrow" to advancements in various technologies like autonomous cars, robots, medical tech and our 'connected' lives. Many, many things that we joked about on-air in the past years are here today!
FastComet: You have been doing this for a long time, so your experience is immense, but do you have side projects worth mentioning?
Dave: Yes, I have been doing this for a very long time, but I'm not a hundred years old yet! *laughs*
I have also been involved with providing video production services for things like web videos, promotional & commercial productions, training videos, and delivering messages on-hold for business phone systems as well as Interactive Voice Response and VoiceMail trees.
FastComet: Any final words to wrap-up the interview?
Dave: Tune… "Into Tomorrow"!
Couldn't have said it better, Dave! We are so glad you were able to take time off your various activities and share your story with us.
If you also have something you are very passionate about and worth telling, we will be glad to review your application and create a Spotlight with you. Contact us for more information.
The latest tips and news from the industry straight to your inbox!
Join 30,000+ subscribers for exclusive access to our monthly newsletter with insider cloud, hosting and WordPress tips!