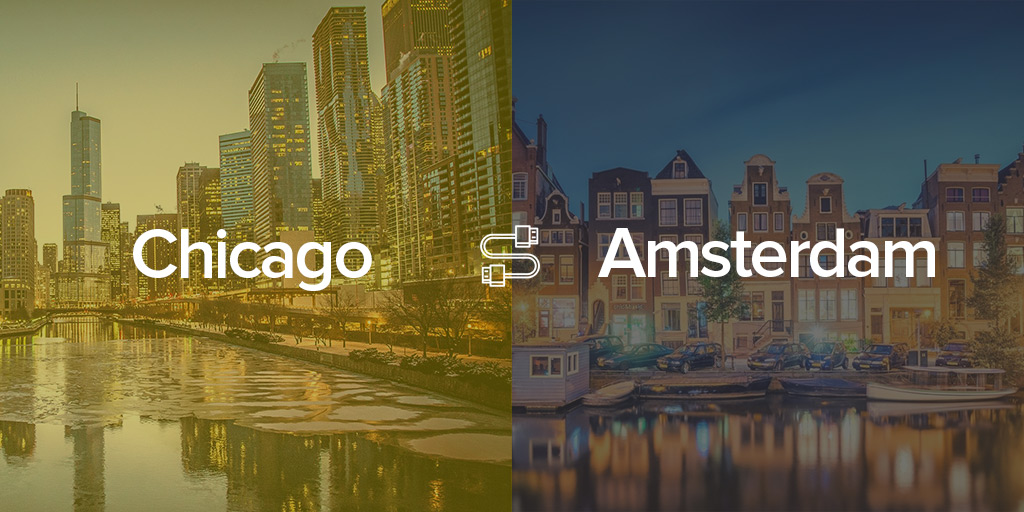 Orbit Above the Clouds with SpeedUp RocketBooster in Amsterdam and Chicago
The mission of our FastComet web hosting team has always been to combine world-class technology into an independent offering where the whole is greater than the sum of its parts. The result is an unparalleled performance, bullet-proof security, and support for your website that you can trust and rely on. Over the past few months, we've been hard at work preparing our refined SSD hosting plans. We've selected high-performance, pure SSD servers and we've carefully crafted a robust, secure and extremely fast platform. Our customers benefit from extensive interconnections within 7 strategically located, highly automated datacenter facilities on three different continents for closer geographical proximity and greater execution. It is obvious that one of our primary goals is to offer you the fastest hosting service possible.
SpeedUp Hosting package was built with that exact performance, security, and reliability in mind. Today, we are pleased to announce the latest technology extension that we have added to the mix. Effective immediately, new FastComet SpeedUp customers can choose to have their sites hosted in data centers located either in Chicago, USA or in Amsterdam, Netherlands. With the launch of not just SpeedUp RocketBooster, but also the Amsterdam and Chicago locations for it, we're making it possible for your website to orbit above the clouds of Europe, Canada, and the US like never before. Other plans – StartSmart and ScaleRight already follow the same option, and we will also provide the option for current customers to make the switch.
The StartSmart, ScaleRight and SpeedUp plans are now called FastCloud, FastCloud Plus and FastCloud Extra, and have kept the same resources as their predecessors. You can read more on the overall change in our FastCloud plans Introduction post.
Get Your Website Closer and Faster to Your Visitors
There are many reasons why you would need to host your website in a particular region. Perhaps you are bound by legal or compliance clauses to have your customer data physically located in a specific country. Or you have SEO concerns. Additionally, your website performance and stability depend a lot on the location and the characteristics of your hosting data center. However, it might be the case that your major concern, as it is for most site owners, is the loading speed of your website. After all, in today's reality, a slow-loading website means loss of website visitors, customers, and ultimately revenue.
One way to mitigate this is with FastComet's new server locations for SpeedUp Package, that gives you the freedom to have your website hosted in two strategic points of the world. By hosting your website at a geographical area closer to your users, you can reduce network latency, thus improve the overall user experience for your visitors!
Goedetag Amsterdam!
If I asked you where the largest Internet hub on the Planet was, what would you say? New York maybe? Perhaps, London. Somewhere in China or India, due to their large populations? Or maybe, Tokyo, because it is the largest city in the world? All are good guesses – and all are wrong. The answer is simple – it's the Amsterdam Internet Exchange (AMS-IX) in the Netherlands, mostly referred to as "the center of the Internet". Our datacenter location in Amsterdam has been serving our European clients quite well over the last couple of years. And it's the exchange used by FastComet for new server location for our recently launched SpeedUp RocketBooster package.
Chicago, Here We Come
Add a pinch of an American beauty to it and there you have it – Chicago RocketBooster hosting excellence serving the regions of US and Canada. Our Chicago data center is a strategic Midwest location, known for its solid peering and geographical stability. It is by far one of the most secure and powerful data centers in the industry today.
Performance and Testing
The AMS-IX uses redundant hub-spoke architecture, using a core switch and multiple edge switches. Basically, it's resilient to failure and has had 100% uptime for many years. The datacenter offers excellent connectivity and strong peering for the high-speed performance of your websites. It also has solid security on all levels, including biometrics access control and constant 24/7 live monitoring. Amsterdam is the modern solution to your expanding hosting needs and the best choice for European clients.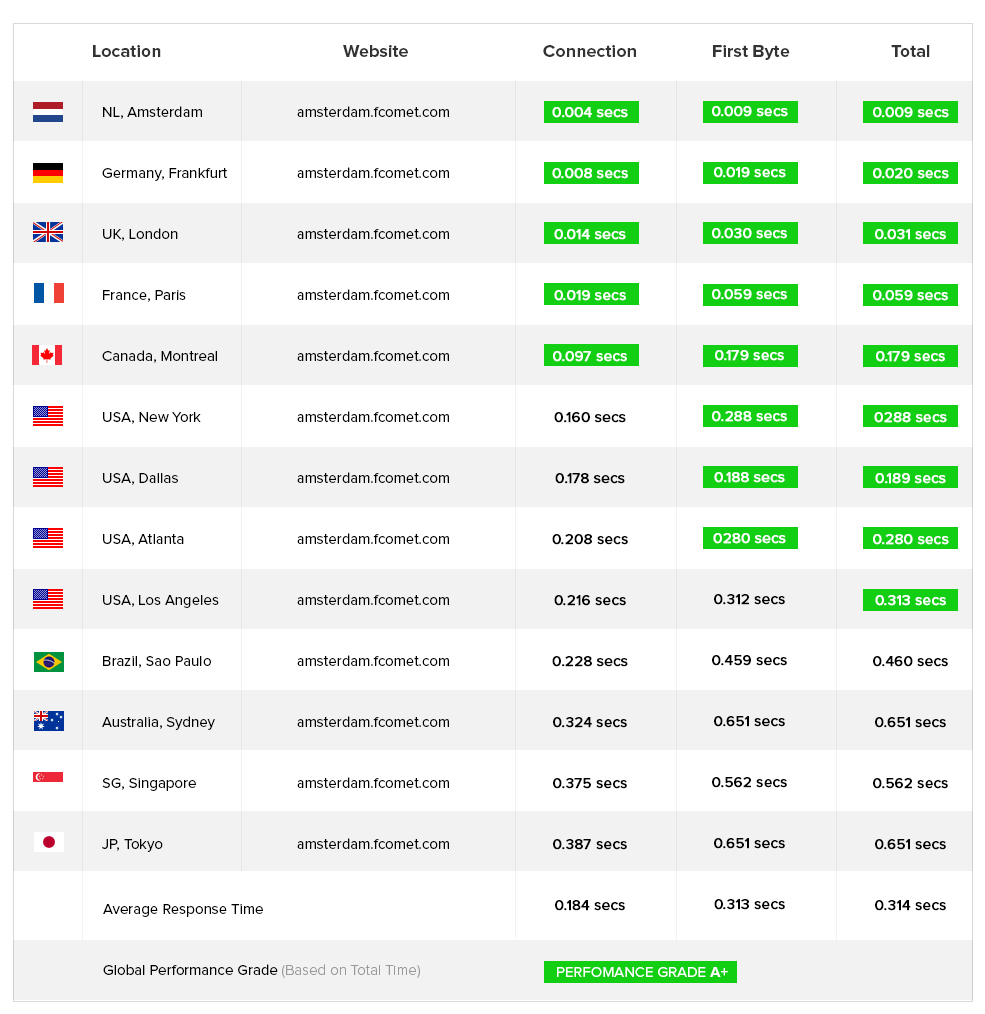 On the other side of the world, our Chicago location data center also utilizes the same fiber-optic network technology. Our enterprise-class facility provides N+2 redundancy on all levels, including the power supply generators and the green cooling systems. The Chicago datacenter is built with efficiency and security in mind, with close proximity to the three top international exchanges. Due to equal proximity to all regions of North America, it is an excellent choice for clients from all over the United States and Canada.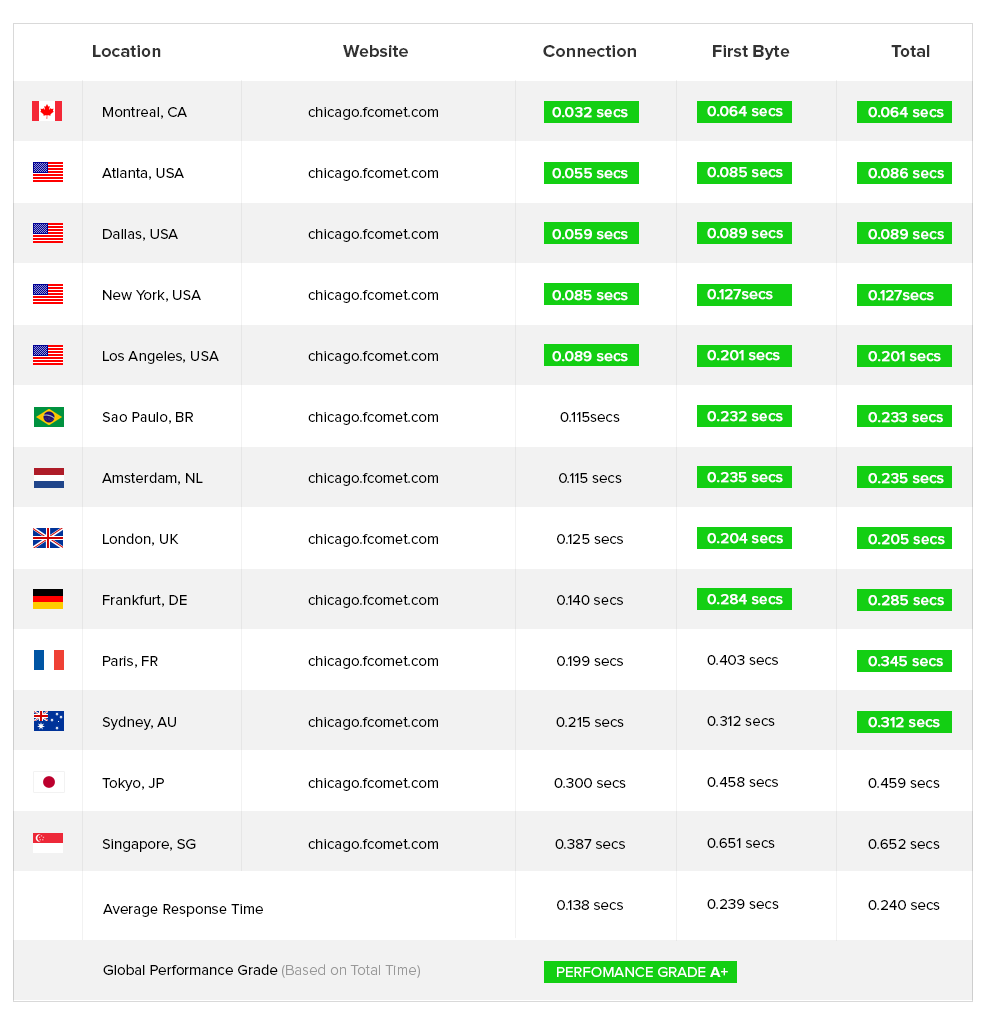 FastComet, AMS-IX, AMS-IX Chicago and You
Services in Amsterdam and Chicago provide the same amazing hosting features SpeedUp users already love, such as 5 layers of caching including Varnish, APC, OPCode and Memcached, custom WAF, Network Firewall and everything else to keep your website fast and secured. In addition, they run on the blazingly fast LiteSpeed LSAPI PHP for optimal TTFB that Google will fall in love with. You can test that using a performance tool, such as the popular Sucuri checker.
At FastComet, we are obsessed about speed. That is why we work only with the best facilities in the world and we choose the most powerful and innovative hardware to build our infrastructure on. All new SpeedUp users can easily select one of the new datacenters during the order process. Existing customers can also take advantage of the new locations by requesting migration from our experienced 24/7 Technical Support team. As always, the migration of your account would be completely free of charge!
The latest tips and news from the industry straight to your inbox!
Join 30,000+ subscribers for exclusive access to our monthly newsletter with insider cloud, hosting and WordPress tips!