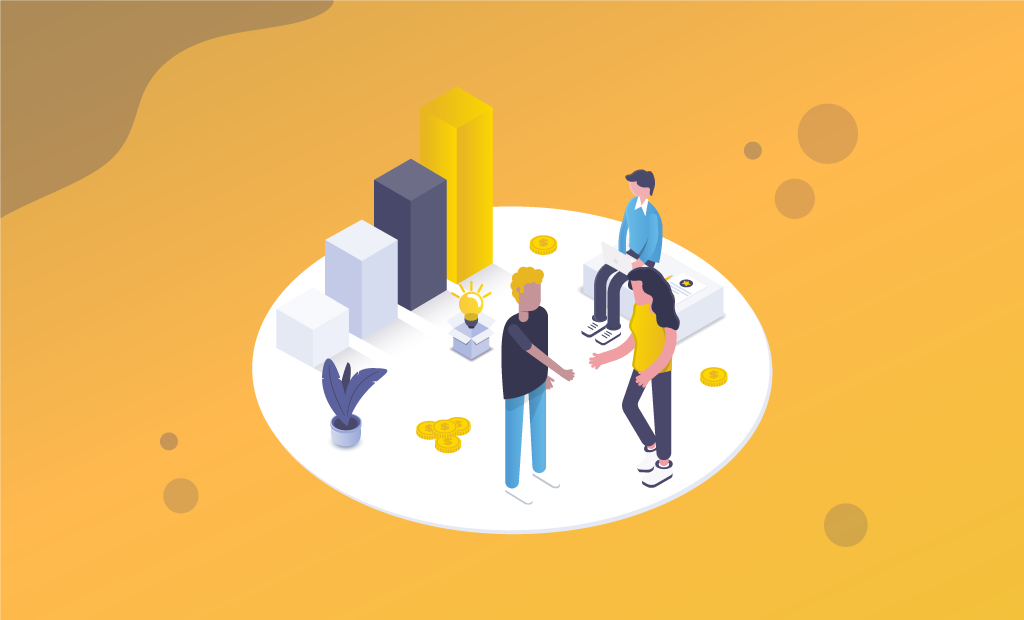 Reseller Hosting or Affiliate Marketing: Choose the Right Strategy to Boost Your Revenue
When running a web design and/or development business or running an agency, you can offer your clients extra services. Reseller hosting and affiliate programs are two excellent income choices if you don't have a big budget prepared. However, it may be difficult to decide which one is better for you. Yes, the two options are both hosting related, but they are also quite different when managing.
The best possible scenario is to recommend products and services by taking advantage of both reseller and affiliate hosting programs. Still, in this post, we will try to give you some guidance and decide which one of the two options will better fit your goals, needs, and plans.
We will go over the key differences between reseller and affiliate, as well as some of the most effective strategies that can help you increase revenue.
Table of Contents:
Revenue Management Explained
Revenue management is often explained through the hotel management strategy: "Selling the right room, to the right client, at the right moment, for the right price, through the right distribution channel, with the best cost efficiency." That can be applied to almost any business with some changes here and there.
It involves the proper use of data and analytics, whose purpose is to assist business owners in predicting product/service demands and other customer behaviors. That's what allows business owners to make their decisions regarding pricing and distribution as sensible as possible and maximize their revenue. Of course, selling more is great, but that's never guaranteed.
All this can be applied to the web hosting service, whether you are an affiliate or a reseller. However, those two are quite different from one another, so let's go over the differences.
Reseller vs. Affiliate Programs
Choosing between being a reseller or an affiliate depends entirely on your goals and the free time you have on your hands.
If you're a reseller, you're re-selling a service under your own brand name, but you don't have to worry about that service's fulfillment. As an affiliate, you're driving customers to businesses in exchange for a commission of the sale.
Here, we will explain everything simply and give you the advantages and disadvantages of both being a reseller and an affiliate.
What is Reseller Hosting?
If you become a reseller, you are actually operating a business of your own. As a reseller in web hosting, you start by purchasing existing services and make a profit by reselling them under your own brand as if you were the hosting company without the need to manage your own web server or datacenter. This usually involves purchasing this product (web hosting services) at a specially arranged price with the original seller.
When it comes to reseller hosting, you need the ultimate reliability, power, and top-rated support for your brand. Even though FastComet does not actually have a Reseller program, you can purchase from our flexible Cloud VPS and Dedicated CPU Plans and resell them to your customers. All of the plans are accommodated to scale as per your needs easily. You can easily create and maintain as many packages as you need through WHM.
Pros of Being a Reseller
Low startup costs – You don't have to create a new product from scratch. Put simply, there are no extra costs. All you have to do is purchase enough hosting space for your plans.
Create a scalable business – As a web hosting reseller, you can expand your business infinitely by just purchasing more hosting space. All you need to do if you want to increase profits is signing up more customers. You can also offer your clients and customers additional professional services and support to complement the web hosting experience.
Less work for the same quality – the quality of service depends on the company you get your services. On that note, FastComet is known for its high-quality servers and 24/7 quick customer support, among others. The company is rated Superb by web hosting review sites such as HostAdvice.
Cons of Being a Reseller
No absolute control – for obvious reasons, you can't have complete control over your business aspects as a reseller.
You cannot compete on pricing – You will have to compete on something other than price because as a reseller, you cannot be cheaper or at the same price as other companies in the same niche and still have profit.
What is an Affiliate Marketing Program?
If the reseller option sounds like more work than you can handle, you should consider the other option – affiliate marketing. When compared, being a reseller is similar to being a CEO of a company, while being an affiliate is almost the same as being in the sales team.
All you have to do to become an affiliate is join an affiliate program for your chosen product or service, typically something you have already tested and liked. Once you join an affiliate program, you will get a unique link with an embedded tracking code. Whenever you share that link and someone use it to buy a product or a service, you will get a commission for that purchase.
Affiliate marketing is a popular and effective method for earning money online and generating passive income. All you need to do is share your link and drive consumers to the affiliate offer.
Affiliate programs are great for businesses to generate new customers. Utilizing such a program is a win-win for both the affiliate marketer and the company that provides the service or product. The company gets new clients, and the affiliate gets paid.
Pros of Being an Affiliate
Passive revenue – When done correctly, affiliate marketing can be a great way to generate passive income consistently.
Easy to start – All you need is a link. However, some larger companies, such as Amazon, have additional requirements you will have to cover.
Lower level of responsibility – After you have referred a customer to the company, your work is done. Compared to being a reseller, being an affiliate requires much less of your time.
Cons of Being an Affiliate
Commission only – As an affiliate, you don't have the option to grow your income through upsells or other products.
Sales are never guaranteed – There are no guarantees that even if someone clicks on your link, they will end up buying the product or service. If they don't – you don't get a commission.
Affiliate terms of service – All companies have affiliate terms of service, which need to be followed if you want to get your income. Yes, and if you want to follow those terms, you will have to READ THEM, instead of scrolling to the bottom and hitting accept :).

But seriously, if you want to have a smooth experience with affiliate marketing, go over the terms, and there will be no problems around your account. Additionally, most of your questions will be answered.
What Makes FastComet's Web Hosting Affiliate Program Better Than Others?
If you're interested in becoming a hosting affiliate, partner with us and earn money for helping us spread the word. Joining our program is absolutely free and you get paid each time you refer a new customer to FastComet plus additional, signup bonuses. FastComet's affiliate program contains the same attention to detail and service you've come to know and expect from us. Here are a few ways we're changing the game:
FastComet is an Easy Sell
Acceptable annual churn typically falls within the 5% to 7% range, depending on the service, and FastComet's is lower than 5%. We're pretty proud of it — once customers come to FastComet, they rarely leave.
Refer People to a Service Everyone Loves
FastComet is a trusted partner and a champion of our customers (positive reviews, testimonials, recommendations). In five consecutive years, according to the HostAdvice Community, we are the top-rated Hosting Solution for personal and small business websites. What better reasons to recommend us?
Earn a Commission After Every Sale
The great thing about the FastComet Affiliate program is that we have fixed commissions and not percentage commissions. This gives you high leverage and an excellent opportunity to help you increase your passive income while providing a great hosting option for your clients and friends.
Sell More, Earn More
Our commission program is a multi-tier one with growing commissions depending on the package sales you make per month. By offering our Cloud VPS/Dedicated CPU Server plans you get the opportunity to receive up to $200 per sale.
Affiliate Academy
We've created our affiliate resource center where we share in-depth guides, advanced tips, and interview the top affiliate marketers in the industry. Take advantage of our affiliate academy channel to quickly increase your referrals and earn more passive income.
Sales vs. Revenues vs. Income
Sales, revenue, and income. Those words are often used as synonyms when they are actually different from one another. That's why some people get confused.
When we talk about sales, we refer to the number of units (products/services) sold. Revenue is the total amount of money that those sales generate, and income is the part of this revenue that you can consider an actual profit.
Keeping that in mind is important, especially as a reseller. Being an affiliate is slightly different because then revenue becomes close to a synonym with sales and income.
How to Increase Revenue
Increasing revenue is crucial if you want to keep your business running and progressing. If you manage to do that, it's a sign that you are doing well, and you should keep it up. Some basic operational marketing and service tactics can help every small business owner boost their revenues exponentially.
Determine Your Goals
Every good business owner knows that there needs to be a clear strategy aligned with the revenue goals. If you want to be successful, you must start with that and go forward. Identify what you see as success and start walking on that road. The walk can be long, but you will eventually get to your destination with consistency and the right approach. For each stage of your business, whether you are a reseller or an affiliate, you must define your revenue goals. That's a bit harder to do as an affiliate because, as we mentioned, sales can be harder and are never guaranteed.
At the very start, your revenue goal should be to achieve a stage of profitability. After you survive that stage, you should aim to grow your revenue and fund the growth of your business and build reserves, which are quite important, especially if you are an affiliate marketer.
After you have a clear eye on your goals, you will focus on accomplishing them. Nowadays, the Internet is full of guides and tips to help you achieve almost anything. You can consider this post a good source to help you with boosting your revenue.
Focus on Repeat Customers
This one is for resellers. Instead of spending your resources on gaining more customers, try focusing on upselling or cross-selling current ones. That's much easier and less pricey than going for new customers, especially because the ones you already have are familiar with your products or services and are most likely happy (since they are still your customers).
Showing appreciation by offering special discounts for your regular customers will work in your favor when you want to take your business with them to the next level. They will think that you go the extra mile and will feel important. Of course they are important — you get your income from them.
Additionally, connecting with existing customers is likely to bring you new ones and therefore grow your business further. People usually connect with others that have the same interests, so they likely talk about the services and products you are providing and how satisfied they are. Yes, advertising on the internet is a powerful tool, but word-to-mouth is a classic way in which you can get recognized and will never go away.
How to Increase Revenue from Existing Customers
Consider using the following tips as a checklist:
Create a list of your customers and clients;
Create a list of services and products that you provide;
Analyze the customer list for cross-selling opportunities;
Identify the clients that are not taking advantage of all your services or products and create a list with everything that you could offer them;
Contact those customers and provide details about the related products/services that would be beneficial for them.
Use newsletters and reminder emails to stay in touch with your customers.
Update your customers about new launches and special offers through website updates, blog posts, specific email campaigns, and mailers.
Instead of focusing on finding new clients, a reseller consistently looks for opportunities to grow your revenue without the increased costs associated with new client acquisition.
Adjust the Pricing
When it comes to purchase decision making, price is the most important factor. As a reseller, you can adjust the prices of the products or services you offer. This adjustment should be correlative to the market situation and your revenue goals.
Most business owners do not charge enough for their products or services. Raising the price can instantly raise your revenue, but only when it doesn't negatively impact your sales. That's why you should have a good understanding of how the competitors' prices and your prices stack up against each other.
You should put yourself in the buyer's shoes and see everything from that point of view. Think carefully if a price increase is fair and only when you are sure that's the case — go for it. However, don't forget to announce the news in advance (you don't want to lose all your clients). Being transparent with your customers is crucial for your business's success, whether it's web hosting or selling kitchen chairs.
Additionally, try constructing a plan to slowly increase your prices according to the value of services or products you offer. Something too dramatic will most likely make your customers unhappy, sending them in the hands of the competition. A small price increase may not seem too important at first glance, but it still has an impact on your revenue and profit margins.
As an affiliate marketer, you don't have control over the prices, but you can still inform your associates about price changes from the company where you are an affiliate.
Implement Effective Marketing Strategies
The most obvious way to boost revenue is through effective marketing. You need to analyze data on customer purchases and product preferences and then develop your targeted promotions to hit specific customer groups with advertising messages and promotions. All that is done based on strategic plans and marketing tactics, which include:
A representative website;
Social media (Facebook, Instagram, etc.)
Pay-per-click (PPC) advertising;
Email marketing;
Content marketing (blog);
Public relations;
Traditional marketing (flyers, billboards, bus stop ads, etc.)
Additionally, try reviewing and analyzing marketing data from previous years. This way, you will be able to see the most effective strategies and channels.
Expand your Market
Increasing the number of leads is crucial. For example, if you are a beginner or intermediate affiliate marketer, try implementing Pinterest Affiliate Marketing. By expanding your market, you increase the chances of someone clicking on your link and buying the service or product that brings you revenue.
As a reseller, the idea is the same — reach new demographics, implement email marketing, advertise, etc. It's good to do research regularly and see if there are new trends in your niche. You want to stay on top of your game and stack up against the competition in the best way possible.
If you don't already have a website – create one and take your time to make it presentable. Even if you do – there's always room for improvement. Make sure your web design is simple yet attractive. Add a blog, update your content regularly, include relevant case studies, and create targeted digital ads. This one applies to affiliates as well.
Utilize PPC
The easiest way to boost revenue quickly is through PPC. This is perhaps more fitting to resellers, but it can also work for affiliates with a blog or website as the main income source. It's easy to build campaigns through Google AdWords. You can test keywords and funnels easily and with a minimal budget. Additionally, you can monitor both the conversion rate and profitability in one spot by using Google Analytics.
Reach Out to Old Contacts
Same as with expanding your market, you should get in touch with old leads that never closed the deal. That will help broaden your chances to boost revenues. However, it's not easy to sell, and if the specific lead said explicitly that they are not interested — you should probably skip wasting your time.
On the other hand, if you feel like your previous try was just not the right time, it's worth going for it again. Check your notes about your lead, ask many questions to get a grasp of the state of your lead's business, and then provide all the updates about the product or service you are offering, no matter if you are a reseller or an affiliate. Use the opportunity to share some quality content and remind your leads why they were once interested.
Get Employee Feedback and Improve Customer Satisfaction
As a reseller, you will probably have employees. Go to them – especially those on the frontlines. They interact directly with your customers and can give you the best form of feedback. Those are the employees that create strong relationships with clients, and you should take advantage of that. Find out exactly what needs to be done to increase customer satisfaction. Then ask for help from your employees and put things in action. That's a good way to increase revenue and build more trust from your employees, which goes a long way.
Utilize the Right Tech
We mentioned that as a reseller, you are more likely to have a team. Therefore, investing in new technology is crucial for the growth of your business. However, it's all about Return of Income (ROI) when it comes to boosting revenue.
You should take into consideration everything and evaluate if the investment will boost your revenue at the moment. If not, you can wait a little bit more. That's because, with technology, prices drop more often than anywhere else, and waiting can actually save you money.
With that said, if you absolutely need to spend on technology, whether it's for your new expert employee's second and third monitor, or to improve streamlining processes, automating, managing data more effectively — spend as much as needed. You will recognize that this was a breaking point in your business's prosperity in the long run.
As for affiliates, you can consider investing in additional websites, web design, hiring a blogger, etc.
For both affiliates and resellers, it's a good idea to add Live Chat to the website. People often prefer their questions answered right away, even if a bot provides that service.
Embrace Search Engine Optimization (SEO)
Search engines are also crucial for the prosperity of your business and your high revenue. Through SEO, you can get great results, more leads, and more income without spending money on ads. It's not that easy, but with the correct approach and consistency, everything can be accomplished.
SEO improves your chances to attract business from customers that are not specifically looking for your products or services but stumble upon your website and get charmed by what you offer or market. SEO works great for both resellers and affiliates and should not be underestimated.
Utilize Social Media Correctly
Nowadays, if you are any kind of business owner who doesn't utilize Social Media, you miss a lot. It's a great way to improve revenue in a short time, but it's also important to educate yourself on how each platform works and use it properly. You need to use the right keywords and hashtags and have the correct approach for every occasion.
As a reseller, unless you are an expert or have one in your team, it's best to hire a third party to manage your social media. ROI is guaranteed.
As an affiliate, you probably have more free time on your hands. You are most likely to prefer spending the least money possible, so you can use the Internet to get the proper information regarding how to utilize Social Media. Becoming familiar with that will make things much easier for you in the long run.
Inspire and Motivate your Employees
In case you have more than 5 employees, make sure that you start some sort of employee recognition system. That should be vote-related. For example, make your workers choose who should be an employee of the month (or the year).
This way, you will inspire mutual respect and motivate them to give their best on the job. Also, provide bonuses to the whole team whenever you can. Showing your appreciation will get the respect you need. Consider all the bonuses you provide as one of your best way to invest in the business. As with Social Media, ROI is guaranteed.
Reseller vs. Affiliate: Which is Right for Me?
As an affiliate, you need much less time to spend on the job after the initial work, and you get a lot of passive income. However, you have no control over prices, promotions, etc. Those depend entirely on the company for which you are an affiliate. You are a marketer that advertises the company's product or service in as many ways as possible with the goal to maximize your revenue.
As a reseller, you are actually running a business. But instead of thinking about every aspect of managing a web hosting company, for example, you only have to think about finding new clients and keeping old ones. You don't have to worry about data centers, partnerships with other companies that provide hosting related services, etc.
Whether you choose to be a reseller or an affiliate, in both cases, you can have success when you take your time and do things the right way.
The latest tips and news from the industry straight to your inbox!
Join 30,000+ subscribers for exclusive access to our monthly newsletter with insider cloud, hosting and WordPress tips!