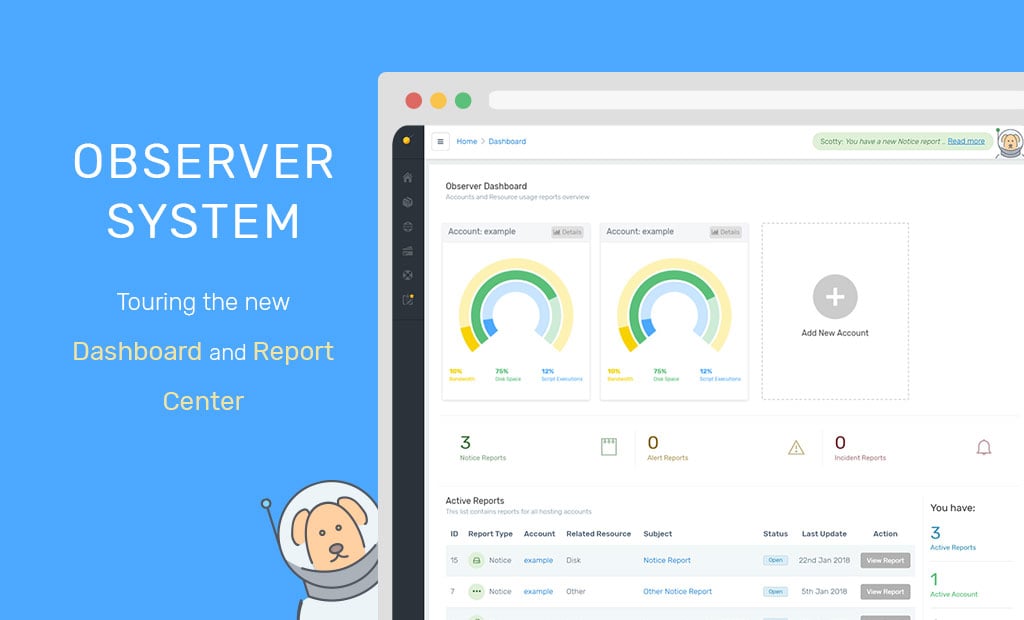 Tour the New Report Center with the Help of Our Tailed Assistant Scotty
We've hinted about this in our previous blog post and today we have released an awesome functionality of our in-house built Observer system, available for all FastComet customers, "Report Center".
The Report Center, when opened, defaults to the newly added Observer system Dashboard. Upon logging into your Client area of your active account with us, you would need to navigate to the Activate accounts section at the Client Area Index page. Click on "Resource Monitoring" button next to the cPanel shortcut icon and you would be redirected to the Account Resource summary page.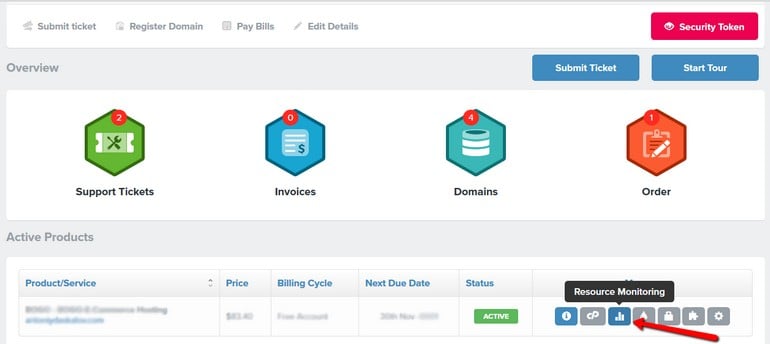 To navigate to the Dashboard page you will want to click on the Dashboard link, located on the sub-menu of page.
UPDATE: For quicker and easier navigation, we have just added a new way to access the Observer System Dashboard, right through your Client area menu. Simply click on the newly added "Gauge"icon and you would be presented with the Observer Dashboard page.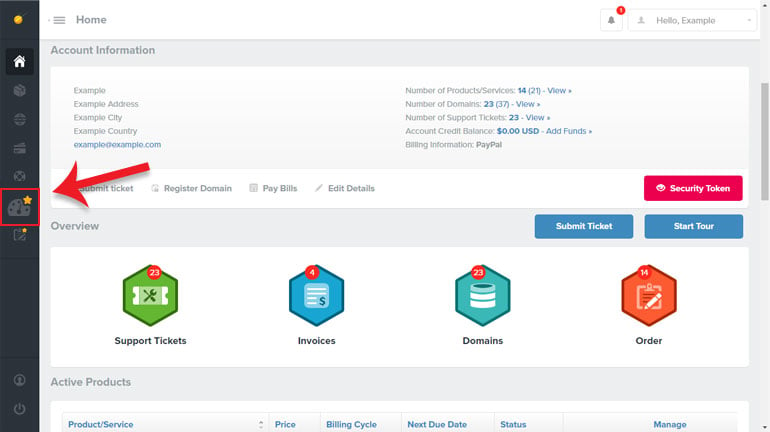 The board provides a sleek overview of all your Accounts and Resource usage graph reports and a quick access list of your last received 5 reports.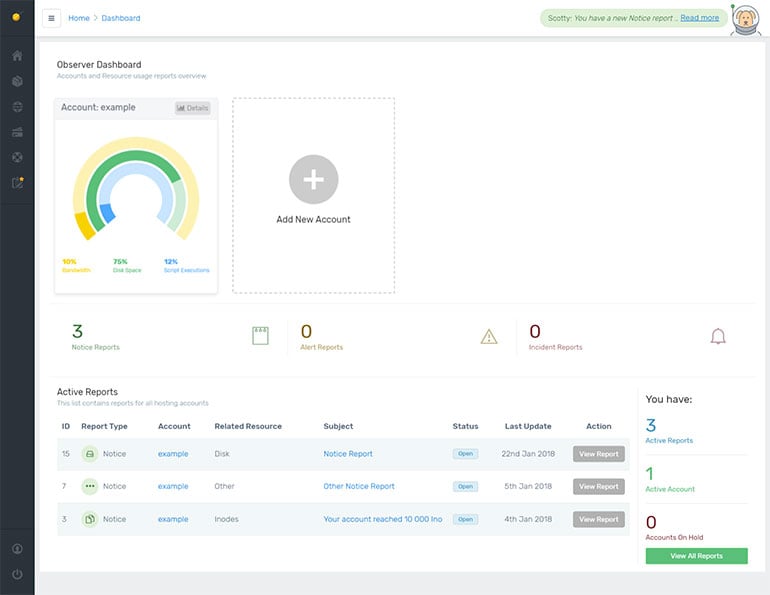 It can sometimes be frustrating when you realize you don't have sufficient access to data to troubleshoot issues on your website. Thankfully, with the new Report center, you can now investigate and diagnose a lot of these problems from right within the dashboard.
Click on the View All Reports green button and you would be easily able to navigate to the Report Center itself.

Report Center Overview
The new advanced Resource Monitoring service is designed to ensure that all web hosting accounts are performing as expected. The service checks the actual usage of CPU, disk, and data traffic ports at frequent intervals, and proactively issues alert to customers whose usage of any resource exceeds specified thresholds. It also provides current and recent usage information in a highlighted format.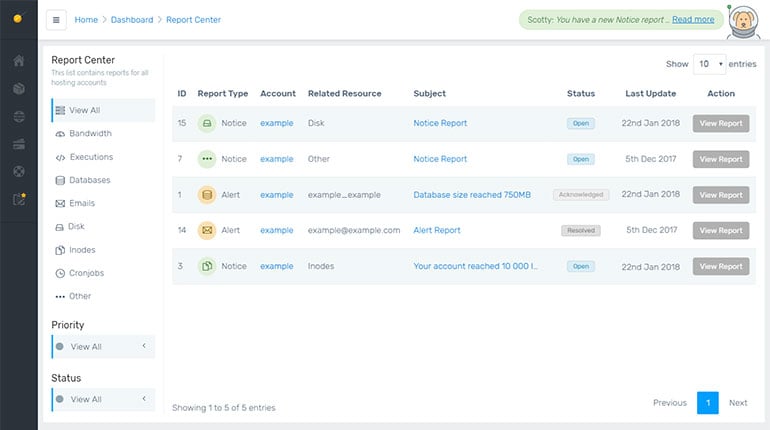 The two significant advantages of the Resource Monitoring service are that it operates in real-time, and it can be administered by a non-technical user. The Report Center helps you understand the overall health of your web data and to get better understand of account's data resource usage. Thus it acts as a Self-service resolution center, providing you all the needed information that needs to be followed in order to maintain a healthy web hosting environment.
Report Case Messages
The Report case message informs you of conditions that impact the performance and stability of your account and the server that hosts it. By informing you of these conditions early, we can work together to improve your account's performance and stability before the issue impacts the entire server.
Each report consists of detailed information on the most common reasons for the abnormal resource usage, based on our professional experience and corresponding ways to optimize your account and website performance.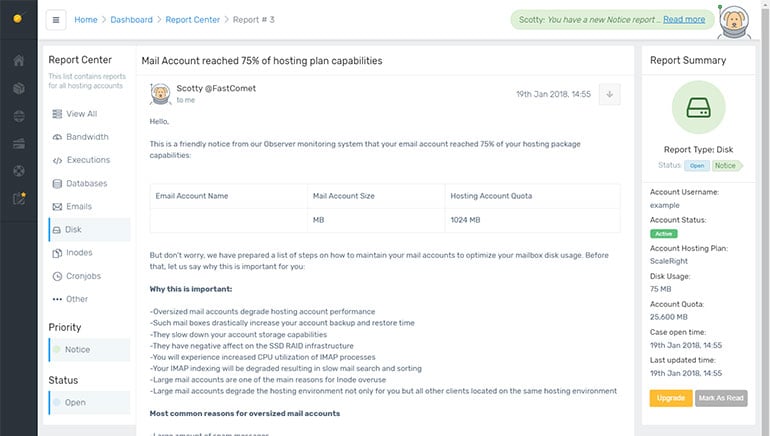 Should you like to ensure that you have plenty of room to grow and would like to consider a more powerful option, we will offer you suitable options for upgrade.
UPDATE: We have just added a brand new functionality in your FastComet Client Area. Located just next to your Admin Login button, you would find the Notifications bar. This action center is a notification hub that delivers system-related and observer system report-related notifications, which helps you easily catch up on notifications you have missed. Manage all of your overdue invoices, check support tickets awaiting a reply, and review all of your unaddressed Important Resource Usage reports swiftly.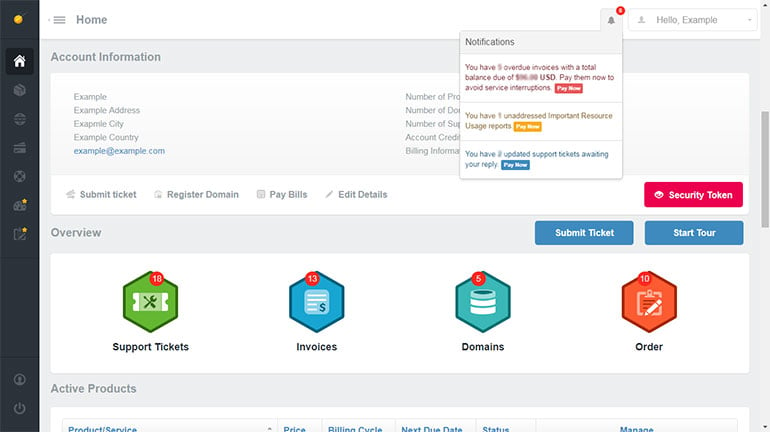 Type of Report Cases
We have set three threshold report levels based on the consumption levels you maintain, which we recommend keeping relatively low. This gives you plenty of time to address the matter before your service is affected and ensures that you maintain maximum performance for your solution.
Notice Reports (Green)
Alert Reports (Yellow)
Incident Reports (Red)
The "green" report marks a friendly notice from our Observer monitoring system that your account has reached 75% of your hosting package capabilities.
"Yellow" and "red" alarm thresholds for each resource or service. Resource usage exceeding the yellow alert report indicates the high load of our 90% resource usage that is potentially problematic. Resource usage exceeding the red threshold indicates a situation that can potentially affect the operation of the whole server and its corresponding services, demanding an immediate response.
Related Resource Type of Report
The resources and services monitored by the Report Center are separated into five broad categories. If the usage of at least one resource or service within a category exceeds one of the pre-configured thresholds, a corresponding warning is displayed.
To see more detailed information about resource usage, click on the categories. Expanding a category displays all active and former reports about all resources and services included in the category. Let's dive into each section of Reports and share some examples (and real-world scenarios) of how you can take advantage of these new reports to improve and fix your website performance.
Bandwidth – The bandwidth usage report shows the amount of data your site has used. In other words, your site is popular, which is good news! The goal of your site should be to grow your visitors, and so that hopefully means you outgrow the plan you start with at FastComet.
However, in other cases, high bandwidth usage is unintentional and caused by other factors. Your website may be optimized perfectly, but it might get hammered with high traffic. This is especially likely if you don't notice anyone process using a lot of your resources, but you see dozens of processes opened at once. Comment spam on a forum or blog, scheduled backups, Malware outbreaks, and hacking attempts are just a small part of the possible scenarios. Check your website statistics to see if you're getting unusually high traffic, then consider upgrading your account.
Executions – To achieve a good website performance it is very important to optimize the number of executions. The most common cause for an excessively high number of executions is either something irregular happening to your website that should be addressed and stopped or in the better case a legitimate peak in your website traffic, which can also be addressed and handled.
Some of the most common execution generators are chat/calendar or other modules that refresh their content constantly, robots/spiders visitors, comments sections, application login pages and thus some corrective actions need to be taken.
Databases – You're certainly allowed an unlimited number of MySQL databases, but in the interest of server stability, we request that you try to keep them optimized and no larger than the allowed values in size.
Running cron jobs too frequently – particularly resource-intensive cron job – can negatively impact MySQL performance. Only run cron jobs as often as necessary. Comment spam on a forum or blog such as WordPress also affects your MySQL usage. A hacked account, outdated applications or search engine spiders that "crawl" your website often cause abnormal MySQL usage. If none of the previous scenarios apply to your account, it may just be outgrowing what a shared server can handle.
Emails – We find that the most common cause of high file counts is the default mail account. By definition, the default mail account will receive cron job notification emails and customers tend to forget about this mailbox and just leave it to fill up, so emptying the default mailbox is usually the easiest way to dramatically reduce the file count.
Disk – The maximum disk space stats do not account for overhead system software. For optimal performance and stability, you should leave 20% of your maximum disk space available at all times. Failure to do so could result in your hosting experiencing technical problems.
Let's face the reality – cases, when your website files take more than 2-4 GB, are quite rare, so before planning the upgrade to the next tier because of the excessive disk space usage or transferring your account to another server, we recommend checking if all files in your account are actually necessary: huge error_logs, data of old websites such as unused theme files, plugins, installations, big media files, etc. Failed or overnumerous domain backups are a common cause of unexpected full disk space. If you need more disk space, you can always upgrade your resources.
Inodes – The inode stat represents the number of files/folders you have on your web hosting account. Keeping the number of inodes on your account as low as possible will ensure that your account maintains top overall performance.
Most customers actually do not need to be familiar with Inodes if they are using their hosting in normal circumstances such as for a basic or intermediate website and normal email use. Not all inode overages are caused by abuse though. It could just be that you need to do a bit of a clean up of your hosting files such as unnecessary files and folders, old and spam emails, or cache files.
Cronjobs – FastComet limits cron jobs on Shared servers to run in 30-15-5 minute intervals since excessive cron jobs can cause high loads on the server. Make sure to only run cron jobs as often as necessary.
"Beam Me Up, Scotty"
Meet Scotty – your virtual assistant. You and Scotty will grow together, assisting you to handle all the web hosting needs for your growing business, from shared hosting for small businesses to VPS hosting and Dedicated Servers for scaling and enterprise businesses. Scotty will offer you an easier, faster way to get things done, ready to help throughout your reports.

The reports we have introduced in our Observer Monitoring system were developed with one goal in mind – to give FastComet's customers as much useful information about their accounts as possible. We believe this information will help our customers manage their accounts better and more efficiently.
The latest tips and news from the industry straight to your inbox!
Join 30,000+ subscribers for exclusive access to our monthly newsletter with insider cloud, hosting and WordPress tips!