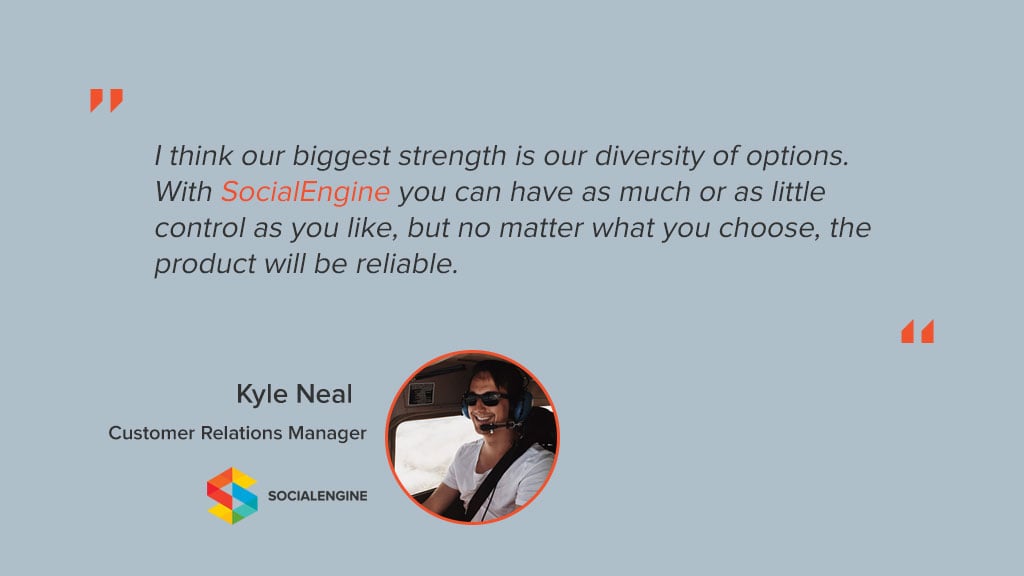 Interview: Kyle Neal on SocialEngine and the Future of Social Networking
Today, we have the pleasure to introduce you to the Customer Relations Manager at SocialEngine – Kyle Neal. Kyle played a big part in our recent announcement that FastComet is now an official SocialEngine reseller. He will introduce you to his line of work and will also provide a closer look at the SocialEngine business model.
The Interview with Kyle Neal
FastComet: Please introduce yourself to our readers and tell us more about your line of work.
Kyle Neal: Hey All! My name is Kyle Neal. I'm the Customer Relations Manager over at SocialEngine. I am the guy who answers your emails when you have any questions about the product. Here at SocialEngine, we're building software allowing individuals to create their own interest-based communities leverage all the connectivity of a social network.
FastComet: Tell us more about the SocialEngine team. Where are you currently based and how many members are working on the project?
Kyle Neal: Our main office is located in Boulder, CO and we have a satellite location in Los Angeles, CA, where I personally am located. We are very fortunate to have a solid team of 10 people dedicated to SocialEngine itself. We are also very fortunate to have the resources of Room 214 (our parent company) available to us as we need them.
FastComet: When was SocialEngine first established and what is the main purpose of the product?
Kyle Neal: SocialEngine started back in 2006 when we saw a need for people to be able to connect with their followers in a deeper way than is allowed in the mainstream channels. While services such as Facebook and Twitter are fantastic, the limited customizations and being locked into the mercy of the platforms left a lot of people looking for a way that they could build their own customized branded community and connect directly with their followers. This became SocialEngine PHP, a fully owned and customizable platform on which you can build your own social network.
FastComet: As SocialEngine provides three types of licenses, can you explain the main difference between them to our readers?
Kyle Neal: We actually offer two different products, SocialEngine Cloud and SocialEngine PHP.
SE Cloud is incredibly easy to setup and maintain. SE Cloud is our hosted subscription service allowing you to edit your SocialEngine site hosted on our servers. While this product does not offer an open source code, you do have incredible customizability of HTML and CSS which allows you to edit all visual elements.
SE PHP is a bit different. This product is a one-time purchase (as opposed to the ongoing subscription with SE Cloud) and requires the user to provide their own hosting. It does require a bit more coding knowledge but SE PHP gives you direct access to the full source code. That means that your site is 100% customizable beyond just different visual look. Even if you aren't an experienced PHP developer, there are plenty of SE PHP developers who would love to help you build your site. We offer three different tiers of SE PHP, each of which offers a few more plugins. You can see a full breakdown of what plugins are offered at socialengine.com/buy-social-engine
FastComet: In your personal opinion, what are the most beneficial features of SocialEngine that distinguish the product from other social networking platforms?
Kyle Neal: I think our biggest strength is our diversity of options. We're seeing more and more products shift to a cloud-only model, and while we think this is important, we also see the importance of giving our users the option to host the site on their servers if they want. With SocialEngine you can have as much or as little control as you like, but no matter what you choose, the product will be reliable.
FastComet: How does social platform software like SocialEngine compete against the big SaaS guys like Yammer?
Kyle Neal: I'd like to think we stack up pretty well. Our code is solid and reliable while at the same time remaining flexible and customizable. We also don't charge by the member so your site could be huge and you'll still pay the same price for your site.
FastComet: What is the selling point for someone to start their own social network based on SocialEngine, in your personal opinion?
Kyle Neal: We are currently living in a world where even though our brands and communities have followers, it is getting tougher and tougher to reach them. The big established social networks have started throttling the reach capabilities of branded communities in an effort to push more advertising plays. In addition, privacy is a growing consideration for consumers willing to engage deeply in interest-based communities. We've seen a number of patient-based communities built on SocialEngine and those members have good reasons to want to keep a level of personal privacy over their data.
Building your very own social network using SocialEngine will give you the access you need to communicate directly with your users. I think the single best selling point of SocialEngine is its versatility. You can choose from a great deal of different options to find a solution that best fits your site.
We've seen a number of patient-based communities built on SocialEngine and those members have good reasons to want to keep a level of personal privacy over their data.
In our line of work, we find that customers often look for products that will allow them to build websites without any extensive development knowledge. Exactly how customizable is SocialEngine, without the need of any coding skills.
We actually have two products that cater to different users. If you're looking for something fast and easy that doesn't require any coding knowledge whatsoever, you're looking for SocialEngine Cloud. This is a quick and easy option that does not require any coding knowledge. You have the option of editing HTML/CSS but this isn't necessary since the site comes with three beautiful themes.
PHP, on the other hand, gives you much more freedom. You can access the database and source code directly, thus giving you the option of building whatever you can code. This does require a bit of PHP coding knowledge but the code is very thoroughly commented with notes about what's happening throughout the PHP code.
FastComet: Tell us a little bit more about the SocialEngine community? How important is it for the development of the project?
Kyle Neal: The community is extremely important to us. We develop our product based on the feedback we receive directly from our customers. We want to see this community grow as the product grows so we work very hard to give our community what it wants, and when we run into things that we can't provide at the moment, we've always got a wonderfully talented group of third-party developers who are happy to help fill in any gaps.
Get Your Discount on all SocialEngine Licenses with FastComet
As a result, we are proud to announce that FastComet provides a 20% discount on all SocialEngine licenses for our clients. If you are interested in such a discount, feel free to review our SSD SocialEngine hosting packages or contact our customer service representatives to get more information about the offer.
May 16th 2018: Due to customer acquisition/support strategy differences we've discontinued our partnership with SocialEngine and the special 20% discount on all SocialEngine Licenses will no longer be available for our customers.
The latest tips and news from the industry straight to your inbox!
Join 30,000+ subscribers for exclusive access to our monthly newsletter with insider cloud, hosting and WordPress tips!