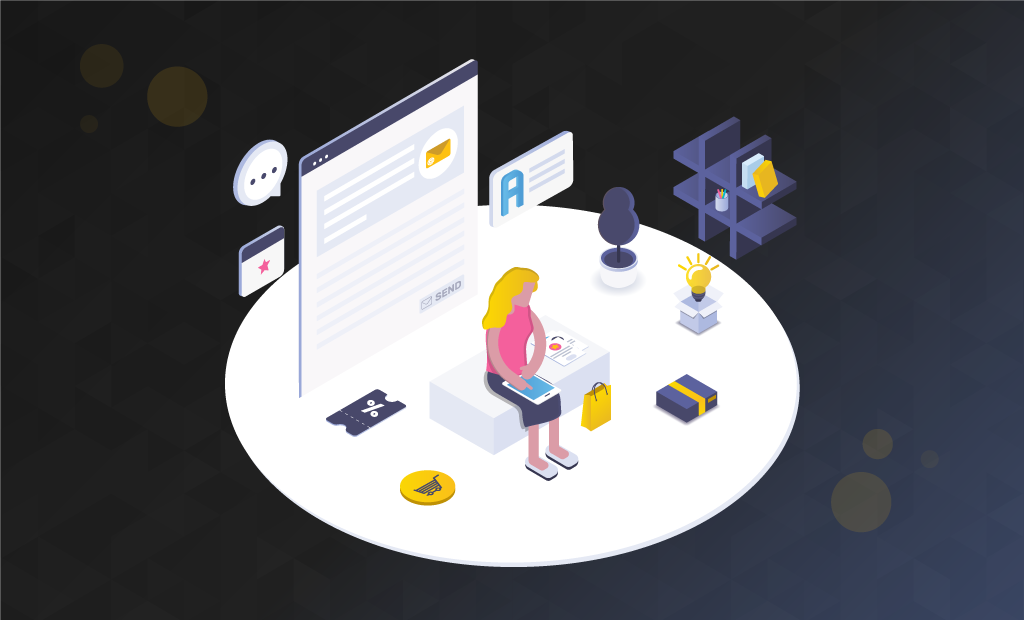 Holiday Sales Email – Tips to Make it Remarkable
It's that time of the year again—the time for you to gear up and get your holiday sales email ready for that sweet, sweet season. Holiday email marketing campaigns can be stressful. You have to plan a lot of things and be on top of all of them. Collaborating with people (especially non-verbal) is a complex challenge. Therefore you need to be prepared for all kinds of responses.
Good teamwork is crucial, and marketing teams survive only when it's present. Marketers consider poor collaboration and lack of needed technology to be the highest pain points. It's the same with email marketing.
This post is to help you with some tips when it comes to boosting your Online Holiday Sales via Email.
We are About to Cover:
The Importance of Holiday Sales Email Marketing
The Holiday Emailing starts with the Black Friday weekend, which can be an incredible boost to your overall yearly sales. What's even better, you can get that boost just by sending well-crafted emails.
With each year, the number of customers that are preparing their wallets for the holiday sales rises. This is why in 2019, you should be prepared to face the largest amount of Black Friday, Cyber Monday, and Christmas sales ever. If you want to capitalize on those crucial sales periods, you should begin planning for them early. In general, rushing such crucial tasks at the last moment is not recommended.
Keep in mind that customers will be getting an extensive amount of emails from different companies. This is why if you want some sweet click-through and visits to your store, you need to make sure that your holiday email stands out and gets opened.
Setting Your Holiday Sales Email Goals
In case you are not exactly sure where to start, think about what your goals are, and then set your specific targets. This will help you pinpoint exactly what you are aiming to achieve with your holiday email campaigns.
Your goals determine the whole purpose of the campaign. This is why you should be as specific as possible when setting them. Recognize what the overall aim of your campaign is: to increase open-rate, to increase click-rate, or to promote a special holiday discount.
To get inspiration for setting realistic goals, take a look over your own historical data from previous holiday campaigns. Look at the way your performance developed over the months leading up to the holidays. This is a great way to get an idea of the kind of KPI development to expect.
Additionally, you will be able to evaluate the overall performance after this year's holidays are over.
Boost Your Email Subscribers' List
Let's start with your email subscriber list. If you don't have one, you need it right away. It's one of the crucial factors for email marketing that will always come in handy, especially during the Holiday Season. As we mentioned, the season starts with the Black Friday weekend, which is considered the largest shopping weekend every year. This is why you need to have all the guns locked and loaded and get those massive profits when the time comes.
If people have already purchased something from you, there is a strong chance they will come back and do it again, which leads to the point—having an email subscriber list is crucial.
To boost that list, you have to improve on your offerings with urgency. Don't forget that you need to do that before you put your Black Friday discounts live. Additionally, we recommend that you change the visuals of your Holiday Season offerings, so everything looks fresh and appealing.
What's more, you can use special banners at the top of your popular pages to promote specific discounts that are only available for your email subscribers. Also, consider creating an exclusive landing page to snatch emails from your visitors. If you do that, you could direct consumers towards the target actions you wish for them to take.
Launch A Blog
In case you don't have a blog yet, you should start one right away. Marketers that manage blogs see an exponential increase in inbound leads.
The email list is often at the top of the list when it comes to drivers of traffic to content on the day it's provided. This also provides the content for your most frequent readers, which could potentially share it on Social Media. Who doesn't want extra traffic, especially when it comes to eCommerce?
Opt-in Forms
Another thing you should do is to add opt-in forms to everything. In general, people will not spend time searching for a Subscribe button. This is exactly why you should bring it to them. According to Unbounce, on-click pop-ups perform 1,147% better than exit pop-ups.
Social Media
Use Social Media as an advantage:
Make internet research about the best hours in the day to post content;
Include links to your newsletter in your bio and run ads for maximum impact;
Link content and offer giveaways to increase your reach.
Choose the Right Automation Platform for your Holiday Sales Email
Naturally, the majority of your email revenue should be generated via automated email campaigns.
With your list growing, you would not be able to keep up with manually writing emails for each and every customer/subscriber. If you want to scale—you need to automate. The benefits of marketing automation contribute directly to revenue.
In order to put automation to work, you need to start by making sure a welcoming process is in place whenever you have a new customer or subscriber. The welcome email has to be sent within the first 24 hours after signing up or subscribing. Keep in mind that doing this is definitely worth your time. Marketing statistics show that welcome emails generate 320% more revenue on average than other promotional emails.
The second thing to consider is breaking up your longer emails into drip campaigns*. Open rates for drip campaigns are higher than non-automated, one-time send emails, and the average click-through rates (CTR) for drip campaign emails are three times higher.
Drip campaign – a series of emails that are sent out on a schedule, also called automated email campaigns, lifecycle emails, and autoresponders. You create a "package of emails" that are sent at strategic times to accomplish a specific goal.
Choose a Feature-rich, Appealing Theme
Building a site is an interesting procedure because when you think of it, it's the opposite of building a house—you need to think about the interior design before you start laying the groundwork. When doing this, think about your customers and their needs. So, to choose the right theme for your e-commerce site, you have to:
Consider themes that work with your e-commerce store. Even if you have already decided to go with customized web design, it will not hurt you to learn some things about eCommerce themes, so you know what to expect from your commissioned design. When using WooCommerce, for example, you can find thousands of themes (lots of them free) that are highly customizable.
Choose a pre-designed theme. Most e-commerce websites use pre-designed themes, and people are often pleasantly surprised at how well those themes work with their stores.
Find a responsive theme. Since a lot of your customers visit your site on their mobile devices, it's essential that you have the right theme to display everything well (a responsive theme). Responsive design means that your customers get to see your website on mobile devices as well as they would see it on desktop.
Use a theme that resonates with your customers. You want your theme to be easy on the eyes, especially those looking at their smartphones or tablets. Your theme should also be easy to navigate and, of course, visually attractive.
Look for themes that are good for SEO. Search engine optimization is a function of remarkable content. That content, however, needs to be picked up by web-crawlers that look for search query answers. If you are using WooCommerce, don't forget to include the Yoast plugin in your whole package—it's extremely helpful when aiming for the best SEO possible.
Look for themes that are open to customizations. Capitalize on your theme's current customization tools. Those usually include a site identity tool, allowing you to upload a version of your logo with the size of a thumbnail (or other icons and taglines). Most themes also offer options to customize the header, background images, and footer of your site.
Look for the following non-design related features every e-commerce theme should offer:


Customer/technical support – Even if you have decent technical skills, you may need support when using specific features, or when a bug needs fixing.
Regular updates – choose a theme that clearly shows it has been updated at least within the last six months. Any kind of software or code that did not receive any updates within the last year is most likely buggy, and you should avoid it.
Begin Sales Before Black Friday Weekend
When your goal is to reach a vast audience, you should begin with your promotions before the Black Friday weekend. You need to do that because most people know exactly what they want to buy before the official season actually begins. So, by starting your promotions early, you will capitalize on selling to those people, which would most likely come back for the actual (larger scale) Black Friday sale.
With that said, you have probably figured out that the best holiday email marketing strategy is also to start early. Your potential customers will be getting a lot of promotional emails, and you certainly don't want yours to be lost in the big pile. Make sure to mention that your sales will start earlier. We actually recommend starting the Friday before Black Friday.
Test Your Holiday Sales Email Subject Lines
Increasing your email open rates can be a challenge. There are various things that could motivate your subscribers to open the emails sent from you, and you can only guess exactly what those things would be.
Nevertheless, we believe that a big factor that affects the open rates of emails is the subject line. The deciding factors for the quality of that subject line are usually intuition and experience.
Consider additional aspects such as including the words 'free', 'discount,' or 'promotion.' Adding a specific percentage in the email subject line (like 20%, for example) when you use 'discount' or 'promotion' is always a good idea. One of the biggest factors that affect email open rates is your email subject lines.
Keeping up with the intensive rush around Black Friday and the whole Holiday Sales season, you probably won't have the time to test various email subject lines. This is why you should perform two different testing options for your email subject lines. Doing that will help you measure which one is the better option.
When doing what we mentioned above, proceed as follows:
Send your first version to 25% of your recipients;
Send the second version to another 25% of your recipients;
When you have your results, send the version that performs better to the rest 50% of your recipients.
Create Urgency
Urgency is one of the most powerful marketing tools. Frankly, creating urgency has the potential to triple your sales. You may ask: How am I going to achieve such numbers?
Compelling Language
The best way to create urgency and increase sales is by utilizing CTA (call-to-action) and limited-time language. Make sure your tone is action-based and ensure a seamless experience for your customers. Also, your CTAs should not leave any doubt about the products you are offering and what the subscriber has to do next to take advantage of the offer.
In-Email Countdowns
Include countdown timers in your promotional emails and let recipients know how much time they have left until the end of sales. Additionally, tell them when specific important dates arrive. This is a more sophisticated approach to creating urgency.
With In-email countdowns, you can tick down the exact time that is left on your flash sales and also display the time remaining until the end of shipping for holidays such as Christmas. Seeing a ticking countdown clock has a particular psychological effect that often makes customers take action.
Fear of Missing Out
FOMO (fear of missing out) is a powerful marketing tactic that you can use within your words for promotion.
Try including phrases with the likes of "largest sale of the year," or "the best prices of the season." Such phrases encourage recipients (especially millennials) to start their purchasing spree before it's too late.
Re-engage Shoppers that Abandon their Carts
Abandoned shopping carts in the world of eCommerce are as unfortunate as they are inevitable. However, that does not mean you can't do anything about them. Emails are the right tool to re-engage your consumers and remind them that they forgot to finalize their purchase.
Offer discounts whenever you feel it's necessary, especially during the holiday season. Consumers tend to expect such behavior and will browse for it a lot, before taking action and actually proceeding with their purchases.
When talking about the start of the holiday season, which is Black Friday, don't forget that it offers a much tighter opportunity window for your customers.
Do not wait hours before you trigger cart abandonment email flows. Don't waste time, especially during Black Friday, when decisions are made quicker than usual.
Add Social Sharing to Your Emails
You need to make it easy for your recipients to share your emails – otherwise, they just won't do it. Emails with included sharing buttons have an exponentially higher click-through rate than those without the button.
While thinking about the button design, consider what this button would actually be sharing. Make sure that everything is clear, and consumers don't find out that they have been baited into sharing something they are not aware of. Once a customer loses their trust in their provider, they often don't go back to that provider ever again.
In general, marketers say that they managed to increase their traffic through their sharing efforts. The share button is an easy addition to your emails that offers value to both you and your customers.
Reward Your Loyal Customers
It's considered a good practice to provide rewards for your existing and most loyal customers and subscribers. Add extra incentives to ensure that most of them stay loyal to your brand.
Offer your subscribers 'early bird' discounts, free shipping, items on sale, or a combo of all these. Promote the fact that you give rewards to loyal subscribers to encourage all visitors to become a part of those subscribers. Additionally, think about rewarding long-term customers with free gifts or exclusive deals.
Rewards will help you build up your brand. It will allow you to extend your customer's lifetime value further.
Entice with a Free Shipping Coupon
If you want to sweeten the deal with your Holiday emails, consider the adored by every customer free shipping coupon. Adding this sweet feature to your already incredible bargains will make a lot of consumers go on a shopping spree.
To make sure that you are not losing money on your deal, you should calculate shipping costs and offer the free shipping code only for offers over a specific value. For example, "orders for more than $119 get free shipping with coupon code FREESTUFF on checkout."
You can either offer this coupon throughout Black Friday weekend or choose a day like Black Friday or Cyber Monday to really boost sales.
Create a Free Giveaway
People love free stuff, and thus they love free giveaways as well. This is why you should create free giveaways now and then. Naturally, you will not be offering prizes that are too substantial. The key is to make them compelling enough, while at the same time adding some conditions that need to be met (sharing your post on Social media, commenting, etc.)
A good example of such a condition would be to create a giveaway for people that have to spend a particular amount of money in order to participate in a giveaway for a $500 gift card, for example.
Since your customers are already primed to buy, this is what will eventually push them over the edge. Of course, the prize does not have to be in cash. Consider offering rewards like certain products, gift cards, or even free shipping for an entire year.
Partner with Other Complementary Retailers
This one takes more work beforehand, but can be a good way to reach new customers, while also multiplying the bottom line.
Instead of emailing your entire list, again and again, you get other retailers to email their customers about your massive sale and vice versa.
Create a list of stores that are not direct competition, but offer products that can be complementary to yours. For example, if you sell desktop configurations and laptops, collaborate with a store that sells peripheral devices like keyboards, mice, headsets, etc.
You get these retailers to email their list with your Holiday coupon codes, and you do the same for them with your list. This will result in more sales and extra customers for your business, while at the same time creating goodwill with your customers.
What's more, you could even negotiate an affiliate deal and receive a portion of the total sales coming through your link. Keep note that you will also need to pay out affiliates on your side of the deal. Think of this deal as another way to generate revenue during the most intense shopping season.
Extend the Cyber Monday Sale (the Tuesday Blowout)
The single-day extended sale can be key, especially when there are people who are late for the party. The purpose here is selling remaining items to people that missed the sweet deal.
Think of this as your final blowout sale. However, be careful not to alienate customers that already purchased from you previously. They will be irritated if you're going back on your word. For example, if you had a time-based deal ending at midnight on Cyber Monday, then you should follow up on that.
Don't get greedy to make a few extra sales. Instead, offer some of your other items for sale, or provide less of a discount.
Don't Overwhelm Your Subscribers
One of the most challenging parts of the whole email marketing picture is knowing the perfect intervals in which to contact subscribers. If you reach out too often, you can come up as annoying, which would lead to people unsubscribing. If you are not active enough, they either forget about your existence or just think of you as unprofessional and again—unsubscribe.
Most consumers prefer receiving a promotional email at least once per month, while 15% of consumers said they wouldn't be annoyed by receiving one every day, according to entrepreneur.com. The right spot is most likely somewhere in the middle (10-15 emails per month).
If you want to be more accurate about your unsubscribe rate and reasons, you will have to monitor those rates after every emailing campaign that you perform. A good way to find out how often your audience wishes to hear from you is to ask them politely.
Review Your Holiday Sales Email
When sending out holiday emails, it's always best if you stick to a simple structure. Consider adding columns to make your emails even more responsive. Additionally, try maintaining a decent 60/40 ratio when it comes to HD images and text. Make sure that your CTA buttons can be seen clearly by using a contrasting color for them.
Keep Your Message Short and Sweet
Almost half of the consumer population share the frustration of receiving too many emails. You should consider your own inbox and the struggle when you have to go through dozens of emails each day just to get the information you want.
Blog posts and articles can get away with the higher word count, your email readers will most likely disregard a mini-novel. They want to get right to the point. After a brief introduction, you should give email receivers what they are looking for, followed by a clear call to action.
Don't Forget Your Signature
You need to have a dedicated voice when emailing. This way, you will be able to stand out and be one step ahead of your competitors. People will easily identify you, even by just seeing the subject line of your emails. This is crucial during the noisy periods like Black Friday, Cyber Monday, or Christmas. Keep in mind that your competitors will most likely be doing the same.
A Quick Recap
There is no actual recipe when it comes to coming up with the best template for a Holiday Sales email. As we mentioned, the main idea is to make sure your customers instantly recognize your message. If they open it and read it when there are hundreds of other promotional emails, that's a huge win for you.
One great way to stand out is to focus on things like automation and personalization, not just your big sales announcements. Here are the key points for the holiday emailing season as a quick recap:
Set your goals;
Boost subscriber list;
Create a blog;
Choose a fitting automation platform;
Choose the perfect theme;
Start early;
Test your subject lines;
Create a sense of urgency;
Re-engage customers with abandoned carts;
Reward loyal customers;
Partner with other retailers;
Don't overwhelm the consumer;
Review your email.
Those were our tips for creating your outstanding Holiday Sales email. If you have something to add, feel free to do it in the comments. Additionally, questions are always welcome. Best of luck with your holiday sales!
The latest tips and news from the industry straight to your inbox!
Join 30,000+ subscribers for exclusive access to our monthly newsletter with insider cloud, hosting and WordPress tips!