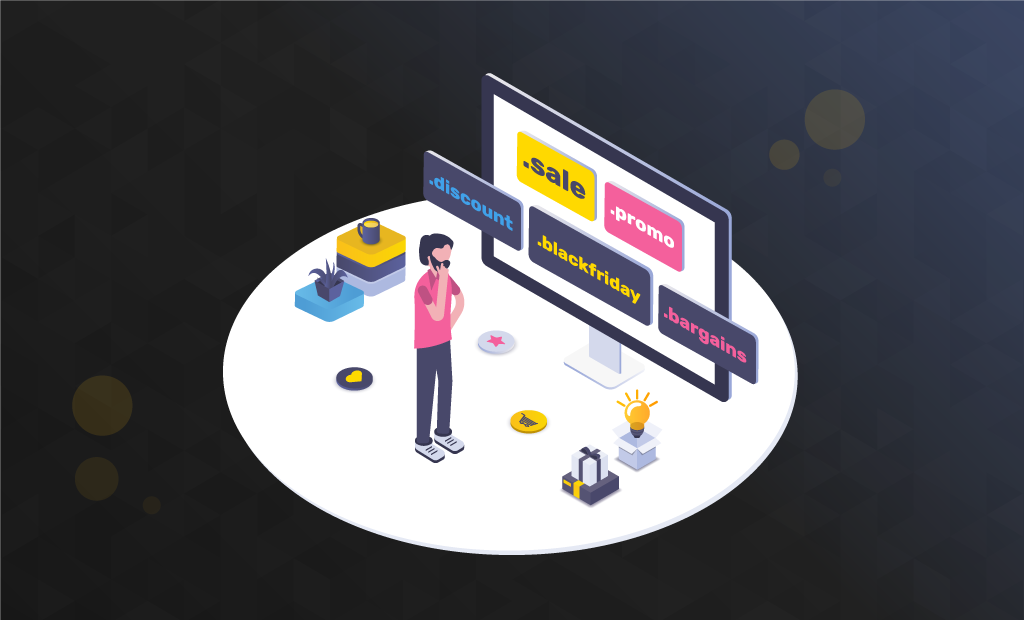 5 Domain Extensions for a Profitable Black Friday Sale
Black Friday and Cyber Monday are the most significant events for e-commerce sellers around the globe. Once you have taken care of the technical optimizations surrounding this time of the year, you should look more into increasing your exposure and revenue.
To increase your advertising capabilities for Black Friday you will have to:
Create Appealing URLs
With a separate domain for the Black Friday promotion, you will be able to also create a better looking, memorable and segmented URLs for your sale. For example, instead of mystore.com/black-friday/discounts/top-selling/fr, your URL could be fr.mystore.blackfriday, and it can contain only your discounted top-selling products (you can still include this in the metadata) plus a link to the whole website.
Use Redirects and Metadata to your Advantage
Another thing to consider is that with the help of metadata, you can add the current year for the promotion, e.g., Black Friday 2019. When the promotion is over, you can redirect that page to your homepage in case the page was posted around the internet, and users still access it. As the time for the next Black Friday promo comes, remove the redirect and change the metadata to Black Friday 2020.
Warning
Depending on your website's structure and internal linking, this can negatively impact your SEO. Always consider your individual case before creating or removing redirects to and from pages.
Of course, you can always leave the majority of the content of the page intact and just remove the prices, discounts, and purchase buttons. That way, you won't even have to do a redirect.
If you want to make the landing page your homepage, you will lose the extra information conveying the black Friday promotion. But, you will also have to redirect the original homepage. Many websites do this, and once you click – continue to the site, you get to links such as mystore.com/homepage.php.
Increase Email Open Rate
Buying a separate domain with a memorable TLD will surely bring more attention to the emails sent from it. Most users nowadays also quickly check the sender's email for signs of phishing or scam attempts, which are especially prevalent during Black Friday. That conscientiousness is excellent news if you have a great looking mail as it will solidify your promotion's legitimacy from first sight.
Top Five TLDs for the Promotion
Here is a list of the top 5 most useful promotion domains during discount campaigns:
.blackfriday
The most recognizable domain TLD during the Black Friday promotion — this extension gains more popularity each year. Instantly connected with the promotion as well as being a relatively new and unexploited extension, with .blackfriday, you will likely find your preferred domain available for purchase. Considering its exquisite origin and purpose, this is the most expensive domain on the list.
Choose a .blackfriday domain name for the incoming Black Friday sale. Available at FastComet for $130/yr.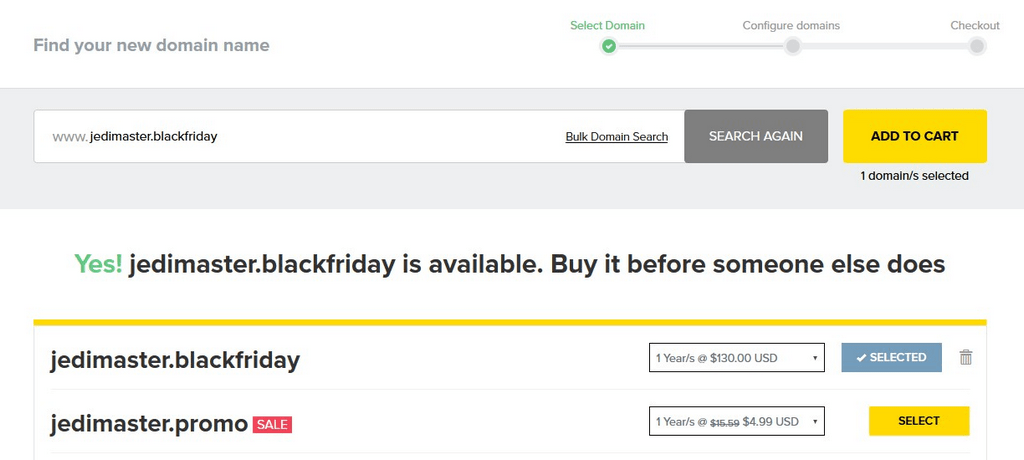 .discount
.discount is a great domain extension for promoting discounts overall. So unlike .blackfriday, you will be able to use this throughout the year, whether it is an Easter, Summer, or other seasonal discounts you are offering. In its core, the idea of a discount, especially highly anticipated ones such as those on Black Friday, is to cater to the human psychology and sequential rationalizations of missing out. Add the fact that some products which we all want to buy and are simply out of our price range can become very lucrative with the correct discount, and you will have yourself a deal.
Choose a .discount domain name for the incoming Black Friday sale, available at FastComet for $34.95/yr → $29.95/yr.
.sale
Another great top-level domain for sales campaigns .sale is the preferred choice for a lot of online retailers. Whether you offer % or flat financial incentive, the .sale TLD is the right tool for the job of promoting. Conveying the information about organizing a sale from the very start is a big drive for sale numbers.
Choose a .sale domain name for the incoming Black Friday sale, available at FastComet for $33.79/yr → $28.79/yr.
.promo
Promotional materials online are surging during Black Friday and Cyber Monday. As the internet is overloading us with advertisements, our brains can activate what is called a filter. That makes us no longer pay attention to the most attention-seeking elements of a website. However, you still instinctively look at URLs even if you skip the metadata. In such cases, domain TLDs like .promo and the rest of the extensions on this list do wonders.
Choose a .promo domain name for the incoming Black Friday sale, available at FastComet for $15.59/yr → $4.99/yr.
.bargains
A bit of an obscure extension compared to the other four in this article, .bargains is great not only for well-priced product selection during promotion days but also for hardcore deal makers. There are a lot of buy/sell websites that bolster negotiations between users about the price of an item. That is mainly seen in the secondhand market but sometimes can happen even during big sales campaigns. Nonetheless, .bargains is great in guiding visitors to potential sales, which is the main goal of this post, Black Friday and big sales in general.
Choose a .bargains domain name for the incoming Black Friday sale, available at FastComet for $29.95/yr → $14.95/yr.
Final Words
We recommend you to check your preferred name's availability for each of the domain extensions and select the one most suitable for you. We hope your strategy for the promotion period is sound and wish you a lot of success and sales in the incoming Black Friday and Cyber Monday sales.
The latest tips and news from the industry straight to your inbox!
Join 30,000+ subscribers for exclusive access to our monthly newsletter with insider cloud, hosting and WordPress tips!