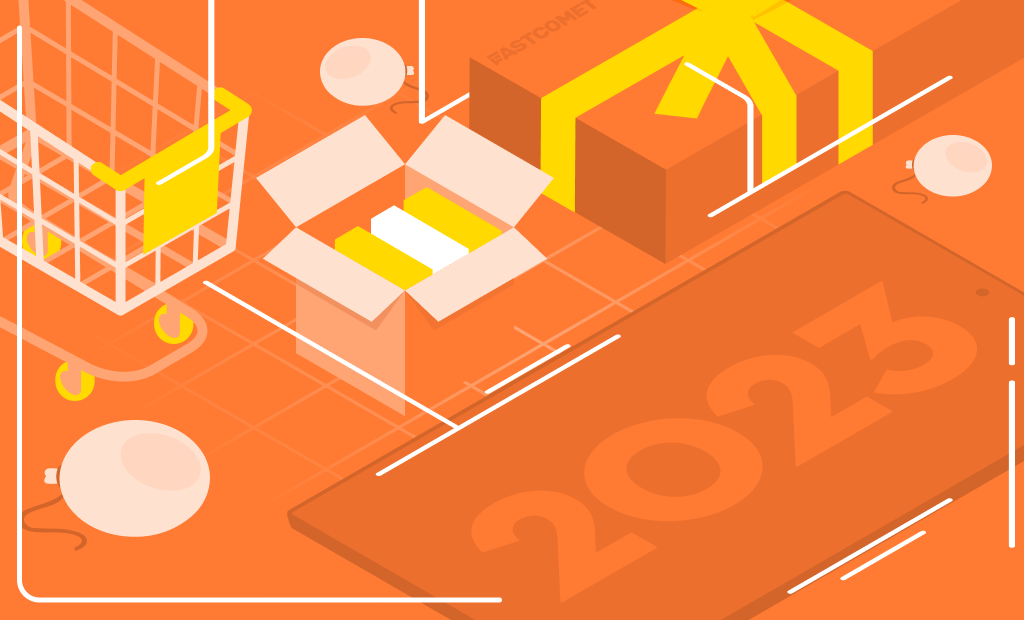 eCommerce Trends to Follow in 2023
The eCommerce sector is evolving quickly and no business wants to miss this attractive but very competitive sector. The main concern is adjusting to the current circumstances, given the intense competition. Finding the newest eCommerce trends might help solve the issues.
Some argue that our lives are gradually returning to normalcy, but neither everyday life nor eCommerce will likely ever be the same. On the plus side, despite the difficulties of adaptation, the previous few years have created several prospects for innovation in the eCommerce sector.
To keep ahead of the competition, we've compiled a list of the top five eCommerce trends for 2023 that everyone should keep an eye on. With these trends in mind, it will be much easier to anticipate the future of eCommerce and determine the path on which your company should be moving. Let's start now!
Table of Contents:
Essential eCommerce Trends 2023
Machine learning & Data Science for eCommerce
The significant role of artificial intelligence (AI) in the future of eCommerce doesn't come as a surprise. AI technology, and machine learning especially, already have a profound impact on the industry, and it will keep evolving in 2023.
Today eCommerce stores can access more information and data than ever before. There are insights into customers' behavior, what led to or prevented the purchase, how they interact with different channels, and so on. Machine learning can help retail and eCommerce companies assess this data to launch tailored campaigns and make well-informed business decisions.
Aside from analyzing large amounts of data, machine learning for eCommerce and digital marketing offers many business benefits: a boost in conversions, marketing campaigns highly relevant to the target audience, efficient inventory management, and other improvements to in-house operations.
Here are some ways to introduce machine learning and data science in eCommerce:
Personalized Product Recommendations
Knowledge about online customer needs and services is a great asset. A Salesforce report revealed that online shoppers are 4.5 times more likely to add items to the cart and buy them after clicking on a product recommendation. Machine learning allows you to identify shopping patterns and make predictions. Many eCommerce store owners have leveraged machine learning for retail to create a personalized product recommendation engine.
Optimized Pricing
Online store shoppers are usually more price-sensitive and more inclined to compare the prices with your competitors than in-store. Implementing dynamic pricing solves this issue. Machine learning can provide relevant data and readjust prices by assessing various factors, such as customer type, day of the week and time of day, competitor pricing, product demand, and so on.
Supply and Demand Management
Every online retailer must keep track of the stock to satisfy customer needs. Those needs tend to change over time, resulting in unwanted expenses and unsatisfied customers. Demand forecasting and proactive supply and demand management can be critical for online stores. By leveraging machine learning and creating an AI-powered algorithm, you can gather data to see quantitative, accurate real-time predictions about the inventory.
Augmented Reality for eCommerce
One of the biggest challenges of online shopping is the limitation of trying on and interacting with the product as you would in a brick-and-mortar environment.
Augmented reality shopping allows online customers to try on the product or see it in their homes before purchasing it. Many retailers have come out with augmented reality applications over the years to help their customers find and buy the perfect item from their websites. This trend is only going to pick up speed in 2023.
Here are three main benefits of why you should consider offering your customers augmented reality shopping:
Improved Conversion
If shoppers have a clear idea of the product they intend to buy, they are more likely to convert into customers. With the implementation of an augmented reality app on your eCommerce store, you'll be able to offer an interactive shopping experience and increase conversion rates.
Reduced Return Rates
It's nothing new that customers often return the items they bought because they are different than what is described on the website. The more likely reason for that is not being able to try on the product or see it in their home and therefore make the right choice. The implementation of augmented reality applications is proven to impact the decrease in product return rates significantly.
Personalized Shopping Experience
Instead of shopping for clothes on mannequins or models, imagine the user could see what the clothes look like on them, choose the perfect size, and get personalized recommendations. This level of customization by offering augmented reality shopping will likely increase overall sales.
Chatbots
Suppose you are running a business where the same queries overload your call centers and email, resulting in unsatisfied customers, and you're low on support service resources. In that case, you should consider investing in a chatbot.
Gartner predicted that 85% of all customer interactions would occur through chatbots by 2020. They concluded that 53% of customers would happily message rather than call a customer service agent. And $8 billion will be saved by 2022 from businesses using chatbots.
Take a look at these eCommerce chatbot examples that prove chatbots' positive impact on ROI.
eCommerce chatbot example: L'Oréal
The L'Oréal Luxe team decided to try to improve customer experience and increase brand awareness with the 'Find the Perfect Fragrance' chatbot—a helpful, fun, and easy-to-use virtual fragrance consultant. Knowing their audience, they chose Facebook Messenger as the messaging channel.
With this chatbot, an interactive experience guides users through answering several questions. Based on the answers, the bot recommends relevant fragrances from the L'Oréal online store. Soon after the launch, 75% of users reported the chatbot as 'Very helpful,' making their shopping experience much more enjoyable.
eCommerce chatbot example: TreeRing
TreeRing, an online service for creating custom yearbooks, automated the lead qualification process through a chatbot, easing the sales team's production of sales-ready leads and significantly saving their team resources. The introduction of a chatbot that chats with current and potential customers for them resulted in a 15x ROI through a 10% increase in pipeline value for TreeRing.
Sustainable and Eco-friendly Business
Sustainable eCommerce is hardly new, yet being an environmentally friendly business is especially important in 2023. The topic of being environmentally friendly has been steadily trending up over the past five years, and there are still clear benefits of going green for a business.
Due to multiple changes in legislation, countries pledging to go for 0 emissions, advancements in climate-neutral delivery, and the relevance of reusable or biodegradable packaging, the increased attention towards product characteristics and environmentally friendly order fulfillment, sustainability is becoming more and more a defining factor of how your company is perceived. It's not about good PR anymore, as the whole shift in values in society is underway.
There are multiple benefits of going green and future-proofing your business:
Improved brand image
Competitive advantage
Increased productivity and reduced costs
Better financial and investment opportunities
Readiness for future legislation changes
Advanced employee retention
Healthy work environment
You don't have to commit to ending the ocean plastic crisis right away, for example. Start with something simple! Work on optimizing your processes to ensure your business is eco-friendly and sustainable. Store goods close to your customers to shorten shipping distances and minimize the environmental impact. Showcase certificates and quality seals on products and throughout your website to attract new customers and give existing customers a good feeling about supporting your brand.
Multichannel Shopping 
In 2023, multichannel eCommerce will be the best way to reach today's customers. The popularity of online marketplaces such as Amazon is undeniable, and the number of marketplaces is increasing. For sellers, that means a range of sales channels to expand to.
Another giant that today's customers and merchants are facing is social media. Integrating shopping features across social media platforms, for example, Instagram Shopping, can be a key strategy in product discovery, brand awareness, and community building.
Research and introduce new sales channels in addition to your store for increased visibility of your products to your target audience.
Mobile Commerce
Mobile commerce (m-commerce) is buying and selling goods via wireless-handheld devices such as smartphones and tablets.
M-commerce revenue is forecasted to reach its highest level in history. In the United States, smartphone retail eCommerce sales are expected to exceed $431 billion as of 2022. Additionally, by 2025, the value is expected to have nearly doubled to roughly 710 billion dollars.
How Merchants Benefit from Mobile eCommerce Trends
Merchants may improve their customers' experiences and hence increase earnings by following eCommerce mobile trends because:
Customers may access a wider choice of products, conduct product research before purchasing, and buy comfortably from their own homes
Customers may take advantage of their shopping experience with mobile commerce with online shopping or curbside pickup
Magento (Adobe Commerce) excels in Mobile Commerce. With Magento, merchants can create immersive mobile commerce experiences using advanced web applications. Furthermore, they can build their high-performance PWAs to increase customer engagement, conversion rates, and revenue.
Social Commerce & Live Streaming
Social commerce is the act of selling directly on social networking sites. eMerchants can use social media platforms like Facebook, Instagram, and TikTok to promote and sell their items. For an instance, if you want to promote and sell your item on Instagram, you can use Instagram tools to get the most out of that platform.
When it comes to social commerce, it would be a tremendous mistake for firms shifting to social media marketing to ignore live streaming commerce. In August 2021, TikTok and Shopify, in collaboration, launched TikTok Shopping. This social commerce experience will bring in-app shopping and streamlined product discovery to the platform.
How Can Merchants Benefit from Social Commerce Trends?
According to PR Newswire, the global live streaming business is expected to be worth $247 billion in 2027. If you're already selling somewhere else, social media networks can effectively help you increase profits and revenues. If customers share or repost products, you get chances to spread your brand images to a larger audience!
eCommerce platforms builders won't stay out of the game to catch up with current trends in eCommerce. Through TikTok's partnerships, Shopify, PrestaShop, and BigCommerce are now available on the platform.
Digital Payment in eCommerce
The process of transferring money between sellers and purchasers through online payment methods or digital devices (mobile phone, point-of-sale system, etc.) is digital payment.
The evolution of eCommerce payments trends have been spurred by the shift in purchasing behavior brought on by mobile commerce & social commerce. According to McKinsey, in 2021, 82% of Americans use digital payments, which are defined as browser-based or in-app online purchases, in-store checkout using a mobile phone and/or QR code, and person-to-person (P2P) payments.
How Merchants Benefit from Digital Payment in eCommerce
The rise of online payments trends indicates that eCommerce firms should adopt new technology in the checkout process. eMerchants will have a better chance of increasing their revenue when they have a wide range of payment choices by offering e-wallets or Buy Now Pay Later as payment choices.
What is more, faster and more convenient digital payments will improve customers' online buying experiences. As a result, merchants can reduce cart abandonment and increase sales volume.
Besides, if you enable Buy Now Pay Later, customers can shop without worrying about their current financial situation. This feature will prompt customers to purchase more and thus increase average order value.
Omnichannel Commerce
The act of allowing customers to shop across many selling channels is Omnichannel commerce. Customers might look for products online and then purchase them through another channel (brick-and-mortar or other online channels).
As a merchant, you may sell and manage several channels from one location. It not only saves you time and money, but it also increases the income and profitability of your store.
How Merchants Benefit from Omnichannel Trends
Adapting with Omnichannel eCommerce trends 2022, merchants are able to boost brand awareness by displaying their items across several selling channels, such as online and in physical stores. With an Omnichannel strategy, you can make a customer's buying experience as pleasant as possible.
Each sales channel has a certain consumer base that you may use to market products to specific audiences. If segmentation and customization are done right, Omnichannel marketing can increase conversion rates. Digital retail brands can greatly enhance consumer engagement by using dynamic content based on user behavior, clickstream data, context, product recommendations, and exclusive personalized offers.
In this eCommerce trends 2022 article, we recommend LitCommerce – the Multi-Channel Selling Tool. This tool can integrate your multiple stores and let you sell and manage your store at a single place.
Sustainable Commerce
Sustainable commerce refers to businesses that use green products and eco-friendly packaging to reduce carbon emissions and employ green technology.
Although eCommerce sustainability trends is not one of the newest eCommerce trends, its impact lasts for centuries. Aside from the environmental impact, establishing eCommerce sustainability benefits the success of online retailers in a variety of ways.
How Merchants Benefit from Omnichannel Commerce
According to Retail Dive, in the next two years, there will be nearly 60% of customers willing to purchase from sustainable eCommerce brands. Thus, eCommerce sustainability businesses may take advantage of this wonderful opportunity to attract more visitors as the number of environmentally conscious shoppers continues to rise. These visitors might become loyal customers and sales could skyrocket if you use the right methods to maximize conversions.
eMerchants can also utilize eCommerce sustainability as a barometer to improve their brand's reputation. Being a long-term eCommerce business will make your store stand out from the crowd and make you have a better opportunity of standing out from the competition.
Shopify launched the sustainability fund by using Bullfrog. Historically, Shopify uses Bullfrog's credits to offset the use of energy within their Canadian campus.
Personalization in eCommerce
Personalization in eCommerce is the set of customizing personal experiences, catalog & price lists, etc… With personalization, customers can enjoy a seamless experience when they get access to what they are interested in.
How Merchants Benefit from eCommerce Personalization Trends
With personalization in eCommerce, eMerchants can deliver a personal & unique experience to customers based on their intents, preferences, browsing history, or previous purchases. By which, a seamless and personalized experience can be created. Therefore, merchants can minimize high cart abandonment.
Adobe Commerce Cloud by Adobe Experience Cloud is great for personalization. This cloud-based data solution lets you work quickly and efficiently with the same sort of frictionless UX they're striving to create for your customers.
Dropshipping eCommerce
Dropshipping is a type of retail operation in which the things sold are not kept in stock by the vendor. When the vendor receives the orders, he or she will send the shipment information to the dropshipping providers. The orders will then be fulfilled and shipped straight to the clients by the vendors. As a result, the vendor is relieved of the need to hold inventory or send things directly.
How Merchants Benefit from Dropshipping Trends
There are 4 noticeable benefits that eMerchants can enjoy:
Lower startup costs
Lower inventory management
Broad product offerings
Flexibility in selling various products
What is more, the global dropshipping market is estimated to reach $107.86 billion USD by 2026, growing at a CAGR of 6.93 percent. This means that merchants can earn substantial profit when being in this lucrative market.
WooCommerce is a good choice for dropshipping. By integrating proper dropshipping plugins, merchants can take it easy whenever they have any orders and the rest tasks will be taken care of automatically.
B2B eCommerce
Business-to-Business eCommerce, or B2B eCommerce, is the sale of goods or services via an online sales platform in which both parties are businesses. In other words, a B2B transaction occurs when one firm sells its products or services to another company.
How Merchants Benefit from B2B eCommerce Trends
Firstly, they can increase the conversion rates. The majority of purchasers set their initial purchasing decisions based on price and quality. Whether they finish the deal or not, everything largely depends on how convenient it is for them, or how they can make profits.
Applying a B2B eCommerce platform reduces the costs of running a standalone website or digital storefront. What is more, merchants can use a catalog maker to generate and manage a digital catalog, by streamlining operations.
Using a B2B eCommerce platform also reduces lost income or customer turnover as a result of order or delivery problems. Furthermore, merchants also narrow labor costs for order taking, fulfillment, and customer support, and inventory management.
LitExtension suggests 9 best B2B eCommerce platforms for B2B eCommerce trends 2022. These platforms will greatly help your business with high security, customization, wholesale & omnichannel access.
DTC eCommerce
Direct-to-Customer (or D2C) is an eCommerce strategy that allows businesses to sell items directly to consumers. This strategy eliminates the need for a middleman (such as a merchant or reseller) to get your product to market.
How Merchants Benefit from DTC Trends
Since the epidemic, D2C brands have been able to keep the ship afloat far more successfully than traditional shops. With their robust digital infrastructure, DTC businesses were able to capture sales as other merchants lost momentum.
According to eMarketer's forecast, US DTC eCommerce sales will reach $151.20 billion in 2022, an increase of 16.9% compared to 2021. Thus, businesses can absolutely take advantage of this trend to scale up business.
Affiliate Marketing eCommerce
Affiliate marketing is a type of advertising in which a company pays third-party publications (or "affiliates") to advertise its items.
Each affiliate is given a separate affiliate link. The activity will be tracked to that affiliate and they will get a commission if someone clicks it and visits your site (perhaps making a purchase or registering as a lead).
How Merchants Benefit from Affiliate Marketing Trends
Affiliate marketing eCommerce involves partnering with a more well-known eCommerce entrepreneur in your niche and asking them to sell your products to his or her audience. From that, there is a high chance that more potential customers to your website, those are willing to make a purchase!
In exchange, you'd give the affiliate a cut of the profits from each transaction he or she makes. You can compensate your affiliates using a variety of models, including:
Pay-per-click advertising;
Pay for each action you take;
Revenue Part of the revenue;
eCommerce platforms like BigCommerce or marketplaces like Amazon are great for Affiliate Marketing. To adapt to eCommerce trends 2022, merchants can integrate online stores (BigCommerce & Amazon) to optimize customer experience!
Final Thoughts
The aforementioned eCommerce trends for 2022 present numerous chances this year to stand out from the crowd, enhance customer shopping, and have a prosperous fiscal year. Take advantage of innovation by facing problems and cutting-edge technology head-on without fear.
The latest tips and news from the industry straight to your inbox!
Join 30,000+ subscribers for exclusive access to our monthly newsletter with insider cloud, hosting and WordPress tips!