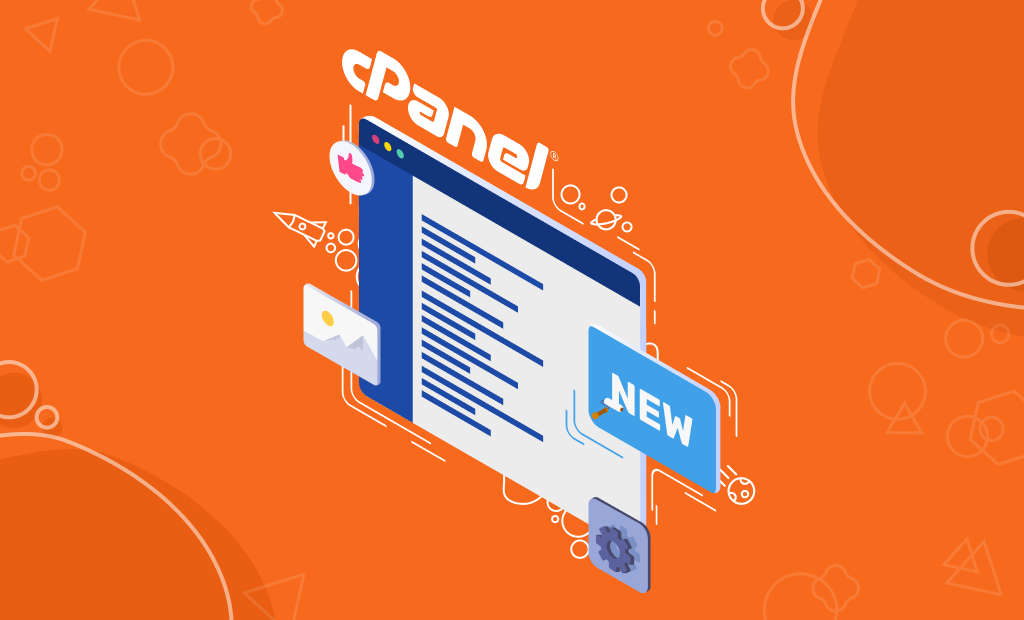 FastComet has Landed on cPanel's Jupiter Theme
Redesigning can be tricky and not always the best thing. However, that is not the case with cPanel's new interface called Jupiter. It provides a more centered look at all the tools at your disposal, as well as some pointers for both new and experienced users. Nevertheless, the Jupiter interface does not replace your well-known Paper Lantern, so you don't have to worry that you will be forced to change it. You can choose between the two interfaces and switch whenever you want. That said, we think most people will prefer Jupiter in the future, mainly because of all the convenience it provides. The goal is for all website owners to spend more time on their main priorities (their site) and less time wondering how to manage the cPanel tools.
In this post, we will present the main features of the Jupiter interface, along with some helpful screenshots. Let's begin!
Table of Contents:
cPanel Jupiter Interface Now Available at FastComet
It's not the first time that we cover cool cPanel changes and additions. The Jupiter interface is focused on being minimalistic and clear, resembling a detailed list of everything you have access to via cPanel. With Jupiter, there are no icons alongside the tools or sections in your cPanel. The theme definitely makes everything look up-to-date design-wise. Jupiter is available for all FastComet shared hosting servers. As for VPS and DS—having Jupiter available depends on the cPanel version.
If you find out your cPanel is not the latest available version and you don't have the Jupiter theme available, you can contact our technical support team via a support ticket. They will investigate and find out if there's a specific reason for your cPanel not to be updated. Ultimately, our support experts will assist you in updating the cPanel on your shared server to the latest version. As we all know, being up-to-date is always best.
Let's have an overview of what Jupiter offers and how it's different from Paper Lantern.
Jupiter Tools Page
If you are an experienced cPanel user, the Tools page should be quite familiar. It's the default home page of your cPanel, consisting of all the available tools at your disposal.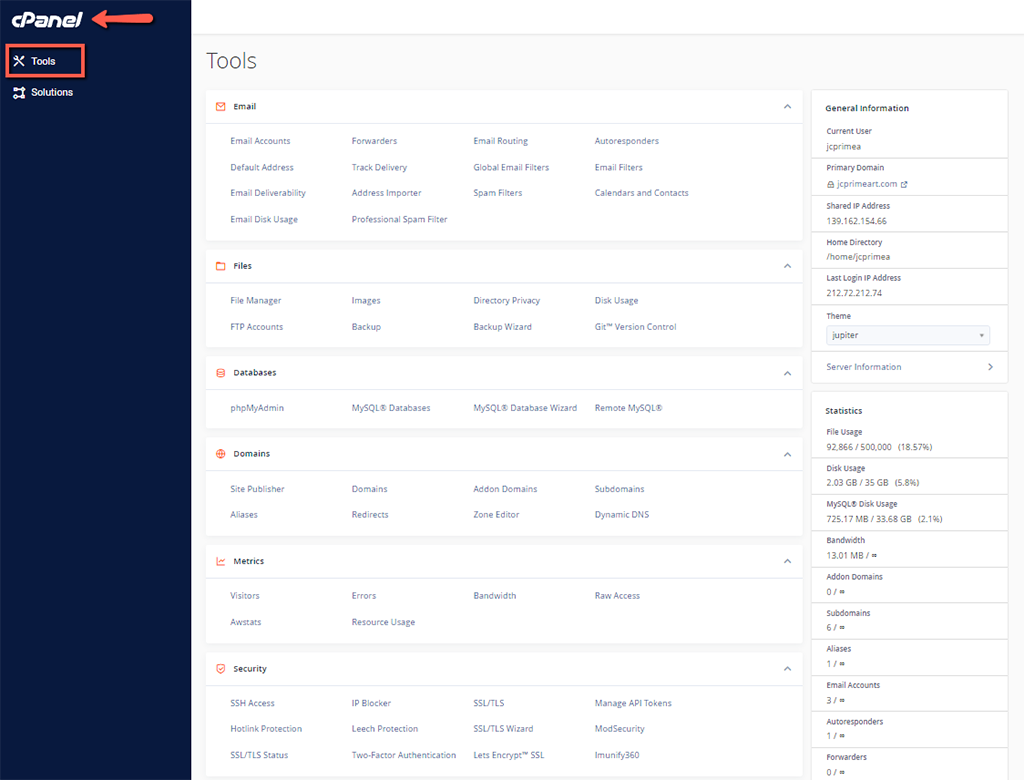 As you can see from the screenshot above, cPanel's applications are listed and grouped into various categories, similar to the Paper Lantern theme. You can also click on and drag each application to arrange them in the order you like most. On the right-hand side, you can see the General Information and Statistic panels displaying website and server information. Overall, the Jupiter interface is clear and can be considered an upgrade to the Paper Lantern theme, especially because of the Solution page, which we will cover next.
Jupiter Solutions Page
The Solutions Page is something completely new that comes with the Jupiter interface. It provides helpful information and is crafted with first-time users in mind. The page can teach you how to use cPanel effectively, guiding you through some of the most regular cases where users struggle to manage on their own. The Solutions Page may also be quite valuable to experienced users, having some quality information and answering a lot of questions.
The team behind cPanel has gathered and listed the top twenty questions that users ask the cPanel technical support. When you click on any of these questions, you will be taken to cPanel's public documentation:

The main goal is for everyone to quickly find the solution they are looking for. In case the twenty questions do not help you with that, there is additional material listed in the form of video tutorials, forums, and cPanel University.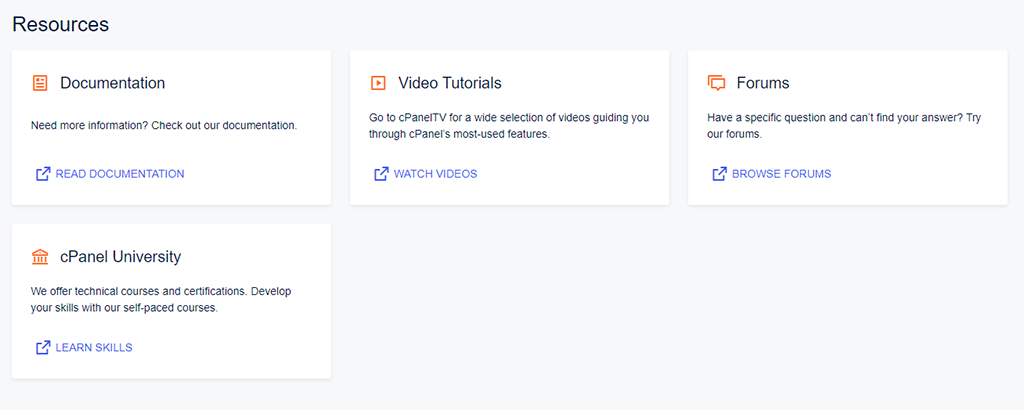 Additionally, there is a header at the top of the Tools page and the Solutions page that features a search bar, which is natural for every interface nowadays. That search bar allows all users to find whatever they are looking for within the cPanel Jupiter interface.

Furthermore, there is a drop-down menu right next to your cPanel account name. It allows you to access Account Preferences Password & Security, Change Language, Contact Information, Reset Page Settings, Log Out, etc.: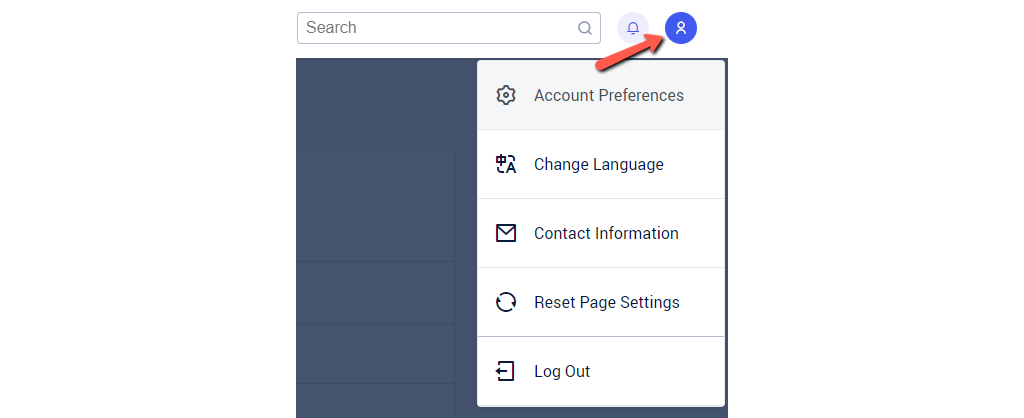 cPanel also provides a thorough overview of the cPanel Jupiter interface. Feel free to go over it if you are looking for details around the new theme.
cPanel's Future Plans for Jupiter
The Jupiter interface is far from complete. There are some bright ideas in the works regarding the Solutions Page, Guided Solutions, and Customization.
The Solutions Page
The current state of the solutions page is just the beginning of its development. The team behind cPanel say they have lots in store to make the interface better than ever.
Guided Solutions
Nobody can argue that cPanel is quite robust and can be seen as complex. The interface of cPanel can overwhelm first-timers with its many options. Even as an experienced user, you may choose to stick with the things you know best and never try any of the other tools that cPanel has available. The Guided Solutions that the Jupiter interface offers will expand to allow all users access to thorough information about some of the most advanced tools.
Customization
The plans here are to set up a new style of architecture. It would give us, the hosting provider, an easier way to customize the color palettes and theme itself, without having to rely on complicated style overrides and custom CSS. Some additional options will give hosting providers (and resellers) the option to:
upload custom logos;
change the color palette;
add common questions to the help section;
link their own documentation and videos;
add resource links.
All these efforts are to make cPanel easier to use with the goal for users to be able to focus on what matters, like site building, content creation, and marketing.
How to Switch from Paper Lantern to Jupiter
That's easy—all you have to do is go to the drop-down menu in the right-hand menu above your Statistics in the Paper Lantern interface and click on "Jupiter":

Done! Switching back is similar; the drop-down menu is positioned in the same place when using the Jupiter interface.
Final Words
Change can be something good, as it is in the case of cPanel's new and improved interface. Don't hesitate to switch to it and try it out. As you can see, even if you don't like it, you can easily come back to Paper Lantern. However, what's not to like? It's an expansion that will keep expanding, making sure everyone gets all the help needed when it comes to managing their cPanel.
We like the cPanel Jupiter interface. How about you? Share your thoughts in the comment section.
The latest tips and news from the industry straight to your inbox!
Join 30,000+ subscribers for exclusive access to our monthly newsletter with insider cloud, hosting and WordPress tips!