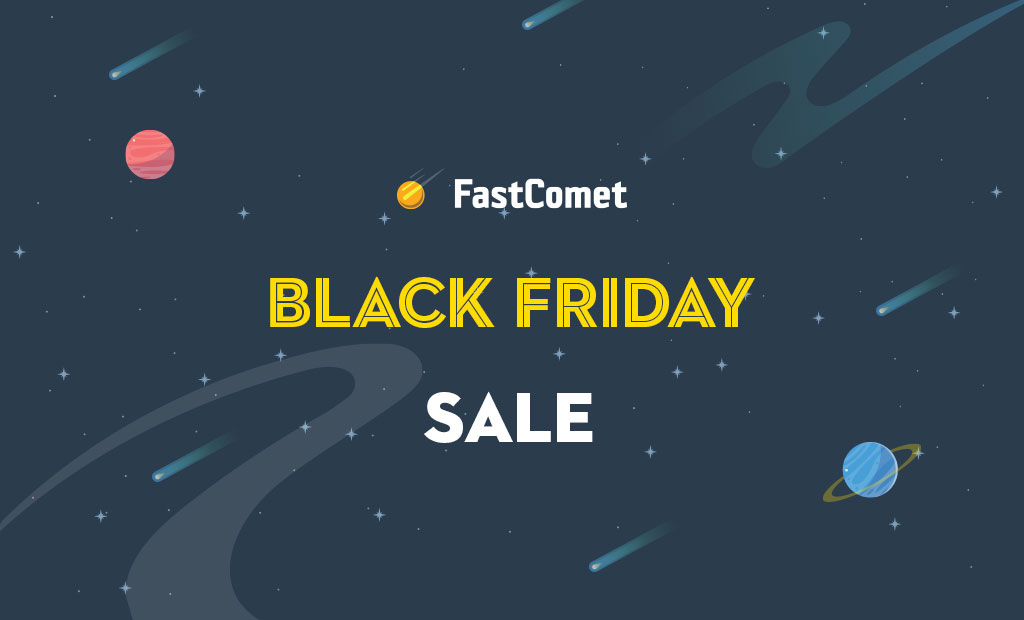 Black Friday/Cyber Monday Otherworldly Promotions!
Get your bags ready and shopping mood on because it's time for a FastComet Frenzy with tons of Black Friday and Cyber Monday discounts, exclusive deals, and offers you simply can't let pass you by!
Note:This article is in reference to the 2018 Black Friday/Cyber Monday Promotion. Looking for a new promotion or deal? Get help choosing or finding your offer on our LiveChat!
Overhyped?
While Black Friday itself starts on Friday, November 29 – we know that most of you have been eagerly waiting for this time of year to punch down on all of the top deals of the year. Tune in to the Early Access promo as early as Wednesday, November 21st!
Save 75% off all New Shared plans with promo code: BFSALE75
Save 30% Off all New Cloud VPS/Dedicated CPU Server Plans for monthly and quarterly periods with promo code: BFCLOUD30
Can't Make it on Friday?
Don't worry! Our Cyber Monday Sale is on, so don't miss out our lowest prices of the year!
Save 70% off all New Shared plans with promo code: CMSALE70
Save 30% Off all New Cloud VPS/Dedicated CPU Server Plans for monthly and quarterly periods with promo code: CMCLOUD30
Don't Let Your Website Blackout on Black Friday!
Of course, we have no intention to leave anyone out on the festive spirit, and we have prepared the top-notch deals for our existing customers. Be ready for the holiday cyber sales rush this Black Friday & Cyber Monday by taking part in our top promotions and deals!
As you may know, our Observer performance monitoring system collects statistical information regarding all running processes and organizes the events that occur on the server to maintain perfect stability within the environment. Through the Observer system, each shared hosting package is attached to the greater chain and is kept up to par with what the newest updates, quick patches, and tweaks are.
But with great resource usage, comes great server CPU load, the need of RAM, creation of Inodes, filling of disk space, generation of bandwidth, large emails, growing databases and overall outgrowing of your current hosting package.
With that being said, our current promotion is the absolute best time to take that step up in the hosting ladder and upgrade your hosting package so that you know you will make the most out of this year's online shopping festivities!
Get 25% OFF when you upgrade your account to a more powerful plan with promo code: BOOST25
Don't Forget the Domain!
The standard .com extension is great overall due to being the most popular and recognizable extension on the internet. However, during the Black Friday Promotion, we offer a few other great extensions which can help you increase your exposure and generate more sales:
Additionally, if you want a domain with a more traditional TLD that is also on promotion, consider those:
.co – $12.50 → $6.95/yr.
.biz – $8.95 → $4.95/yr.
.eu – $7.95 → $3.95/yr.
.us – $7.95 → $4.95/yr.
.info – $12.95 → $5.95/yr.
Grab your deal before it expires!

If you have any questions, our team is standing by to answer them on the LiveChat. You can also feel free to email us at [email protected].
Reload Your Budget, on the Budget
Well, what if you are already on the recommended package based on your current needs and don't need another package or upgrade but still want don't want to miss out? Come and renew an eligible existing shared hosting service that is up for payment and we'll take 25% OFF the renewal invoice.
If you would like to take advantage of this excellent offer, simply contact our Sales team via our Live chat, detailing the service you would want to renew. We'll do the rest!
The renewal discount will apply to the cost of the base hosting plan only and does not apply to any add-ons that you may have associated with the service. The renewal offer applies only to hosting services and does not apply to the renewal of domain names.
Don't miss out, tune in!
The latest tips and news from the industry straight to your inbox!
Join 30,000+ subscribers for exclusive access to our monthly newsletter with insider cloud, hosting and WordPress tips!