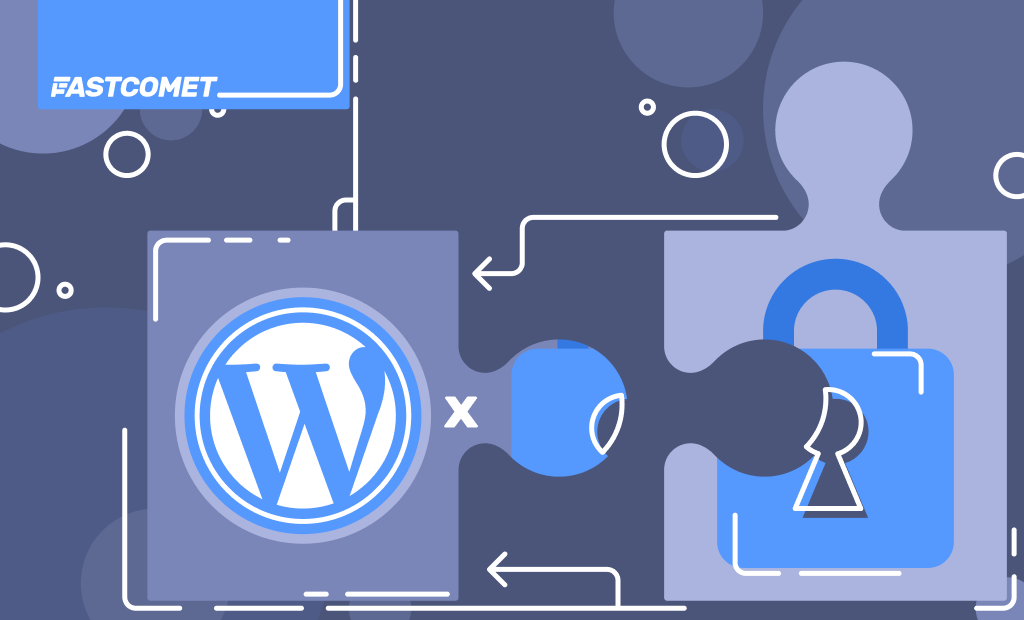 Best WordPress Security Plugins
Every website owner should know that ensuring their website's safety is essential. WordPress may already be quite a secure platform, but security problems usually come from using external themes and third-party plugins or add-ons. Those can compromise your site and make it vulnerable to outside hackers. When that occurs, the plugin or theme developers typically push updates to patch vulnerabilities.
However, there's always the chance of other threats that can be missed, which may lead to your site being exposed to further attacks. Malicious hackers all over the world are constantly looking for loopholes to intervene in the security system of websites. Thus, you need the best WordPress security plugins for your website.
The list below will give you a clear idea of the best WordPress security plugins. Once you are done with the article, you will be able to pick the right plugin and maximize your security. Let's dive in!
Why You Should Care About Web Security
It can be difficult to get excited about security, especially when you are witnessing the growth of your business and your website is doing great every month.
As a business owner, the risk for you is colossal, especially when your business is no longer in its early stages. Losing everything you have managed to build over the years within a few seconds is definitely something to avoid. Even if you have multiple and frequent backups of everything and you can restore the website, there will be a period where your business is at a silent halt. That halt will lead to customer complaints and anger, which is hard to fix and can have a snowballing effect.
In other words, it's highly recommended that you act before it's too late. Ensure your business is safe and secure by choosing the proper security plugins for your WordPress site. Let's continue with the actual list of plugins.
Sucuri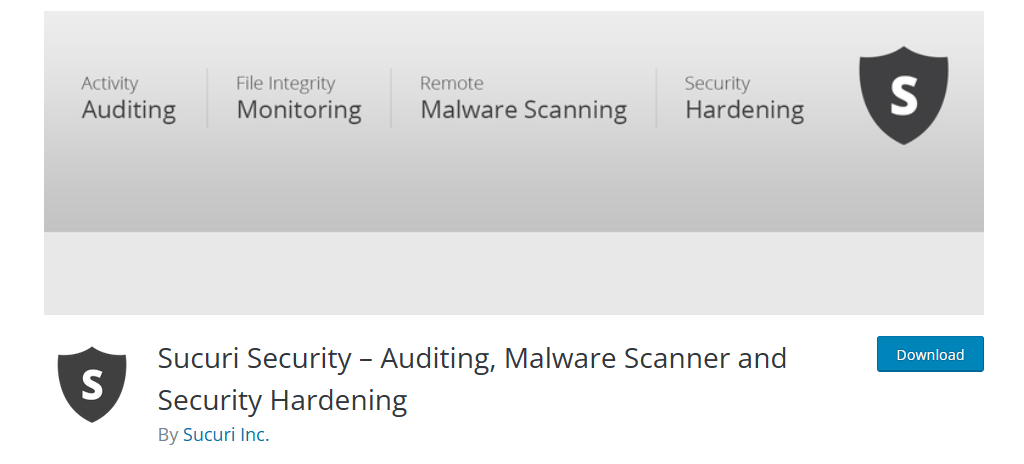 Sucuri is an industry leader in cybersecurity products and services, particularly in WordPress security. They offer a free Sucuri Security plugin that provides a comprehensive overview of your website's security-related aspects and helps you harden WordPress security. The paid plans offer the best WordPress firewall protection, which includes a DNS-level firewall with CDN that speeds up your website and gives you a performance boost. The firewall also blocks brute force and malicious attacks from accessing WordPress, filtering out bad traffic before it reaches your server. Sucuri also provides a scanner that detects malware, errors, outdated code, and blacklisting status.
However, the scanner is a remote tool that can only find vulnerabilities in your WordPress website pages and not scan your core files that control your site's back end. To access virtual patching and hardening, DDoS protection, CDN performance optimization, signature detection, and bot blocking, you must pay for Sucuri's web application firewall service. The most significant benefit of Sucuri's service is that they offer to clean up your WordPress site if it gets affected by malware at no additional cost. They can even clean up a website already affected by malware for you.
Sucuri plans range from $9.99 to $499.99 annually, with the extra option of a higher-priced tailored plan for your needs.
Wordfence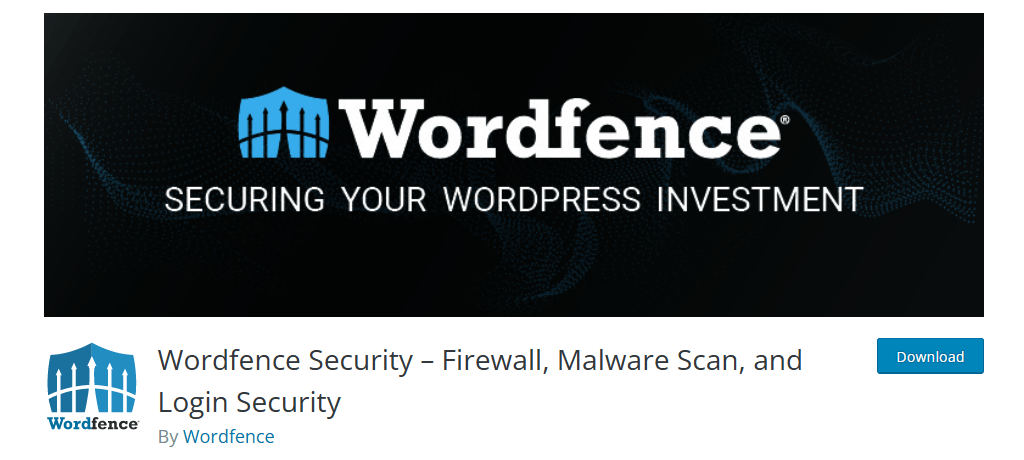 Wordfence is arguably the most mainstream security plugin for WordPress that offers a range of security measures and tools to protect your website. Its free scanning tool regularly audits your core files, plugin files, theme files, posts, and comments for suspicious code, incorrect URLs, and spam. It will alert you if it detects a threat, vulnerability, or corrupted file.
Additionally, the free version includes a website firewall for keeping bots off your site, login attempt limits to stop brute force attacks and live traffic monitoring that tracks who is visiting your site in real-time.
The premium version of Wordfence includes comment spam filters, country blocking, remote scanning, two-factor authentication, and premium customer support. It also offers a Web Application Firewall and an IP blacklist feature that protects your site from malicious web traffic.
The malware removal is integrated into the plugins and themes, which is particularly relevant for WooCommerce users. Moreover, the plugin has login security features like two-factor authentication and remote authentication to safeguard your site against brute-force attacks.
One limitation of Wordfence is that its firewall still operates on the server side, unlike platforms like Sucuri, which have cloud-based firewalls that do not consume resources from your hosting plan. Nonetheless, Wordfence is a reliable security plugin with millions of downloads that offers comprehensive security measures and tools to keep your website secure and has stopped over 9 billion attacks worldwide so far.
Wordfence's premium plans range from $119 to $950 per year, depending on how support-heavy you want to go and how much assistance you need with the plugin's configuration.
iThemes Security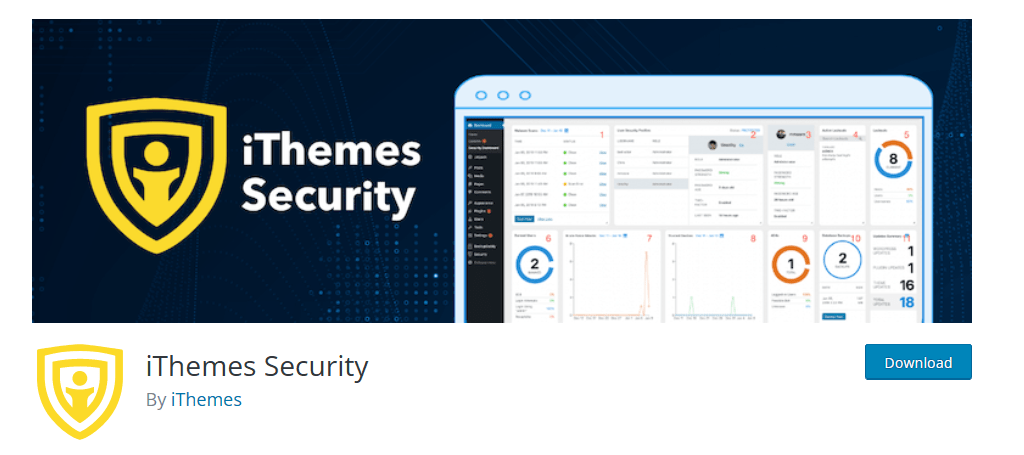 iThemes Security is a widely used security plugin for WordPress that offers both free and paid versions, which also got into our Top WordPress Plugins of 2022 list. With over 1 million users worldwide, the free version provides malware scans powered by Sucuri SiteCheck and sets various security requirements to prevent brute force attacks. It also includes features such as changing the WordPress database table prefix and wp-content path, blocking problematic bots and spiders, and backing up your database.
For more advanced security, the iThemes Security Premium version offers additional features like file change detection that can detect malicious code installed on your site and 404 detection that blocks bots that generate multiple 404 requests on the server. This version also provides online file comparisons, which scan file origins to determine whether any changes are malicious. Still, this feature only works for WordPress core files, not plugins and themes.
Overall, iThemes Security is a comprehensive plugin with various unique and helpful features. There are too many features to mention here, but you can visit the iThemes website to learn more about them.
The paid plans range from $99 to $299 per year.
Jetpack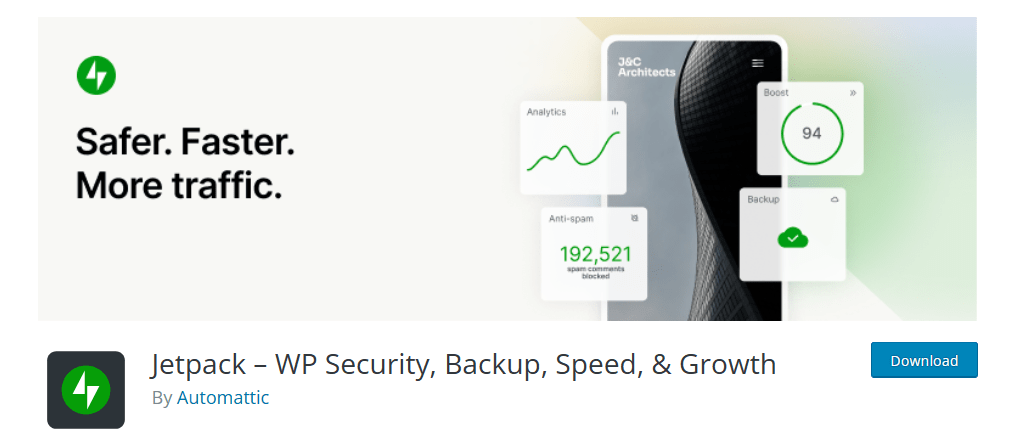 Jetpack is a highly-regarded plugin for WordPress that offers an easy all-inclusive solution for site security, performance, and content management. Its free version provides spam and malware blocking, brute-force login protection, activity logs, site stats reporting, and plugin auto-updates. 
Upgrading to the Premium plan gets you daily malware scans, priority support, real-time site backups, and restoration with one click, eliminating the need for a separate backup plugin.
Other features include plugin updates managed through Jetpack, downtime monitoring, and a suite of features for email marketing, social media, site customization, and optimization.
Jetpack's suit starts at $9.50 per month, with additional fees for any extra features you want to add to the basic plan.
WP Activity Log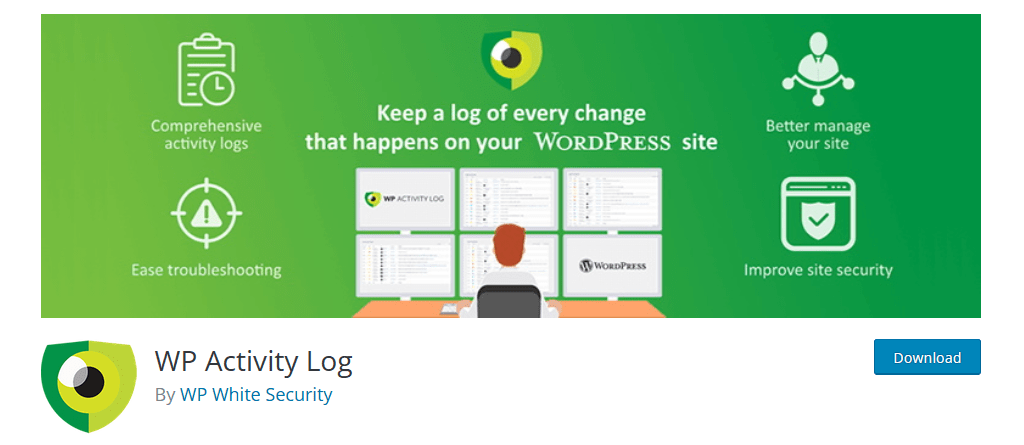 WP Activity Log specializes in activity monitoring and enhancing website security. The free version generates logs of all processes on a website in real-time, logging everything from metadata to custom fields and URLs to titles. The paid version focuses on providing high-quality activity monitoring to notice suspicious activity and stop attacks before they occur. 
This tool logs changes made to a site, which can simplify general troubleshooting and productivity monitoring. The premium version offers additional features, such as the ability to see who is logged in and log users out with one click, making it a valuable tool for enhancing and enforcing member/role security.
WP Activity Log's plans for single-site licenses range from $99 to $199 per year. You can get up to 25 sites covered, but that will cost you additional few hundred dollars per plan.
MalCare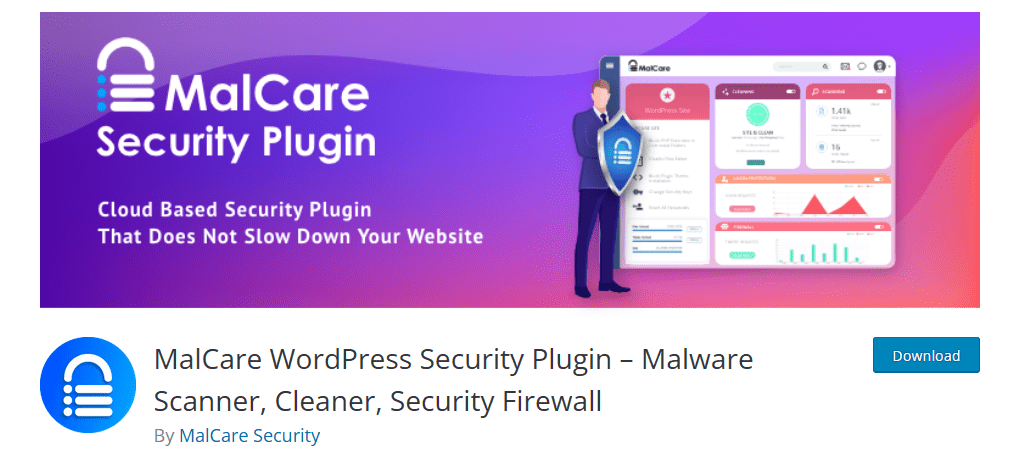 MalCare is a cloud-based malware scanning plugin that offers bot protection and checks your entire website for issues, including problems with plugins and risky IPs. It's designed to be lightweight, so it won't slow down your website like some bulky malware scanning plugins out there. One of its standout features is that it alerts you when your site goes down, giving you enough time to respond to an attack. 
MalCare uses data from thousands of websites to identify potential threats and comes with a one-click removal tool for easy site cleanup. It can negate even the most sophisticated threats in under a minute without manipulating your clean files. MalCare's algorithm can detect potential hazards to your website, and it goes on to block them in real-time. It gets up and running within a minute and can instantly remove malware manually or automatically from your site, depending on your preferences.
Malcare's premium version costs $99 to $299 /yr for a single website, but you can also choose from the "3-Site" and "10-Sites" support packages.
Defender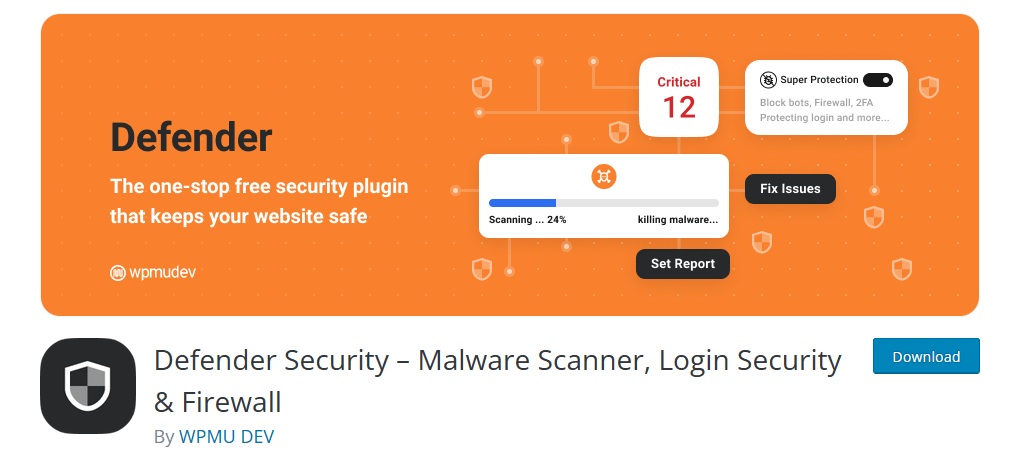 Defender is a WordPress solution that has a solid million downloads under its belt and shows great promise. With an impressive range of security features, Defender offers firewall protection with IP blocking for free, just like Wordfence. Its free version also includes the following:
Malware scans.
Brute-force login protection.
Notifications for threats.
Two-factor authentication through Google.
Upgrading to Defender Pro offers additional features such as scheduling automated scans, in-depth reporting of security issues, and enhanced support. Memberships also grant access to all other premium WordPress plugins made by WPMU Dev.
Defender Pro pricing starts at $7.50 per month.
WPScan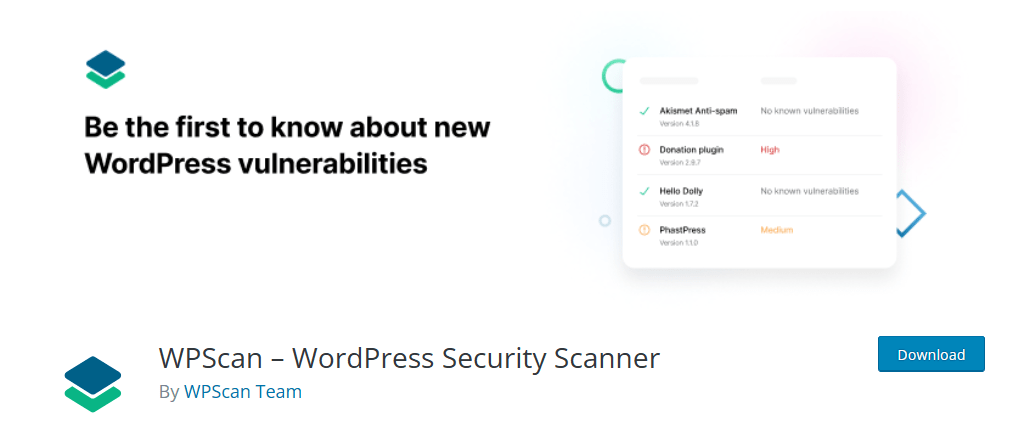 WPScan is a unique WordPress security plugin that uses its own manually-curated vulnerability database, updated daily by security specialists and the community at large. Its database includes over 20,000 known security vulnerabilities in WordPress plugins, themes, and core files. You can also schedule automated daily scans and email notifications of the results. 
WPScan has a free API plan that should be suitable for most websites, but it also has paid plans for users who need more requests than the average. Additionally, the plugin has other security checks, such as scanning for exposed debug log files, backed-up wp-config.php files, users with weak passwords, and more. This plugin is a good choice if you're looking for a scanner that can detect malware, malicious IP addresses, and files.
WPScan's paid version is quote based, depending on your specific API request needs.
SecuPress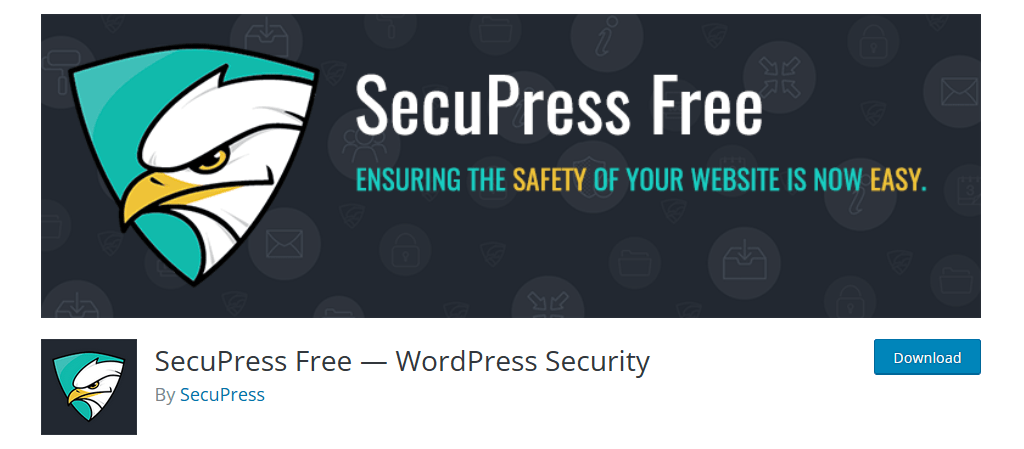 SecuPress is an excellent security plugin that focuses on blocking malware and viruses. It is created by Julio Potier, one of the original co-founders of WP Media. The same WP Media that developed WP Rocket and Imagify – both of which managed to get into our Top WordPress Plugins of 2022 list. 
SecuPress plugin has a user-friendly interface and is easy to use. The free version offers anti-brute force login, IP blocking, firewall, security key protection, and bot blocking. The plugin also provides malware scans that can detect suspicious activity and prevent intruders from accessing your site.
The premium version includes alerts and notifications, two-factor authentication, IP geolocation blocking, PHP malware scans, and PDF reports. The plugin makes 35 different security checks and even the option to change your WordPress login URL so that bots have a harder time finding it.
SecuPress Pro prices start at $59 per year per site, and it drops if you opt for 5, 10, 25, or 200 sites.
Blackhole for Bad Bots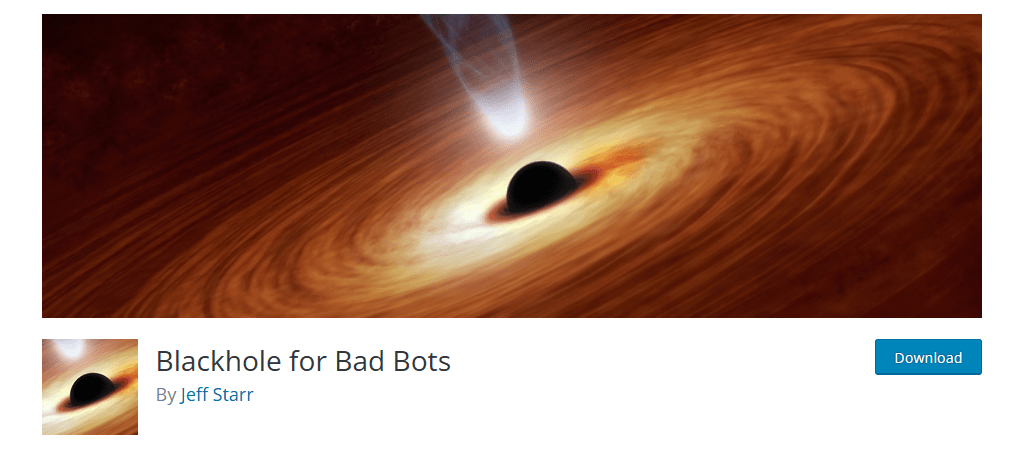 As a bonus, we have added this particular WordPress security plugin because some of us have used it extensively, and it just works so well on a consistent basis. Also, the entire plugin is built around something that many security plugins fail to address – bad bots.
Blackhole for Bad Bots is a helpful tool that prevents bad bots from wasting server resources and protects your site from their harmful activities. It works by adding a hidden trigger link to your site's footer and then including a line in your robots.txt file that forbids bots from following the link. Bots that ignore this rule and click on the link will be trapped and denied access to your WordPress site. This "one-strike" rule ensures that bots have only one chance to comply with your site's rules, and failure to do so results in immediate blacklisting. 
The best part is that the Blackhole plugin only affects bad bots, so regular users will not see the hidden link, and good bots will follow the "robots" rules without any issues.
Prices for the paid version range from $30 to $280 for a lifetime plan depending on the number of sites you intend to cover.
Conclusion
There are a lot of quality WordPress security plugins to choose from. The abundance of options and features in each can make selecting the right one for your website seem daunting.
Whether you opt for an all-in-one security plugin like Sucuri or use a combination of tools like Blackhole for Bad Bots and WP Activity Log, it's not as hard to find a good shield for your website against attacks from the outside as it was a few years ago. We recommend going with a board security solution like Wordfence and adding another specific plugin if you have a problem with a particular feature or see new vectors of attack that your current security solution needs to cover.
If you have a different WordPress security plugin that you fancy, feel free to add it as a comment. Any questions regarding the post are also always welcome.
The latest tips and news from the industry straight to your inbox!
Join 30,000+ subscribers for exclusive access to our monthly newsletter with insider cloud, hosting and WordPress tips!