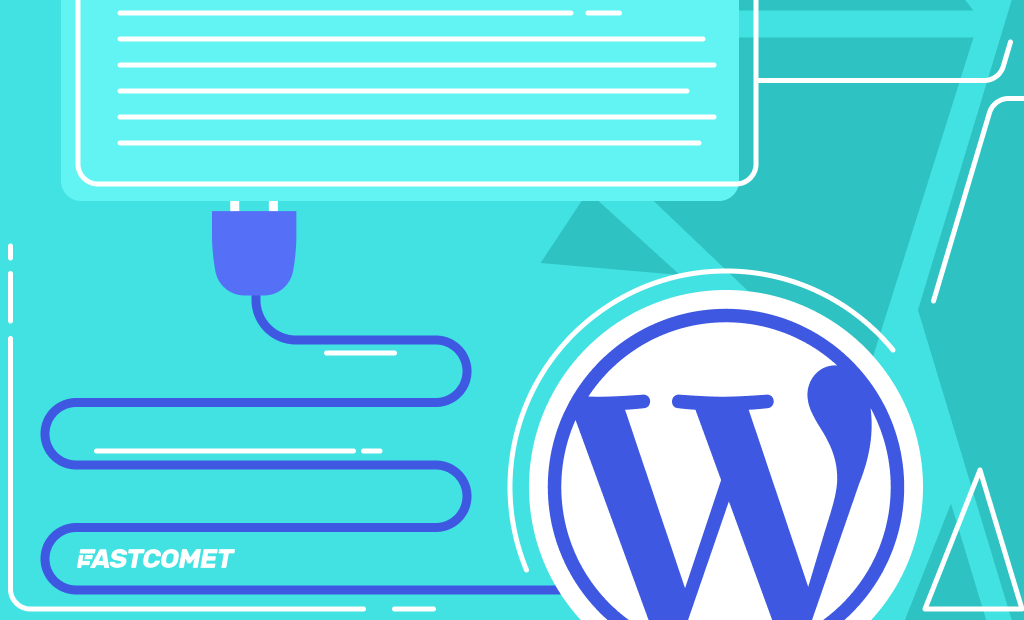 Top WordPress Plugins of 2022 (Part 1/2)
Choosing the right WordPress plugins for your site can be daunting. That's because of the sheer amount of free and premium plugins on the market and the amount of information surrounding them. Those factors often lead to people putting hours into researching before deciding on the best plugins for a personalized website. So, to wrap up the year today, we will be going over the most requested WordPress plugins in 2022.
So, if you need help finding the best WordPress plugins — you're in luck! This post contains the first part of a collection of plugins that will save you some research time. We included a wide range of the best plugins of the year to save you time and ensure you have the most crucial ones installed on your WordPress website. The plugins we're going through will surely add most of (if not all) the needed essential functionalities to your site.
Table of Contents:
Things You Should Know about WordPress Plugins
If you are a WordPress beginner, let's first cover the basics. If you already have a long-term relationship with WordPress, feel free to skip this part.
What is a Plugin?
A plugin adds new features to a WordPress site without requiring coding knowledge.
There are two ways to get free plugins:
Whichever option you select, the same plugins will appear.
Some plugins are of higher quality than others. To avoid any inconvenience (plugin conflicts, bugs, site crashes, etc.), we recommend that you follow the instructions below when making your selection:
Consider the total number of active installations. Generally, the higher the number, the better (i.e., the more likely they are to work correctly). But be cautious: this is not always the case. More secure plugins that continue to perform well can be found.
Examine user feedback. It's a good sign when you get positive feedback. On the other hand, if a plugin receives a lot of criticism, think twice before installing it.
Examine the frequency of updates. You should be looking for regularly updated plugins that are up to date with all security and compatibility features. Many plugins are developed by volunteers who only sometimes have the time to maintain them regularly. Having such plugins may leave you vulnerable to security and performance issues.
Check if the plugin you want is compatible with your WordPress version. However, put less emphasis on this criterion. It will likely work even if it is a few minor releases behind. Just make sure it did not miss a major security release.
Check to see if users receive responses to their support questions.
Free plugins that are not listed in the official directory should be avoided.
What are the Differences Between a Paid and a Free Plugin?
Why pay for a plugin when there are thousands available for free? Right?
Even though premium plugins are more expensive, they also provide benefits that free plugins do not, such as:
Dedicated assistance (support), usually for six months or a year. If you are a beginner, it can assist you in correctly configuring your plugin. Developers are not required to do so with free software.
Regular updates, which frequently coincide with new WordPress versions. The developer is not required to update a free plugin (they may have created it in their spare time).
Additional features. Many plugins are free to download from the official directory. To get more options, you must upgrade to their paid version.
At first, you may be reluctant to invest in plugins. But, when you look at the time it can save you, the choice is suddenly effortless. And above all, going premium means supporting and encouraging a team to continue to care for the product it develops.
How Many Plugins do You Need on a WordPress Website?
WordPress users frequently ask this question: how many plugins should you install at most?
There is no set number of plugins that should not be exceeded, even though the more plugins you have, the more likely you are to have a bad experience down the line.
The most crucial factor is the caliber of the plugins you employ. In other words, having 40 well-coded plugins is preferable to having ten plugins that cause incompatibilities and bugs.
If your site is slow, it may not be because you have too many plugins installed but because they need better code.
List of The Best WordPress Plugins for 2022 (Part 1/2)
Before we get into the matter, please keep in mind that we chose the plugins listed below because we believe they can/should be installed on any type of website (store, blog, portfolio, etc.).
Check out our list, but only install some things on it: if you don't need a slider, a multilingual site, or email marketing, save our recommendations for later.
However, do not overlook the most important ones, namely the plugins that concern:
Safety and security;
SEO;
Performances;
Backups;
Keep in mind that the order of presentation of the plugins could be more strategic and hierarchical. All plugins in that list can be considered top-quality. So read carefully until the end to get all the information.
Note:
Let us remind you that the list will be split into two separate posts, so you should stay tuned and regularly check our blog for updates.
You will see that we will talk about free WordPress plugins as well as premium plugins. Let's start with the list!
Yoast SEO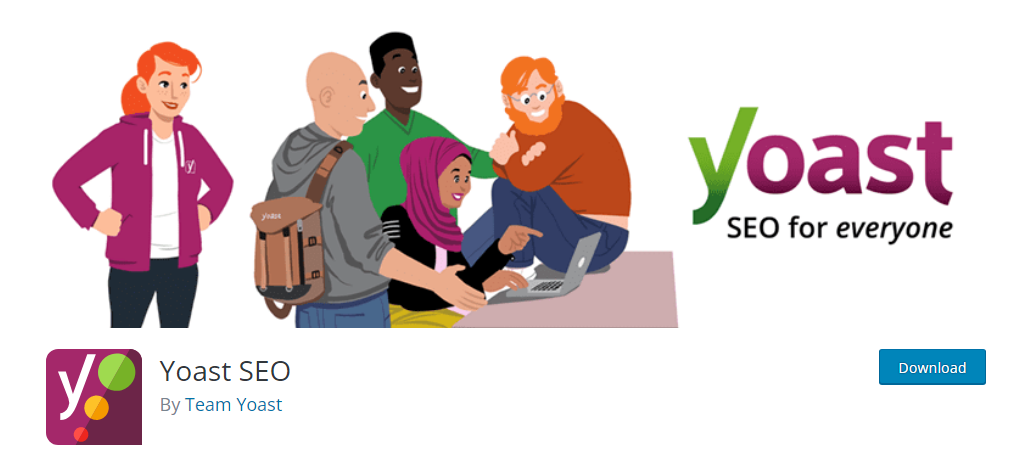 Active installations: 5+ million
Even if you've just dived into the world of WordPress, we're sure you know about Yoast SEO. This is the most popular SEO plugin and one of the ten most downloaded plugins.
Yoast is famous for its red, orange, and green traffic lights and allows you to optimize your site's SEO (Search Engine Optimization). That's essential if you want to appear on the first page of Google, Bing, Yahoo, etc.
You can use the plugin to define your title and meta description tags, create an XML sitemap, and even configure your content types.
Yoast's free version is more than adequate for SEO work. Be aware that there is an $89 premium version for use on a single site.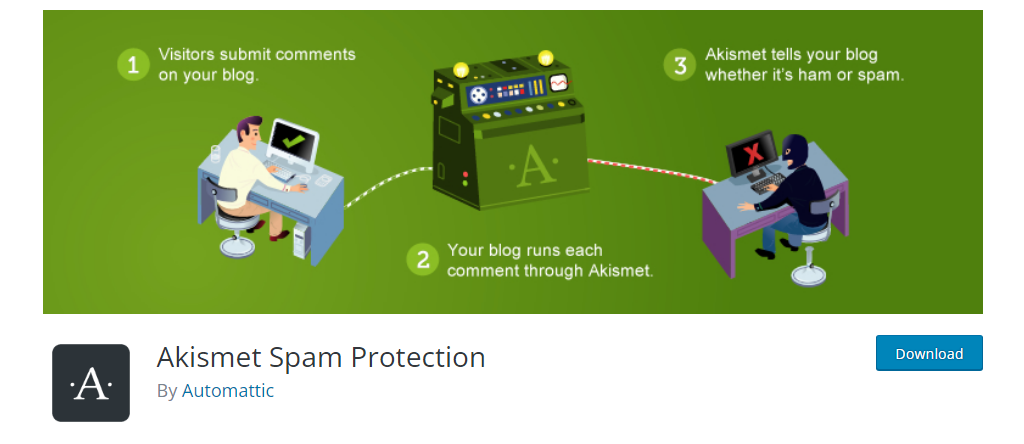 Active installations: 5+ million
Akismet allows you to filter out comments that appear to be spam. For example, comments that have nothing to do with the content you've published. And believe us when we say that it saves time and energy.
The plugin is free (Akismet charges when creating a commercial site) and installed on all new WordPress installations by default. Activate it by entering an API key to make it work.
WP Rocket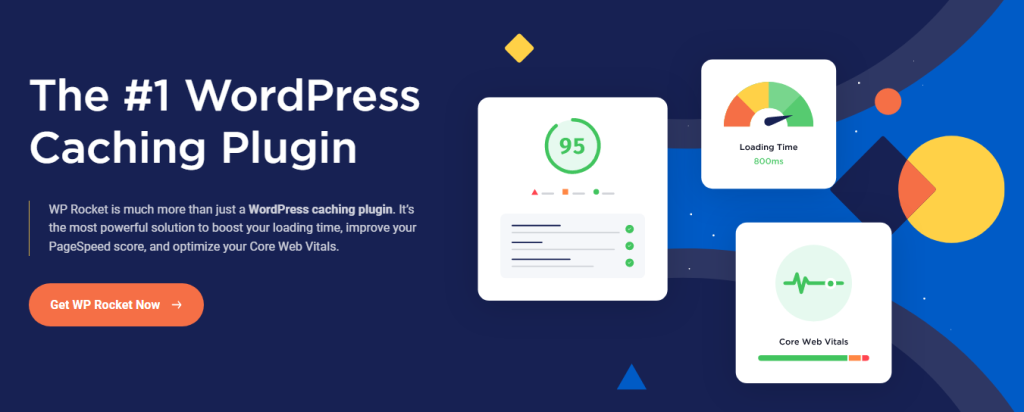 Active installations: 1+ million
WP Rocket is a cache plugin that accelerates the loading of your WordPress pages.
But that's not all; it also has several options for improving your site's performance, such as image deferred loading, HTML code minification, CSS and JavaScript file minification and concatenation, database optimization, etc.
It is only available as a paid version (starting at $49), developed and maintained by a team led by French founders.
You can turn your site into a rocket with the most powerful caching plugin recommended by WordPress experts.
You install the plugin, activate it, and it already works without making any adjustments.
Check out our dedicated WP Rocket article if you want to know more about it.
Duplicator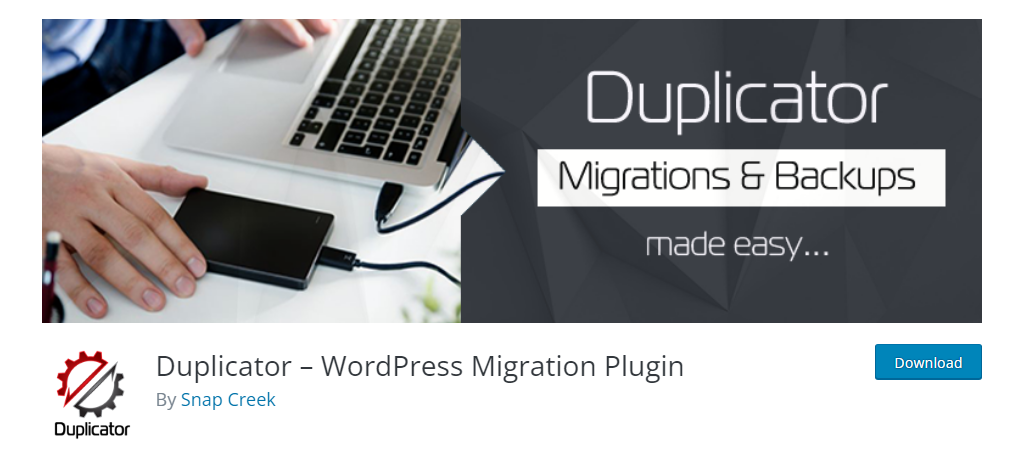 Active installations: 1+ million
You can use Duplicator to "migrate, copy, move, or clone a site from one location to another."
You'll use it, for example, to publish your local site online. Or if you want to switch hosting providers.
Duplicator copies and migrates your files and databases to the location of your choice.
Compared to manual migration, the plugin automates the process and saves you valuable time.
It can also be used as a one-time backup tool. The premium version (starting at $69) lets you plan and migrate large databases.
Download the plugin Duplicator:
Elementor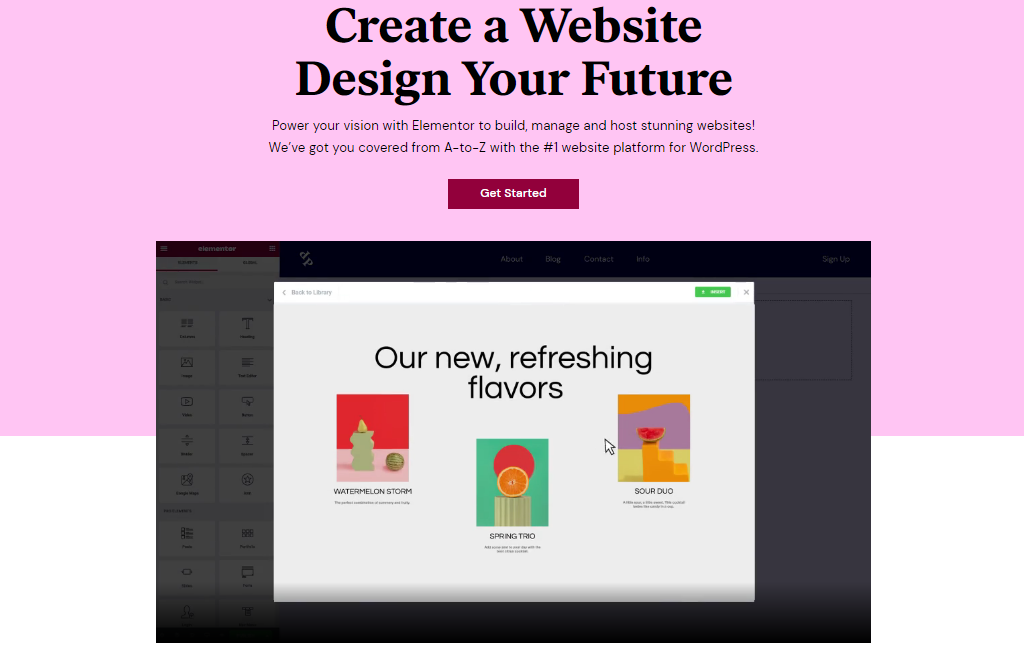 Active installations: 5+ million
Elementor is a well-known page builder in the WordPress ecosystem.
It can even be referred to as a website builder because its paid version allows you to completely customize the layout of your website, including the header and footer.
If you are new to website creation or need to learn about code, I am confident that Elementor will assist you while saving you significant time.
Easily customize the look and feel of your WordPress website with the well-known page builder.
You can customize the sections of your pages by using a variety of modules (called widgets) (or those of your customers). Everything is possible because of instant drag and drop. Your work is immediately visible in real time.
You can customize your content in the free version. The Premium version (starting at $59 for one site) has nearly limitless creative possibilities.
The Theme Builder, WooCommerce Builder, and Popup Builder will then be available to you. Additionally, there is a much more extensive selection of templates and widgets.
iThemes Security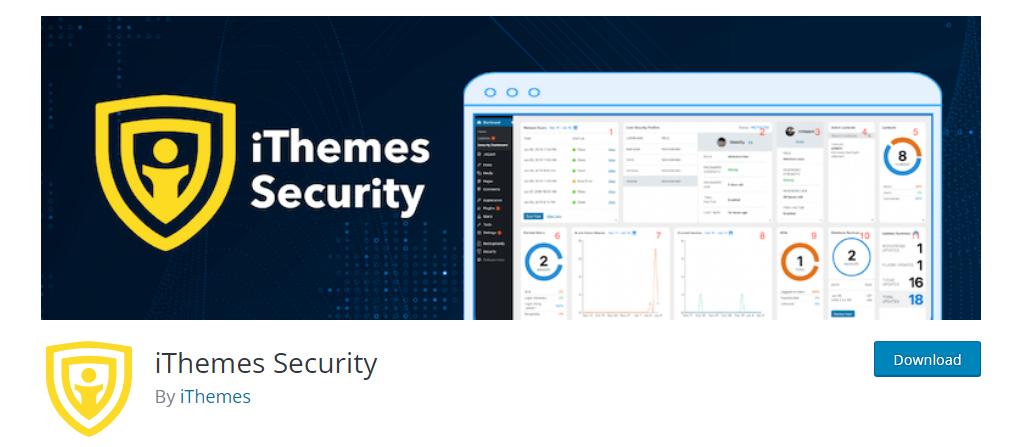 Active installations: 1+ million
"On average, 30,000 new websites are hacked each day." as written on the plugin's page.
It's quite a bit, and the idea here is never to be part of that list. Securing your website is an absolute must. You can rely on iThemes Security to assist you with this.
This Swiss-knife plugin provides over thirty options for safeguarding your WordPress installation against hackers, bots, and other malware. More than half of them are already included in the free version, which allows you to do things like:
Block access to the site to specific IP addresses and user agents;
Protect your site from brute force attacks;
Update the secret keys used by WordPress to increase the security of your site;
List permissions for critical files and directories on the site.
Modify the prefix of the tables in your database.
With the Pro version (starting at $80/year), you can activate two-factor authentication, analyze your site daily to detect problems quickly, integrate a Google reCAPTCHA, and make advanced server configuration changes.
UpdraftPlus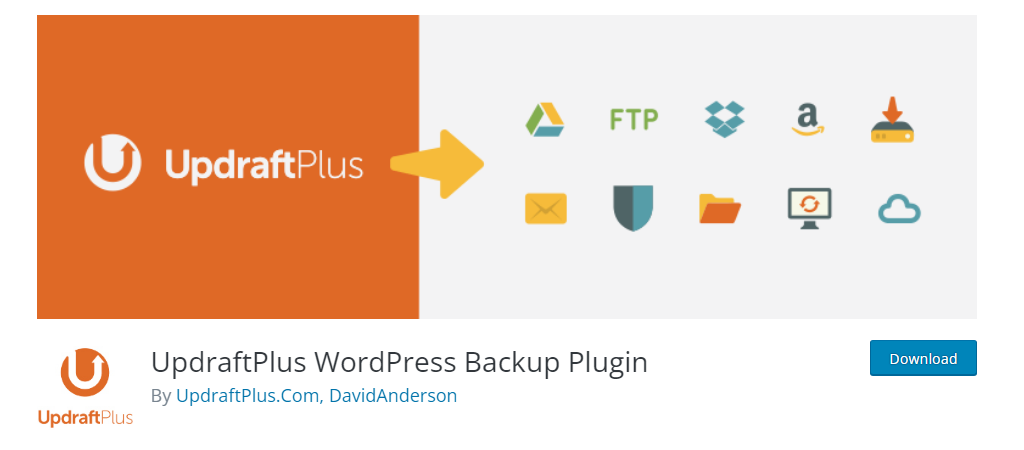 Active installations: 3+ million
I just mentioned the significance of site security. It would help if you also implemented an automatic backup solution on your WordPress site to do it correctly.
You'll sleep better at night, and if something goes wrong (hacking, bugs during an update, your server crashing, etc.), you'll be able to restore an older version of your content faster than you think.
UpdraftPlus is one of the most effective WordPress backup solutions. Even though its interface is somewhat complicated (there is a lot of text), it allows you to back up your files and databases to the cloud using services such as Google Drive, Dropbox, or Amazon S3.
In the premium version (from $70/year), you can manage your backups on multisite, and an option allows you to migrate your sites.
ManageWP Worker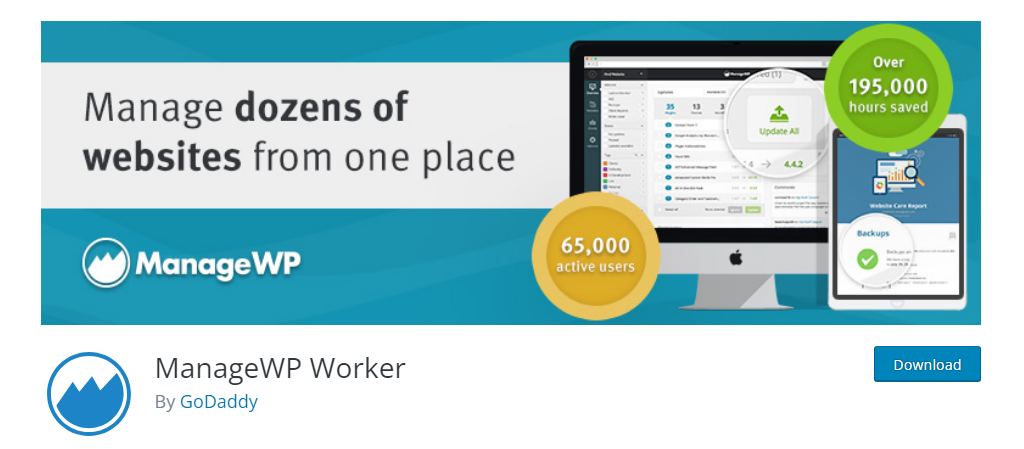 Active installations: 1+ million
Do you manage multiple websites? Are you tired of wasting time managing them by connecting to each of them individually?
There is a solution: ManageWP Worker.
ManageWP compiles data from all your sites on a dashboard so you can view your websites at a glance.
You will be able to perform all updates simultaneously (and with a single click), clean up spam and databases, perform security checks, and so on.
Another intriguing feature is the backup (which is free once a month and begins at $2 per month for a site). In the event of a bug, you can even restore the previous version of your site with a single click. Simply necessary for upkeep.
Imagify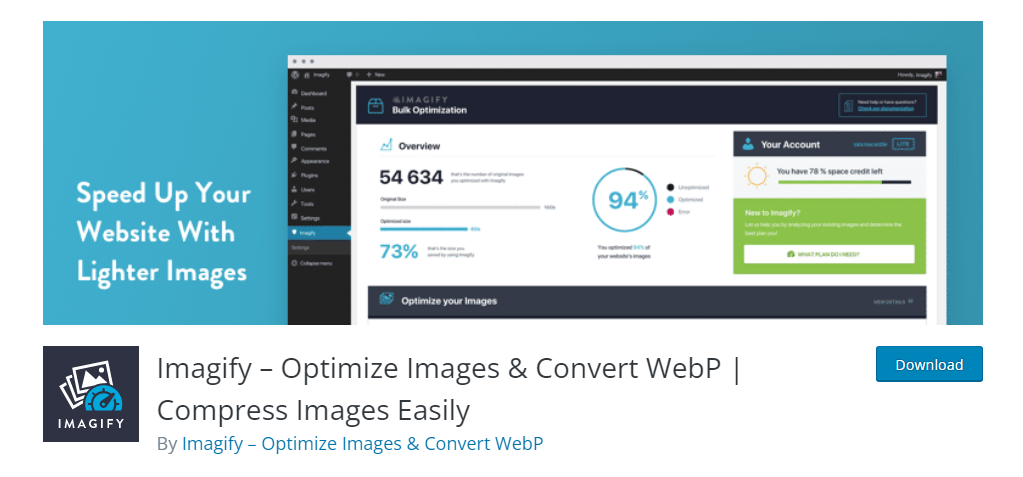 Active installations: 400,000+
Images account for approximately 50% of the total weight of a web page. They are the slowest to load. So, if they're too heavy, you can easily imagine that you'll have to optimize them and reduce their weight.
For a slimming diet, we recommend the Imagify plugin. It will automatically compress the images you add to your media library. All while maintaining high quality. Isn't that incredible?
Imagify is a freemium plugin designed by the same team as WP Rocket. After a certain number of images to optimize, you will have to subscribe to the paid offer (starting at $4.99/month) if you want to continue using the service.
Social Warfare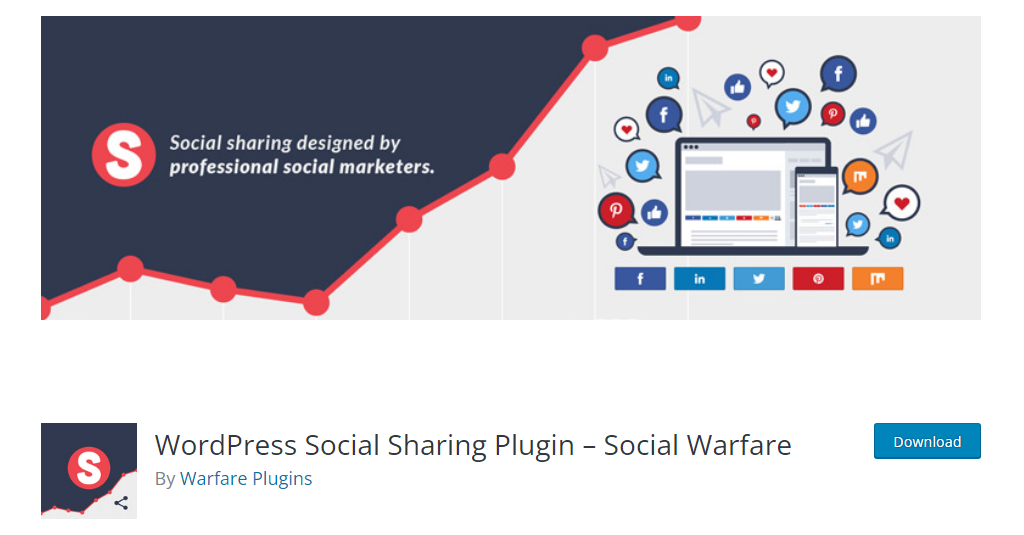 Active installations: 60,000+
Social Warfare is a simple plugin that allows your visitors to share your content on social media. The term "warfare" refers to one of the plugin's co-creators, who is a reservist in the United States Army.
Even if the utility of sharing buttons is debatable, they can drive traffic back to your site.
The many customization options, the performance (your site is barely slowed down), and the ability to upload your images in the appropriate format for the social network are all significant advantages of Social Warfare.
You can use five social networks with the free version. To use all of the features, you must upgrade to premium (starting at $29/year).
Final Words
That concludes our first part of the thorough list regarding the best WordPress plugins. Be sure to check our next post when it comes out. Feel free to use the comment section and provide some additions (we may add them in the second article).
The latest tips and news from the industry straight to your inbox!
Join 30,000+ subscribers for exclusive access to our monthly newsletter with insider cloud, hosting and WordPress tips!