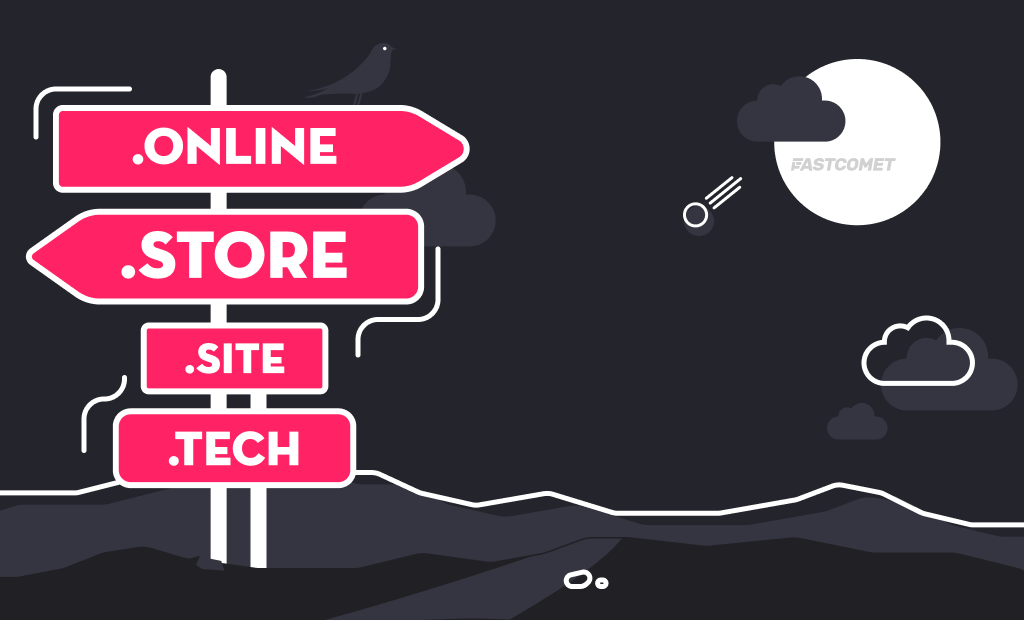 Get Free for Life Domain Names with FastComet
It's already December — the most wonderful time of the year is upon us! With that in mind, we have even more exciting news. That's why FastComet and Radix team up to provide great value for all FastComet customers. With their help, we are introducing four new domain names on special promotional terms. The extensions (TLDs) in question are .ONLINE, .STORE, .TECH, and .SITE.
They will have a special promotional registration price of only up to $6. Additionally, you have the option to get those domains FREE FOR LIFE.
Okay, let's go into some details, so everything is crystal clear!
Table of Contents:
How to Get Free for Life Domains
Let's start with the promotional prices of those new extensions:
.ONLINE – first year (registration price) – $4;
.STORE – first year (registration price) – $5;
.TECH – first year (registration price) – $4;
.SITE – first year (registration price) – $6;
You can hardly find a better deal if you are looking for an alternative to the most popular TLDs. But that is not all; as a result of FastComet's collaboration with Radix, you can get those domains FREE FOR LIFE when you sign up for a new shared hosting account or server. During the signup process for a new account, you can choose one of these four extensions and get your new domain with hosting free of charge for as long as you have your hosting account active.
There are only two simple requirements for a FREE FOR LIFE domain:
After registering a domain with one of the four extensions in question (.ONLINE, .STORE, .TECH, .SITE), you must have it as your primary domain on your FastComet account.
To have your domain renewed free of charge, you simply need to renew your hosting service to which it was assigned during the signup process.
Advantages of Having .ONLINE, .STORE, .TECH, and .SITE Domains
Naturally, you may be wondering: "I already have a domain name. Why would I need a new one that's not even .COM?" Well, while .COM is definitely one of the most popular domain extensions, it's not always the best choice, especially if your business has a niche.
For example, if your website is www.sneakersstore.com, you may consider using www.sneakers.store instead. Extensions like these are meant to work for your benefit, which is why we will give you some good reasons why you should consider getting a new domain name and using one of those four extensions. The first reason is already there—you can have it FREE FOR LIFE! Let's continue with the rest!
Why Register a .ONLINE Domain Name
.ONLINE, which debuted in 2015, is still one of the most popular new generic domain extensions available. Let's look at what makes .ONLINE distinct and a great alternative to .COM.
The .ONLINE generic Top Level Domain (gTLD) has achieved an unprecedented level of popularity, with small and medium-sized businesses and eCommerce brands in particular in high demand.
Radix owns and operates this extension, which is part of the new gTLD program. It was a huge success, with over 38,000 domains registered in the first 24 hours of its launch, and was regarded as a strong alternative to .COM.
From availability to versatility, we've selected the key reasons that make .ONLINE popular and why you should use it for your website.
Global – The English word "online" is well understood even by a wide range of non-English speaking audiences, making this TLD popular in countries such as Germany, Spain, China, Russia, Netherlands, etc.
Meaningful – If you look at domain names ending in .COM, you'll notice that the term "online" is sometimes added at the end (for example, purplefoodonline.com when purplefood.com is not available).
SEO-friendly – When it comes to organic search results, the .ONLINE domain extension is treated the same as any other domain extension (such as .COM, .ORG, and so on). The quality of your website's content, credible backlinks, and mobile-friendly design will help you rank in organic search results, while your domain name will help you build positive brand perception.
Popular – .ONLINE is the 3rd most popular new gTLD around the world (after .xyz and .icu);
Available – Because .ONLINE is less popular than.COM, your chances of finding an exact match for the domain name you're looking for are higher.
Memorable – The .ONLINE extension allows you to say more with fewer words, resulting in increased brand awareness. One way to ensure that users notice and remember who you are is to say more with less.
Versatile – Any business from any industry can find a suitable domain on .ONLINE.
Intuitive – The term "online" is a self-explanatory term that serves as an obvious suffix in many online searches.
Those reasons should be more than enough for you to figure out that registering a .ONLINE domain may not be such a bad idea after all. Okay, let's continue with .STORE!
Why Register a .STORE Domain Name
Look no further than .STORE for the ideal domain extension for your eCommerce business's web address.
It was designed specifically for online stores and allows you to inform users that you are in the business of selling without having to awkwardly stuff the words "store" or "shop" into your domain name and risk making it too long.
.STORE domains are widely popular among:
Online sellers;
Retailers;
Wholesalers;
Local stores;
Tech stores;
Branded merch stores.
If you're wondering whether .STORE is the right choice for your online store. Here are some of the benefits:
Easily available – With so many new websites appearing online, domain name competition is fierce, and your preferred domain name may not be available. That is where .STORE can assist you.
Relevant – A relevant, brandable, and indicative domain name can provide the solid foundation that your online identity requires, particularly if you are a new or small business.
Scalable – Rest assured that the .STORE extension will serve you well as long as you are in the selling business. It is not only future-proof but also highly scalable.
Global appeal – Because the word "store" is universally recognized as a place where things are sold, several international businesses have chosen a .STORE domain name to create distinct global brand identities.
Helps with SEO – A .STORE domain name has no effect on your search engine rankings. But does it help to improve them? While it may not do so in terms of keywords, a relevant and communicative domain name can help to make the right first impression.
We hope it's clear now why .STORE is a great domain extension choice, especially when you're in the eCommerce business. Okay, let's jump on to .TECH and its perks!
Why Register a .TECH Domain Name
A .TECH domain extension is designed specifically for technology-related brands, companies, individuals, enthusiasts, students, etc.
.TECH is a globally recognized domain associated with all things technological. Choosing the right domain name is critical for your tech company's online brand value.
Unlike .IO and .AI, which are either overly specific or overly ambiguous, .TECH has widespread recognition and acceptance.
Choosing a domain name on .TECH means creating a solid brand and a long-lasting online identity that allows you to expand your business in the tech space without changing your name.
.TECH piques the interest of a relevant audience, and you will tend to drive potential partners and customers to your website since people will be able to find you easily.  
Here are some of the main reasons why you should consider using .TECH as your primary domain extension:
Available – It's possible that www.yourcompany.com and www.yourcompanyname.net are already in use. This is because the internet hosts over a billion websites and traditional top-level domains such as .COM, .NET, and .ORG have been in use for decades. However, that's not the case with .TECH, which makes it a great choice.
Affordable – Finding three or four-letter word names on traditional domains is almost impossible, and they're obscenely expensive if available. Conversely, a meaningful word or phrase on new domain extensions will cost you only a couple of dollars.
Brandable – New domain extensions enable businesses to choose a snappy name that is short and easy to remember. Apart from being relevant and providing a strong sense of context, names on new domain extensions make for meaningful online monikers that are memorable and supremely brandable.
Great for SEO – a .TECH domain makes your startup web address searchable. It is often believed that new domain extensions hurt a startup's SEO ranking on search engines. However, new domains are as good as any traditional top-level domain regarding search engine optimization.
Good for Startup – .TECH domain helps in startup branding and positioning. With new domain extensions, you no longer have to choose a long, awkward, and complicated domain name for your cutting-edge tech business. A great idea or product isn't enough to rise above the competition. You need a brand message that can cut through the noise and stick in the minds of your target audience.
Let's not waste any time and go to .SITE right away!
Why Register a .SITE Domain Name
This one is a bit different from .ONLINE, .STORE, and .TECH. In a good sense, of course–you can use it for absolutely any type of website.
If you have been trying to register many of your preferred domain names, but you've hit a bump with every single one when trying .COM, .NET, or .ORG—don't worry! We recommend that you try the domain extension .SITE. It's a relatively new 4-letter alternative, and the likelihood of the desired name being available is quite high.
The following are some of the benefits of the .SITE domain:
Suitable for all types of commercial activities;
Excellent start for your online presence;
Short and simple to remember;
Increases the likelihood of registering the desired website name;
Allows you to showcase a forthcoming advertising campaign;
Very popular among global brands and online project providers.
With that, we conclude the list of benefits for using .ONLINE, STORE, TECH, and .SITE. We hope that the information we shared is enough for you to decide whether your business can benefit from one of the four extensions we've covered.
Final Thoughts
So, are you hyped about having a FREE FOR LIFE domain name? We, FastComet, want to say thank you to Radix for this awesome collaboration. We strive to make our clients happy, and in this case, we had some help to accomplish that goal.
However, remember that it's not only about the low prices. Many benefits come with specific extensions like .ONLINE, .STORE, .TECH, and .SITE. Among those benefits are the unique branding opportunities.
Branding can make or break a company's success. A strong brand gives startups a competitive advantage. Similarly, well-crafted personal branding can help job seekers stand out among thousands of other applicants by providing targeted relevancy to their desired positions. Your online presence is critical to effective branding, starting with your domain name.
We hope you know by now that FastComet does everything with one mission: the success of all our clients' online projects. So, don't only get a domain with a new extension because it's cheap or free; get it to accomplish your goal of having the best possible website you can. Everything you create reflects your vision, and your visitors will see and appreciate your work.
The latest tips and news from the industry straight to your inbox!
Join 30,000+ subscribers for exclusive access to our monthly newsletter with insider cloud, hosting and WordPress tips!