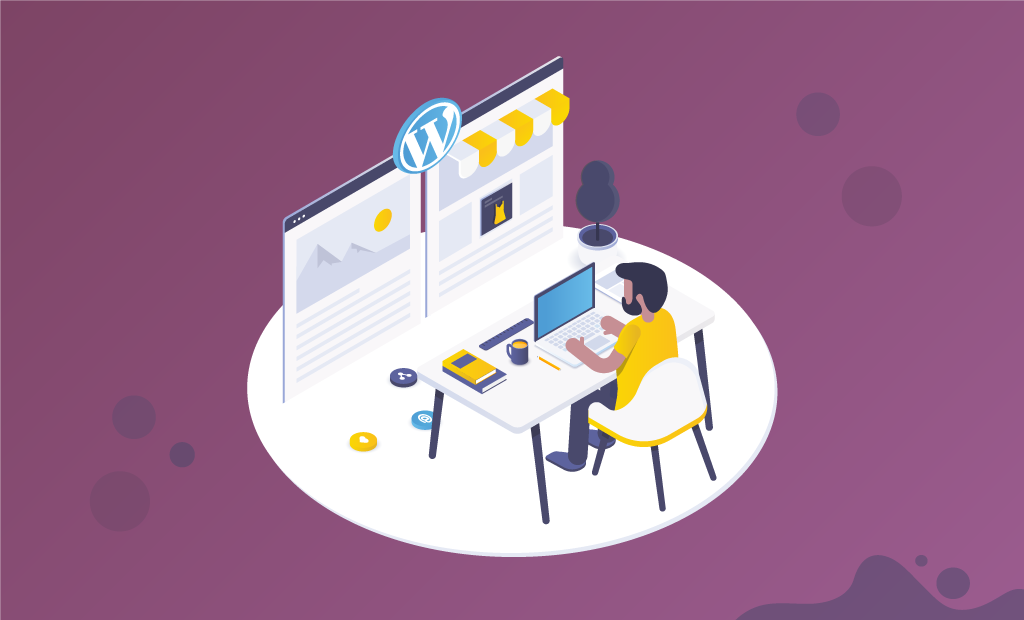 14 Types of Websites You Can Build with WordPress
Do you have a great idea for an online business, but you are not actually sure how to begin? Using WordPress will make sure that you can build almost any type of website, and you will be able to do that entirely on your own. In case you don't know what exactly WordPress is – it's the most advanced Content Management System (CMS) software used to create, publish, and manage content online. The CMS is open-source and is backed by the largest community of developers, constantly working to enhance the source code of WordPress.
With WordPress, you don't need technical knowledge to build the website of your dreams. You don't have to spend a fortune to get your website up and running. All you need is a web host, such as FastComet, and some time on your hands. You can build almost any type of website you can think of. In this post, we will share some helpful information about a small part of websites that can be built with WordPress.
Table of Contents
Personal Blogs Or Websites
In its early days, WordPress was mostly used for the creation of blogs. One of the main reasons to start developing WordPress was exactly to create an exceptional blogging platform. It's still the basic and most widely used type of website created via the content management system.
Nowadays, WordPress is working on a much larger scale, but it keeps being an amazing blogging platform, especially compared to the most popular platforms of that type, such as Blogger, Joomla!, and Tumblr. No matter what type of blog you want to start – a personal or a professional one – WordPress has more than enough features to make sure you get anything you need. The CMS is much more polished than when it started. It includes countless themes and plugins, which will help you both take care of your SEO, and to make sure you are able to develop your unique blog.
When creating a new blog, remember that even good content will not be read if its headline is poor. Make sure that you take your time and capture your idea perfectly. Think about what people want to read about and how they most likely want it delivered. Include images and other types of media to make your content-rich, and use headings to mark all the sections of your article. Use SEO plugins like Yoast to help you properly take care of all your posts.
Business Websites
Because of the wide variety of themes that WordPress offers, it's used by many global and big regional brands all over the world. For businesses, being on point with the presentation of products and having just the right tools to do that is of huge importance. WordPress makes the process of including images and video quick and easy, while also offering a great number of extensions to help make your website more approachable.
Some industry-leading companies like Mercedes-Benz and Sony music are relying on WordPress to power their websites.
When making a business website, one of the things to take into consideration is creating a quality Frequently Asked Questions (FAQ) section. Make sure the section is easy to find and try covering as much information about your product as possible. You want your visitors to become customers, and your customers to be happy with your service. Consider using the Ultimate FAQ plugin, which has more than 40,000 active installations.
Additionally, your visitors need to be aware of what your business is about, as soon as they step on its territory. That's why you need to state the vision and goal of your company. Here are some crucial things to follow for your business website:
Include call-to-action (CTA). This way, you will compel visitors to subscribe to your newsletter, pay for your services, or buy your product.
Have strong content. That's what will blow the competition out of the water. Create helpful content in the form of articles, tutorials, and even interesting, more personal stories. People like when they can relate to something, and that can make you more likable, therefore enhance your conversion rates.
Don't overdo things. Exaggerating with too many superlatives or big paragraphs of text can drive potential customers away. Make sure that you keep things on point, saying just the right amount.
Make it about the customer. When writing about your products or services, make sure that you emphasize what your customers will benefit from that. Don't just explain how great your product is, and how much time and effort you put into your work. People want to be sure that their money is well spent.
E-Commerce Websites
WordPress is quickly becoming the go-to solution for businesses new to eCommerce because of its ease of use. Extensions can handle payments, inventory, sales tax, and shipping. A big part of the online shop owners use WooCommerce, which is built for WordPress.
At the time of writing this post, WooCommerce is in its 4.0 version, which was released on March 10, 2020, and came along with the all-new WooCommerce Admin. WooCommerce 4.0 is a major release, bringing a new dashboard, new and improved reports, enhanced notification experience, and new store management tools to the table.
Additionally, there are extensions such as the Ultimate WordPress Auction plugin that allow you to set even an auction site in WordPress.
The robust plugin architecture that WordPress has makes it possible for everyone to transform their ordinary WordPress website or blog into a fully-fledged online store.
In addition to WooCommerce, there is an extensive number of free and premium plugins available that will help you when starting your online store. To name a few: Easy Digital Downloads, WP eCommerce, JigShop, and MarketPress are all great eCommerce plugins.
Being able to provide a stable eCommerce experience proves once again that WordPress is much more than it used to be at the start of its development. The platform keeps growing with each new release, bringing more and more features to the table.
News Websites
WordPress powers some of the major news websites, such as People magazine, the New Yorker, Australia's Herald Sun, Vogue, and the Village Voice. We know that this should be enough to convince you how WordPress is a great choice when creating a news website, but let's ramble on.
With custom themes, you will have the opportunity to appeal to your target market in the best way possible, while making sure to have your signature look.
It's understandable why many of the online news sources choose WordPress, which offers:
Adaptable comment section tools;
Secure payment options;
Extensions that allow content restriction;
Incorporating photos and videos to make the story come alive.
Consider using Largo – a responsive WordPress theme framework. It's designed especially for news publishers. The framework is finely-crafted and expertly-honed to fit the needs of anyone managing a news website.
Questions and Answers Websites (Like Quora And Yahoo Answers)
If you want to use WordPress to create your own Quora type website – you can absolutely do that. Creating a Q&A site is a breeze with WordPress, and when you include some additional tools, you can bring it to perfection, ultimately getting your own online community.
Q&A websites make money from user-generated content, which makes them easy to start an online business.
Here are some steps you can follow:
Analyze the competitors' websites, e.g., Quora;
Consider finding a web app development company to assist you;
Come up with a user-friendly and intuitive design.
Develop several vital features for your website;
Create a promotional strategy to engage users;
Try building some unique features to make your website special;
Research for ways to monetize your question and answer website;
Update your website regularly.
The whole concept of Q&A sites is based on the opportunity to exchange the content and share ideas with the community. Keep in mind that the content will be more attractive if it contains external links, photos, GIFs, videos, etc.
A few of the most popular WordPress plugins that can help you build a complete Question and Answer system are DW Question and Answer, AnsPress – Question and answer, CM Answers, and Sabai Discuss. Most of these plugins support multi-languages, shortcodes, reCAPTCHA, email notification system, etc.
Wiki Sites (Like Wikipedia)
Making your own Wiki site can seem difficult, and to be honest, it will definitely consume a lot of your time. Additionally, you will need to do plenty of research to do things right. Again, WordPress is here to help with building a great wiki site for you and the specific knowledgebase you picked for it.
After you have a grasp on what it takes to make a wiki successful, you will need to know where to begin once the site is created. We'll help you with a few steps you can follow when creating your own Wiki site with WordPress. However, consider making your own and wider research by reading Wikipedia's Help pages, which are thorough and will definitely help you get a grip on what is essential on a higher level. Here is what you need to do:
First and foremost – do your research. Before creating any content, learn about the Wiki sites and communities work.
Choose a wiki plugin or theme. By default, WordPress is not set up to work well as a wiki. However, that can be fixed quickly by using either a wiki theme or a plugin. For a theme, consider using MyWiki, and if you want good Wiki plugins, you can use BuddyPress Docs, Wiki Lite, Pencil Wiki, Encyclopedia Lite, or Yada Wiki.
Set up a clear organizational structure. Most wikis include lots of content, and that's why you will have to put a clear organizational structure from the beginning. If you let users try to organize content as they upload it, you're most likely to end up with confusing, inconsistent content.
Create and post rules for your community. It's not a bad idea to think about how users will use your Wiki. It's best to start off with just a few approved users because this way, you will have much less to worry about when it comes to Search Engine Optimization (SEO) and User Experience (UX).
Consumer Review Websites
Here's a fact – three out of every five people look for reviews online before buying a product or a service. Being informed is important, and when you create your own consumer review website, you will be the one to provide that essential information to consumers. Review sites open up huge avenues for traffic generation and monetization.
Additionally, if you wish to earn money using affiliate marketing, product reviews could do wonders for your overall blog income.
Here are some tips you can follow when building your own consumer review website:
Pick a niche for your review site. This way, you will ensure that your website will be profitable. If you are an individual, it's best to pick a specific niche. Your niche is the specific category of products you'll review.
Choose a WordPress theme. Once you've got WordPress installed, you will have to pick a theme that fits well with a review site. Look for something that has plenty of room to feature visuals of the products you're reviewing. Since your reviews will include a lot of text, make sure that your chosen theme is also easy for visitors to read.
Install and configure a plugin like WP Product Review plugin. Once you've got WordPress installed and you've set up your theme, you may install and configure the WP Product Review plugin. It's a freemium plugin, but if you are serious about your project, it's recommended to use the plugin's Pro version.
Review sites are quite similar to traditional blogs. So, if you write quality reviews and promote them properly, you'll start to get organic traffic to your site and be on the path to generating recurring passive income.
Job Boards
When looking to start your online business, a job directory site can be an actual viable source of income. There are always people on the lookout for a new job. Some want to change careers, others just need a better paying position, or perhaps just to break into a new field. So, if you create a site that lists available job positions in certain areas, you will help people find what they are looking for, while also creating a stream of passive income for yourself.
There are some essential features that every job directory site needs. Take those features into consideration when picking the right job board theme for your website.
Front-end submissions. Those make it easy for both job applicants and business owners to apply for jobs or submit their listings right on your homepage. It saves people time and makes the entire process considerably faster. Anyone who is looking to submit a listing or apply for a job has a better user experience.
User profile area. A good theme will also provide you with profile areas for both business owners and job applicants. That will allow business owners to track their listing with ease, as well as to see when those listings were submitted and when they need to be renewed. Also, job applicants will be able to easily update their profile, upload a resume, and track their application status.
Live search and filtering options. Providing users with the ability to search for jobs and filter through categories will help people and save them a lot of time, which, again, leads to better user experience. That way, there will be no need to go through the results one by one to find out if a job matches their set of skills.
Responsive design. Be sure that you pick a WordPress theme with a responsive design, mainly because nowadays, the majority of users prefer surfing the Internet on their mobile devices. A responsive design minimizes the possibility of someone getting frustrated because of their bad experience with a website.
Customization options. Look for a WordPress theme with plenty of customization options. This way, you will be able to incorporate your brand and build a recognizable job board site.
Most job boards are not simply a list of jobs and a search index. Including company reviews and the average salary is always a good idea. If you are into some extra efforts, you can also add a blog to help boost your SEO.
Portfolio Websites
You can find a lot of Artists, Photographers, and Web Designers websites created with WordPress. If you are a person that has a portfolio and you need to present your work to the world, you can do that with the help of themes that have beautiful sliders, as well as stunning image galleries.
For most designers, creative thinking is easy, but the technical part is a little baffling. In that case, WordPress is the perfect solution. Here are some tips to help you start off with your Portfolio website:
It is a showcase, not a bibliography. Select your best work. Don't treat your portfolio site as a storage unit. Make sure people see how good you are when you are at your best and do not show how bad you can be when you are low on inspiration.
Know your goals. If your aim is to increase opportunities while working in a particular genre or industry, present previous work that fits the specific demographic. In case you do not have a specific industry, present your style in a balanced way.
Create a visual identity. Create a brand and use visual elements that depict your style. This way, your portfolio will be much more recognizable, and people will be able to easily spot your work whenever and wherever they see it. In WordPress, your visual style will be controlled by a theme, and thus you need to pick one carefully.
Organize your content. Keep your design portfolio organized. Make it clean and easy to browse through. If you want to have an attractive website that would lead you to prosperity, create a system that is easy to understand, as well as comprehensive. Usability is critical when you are creating amazing websites.
WordPress can make it easier than anything else out there when creating your exceptional online website design portfolio.
Podcasting Websites
The very best podcasters run their own websites. If you are aspiring to be one, you can use WordPress as a platform. Nowadays, podcasts are trendy, to say the least, and there are lots and lots of them.
Podcasts are to provide people with the information they are interested in, and you can pick any subject you want. PowerPress podcasting is one of the best plugins to help you on your path to creating the perfect podcasting site for you. Here's what the plugin can do for you:
Lets you manage your podcast episodes;
Supports iTunes and Google Play Music;
Enables you to submit your podcast episodes to the iTunes Directory directly from your plugin dashboard;
Lets you offer subscription options to all your listeners;
Can support multiple podcasts on a single site;
Available in various languages.
The idea of putting together a podcast website (or any other website) in WordPress from scratch might be intimidating, but in reality, the process is quite straightforward. Remember to keep things simple at first. Invite interesting guests and let your podcast work for itself.
Restaurant Websites
When you are creating your own restaurant website via WordPress, you should aim for an aesthetic that matches your establishment. Before you begin, it's a good idea to spend some time researching other established restaurant websites, which can help you plan all the information you want to include on your website. Here are some of the essential elements every great restaurant website should have:
Your menu and service hours. That will be one of the most viewed pages on your website. People are here on your site mainly to find out what food you offer and to see if they are going to be satisfied with what you offer.
High-quality restaurant images. While describing meals can sound very alluring, it's even better when you attract visitors with a high-quality image of that meal. Include images not only on your menu pages but also throughout your website. While showing people your food, make sure to include pictures of your establishment, accomplishing a higher level of transparency.
Online booking forms. Such forms will increase the number of reservations your restaurant gets, while also decreasing the time spent on the phone by you or your employees.
Highly rated customer reviews. When you showcase reviews from your visitors, you will help people make an informed decision and reassurance that your restaurant is indeed worthy of their visit. Ask regulars to share their experience on your website so others can see their satisfaction.
Address and map Integration. Having a map of your location is essential. You want to make it as easy as possible for your potential visitors to find your restaurant. Be sure to also place directions on your contact page and the footer of your site for easy access.
Search for restaurant WordPress themes to find a perfect design for your site, which will also give you an online platform to promote your restaurant and reach additional customers.
Government Websites
Business websites are considerably smaller when compared to websites of entire countries. Since governments and departments also need representation, they also need to use an application for that, and this application is often WordPress. Sweden, for example, is one of the countries that chose WordPress for their official website.
When creating a Government website, there are also some useful tips to follow:
Give your site design the appropriate attention. Good design means more than just looking pretty – it's also about better usability and credibility. Consider hiring a professional designer (if you are not one). Additionally, you should spend some resources on quality photographs, but don't forget to browse through some of the well-established government websites before you start anything.
Navigation does not have to be strict. You can often see a tendency for navigation structures to mimic an organization chart, which could result in a bunch of links that start with "office of…"
Keep things simple. When creating banners, for example, you don't need to make them filled with information. That can make your site look cluttered, which is not attractive or user-friendly. Instead, you can just use an image rotator and make it familiar to the site's visitors.
Pick a color. Preferably, this color should be one of the colors of the country's national flag. Use that color and different shades of it because you don't want for a serious government website to be too "fresh." A great technique to use when exploring colors and graphical treatments are style tiles.
Include something interesting. Each country has something they are famous for. Include that in your website. People love learning interesting (fun) facts.
Try making your Government website design unique as much as possible, and make sure there is no useless information involved.
Social Media Websites
Let's start with the fact that Facebook Newsroom is built with WordPress. When speaking about Social Media websites, you can't neglect Facebook.
You can try building a similar site via WordPress, or just a small online community with common interests.
WordPress can also help you build a forum, and it has a registration code plugin to help you prevent trolls from being annoying.
Just take some time to go through different Social media websites. Find out what the most crucial features are and be creative. You can even add a wiki page to your own social media, according to the type of community you are supporting.
Charity Websites
A good website does not need to cost an arm and a leg. Modern platforms like WordPress can help anyone, and that does not exclude people wanting to build charity websites. If you decide to hire an agency or a freelancer to help you when creating your own charity website, here are some tips you can follow:
Make a plan. Creating a clear content strategy needs some careful thinking, but does not necessarily have to take too long. Even if it feels a bit intimidating, don't skip this step, because it will save you a lot of time and make things much easier in the long run.
Draft your content. Make the content to guide everyone towards taking action. Don't overcomplicate things, and remember that you can always add more content in the future. Tell stories to help people feel closer to the cause you are supporting.
Find good images. It's best to use your own images if possible, but if not, take some time to find them. There are a lot of places you can find free images available for reuse (including Google image search).
Plan to fundraise online. All charities require funding. That's why it's not a bad idea to set up a few online donation websites to work with your charity website. Nowadays, Social media like Facebook are also incredibly helpful for spreading the word, especially about charities.
People have proven to be good countless times. Charity websites are a part of that proof, and there are thousands of ongoing charities, as well as new ones being started daily.
Conclusion
In conclusion, WordPress can be used for so much more than just blogging!
It is incredibly adaptable, and those ideas are not mutually exclusive. An artist can set up a portfolio, a booking manager can make a site for events, and a job board could provide work opportunities for people on a daily basis.
If you want, feel free to add more suggestions for websites that can be built with WordPress. We named just a few of them. Frankly, WordPress can do it all.
The latest tips and news from the industry straight to your inbox!
Join 30,000+ subscribers for exclusive access to our monthly newsletter with insider cloud, hosting and WordPress tips!