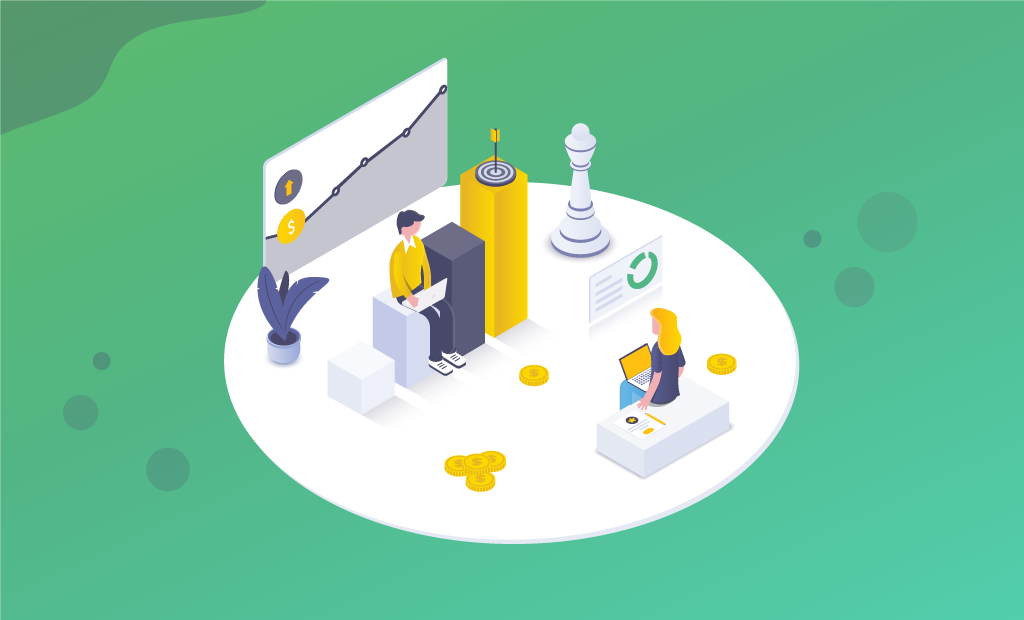 Affiliate Program Growth – 2019 in Statistics
Our Affiliate Program has been publicly available for just a bit over five years now. In that time, FastComet grew a lot as a company, and with it, so did its affiliate user base. With the start of the second half of February, we have officially "ended" 2019 in affiliate terms. After that, we saw just how much things have changed. We also hit a few milestones, including signed affiliates count, active affiliates, and funds paid throughout 2019.
Paid in 2019
Let us start with the elephant in the room. 1,012,730 is a big number. That is also the total amount of $ in payments made via the affiliate program to our affiliates in 2019. It's a major milestone, considering that we have tightened up the affiliate and commission approval process. Additionally, we are resolving abuse cases much quicker than before. That means we are also preparing audits for abuse patterns more frequently, while also losing a lot less funds to fraud activity.
Year-Over-Year Growth in Payments, Affiliates and Conversion Rate
Price changes driven by accumulated environment and infrastructure changes slowed YOY affiliate growth a bit in 2019 as expected. Still, we are breaking the 1 Million mark in total payouts with an increase of 26% compared to 2018's $803,250. This is more than double the Affiliate Marketing's standard of 10% per year, observed in the last five years globally.

The registered affiliate accounts have also increased by 20.7%. We also see lower inactivity rates overall (the number of passive, compared to the total number of affiliates).
Conversion Rate
When used in affiliate context, conversion rate usually means the % of clicks that have turned into sales. So if you have 100 clicks generated via your affiliate banners and links, and you have generated 3 sales, your conversion rate will be 3%.
Conversion Rate is specific for each affiliate as different advertising methods provide different results. Our most successful affiliate has a conversion rate of 1.76% with ~10 sales/day. But we also have members with 13-25% conversion rates with a sale per day. The average conversion rate for all affiliates with more than 50 sales in 2019 is 5.8%. That's a slight increase from 2018's 5.1%.
Lastly, the number of affiliates that have made their first sale in the 72h following their account registration has increased with 22% compared to 2018.
Trends of 2019
In 2019 we saw a slow but steady increase in competition internally and the industry as a whole. Internal competition prompts affiliates to contact us more frequently regarding their statistics and why strategies that have worked in the past no longer yield the previous results. This is the main reason why we have decided to expand on our affiliate related documentation in 2020.
The decrease in first sale times mentioned in the intro shows us an influx of more experienced affiliates. These affiliates are either expanding their existing portfolios of products or switching from other affiliate programs to us. Conversations with affiliates during the work process confirm this as we more frequently encounter users coming over from big affiliate networks like ShareASale and CJ Affiliate.
Drought periods increase in longevity and % decline in sales. That is a peculiar trend as it is quite hard to narrow down the exact reasons behind droughts. However, we can split these periods into three main categories:
Market/Industry Induced. Caused by market fluctuations or historical industry-low sales periods.

Example: You promote cryptocurrency hosting related services, but the cryptocurrency market crashes. That has nothing to do with the performance of the hosting industry, you, or FastComet. Despite that, your sales drop by 90% due to the lower demand for such services.

Example 2: Periods right before and after big-spending days such as Black Friday, Easter, or Christmas. Usually, January is a weak month in sales due to a lot of consumers buying during the Black Friday and Christmas promotions.


Competition Induced. Caused by increased competition for keywords or oversaturation of a specific niche.

Example: You and a few other people are promoting our hosting services based on guides for creating use cases for specific applications. That same app increases tenfold in global popularity, and suddenly, thousands of people are promoting via the same keywords. Even if the hosting sales increase by X%, the commissions will still be distributed between a disproportionate number of affiliates, thus reducing your cut.

Self Induced. Caused by changes in the promotion strategy made by the affiliate, whether those changes have been carefully considered or not. Also unintentionally created by tunnel vision and focus promoting other products and campaigns. One rule which applies to most affiliates and especially those who are not experienced in A/B testing is "If it ain't broke, don't fix it!".

Example: "Adjusting" keyword bids without doing the proper research beforehand.

Example 2: Buying an already running project without requesting all of the needed information to continue the promotion precisely as it was run so far (if successful).
Video and Audio content continues to increase in effectiveness with more and more customers preferring it over plain text.
SEO is essential in Affiliate Marketing by definition, and new features like Voice Search are gaining traction. This goes especially for virtual AI-based assistants like Alexa and Siri integration into daily life. If you wish to get picked as a reply to a request from a customer, you need to rank 1st in the relevant terms for that search.
Good Quality Content equals Good Quality Traffic
Maybe you have heard the phrase "Content is King" before. Bill Gates wrote an essay in 1996 with this title. In that essay, he explains why good content is the best way of making money online. Considering he was already the richest man in the world for a second consecutive year, Gates already walked the walk. Although more than 20 years have passed and the internet has evolved with incredible pace, that statement is considered valid to this day.
Quality content has a few significant advantages over content written only for it to be content out there:
Reduces Bounce Rate – The amount of digital data we create each day is mind-boggling. Aside from the millions of hours of video content uploaded/streamed and the billions of photos, around 4.5 million new blog posts are written each day. Due to the sheer volume of data, users have to be picky about what they read, which results in an average of 37 seconds spent per article. Imagine if you only have 37 seconds to familiarize a visitor with the service and sell it to him – near impossible. That is why good content will attract and keep visitors for much longer than usual.
Creates Recurring Visitors – Interesting and well-written content is a sure way to attract recurring visitors for your website. That is important as users will also see your banners multiple times and read more on the products you are trying to sell. The more they read – the higher the chance they will buy.
Builds Trust – Quality content and well-developed topics means that the author/website owner is serious about what he is doing. When you are viewed as someone passionate in providing information and even being an expert in a field, you are building trust in your reader base. That will also translate to your sales numbers later on.
Increases SEO Ranking – SEO is very important, as we previously mentioned. Ranking high on google's search results list will increase your visitors by a lot.

Close to 32% of all the clicks will be for the #1 Search result. Compared to that, if you are on the second page and beyond, you will only get 0.5 – 0.75% of the total clicks. Writing with the thought of Quality also implies you will think of your SEO, which will result in a better structure and finer keyword tuning in your texts.
Makes Promoting Seamless – Have you spent more money than anticipated? Did you ever buy an item you weren't even looking for just because of the situation you were in dictated that the next natural step is to get it?

That happens due to the seamless promotion, which finds its way to the subconsciousness of the consumer. It happens to all of us unless we are very aware a brand or product is targeting us. Quality articles provide a similar experience for users that get absorbed in the content.
Pay-Per-Click Campaigns and Tiers for Boosting Quality Posts
Once you have excellent quality content populating your website, it is time to start promoting it accordingly. Whatever you hear online, there is one simple truth – it's a numbers game.
Each Minute…
Around 350 websites are being created. That means that daily, more than 500,000 new websites appear.
While it is possible to create a website and have it become popular by itself just because it is awesome, the reality is that you have similar chances of winning the lottery. Here advertising comes to the rescue. Only a small fraction of the 500,000 websites added to the internet each day is advertised. Even lower than that is the % of actually well-advertised sites.
We won't go into much details regarding the different advertising methods and platforms, but what you should know is that the most used ones, especially for growing affiliate sales, are Facebook and Google Ads:
Facebook Ads
Facebook ads are not targeting visitors with the intent to buy hosting as Facebook users are usually on the platform to socialize or check what their friends have posted. However, even when people don't have the intention to buy – they can be sold a service. That goes especially when you can select the specific segment of the audience – but there is a catch. You will have to educate your potential buyers on the product before the actual sale is made. Direct selling here is hard, as you may have piqued the interest of someone who is not familiar with what hosting is but still wants to learn about it and try it.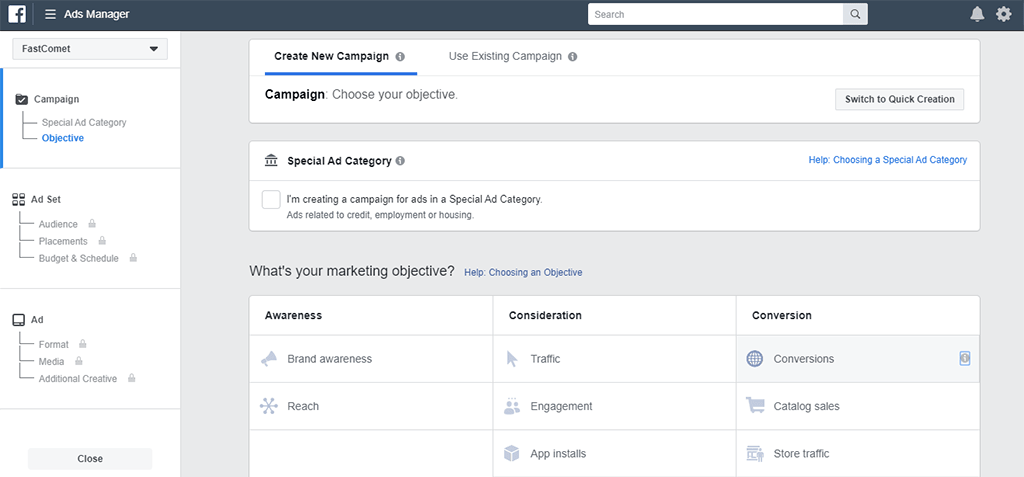 Facebook ads are great for beginners and combine well with sellers who have additional information regarding the product which they are trying to advertise. Here is where your content will do its wonder. Your ads will work better if they lead to a landing page. After the customer has recognized the value of the proposition, he will click your affiliate link, located on that landing page, and generate you a commission.
Google Ads
Google Ads is synonymous with PPC advertising. When someone mentions "PPC" online, they are usually referring to their Google Ads campaign.
Unlike Facebook, Google Ads (previously Google AdWords) aim towards consumers with the intent to buy. Those are people that need hosting services and are actively looking for them online. Such users prefer product benchmarks and reviews, which can ease their choice and help them get the best value for their budget. By using Google Ads, you can directly sell to customers with ease as long as they are interested in the product. You can also utilize remarketing very well, and thus increase funnel rates and grab customers who were hesitant at first.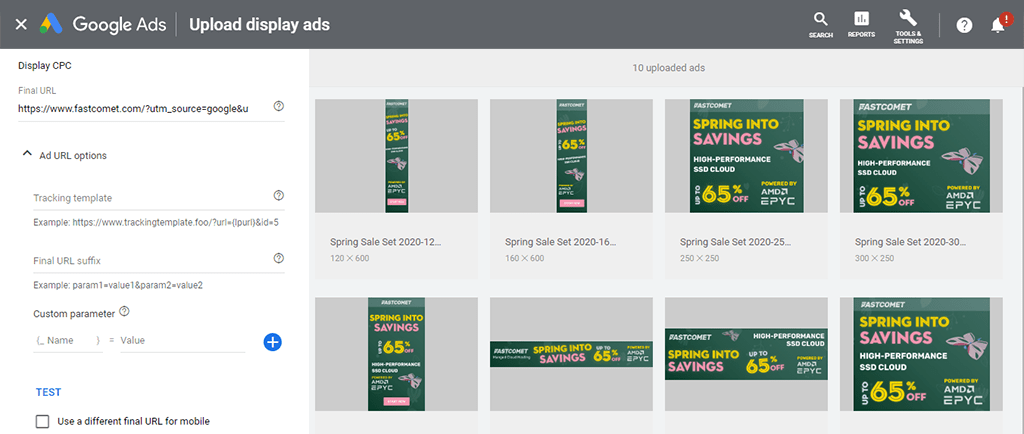 PPC campaigns are what most of our affiliates use when they reach a certain level and need to grow more. They are great for increasing your commission count once you have that strong content base. Bidding on keywords that correlate with your content's niche and the keywords used in it is a budget solution that can yield 300-500% Return of Investments (ROI). So spending $100 can net you $300-500, and that is before you calculate the Tiers.
Tier System
On top of the good quality of your content, Google, and Facebook Ads campaigns, you get a further boost in profits by our very own Tier System. These performance-based compensation thresholds will provide you with a great value increase as you will get more when you do more.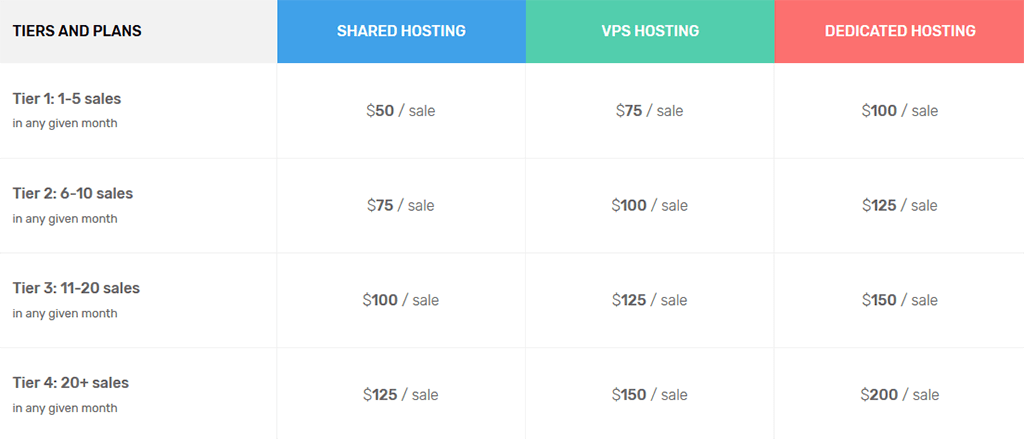 There are a lot of affiliate systems out there that provide flat compensation rates, and there is nothing wrong with that. But you must consider your ROI, as with a Tiered System like ours, you will get a further increase on the receiving end, thus lowering operating costs and increasing ROI.
Increased Competition in Affiliate Marketing
Affiliate Marketing has been steadily growing as an industry in the last 5-7 years. However, as the market matured, the competition increased. Currently, it is harder to generate the same number of sales as a few years ago by using the same strategies as before, as all of the new affiliates are battling for the same piece of the pie.
However, you should not let that discourage you. Most of the time, you can mitigate the declining of conversion rates. What you can do is change the approach, keywords for your campaigns, or even a complete niche change.
While Affiliate Marketing is a lucrative "passive" income generator, it is never truly passive. Of course, that's unless you don't want to be successful in it. Looking at sales, ads, and traffic reports will provide you with enough information to make the necessary decisions and steer your Affiliate "Ship" to success. With the FastComet Affiliate Program, your starting point is already an advantage. On average, our affiliates have a three times higher conversion rate than the industry standard.
Future Affiliate Growth and New Super-Affiliates
You have seen the numbers, and maybe you are even one of our top affiliates, so you might wonder how we are continuing to cover all commission payments despite our Tier system's multiplier and YOY Affiliate growth.
We are proud to share that our retention rate is one of the reasons why we can sustain this model. Our affiliates from 2015 still have the majority of their customers with us, and those are not isolated cases. We also have full trust in our product, our internal roadmap for advancements and customer satisfaction, and our incredible team. We can safely say that we have the means to scale-up and cover 200%+ increase in commission generation as well as foster new Super-Affiliates thanks to our financial buffers.
Contact Us for More Opportunities
Make sure to contact us beforehand if you can consistently generate more than 150 commissions/month, for extra tiers and higher profit opportunities from the get-go.
If you have an established advertising network and you are looking for a new product to advertise, or you want to switch up existing low performing products, contact us with your current sale statistics at [email protected]. We will be glad to provide more information on our services, and possible custom offers. We will tailor those offers especially to fit your case and reach.
Conclusion
2019 was a great year for FastComet and the Affiliate Program in particular. We have always considered the program to be an important part of growing. That's because almost nothing comes close to informed recommendations and thousands of positive reviews regarding the service.
The program has been a significant investment. Yes, it takes a long time to pay off, but we are playing the long game. In the meantime, the Affiliate scene is evolving, and so are we. The entire team is looking forward to what 2020 has to offer, and all of the new opportunities for success we can create together.
The latest tips and news from the industry straight to your inbox!
Join 30,000+ subscribers for exclusive access to our monthly newsletter with insider cloud, hosting and WordPress tips!