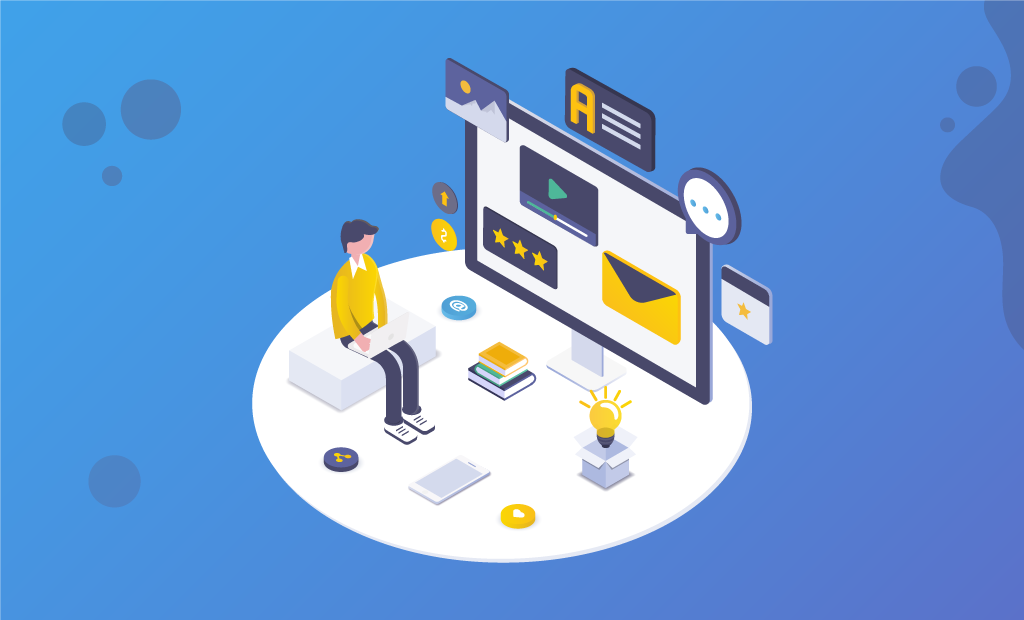 13 Popular Types of Content to Promote as an Affiliate Marketer
If you're here and reading this – it's probably because of one of two reasons. One, you're just starting out and are trying to understand how to write content for affiliate marketing to get traffic. Or two, you have a running site with content and visitors, but you're failing to convert. The good news is that we will cover the bases insofar as article writing for affiliate marketers is concerned.
Affiliate marketing is an incredibly lucrative endeavor if done right. There are success stories everywhere. It's a great source of passive income. While there are other means of promoting affiliate sales, writing an affiliate blog post is the go-to for most marketers. Before you even get started with that, you need to brush up on what works and what doesn't. Do that by reviewing examples for affiliate marketing content. From writing informative affiliate marketing articles to coming up with unique content ideas actually get you traffic, this guide should help you out with that and much more.
We will be discussing each content type and how to get the most out of them. Let's begin!
Table of Contents:
Reviews
Product reviews are undoubtedly the most popular form of affiliate marketing content. Reviews are usually a good way to earn your readers' trust, as you pen them down as a user of the product or service. However, it is important, to be honest in product reviews. As a user, you need to be critical and emphasize both the good and bad of a product. Only then will this trust that you've gained, be carried forward.
Reviews can be of different types. You can write a brief overview of a product or a detailed, comprehensive review, or just a simple list of features where you can tick off the features that a product has.
Each of these types has its own advantages. A brief review helps you capture the reader's attention and can clearly convey which products are recommended in just a paragraph or two. This is probably why it is the most common type of review you will come across on most affiliate sites.
A comprehensive review, on the other hand, can discuss all the pros and cons of a product in much more detail. People like reading everything there is to know about a product, particularly before making an expensive purchase. This kind of review may be great for landing pages or for grabbing organic search traffic, where people are looking for reviews on specific products with an intention of buying.
Feature lists are not exactly reviews in the true sense but can still give the reader an idea of what the product has, in just a glance. You are not expressing your opinions but simply stating what are the features that you found in the product and what features are missing. For this kind of review, you will usually create a list of the features that one would expect in a particular product and then place a tick against features that are there or a cross against ones that are not. This is more commonly used in product comparisons, but you can also use it as a review.
Just keep in mind that to make a product sell, it should ideally have more ticks than crosses.
There are a few things you need to remember when writing reviews though. For instance, if you're trying to promote a particular product, you shouldn't neglect other similar products in the market. Not mentioning any other product or stating how this one is better than the others may make people doubt your credibility. Secondly, make your reviews more educational and informative rather than making them sound like a sales pitch. Remember we are building trust – honesty and value addition is crucial to that.
Product Comparisons
Product comparisons are another great way to tell users why a particular product is better than others in the market. A buyer is often confused when it comes to choosing between two almost similar products having nearly the same features and that is where your opportunity lies. Providing the buyer with a comparison between competing products and then gently inclining them towards a particular product, showing it in a better light than the others can do the trick. It also makes it easier for a buyer to make a decision than a comparison that offers no "best option".
Similar to a feature list, you can create a comparison table having every detail from features to cost to value-for-money and place the competing products side by side. Then simply fill up the chart depending on what features are available in each product and other details. One smart tip here – list more of the features that your product has and fewer of those that it doesn't, but without forgoing any of the essential features of course.
Don't be too obvious in your recommendations, and don't let it look biased. Rather focus on giving the buyer all the information that he or she needs before making a purchase and gently put forward your recommendation, as a reference and not a marketing message.
How-to Articles
People search for "How-to" content very often. Affiliate marketing does not necessarily have to be about reviewing a product and recommending it to buyers. You can also help people understand how to use a product or make the most out of it and generate their interest in it. You can start a niche blog and publish such articles. They also are more likely to come up more often in search results.
A how-to article may be written for a specific product, instructing prospective buyers how to use it. Or it could be a general how-to article for an activity for which you could recommend products. For instance, if you are promoting art supplies, you could write an article on how to use a particular paintbrush to obtain different patterns. Or you could choose to teach how to paint a complete picture and in the end name the products that can be used to create it, linking out to the product pages with your affiliate marker.
Writing a good how-to article is more hard work than you may think. It has to be engaging and useful. It is important that your how-to article covers each and every step of a process, but doesn't bore the reader with unnecessary information.
The heading of your article is equally important as the content. The heading should address a consumer pain point. Such as, "How to repair that dent in your car" or "How to get rid of a suntan". Choose an area, relevant to your niche, where the reader may be looking for help. You can also skip the "to" in the title and make it more personal to have a greater impact. Like "How I built my own bookshelf in 2 days" – talks about your personal experience with the products and also provides a step-by-step guide for the reader. So you are incorporating your affiliate products into your own story seamlessly.
Tutorials
Tutorials are similar to how-to articles and can be created as written or video content. Written tutorials should ideally accompany illustrative images to make them more useful.
Video tutorials have become very popular. Video tutorials give you the opportunity to actually show your audience how to use a product or how to complete a task using your affiliate products. Be it software or a physical device, a visual walk-through is always much more useful than words alone. Accompany a video tutorial with search engine optimized content on your blog or website, and you can drive traffic both from the hosting site (say Youtube) and your own site.
One question that might come to your mind is how do you add an affiliate link in a video tutorial? Well, if you are uploading the video on YouTube, you can always add links in the description and mention the same in your video. If you are hosting the video on your own website, you can add the link to your content before or after the video.
Videos are, however, a lot of hard work. From shooting to editing to uploading, it is a long process. If you aren't ready for it yet, you can always go for other formats instead – such as a step-by-step guide with pictures.
You can take pictures or screenshots at every step of a process and describe each step clearly in writing alongside the picture. You can also record audio to explain the steps and add it to a slideshow of the pictures. Tutorials can be really interesting to work on and are often more helpful to users than other content.
Landing Pages
Landing pages are a very important element in affiliate marketing content strategy that we often tend to neglect. Landing pages have the capacity to convert visitors to leads and leads into customers if they are made well.
When you are designing a landing page, think of it from the perspective of conversions rather than just creativity. What is important in your design of a landing page is how to get your visitors to click or sign up or make a purchase.
To design a landing page that converts, you first have to carry out a little research on your target audience. You need to identify their pain points and find out what they want to hear. Unless your content adds value to their lives, it can't connect with them emotionally. Your affiliate products should be able to address these pain points and offer a solution. This will give you a clear idea about what you should add to the landing page and what you can skip.
After you have decided on what type of content you should write, it's time to move on to designing the page. The design should be contemporary and clutter-free. Keeping enough empty white space between content helps visitors focus on the more important sections. You need to drive your visitors' attention towards what you want them to see. If your offer or the link to the product page is not easily visible, visitors may lose interest and abandon the page. So, a minimalistic design highlighting the Calls-to-action or coupons being offered is your priority.
Guides
Guides can be a great way of recommending products and at the same time building a brand for yourself. There are numerous ways in which you can create a guide to help customers understand the features of products and how they can be helpful. For instance, you can create a gift guide that recommends the best products for gifting on different occasions. Or it could be a guide to learning a new activity, linking out to the pages where readers can find the products they will need. You get a much wider opportunity to explain the benefits of a product in a guide than you would in a single-page review.
Many affiliate marketers are successful in earning their audiences' trust by writing detailed, comprehensive guides. Longform guides generally get more shares and revisits.
To create a guide that adds value and builds a brand for you, write about something that no one has written yet. Go through some popular guides in your niche and try to find out gaps in the content or something that hasn't been clearly explained. For example, in creating a buyer's guide for a product, someone may not have said anything about the availability of all the brands mentioned in your target market. So you can create a better guide that is market-specific and caters to a very targeted bunch of buyers.
Try and add some real-life examples and experiences to make the guide more relatable for the audience. You can also repurpose your guide as a free PDF download and add a call to action to your website to download the free guide. This can also be a great way to encourage visitors to opt-in to your email list to download the guide.
eBooks
eBooks, just like guides, can be a very valuable addition to your affiliate content library. These take more time and effort to create.
If you plan on writing an eBook in your niche of affiliate marketing, make sure that you are thorough with the topic you choose. Even if you don't know everything about the topic, conduct as much research as you can and find out everything there is to know. This also includes finding out if there are books already available on the topic and how well they have been selling. This research will help you find out if the topic you chose is too mainstream and how you can make it more interesting. Just remember that you can't get away with half-baked content or superficial information in an eBook. When a reader downloads your eBook, he or she would expect in-depth information on the topic.
If you are still in the nascent stages of your affiliate business, it is advisable to keep your eBook free to download. It will take some time for people to start trusting your content and until then you can let them download it for free after filling up a short opt-in form.
Promote your eBook on your affiliate website and on social media. You can also give away a few review copies to popular blog owners in your niche and ask them to recommend it.
Emails
Email marketing has been a long-standing marketing tool that most marketers vouch for. In fact, emails help you create a more targeted affiliate marketing campaign, as you can create email lists by tracking the behavior and journeys of individual customers on a site.
Customers who have already shown some interest in a product can be made to revisit the product page or even make a purchase by sending them to a highly personalized follow-up email. Your e-books or guides can be a very good way of creating an email list. Let's say if someone has downloaded your eBook on "Learn how to create great video tutorials" – he or she may be interested in getting a good video editing app as well. So you can send customized offers and increase your conversion rate.
Affiliate marketing emails do not necessarily have to be promoting a merchant's products directly. You can also promote your affiliate content through email. And this in turn will promote your affiliate partners. It would also be wise to segment your email list for easier customization. For example, if you are promoting children's play area equipment, you could segment your email list into parents and preschool franchisees or individual preschool owners. So, you can promote different content to each group based on their interests.
Keep in mind that in order to create an email list you will need to optimize your site with sign-up forms with a few but crucial fields to be filled. You have to add pop-ups, opt-in forms, and widgets that are clearly visible on your site. Add pop-ups at crucial timings, like when a visitor is about to leave the page or when they've spent a considerable amount of time on your page.
Testing your emails' performance is very important too. Use A/B testing to continuously improve your email marketing strategy.
Listicles
It wouldn't be wrong to say that the internet is ruled by listicles today. Every other article is about "10 best products you should try" or "15 ways to do that". Listicles are a very clear-cut format of content.
The real challenge with creating listicles that will drive traffic is choosing a topic that hasn't already been used. Writing a heading that is interesting, fresh and yet, not overdone, is not an easy task. Also, clickbait topics without substance are a big turn-off. For instance, "10 things you didn't know about [insert name] city" sounds like an interesting piece, but the actual article is mostly things you already knew. Audiences lose trust and never come back to such websites.
Certain lists of "5 best" or "10 best" may be subjective and opinions may vary from person to person. Claiming your entries to be the best in such a case wouldn't be received well by the audience. It is better to create listicles that can be universally accepted as valid information and are backed by facts rather than opinions.
It could also be a good idea to publish your listicles before specific seasons or festivals if your niche permits it. Creating a listicle on "10 beautiful Christmas decoration ideas" right before Christmas or "5 best air conditioners in the market" just in time for the summer can drive more traffic to your article.
Videos
We have already discussed how-to video tutorials can give you so much more to work within your affiliate marketing campaigns. But videos in affiliate marketing are not just limited to tutorials – you can also create video product reviews, product comparisons, quality tests, product unboxing videos, how-to videos, best-of videos, and much more.
Videos can add a sense of realism to your affiliate promotions. Rather than just reading a review, your audience can actually see a product in use which can be much more engaging.
Not only is it more convenient for the audience to watch a video rather than reading through detailed reviews, but it's also easier for you once you get the hang of it. If you already have the right equipment for video recording and know what to do, recording a video can be much quicker than writing a detailed article. Explaining offers and bonuses in speech could also be much easier than explaining them in writing.
Case Studies
Case studies can be one of the most convincing affiliate marketing content if done right. A case study is usually a story or a real-life account of how someone benefited from using a product you're promoting. You analyze every aspect of this story and present it as a study with your findings and results.
Since it is backed by actual information or data, a case study is a very good source of information for prospective customers. By the end of a case study, the readers should be able to relate to the subject of the study and the product under question and understand how this product can benefit them. So a well-written case study should focus on the customer's journey and not on the brand or the company.
One thing to keep in mind here, though, is that you are writing the case study for customers and not for industry experts. So it is always best to keep it simple and not use any jargon that might make it boring. Keep your study short, relatable, and easy to understand. Also, include facts and data to reinforce your study rather than throwing in vague statements, like "the product helped the customer double their productivity". Use the actual numbers instead.
Seasonal Content
There are many products out there that people seek during special occasions or specific seasons. For example, not many would be looking to buy a superhero costume most of the year, but just before Halloween. Or exercise equipment could be in high demand just before January, thanks to those unfulfilled New Year resolutions.
Molding your affiliate content to meet these seasonal trends and publishing them at the right time can work wonders for your affiliate campaign. Mark your calendar to keep track of such occasions when seasonal content could be published. It is also a good time to promote offers and discounts on products as most merchants do have special offers during peak seasons.
Social Media Content
With nearly 3 billion users worldwide, there cannot be a better place to find a larger audience than on social media. Facebook is definitely the most popular social media network globally, so having a Facebook page for your business can give you a much wider reach than just your website. But another platform that has gained more popularity among marketers in recent times is Instagram. In fact, the ad spending on Instagram was higher than on Facebook as of 2018. Reaching your target audience could be much easier with Instagram if you can become an influencer in your niche.
Other social channels of interest are Twitter, LinkedIn, and Pinterest.
You can share photos of products or other visuals related to your product and some useful content to attract an audience. It is also important to consistently post new and attention-grabbing content on your social media all the time. Remember if you can't build a big following on social media, the returns from these channels will be limited.
Don't overburden yourself by opening an account in every social media channel and ending up being unable to handle them all. Choose only those channels where you know that your target audience can be reached. For instance, if you're promoting hiking gear, LinkedIn wouldn't be the best place for you to network. From time to time, you can also use the relatively less popular networking channels like Quora for promotions. Find a question on Quora that is relevant to your niche and answer them by linking back to your affiliate website or product.
Wrapping up
No matter what types of affiliate content you choose to create for your affiliate marketing campaign, adding value for your readers should be the central focus. As long as you are providing valuable information and promoting worthy, high-quality products, your content will attract leads. Affiliate marketing may not be the wish-granting genie that makes you rich overnight, but with a little creativity and clever strategy, it can surely build and sustain a steady revenue in the long run.
As ever, feel free to use the comment section below if you have any thoughts to share or questions to ask. We are always glad to hear from you.
The latest tips and news from the industry straight to your inbox!
Join 30,000+ subscribers for exclusive access to our monthly newsletter with insider cloud, hosting and WordPress tips!